Recommended Video
There's a Stock Market-Themed Cocktail Bar in Hong Kong
I
f this is your first time at South by Southwest, you should strategize as you would a trip to the Louvre: No way in hell you'll be able to see it all, so you have to pick your spots. Austin's annual music, film, and interactive festival sprawls in its scope and content, and even if this is your 10th trip, it can overwhelm you with a maze of day parties, secret-show rumors, hashtags, RSVPs, booze, brands, tacos, speakers, tech, lines, barbecue, beer, free stuff...
So yeah, it's a pretty fun time. Unless you pull one of these 10 shortcuts to making SXSW a terrible experience. You'll later tell people "all the hipsters" ruined your week, but truly the blame will lie with you alone.
Putting style ahead of comfort
Yes, SXSW is a place to show off your plumage, but you're going to be walking and standing in line for hours, so leave the house in your most comfortably worn-in shoes and breathable clothing. And don't be the poor bastard lugging a giant bag or backpack around all day. You (and your back, shoulder, neck) will be hating life after an hour of that. Simplify, simplify. Wear a fanny pack (it's hip and ironic!) Get creative with pockets. If you have a badge, keep your ID in it. Trust me, you look better when you wear less anyway.
Assuming Texas weather will be week-long sunshine
March weather here is a mad dog on a long leash. You'll want to bring an umbrella or poncho in case of rain, a light jacket in case of nights when you can see your breath, a 30-plus-SPF sunscreen, and a hat. This might seem excessive until you watch three seasons happen in the course of one week at SXSW. You'll probably want to invest in some Benadryl or Claritin (or, for the two weeks before arriving, a daily Flonase dose). March is one of the cruelest months of allergy season, and Austin allergies are crueler than almost anywhere else in America.
Just winging the whole day
It's a romantic notion to just throw yourself into the chaos at SXSW, but you'll want to spend part of your morning sketching out your day if you're going to do more than just loiter in lines and wander too far between venues. If you don't have a badge or wristband, Showlist Austin is a thorough resource for free parties, day shows, and RSVP events. RSVPster will do the heavy lifting for you, or follow @rsvpster on Twitter for newly announced shows. Hit up @FreeShitGuide for updates on open bars, free tacos, and parties. The #SXLines hashtag is often a good barometer of how long (or short) a line is at a certain venue or event.
Paying for food and drink
Locals know the best part of SouthBy ain't the music; it's the free food. If you plan accordingly, you can potentially eat three meals without opening your wallet. Follow @thefreenoms or #SXnoms on Twitter for updates on free food and cool parties.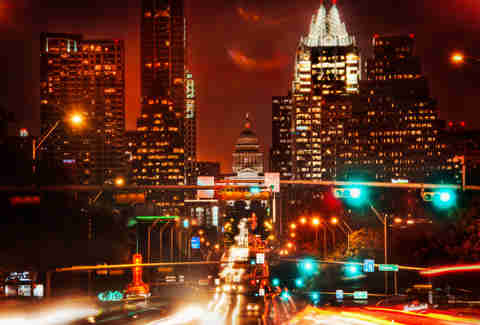 Driving, in any form
Don't drive downtown. Just don't. There's construction nearly everywhere in Austin, and during SXSW major roads are closed down. Unlike last year, Uber and Lyft have returned Austin, although there are plenty of rideshare alternatives like Ride Austin and Fare. Better still would be to ride a bike; you can rent one easily enough from Austin B-cycle. CapMetro service is pretty cheap and extended during SXSW, plus it offers late-night hours. Download the CapMetro app for real-time updates. And keep an eye out for the Tito's Vodka bus (or follow @TitosVodka on Twitter); it will be cruising around South Congress and Downtown from 1-7pm every day, offering a free ride and a free drink.
Walking (or driving) around with booze
If you do catch the Tito's bus, you'll probably want to dash off it with your drink, because you won't believe this is real life. But Austin isn't one of those cities where you can openly carry your booze (guns, don't you know, are another story). Even more important, Austin police don't mess around with DUIs, so don't think about driving while even a little intoxicated. There are rideshares, Yellow Cab, or designated driver services like Safeway Drivers.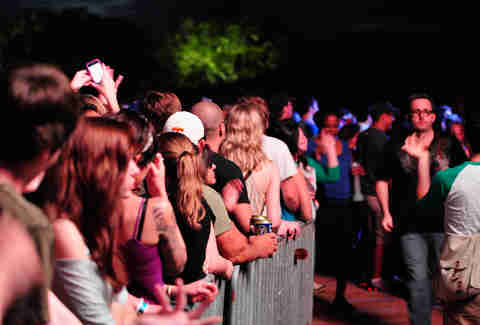 Waiting in line at big-name events
If you have a badge, the big film events in particular require you to get in line at least an hour ahead of time; you can't really get around that. However, SXSW is all about discovery. You could wait in line for two hours to maybe get into Rachael Ray's party… or you could spend that time rolling the dice on smaller events. Some of the best shows I've seen at SXSW have been ones where I walked into a bar I'd never go to otherwise and saw a band I'd never heard of. One time, I caught an obscure metal band at a 6th St dive that was playing so loud, a painting fell off the wall and onto the man in front of me. (He was fine.) When I think of SXSW good times, I remember that moment, not whether Drake actually showed at FADER FORT.
Doing only SXSW stuff
Downtown Austin needs only a couple of days to begin feeling claustrophobic. Day three, get out of the rut and help yourself to some of our kick-ass nature. Even if you're car-less, you can walk around Lady Bird Lake, which is a few blocks from the main thoroughfare of 6th St. A bit further south is Barton Springs Pool, if you're looking for a quick dip. (There is an admission fee, so bring cash.) And the Barton Creek Greenbelt offers beautiful hiking and biking trails, if you're looking to be alone with your thoughts for a minute.
Trusting that AUS won't be a disaster movie
Austin-Bergstrom International Airport is close to Downtown, that is true. It's also a fairly small airport, compared to Dallas or Houston. CapMetro, airport shuttles, and rideshares can all get you there, but give yourself an extra hour and a half to two hours before boarding time. Otherwise, you're liable to be stuck in a TSA bottleneck when your flight doors close.
Waiting in line at Franklin Barbecue
The renowned barbecue spot has topped national best-of and critics lists, and waiting in line for hours for brisket has become something of a pastime here. But that line is an errand in masochism during SXSW, especially when Austin's myriad other great barbecue joints await. Try Micklethwait, which is just down the road from Franklin, or La Barbecue on Cesar Chavez.
Sign up here for our daily Thrillist email, and get your fix of the best in food/drink/fun.