Take a 35-day trans-African safari that costs ONE MILLION DOLLARS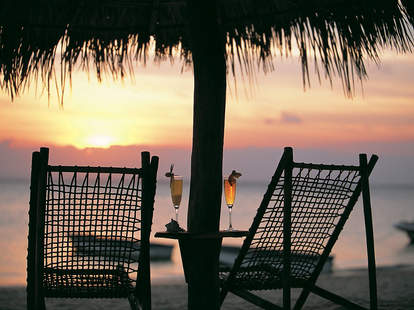 Alright, alright. Let's get one thing straight before we continue: Extraordinary Journeys' "Million Dollar Safari" is actually WAAAAY more affordable than its name implies. The 35-day trip that takes you across Africa in total luxury with some of the best guides & access imaginable actually costs a mere $202,400/ person! It's only a cool $1M if you have a family of five or, way more awesomely, do it five times in succession. Either way, here's the trip:
Day 1-3: Gorilla Trekking in Rwanda
Stay at the Sabyinyo Silverback Lodge in Rwanda's Volcanoes National Park, where roughly half of the world's wild population of mountain gorillas live. The other half? Lost in the mist.
Day 4-5: Nairobi
In Nairobi, you'll be staying in a mansion called Giraffe Manor, where wild giraffes literally roam the grounds and stick their heads in windows to get fed. This, friends, is luxury.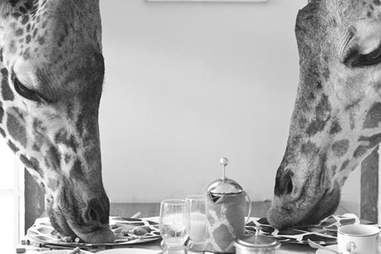 Despite the implication of this picture, while at Giraffe Manor you don't have to let the giraffes eat your breakfast (but you will if you want to avoid being mauled).
Days 6-8: Maasai Mara, Kenya
Don't let a dingo eat your anything while you're staying at Cottar's, the only private homestead in Kenya's most storied nature preserve (which, despite being in Africa, was also the setting for Out of Africa).
Days 9-12: Singita Grumeti Reserve in the Serengeti
Stay in the castle-y Sasakwa Lodge by night, and explore a 350,000 acre former hunting concession by day.
Days 13-15: Lake Tanganyika, Tanzania
The resort of Greystoke Mahale is in an area of the Mahale Mountains so remote that its luxurious white sand beaches are only accessible by boat. This place is loaded with chimps and "nine other types of primates"... that is, until you arrive.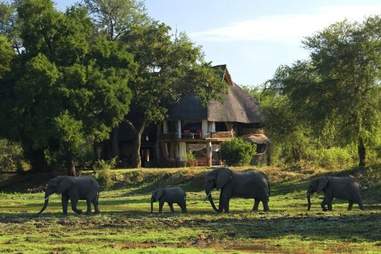 Days 16-18: South Luangwa National Park, Zambia
When you're not taking walking safaris on the vast private acreage of the Luangwa Safari House, you can just enjoy the elephants that hang out in the front yard. It's a sight you'll never forget.
Days 19-20: Livingstone, Zambia
Aside from having the opportunity to go bungee jumping at Victoria Falls, which're only one of the Seven Wonders of the World because they're TWICE THE SIZE OF NIAGARA FALLS, you'll finally get a moment to kick your feet up and check the markets while staying at the Tangala House on the banks of the Zambezi River.
Days 21-23: Linyanti/Selinda Reserve, Botswana
There'll be more freaking elephants in your front yard when you stay at Zarafa, which's the home of famed wildlife photogs Beverly and Dereck Joubert. When you're not lounging, you'll be roughing it in custom Toyota Land Cruisers for day & night game drives.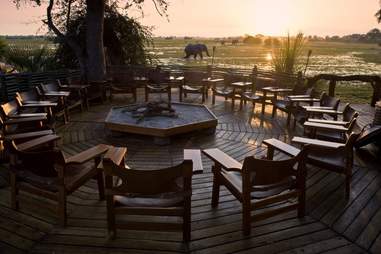 Days 24-26: Okavango Delta, Botswana
You'll be staying with Lou Bega at Mombo Camp for a luxe glamping experience in the Moremi Game Reserve within the Okavango Delta, which's an uncharacteristically fertile portion of an area otherwise rife with desert.
Days 27-29: Cape Town, South Africa
After 26 days of roughing it in dusty ol' Africa, you deserve a few nights in the coastal ridiculousness that is the Ellerman House.
Days 30-31: Winelands, South Africa
The rich, uh, get richer as you move on from a mansion on the coast in Cape Town to a boutique hotel (the Delaire Graff Estate) in South Africa's wine country for a couple days of tastings.
Days 32-35: Vamizi, Mozambique
The final four nights of the odyssey are spent at a private villa on the beach of a Mozambique island, where quite naturally you'll have a private chef and personal attendants at the ready.
Oh, almost forgot! This guy will be your guide. He's one of the best in all of Africa, he's a native of Zimbabwe, and his name's Mark Homann... AKA what you're probably saying right now about this whole asininely expensive/glorious trip.
Photos: Extraordinary Journeys