Take a cross-country road trip eating only SPAM
Not just your pleasant morning email about junk-related medical breakthroughs, SPAM is also a delicious canned meat that we all know & love -- and thanks to a handful of daringgenius eateries stretching from coast to coast, it's now possible to drive clear across the country eating nothing but that canned meat in all its nourishing forms.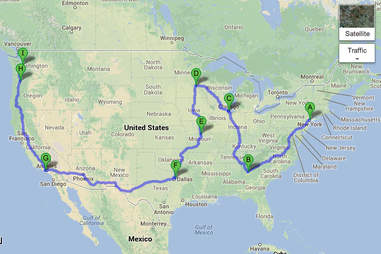 This is the proteinous route you'll take. Turns out, America's great SPAM places make a sort-of weird "W". Who knew?! We start on the East Coast...
Bloomberg.com
Wiki Commons
Waikikie Hawaiian BBQ in Atlanta for SPAM Musubi:
Now, grab a few cans for the road (you can totally eat that stuff cold, yo), and head due south to Hotlanta.

The cats at WHBBQ might not know how to spell Waikiki, but they do know how to grill up some SPAM and serve it Musubi-style -- that's served atop a block of rice & wrapped in dried seaweed.
simply.june.blogspot.com
Aloha Eats in Chicago for SPAM Loco Moco:
Drive northwest to Chi-town's Lincoln Park, where you'll start to see the Hawaiians-really-like-SPAM pattern beginning to develop. For only $8.75, Aloha Eats drops SPAM Loco Moco, which's three slices of grilled meat, two eggs (any style), and brown gravy.
Heavy Table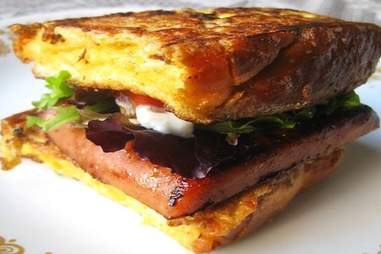 mightysweet.com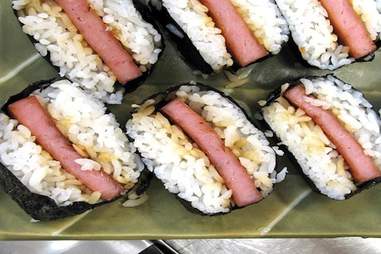 TheKitchen.com
Hormel Foods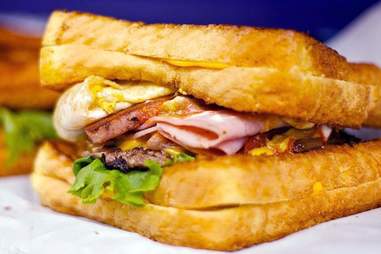 thehamblogger.com
Brunch Box Food Cart in Portland, OR for the Redonkadonk Burger:
At this point in the trip, it might be a good idea to just drink water while you're heading north to Portland, because once you get there, the Brunch Box cart is going to drop the most epic burger of your life on you: the Redonkadonk's got grilled cheese sammies for buns, a fried egg, ham, bacon, a burger patty, and, of course, a certain canned meat.
Hormel Foods
Pac Island Grill in Seattle for SPAM On Any Dish:
To finish, make the easy drive north to Federal Way just outside of Seattle, where they one up every other resto on your roadtrip by offering to add SPAM to literally any dish. Now that's something to email a few people about!