Take a hiking trip where each day ends at a different brewery
Ever think, "I'd be way more likely to go on outdoor adventures if, every night, I got to stay in a really cushy hotel and visit a different brewery instead of sleeping in a tent and drinking Tang"? Apparently so did the dudes at Zephyr Adventures, who've created a trip that takes you through Yellowstone & Grand Teton National Park via hiking, biking, and rafting by day, then to a different brewery followed by a luxe hotel at night. Here's the breakdown:
Day 1: You'll hike the Triple Tree Trail above the Bozeman valley, which's really just a beautiful-looking precursor to happy hour at Bozeman Brewing Company. Your accommodations for night one are at something called the Magnuson Grand, which we are led to believe is a hotel, not a piano.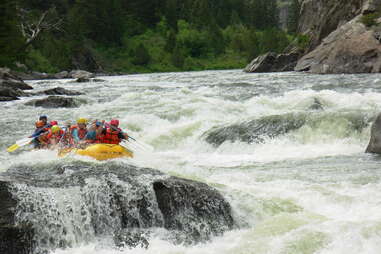 Day 2: You'll sleep like a baby at Big Sky's 320 Guest Ranch after a day which starts with a visit to Montana State University "Hopyard" to get an education on hops & barley, followed by a rafting trip down the Gallatin River, and a blind tasting at Big Sky's Lone Peak Brewing.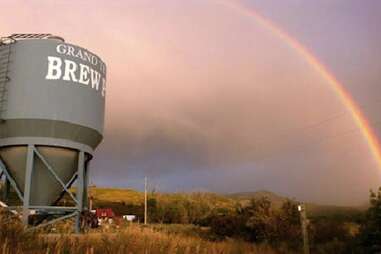 Day 3: Next up, follow the rainbow to Jackson, WY, where you'll be crashing at The Lexington -- that is, after a Harriman State Park hike, post-hike beers, and some beerducation at one of the West's most well-known craft breweries, Grand Teton.
Day 4: The sudsery goes mobile as you as you bike through Grand Teton National Park, then hop in a van to drive through Yellowstone. You'll have beers in front of Old Faithful, and stay at the Old Faithful Inn, which's probably named that because it's super reliable at doing things like turning down your sheets and bringing new towels.
Day 5: Start with a hike around the North rim of the Grand Canyon, then take an actually-pretty-gnarly bike ride down that gigantor pass in the picture to Red Lodge, MT, where a sampling of local brews at Red Lodge Ales awaits (as does a night at the Yodeler Motel-ay-he-hoo!).
Day 6: The final day's spent taking a hike in the mountains of Red Lodge, before beelining it to the airport in Billings and getting on a plane that'll probably be the most uncomfortable accommodations you've had on your entire tent-less, Tang-less, beer-fueled hiking trip.