Paid Content For
Nature's Recipe
11 Adventures You Have to Take With Your Dog This Summer
Paid Content For
Nature's Recipe
Your dog is your best buddy, and the bond between you two only strengthens when you take adventures together. But if you're going to chase the kind of fun that makes Rover happy, you'll need some fuel for that journey. To get your mojo motivated, we've compiled some of the best excursions around the country where dogs can cavort alongside you. And to ensure your always-adventurous buddy's tail wags during each of these new experiences, keep her well-fed with high-quality Nature's Recipe® dog food.
Hit the beach -- dogs allowed
New York / New Jersey
Made legendary by a hundred years of history, then revitalized by Bruce Springsteen, Asbury Park is the face of "Jersey Strong." It's also a dog-friendly spot if you know where to look. A block beyond the boardwalk's end, the 8th Avenue Dog Beach welcomes pooches with one caveat: Only after 6pm.
But hey, that's a couple hours of sunlight to frolic in the surf with your buddy, and the late hours mean you won't have to bring a tent to shade your dog from direct sunlight. A stick, a wave, and a furry friend are all you need to set that tail a'wagging and work up pup's appetite -- to keep that wag going, satisfy her with a bowl of Nature's Recipe®, which uses natural ingredients like sweet potato, chicken, and pumpkin, with added vitamins, minerals and nutrients.
Do jump in the water with doggie. (If your dog can't swim, get her a canine life jacket.) Even an elderly retriever turns into a puppy when she sees the surf, so you'll fuel her excitement for a big life and -- if you're lucky -- tucker her out for a healthy sleep later that night.
As for don'ts, the standard beach caveats remain in place: Apply sunscreen underneath your dog's fur (especially if she has a light coat). Don't subject your dog to any sand too hot for you to stand in yourself, and don't forget a frisbee for a true bonding experience.
Catch some fish while Fido lends moral support
New York / Long Island
Going for a doggie-paddle in a lake is a great way to get your dog out of the house (and hopefully shaking off before you let him back in). But what if you wanted to make your water adventures a little more nautical? Enter Blue Crush Charters in Montauk. This boat is not only dog-friendly -- it's downright popular. Dogs stay on deck with you while you fish the mighty ocean; watch their tails start wagging when you haul a big one aboard. You do the reeling, pup does the wagging, and the two of you treasure the time you spent together out at sea. Some of their doggie guests have been coming along on trips for 10-plus years -- and they've hosted everything from little bichons frises all the way up to huskies. Even the staff on shore has proof of how much they love dogs: Although he doesn't come out on the passenger trips, Max the dog hangs out at the port with the staff as a doggie ambassador.
Stretch your rear while you scratch their ears
Chicago / Gold Coast
Downward-facing dog isn't just for humans anymore. If you're doing yoga in the Chicago area, why not bring along your best friend? While the classes urge pet owners to think whether or not their dogs are equipped to handle such a class, they only mean in demeanor -- your pooch doesn't need to master the positions, just you! But they definitely have a few exercises built into the class directly aimed at the dog that will limber up your pet for your next day of running around the park together… and that run will leave her hungry, so get ready for a really intense tail wag when the pup enjoys that evening's bowl of Nature's Recipe®. With delicious, natural ingredients plus added vitamins, minerals and nutrients, you'll be satisfied, too, knowing that you're helping her to live a vibrant life.
Take the furry kids to summer camp
Chicago / Highland Park
If you're looking to recapture some outdoor nostalgia, Highland Park's Camp Dogwood offers a wide array of activities for you and your dog to do together. Some, like the dog theatre or paw painting, might be a bit on the lighthearted side. But Camp Dogwood also offers a ton of ways for you and your buddy to really play and grow together. You can work on basic rally work with your dog, getting them ready for that obstacle course of your dreams. Tracking and scent classes can start any dog on the path to becoming a bloodhound. And classes in Treibball are basically "urban herding" -- a way for city dogs to work with balls and cages to get that herding instinct satisfied (without needing to borrow a flock of sheep from your local farmer).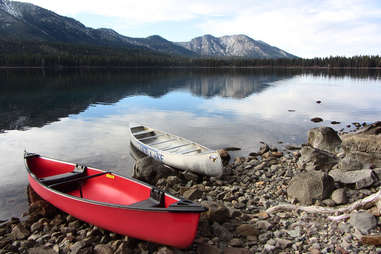 Paddle a canoe for two
San Francisco / Lake Tahoe
Lake Tahoe has plenty of dog beaches for you and your best friend, but how are you planning to get around? If you want to do more than hoof (er, paw) it around, then Tahoe City Kayak has you covered. While you might be able to fit some dogs into or onto the bow of a normal boat or canoe, it might not be the most comfortable -- or easiest to balance for your four-legged friend. Hooray, then, for Tahoe City Kayak, which rents out a specially-designed canoe built for your dog and you. Your pup's rowing skills cap out at doggy-paddle, so strap her in and let her enjoy the ride and provide moral support in excited barks while you do the work. Just check the dog-friendliness of any beach you want to make landfall at -- or em-bark (sorry...) from one of the local public piers.
Immerse yourself in dog country
Seattle
If your dog plays nice with others, why not knock "dog festival" off the bucket list? The Seattle Pet Expo weekend festival offers guest health speakers, photo contests, and other human-focused fun. But there's also plenty aimed at providing bonding experiences for you and your dog. An agility course is open-ended fun for speedy dogs. A training center is there to help your old dog learn at least a couple new tricks. And for those whose dogs have a competitive streak, a new doggie-sport called "Flyball" pits a team of four dogs and their handlers in a relay race against obstacles, a ball-launching machine, and time. If you ever thought your dog was the best fetcher in the world, this is the best time to find out. Note: Bring proof of vaccination for your dog if you go.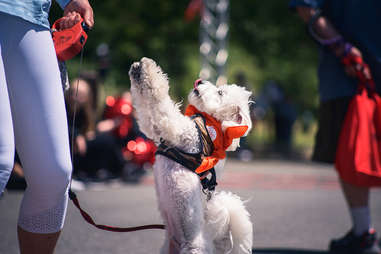 Enjoy a 3.1-mile fun run for doggies
Seattle
The Furry 5k is about you and your dog having a race together. Whether you think you two belong in the walking division or your pooch is ready to pace you in the running division, there's something for dogs and humans of all speeds. And after you're done, stick around to watch some advanced tricks from trainers and dogs, meet some rescue dogs that could use a good home, or enter the dog "Cover Model" to show off your good-lookin' buddy!
Ride the Colorado River's gentler floats
Flagstaff
River rafting can be a wild, high-impact activity. It can also be lazy-river style relaxation, depending on the class of rapids and time of year. Somewhere in between those two is a perfect match for you and your active dog to let loose and have both of your tongues hanging out of your mouths. Hatch River Expeditions is not only a dog-positive rafting company -- they actually designed their whole office around the many dog co-workers that come into the office every day with their humans. (The postman is apparently very cool with this.) One of their Dalmatians even heads down the river to kick off each season.
Go into the wild... together!
Portland, OR / Klamath Falls
The Portland suburb of Klamath Falls has joined many other locales in revamping old train lines into excellent hiking spots. The OC & E Trail sports great views, breathtaking nature, and most importantly for your pup, a dedicated dog park at the end of the trail. Go the full distance and see the coastal forest, beaches, and even an old mining trail. Or take a quick power walk on the paved local paths, then spend some quality time at the dog park for the rest of the day! All of that exercise will work up an appetite for dinner that night, especially if it's a replenishing meal-- Nature's Recipe® will get your dog's tail wagging with tasty, healthy ingredients that are part of a dog's healthy lifestyle. It's free of corn and wheat, and has added vitamins, minerals, and nutrients. Depending on when you visit, the park also hosts many dog-centric events throughout the year -- perhaps your corgi is finally ready to party hard at the annual Corgi-Palooza?
Take pooch where the deer and the antelope play
Colorado
Sundance Trail Ranch is a family-and pet-friendly mountain guest ranch that offers B&B lodging and summer activity vacations. Well-behaved doggies get to have free reign -- as long as they can handle the freedom responsibly, the ranch doesn't mind what they interact with -- including pigs, rabbits, chickens, and even horses. Heck, maybe they can help the ranch's own dogs herd sheep if you play your cards right. Just make sure you're bringing the dog in at night -- enjoying a day of freedom is great, but the nighttime coyotes make the night a little too wild for city dogs. Maybe bring the dog along to some of the nighttime activities like their murder mystery events, which are also dog-friendly. (Has the name "Sherlock Bones" been taken yet?)
Bark in the park
Bar Harbor, ME
National parks are fairly receptive to dogs across the country -- but sometimes there are areas considered off-limits to you and your bud. In Acadia National Park, there are 120 miles of hiking trails -- and almost all are open to you and your best friend. Of course, running around a national park presents as many challenges for the average person as it does for the average dog; make sure you both drink plenty of water, take breaks as needed, and high temps might mean you both hide in the shade for safety. Otherwise, there's a world of smells, sights, and simple beauty for both of you to enjoy at your pace. If you want to power your dog's appetite for adventure, feed her Nature's Recipe® and watch that tail wag.