Presented By
The Perfect Trip to Tallinn, Europe's Fast-Rising Capital of Cool
This industrial, post-Soviet, seaside town is quietly becoming Europe's new capital of cool.
Presented By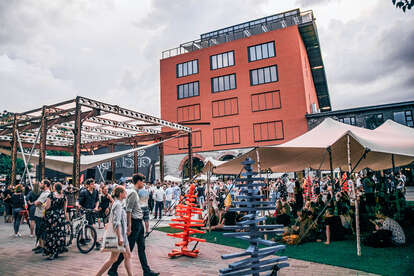 The Tallinn Street Food Festival is held at Telliskivi Creative City

| Linda Liis Eek
Tänavatoidufestival in Tallinn

| Linda Liis Eek
Note: The US State Department has issued a Level 3 travel advisory to reconsider travel to Estonia, and the European Union is currently banning travel from the US. For more information about Estonia's response to COVID-19, click here. For now, use this guide as inspiration to satisfy your wanderlust safely from home.
Long underestimated as just another gray, post-Soviet harbor city, Tallinn's quickly growing into one of Europe's cool creative capitals, right up there with Berlin and Helsinki. Estonians have always been DIYers -- building, brewing, and foraging -- especially during the Soviet era when resources were scarce. Thirty years after the Iron Curtain's collapse, that spirit of self-reliance is igniting a new hustle of artisanship and innovation in Estonia's capital.
More and more young Estonians are moving back to join the creative wave and open their own businesses: art galleries, design shops, and avant-garde restaurants. Chefs are whipping up interesting dishes that marry the artisan skills of their ancestors with new techniques they've learned abroad. The result is a tasty Nordic-inspired cuisine that's a far cry from the stodgy Soviet meals of yore (and definitely more affordable than the fancy plates in other Scandinavian countries).
And then there's the beer. With more than 80 breweries in the country, Estonia rocks one of the most exciting craft beer scenes in Europe right now. Last year saw the opening of some incredibly cool cultural hotspots that are reinvigorating Tallinn's industrial waterfront. Now's the time to check it all out while it's still flying under the radar, which is why we've named Tallinn one of the 20 Places We're Dreaming About in 2020. Read on for the best places to eat in the city, things to do, and neighborhoods to check out when you're there.
Traveling may be on pause, but that doesn't mean your dreaming and planning has to be. With The Marriott Bonvoy Boundless™ Card, earn 6X Points at 7,000+ hotels participating in Marriott Bonvoy™ and 2X Points on all other purchases, including future flights. For the journey ahead, carry a card that's here for you now.
Know before you go
Tallinn's weather is at its finest from May through September, when there's nothing like sipping craft beer on outdoor terraces or shopping at the Telliskivi Flea Market beneath sunny rays. Sampling seasonal produce like fresh cloudberries (little orange baubles growing in cool northern climes) at the Baltic Station Market or spruce tips straight from marshland trees is just an added perk.

Summer is also when a lot of awesome festivals go down. The dog days kick off with Tallinn's Craft Beer Weekend on the first weekend of May. We'd also totally recommend the outdoorsy Midsummer antics in late June or the Night of the Ancient Bonfires in August. The latter is an homage to when villagers would light huge bonfires to lead sailors home. These days, surrounding areas and islands around Tallinn and Estonia spend the evening getting lit. You can see the blazes up close or across the Baltic Sea -- Google Maps even marks them, so you can bonfire-hop!
Day 1: Kalamaja & Telliskivi Creative City
Flights from the US usually take upward of 14 hours and include a connection in larger cities like Oslo, Helsinki, or Moscow. Fares can run past $1,000, but you may be able to save by hitting one of these cities first, then traveling to Tallinn later with one of Europe's low-cost airlines (or in the case of Helsinki, taking the ferry). In general, buses and ferries are much cheaper, but they rack up a lot of travel time (though there are some good overnight options).
Tallinn's got a fair spread of lodgings including hotels and Airbnbs. Kalamaja is the cool, trendy neighborhood to stay in, with the best bars and restaurants nearby. Old Town is also convenient, but be forewarned of cruise ship crowds and late-night street noise on the weekends.
Once you're refreshed and ready to roam, start with a smorgasbord brunch at Balti Jaama Turg (Baltic Station Market). The market hall was restored in 2017 out of old limestone warehouses. Even early in the morning, there are hundreds of vendors and a good crowd grabbing a meal before escaping to Latvia, Lithuania, and onward at the main railway station.

We especially dig the Taiwanese steamed buns and Georgian khajapuri (like a calzone, only cheesier, and therefore better). Also, don't miss the fresh produce stands on the main floor with baskets of plump berries, when in season, and lightly pickled cucumbers.

From there, it's a short walk to Kalamaja -- once a defunct fishing district, now the epicenter of Tallinn's creative upsurge. At Telliskivi Creative City, factory warehouses have been revamped into showrooms for Estonian designers (check out Stella Soomlais, a local leather designer whose stylish belts and purses carry a lifetime repair warranty), vintage boutiques, antique dealers, and third-wave cafés. There's also a weekly flea market of funky Soviet antiques on Saturdays.

Try the organic ice cream at La Muu, or a bite atop the Fotografiska Tallinn's rooftop zero-waste restaurant. Some of the best views of the industrial landscape, plus graffiti murals and poppin' crowds, can be seen from up here. Afterward, take the elevator down to Fotografiska's exhibitions. This is not a museum to rush through. Fotografiska pulls top photographers; last year they included Jimmy Nelson and his portraits of remote indigenous tribes, and Alison Jackson's satire of tabloid culture (including mock shots of Trump that you'll never be able to unsee).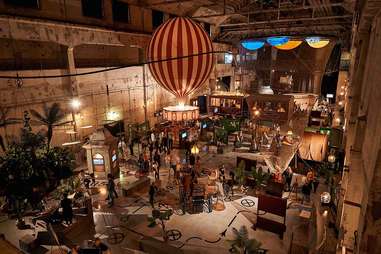 Day 2: Craft beers, bites, and Noblessner
Next to Kamalaja is the Noblessner harbor district. Once upon a time, Peter the Great's Russian empire manufactured war submarines here, and today the secret factory halls are being converted into sprawling attractions and apartments.

Founded in 2011, Põhjala Brewery has grown into the largest craft brewery in the Baltics, making beers that are exported to the US and across Europe. In 2018, Põhjala opened a new brewery here where it offers brewery tours, a taproom, and even a sauna for group bookings. Take a tasting flight from one of 24 taps: Põhjala is particularly known for its dark beers and "Forest Series" brewed with Estonian ingredients like pine needles, birch bark, and lingonberries.
MORE:You know another surprising beer destination? North Dakota
Take that buzz for a walk around the PROTO Invention Factory in an old shipyard building. Essentially, it's a science museum geared toward a generation that has never seen a VHS tape. VR-tech exhibits explore how submarines, planes, and so on were invented. Send rockets into space, race cars, then take a huge nap afterward.

Alternatively, there's the new Kai Art Center focusing on Estonian contemporary artists, or the Staapli Art Gallery, which also has a funky café.

For dinner, check out what Estonian chefs are dreaming up with local ingredients from forest and coast. There's Ö or its casual sister eatery Kaks Kokka, plus Rae Meierei and Cru.
A cocktail run could next be in order: There's Junimperium, Estonia's first artisan gin distillery; the award-winning Botaanik Bar; or the hidden speakeasy Whisper Sister (reserve seats and get directions from the number on the Facebook page). The evening ends where it started in Noblessner at the techno temple Hall. Skip Tallinn's other cheesy nightclubs and go dancing here. Do it!
Day 3: Old Town & out of town
It's best to traipse around Old Town in the morning before the crowds -- and people in peasant costumes -- turn out. Cobblestone streets wind around charming medieval buildings and grand churches, framed by distant Soviet relics in their former wiretapped glory.

Since most of Estonia is covered in forest, locals are big on nature. Tallinn folks spend downtime in cabins outside the city, crushing beer in the sauna and picking berries. Discover what all the fuss is about on a forest or marsh tour with Romet Vaino, the Estonian Bear Grylls. Vaino is an author and photographer who lives for ice baths and sleeping under the stars. Seriously, last year he challenged himself to walk blindfolded for hours and sleep outside on the coldest winter night.

Vaino started offering nature tours teaching people about Estonia's forests and the history of ancient nomads. Set out for a late afternoon hike about an hour outside of Tallinn -- take in the sunset or even brave an overnight camping trip, if you're up for it.
Keep it going: Explore the Baltics, Scandinavia, or even Russia
Tallinn's ideally located to venture onward and hit some of the other cool towns in its wake. The closest options: Helsinki, a two-hour ferry ride away (one-way tickets start at about $15) for more design shopping and barhopping.
Then there's Riga, Latvia's capital and the largest Baltic capital, with a laid-back vibe and art nouveau architecture... best of all, it's super affordable to visit.
Also within reach? St. Petersburg, but you'll need to apply for your Russian visa well in advance (and the visa will keep your travel dates inflexible). It's worth the trip if you can swing it, though -- again, not expensive, and it has some of the grandest architecture you'll ever see, including one of the world's most impressive museums (in a palace!), the State Hermitage.
Really, the world is your oyster: Stockholm, Oslo, Copenhagen, and Berlin are also all reachable in a couple of hours or less. Check out airBaltic for the best direct routes.
MORE: The most beautiful place to visit in every European country
MEET THE WRITER
Barbara Woolsey is a Canadian journalist and guidebook author whose travels have spanned over 50 countries and five continents by plane, train, and motorbike. Barbara's career started in Bangkok working for Thailand's largest English-language newspaper, then traveling around Asia as a TV host. Now based in Berlin, she authors guidebooks for Lonely Planet and Fodor's, and writes about culture, travel and more for Thrillist as well as other publications such as Reuters and The Guardian. See more of her adventures and storytelling on Facebook and Instagram.
When was the last time you were in Tallinn? What drew you there?
I spent a lot of time last year in Estonia's northern neighbors, including Finland, Sweden, Norway, and Russia, and finally made it to Tallinn in August. What drew me in was a fascination with Estonia's geography and history. Well, and if I'm being honest -- the craft beer. It was my first trip, and I'm planning to go back in May for the craft beer festival.

What was the most impressive thing about Tallinn you didn't expect?
As an only child, I couldn't help but be stoked on the good-natured competitive spirit of the city. Tallinn is clearly influenced by northern capitals like Stockholm, but the ambition to make a mark is inspiring. I won't forget my guide Jaan Tähepõld telling me: "We want to do things even better than Scandinavia."

What's your number one piece of advice for a first-time visitor?
Bring an extra-big suitcase and chuck in some craft beer. I ended up checking my carry-on. I tried so many different brews that I loved -- it was heartbreaking to choose so few (to the strawberry ale I left behind: I will come back for you). Also, check out the White Guide, which is a restaurant guide for the Nordics, for ideas of where to eat.
What's a favorite memory from your trip that sticks out in your mind?
Strapping into a pair of special waterproof shoes made for walking on swamps (so as not to sink in) and plodding around on an Estonian bog with Romet Vaino. The hike took us out to a little lake with a perfect view of the sunset. A comfy log to sit on and Estonian apple cider in paper Moomin cups -- success!
Next big trip you have planned in 2020?
In the next couple of months, I'm working on guidebooks for Lonely Planet in Prague and Glasgow and a Michelin Green Guide in Burgundy. The next "big" one could be Australia, Zambia, or Jordan, though -- let's see!

What's your ultimate bucket list destination you've always wanted to visit?
The Canadian half of me says Antarctica, while the Filipino half says Tahiti.