Looking to get behind a 42 ton monster you can comfortably tell your friends about? Then head to the UK's Tank Driving Experience. Choose from green behemoths begging for you to crush the countryside, and run over cars. But not actual sized cars... cause it's Europe.
Recommended Video
There's a Stock Market-Themed Cocktail Bar in Hong Kong
As you're already knee-deep in tank travel plans, be sure to note that they have 13 different tank driving centers across the Kingdom.
Their video is titled "Tanks-alot," because the Brits are seriously witty, and also have no idea 'a lot' is actually two words.
Tanks range from 13 to 50+ tons, and include an FV432 armored personnel carrier, a Russian T55, and a Chieftain.
Is that an Eastern European revolutionary picture from 1989? Nope, that's just a bunch of dudes at a bachelor party, casually crushing a Fiat.
Driving times range between 15-60 mins on the tracks, which are loaded with mud pits, and, of course, cars.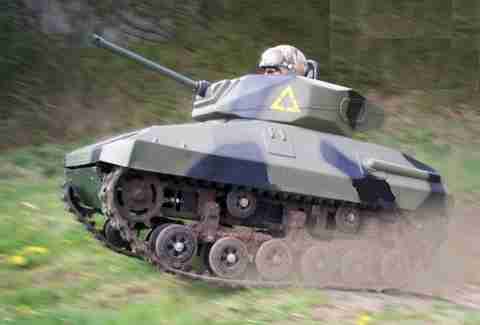 Considering back seat drivers are the worst, pop in a mini 400cc half-ton tiger tank and level up on their off-road track.
If tanks aren't your thing, they also offer rides in a 6x6 Alvis Stalwart amphibious lorry, a Russian BRDM2, a 4X4 Bedford MJ, a Ferret Armored Scout Car, and many more machines you've probably never heard of. Cause it's Europe.
Previous Venue
Next Venue
Venue Description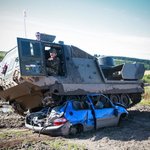 1. Tank Driving UK
, Bristol,
Without question the only 42 ton monster you'll ever tell your friends about, the rigs you'll man at the Tank Driving experience in UK are the real deal. These green behemoths are begging for you to jump behind the wheel to cruise through terrain, get personal w/ a grenade bazooka, and crush cars, but not real cars, cause it's Europe.