Americans Still Haven't Discovered This Cheap Caribbean Paradise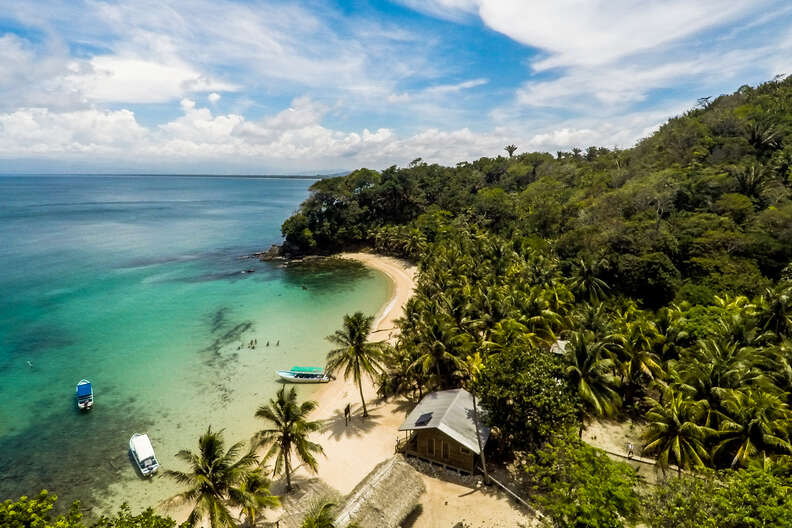 Ask the man I was standing behind, who had lined up a seemingly simple drive down the third fairway of the Indura Beach golf course in Tela Bay. Just as he reached the top of his backswing, a terrifying rustle and bloodcurdling shout came from the banana plants to our right. The golfer's entire body jolted, but the momentum of his club hit the ball, hooking it straight into the thick jungle.
He shouted something in Spanish that I'm sure isn't printable. Then looked behind him to see a monkey sitting on the end of a branch, laughing at the damage he'd caused.
Thus is the challenge of golfing in the jungle, on a course wedged into its natural surroundings and filled with the kind of tropical landscaping they'd spend millions on in Florida. The course is part of the Indura Beach and Golf Resort in northern Honduras, and is perhaps the perfect example of a region that does naturally what much of the world tries so hard to replicate. Though most people haven't heard of Tela Bay, it's an unspoiled paradise on the Caribbean Sea where you can dive, golf, or relax on a remote beach with nary a tourist in site. For a fraction of what you'd expect to spend. If you need a low-hassle, low-cost winter getaway, you could do a hell of a lot worse.
A tropical bay with the biggest coral reef in the Caribbean
The Bay of Tela Bay fronts a range of vibrant green mountains, sloping gently into a beachfront of shimmering turquoise water. It's bookended by a pair of national parks -- Punta Izopo to the east, and Punta Sal to the west. In between is the town of Tela, along with a collection of Garifuna villages that support a culture unique to the region.
For years, the diving has been the main draw here. The area is home to a large swath of the Mesoamerican Reef, a resilient and relatively untrammeled stretch that contains one of the world's highest concentrations of elk coral. Though Roatan gets most of the diving attention in Honduras tourism, the coral here remains in better shape, thanks mostly to the large amounts of sediment in the water that protect it from UV rays.
This makes for some difficult visibility if you go during the winter months. But during summer, when the water is calm and the coral is revitalized, it's the most spectacular reef diving in the Caribbean, with far fewer people than Roatan.
The reef sits smack in the middle of Tela Bay, and gazing back towards shore from your dive boat you'll notice small stretches of thatched-roof huts sitting right along the beach. Where in some parts of the Caribbean these might be boat rental shacks for expensive resorts, here they are actually people's homes. They make up the villages of the Garifuna people, and are a fascinating look at what it means to truly live off the sea.
The Garifuna: A unique culture the stuff of beach fantasy
Perhaps after a 12-hour day sitting in front of a computer, you have this fantasy about chucking it all and moving to a shack on the beach in the Caribbean. The Garifuna show you what that reality might look like. They are an Afro-Caribbean people who have congregated along the shores of northern Honduras and southern Belize, living in thatched-roof huts literally steps from the sea.
In the village of Miami, people wash laundry on boards in the nearby Laguna los Micos and dry their clothes on lines between houses. Tourists in from Tela and nearby San Pedro Sula come out here for the seafood and fresh-baked coconut bread.
About that bread. A stroll through villages like Tornabe and Miami has you pressing through sand as the smoky smell of the villages' signature loaves ovens fills the air. Seemingly each house has a makeshift bakery out front, where stout women tend to the coconut husk fires in the ovens, intermittently stuffing hot coconut bread and cinnamon rolls into steamy plastic bags. A loaf costs about 35 cents, and if it survives the next hour you have more discipline than I do.
In Miami we were told to order lunch before departing for an afternoon hike through Punt Sal. This was so the family running the restaurant knew what they'd need to catch before we got back. Upon our return, we were greeted with large plates of fresh fish, seafood stew, and rice and beans. Children served us at picnic tables under chickee huts, as we ate to the sounds of nearby Garifuna men playing dominoes and the crash of the Caribbean Sea. The best seafood meal you can have in Honduras cost us each about $9. This is what passes for tourist pricing in Tela Bay.
A remote jungle paradise with intoxicating beaches
Miami is the jumping off point to Jeanette Kawas National Park, formerly known as Punt Sal. It was so renamed in 1994 after Kawas, an environmental activist who led the fight to preserve the area and was ultimately murdered because of it. After just a few hours here, you realize why she felt this was a place worth risking her life for.
Arriving on the park's shoreline feels like washing up on a deserted island. The shout of howler monkeys greets you immediately upon reaching the sand, their outlines visible swinging through the thick jungle in front of you. A path leads from the water into the park, where you're engulfed by vines, banana plants, and giant ferns.
After enough time in America, you begin to think this type of tropical landscape exists only in zoo greenhouses and the entrance to theme park rides. But as white-faced monkeys crawled out on branches to harass us, it dawned on me that this place is exactly what all of those were trying to recreate.
"This is all natural?" I asked my guide. He laughed at me with a hearty Caribbean guffaw.
"What you mean 'real?" he responded.
"Like nobody planted any of this? It's not landscaped?" I said.
"No," he shook his head. "What you pay to make, we just have."
At the end of the trail, we arrived at Punta Caribe, a spectacular stretch of secluded beach that was a popular hiding spot for pirates in past centuries. It's a perfect cove of emerald cliffs that drop down into a bay of bright blue water. And because it's only accessible by boat or a long hike through the park, most times you'll be able to enjoy it with nobody but the monkeys.
On the other side of the point jutting out from Punta Caribe lies the coral reef at Cocalito. There is an old cliche about time having no meaning in the Caribbean, but Cocalito is so relaxingly intoxicating, you'll spend an hour and a half drinking from a coconut in a hammock and won't feel like you've been there a minute. Two families populate this small beach in front of the best snorkeling in the park. Each has a stand serving fresh, traditional food, that you can eat in a hammock or under a palm tree. Staring out from the beach at the horizon puts you in a trance of relaxation, even with the small children from the families scampering about. With no cell service and even less Wi-Fi, Cocalito is the definition of tropical disconnection.
Cheap drinks and affordable accommodations
Unlike some Caribbean locales with unparalleled nature, the fun in Tela Bay isn't limited to daylight hours. If you're not completely exhausted after a daylong tropical trance, the city of Tela has the sort of electric waterfront nightlife one might expect in a Central American surf town. The go-to for dinner is
Maya Vista
, a restaurant requiring a climb up several flights of stairs to eat among the treetops overlooking the city and the bay. It's not quite dinner in a treehouse, but boats the best view you'll get with a three-course meal under $20.
The beach in Tela has a strip of bars next to it, where people sit at tables on the sand or in the bars across the boardwalk, simply enjoying having a beer within earshot of the ocean. Those local beers like Port Royal and Barera run about a dollar each, with an accompanying shot running another couple of bucks.
Further down the shoreline, you'll find a pier lined with about a half-dozen more bars, set along one side so people can dance along the other. Of course, each bar is playing its own music, so the result is a blaring mix of Spanish music and American pop that's audible from a couple of blocks away. People here are friendly, and might encourage you to join in the dancing along the water after you finish your absurdly cheap drink. No need to worry about looking silly; with that many different songs playing at once, you'll be in rhythm with at least one of them.
Lodging here can be dodgy, as it's not the kind of super-developed tropical destination some Americans are used to. But even the luxury spots here are affordable. Indura Beach, the resort with the monkey-filled golf course, is a waterfront gem of dark wood, high ceilings, and colorfully lit swimming pools set inside a national park. It's the kind of place you'd expect to go for $400 a night or more in, say, Turks and Caicos. In Tela, it's about $115. The Maya Vista -- home to the treetop restaurant -- is around $60 a night. Most other three-star and up options rarely top $75.
The beauty of the Caribbean is often something people think of as exclusive and unaffordable. But because most Americans haven't discovered Tela, it's still authentic, welcoming, and cheap. A few days here, and you'll not only feel relaxed, but also a little more educated in a part of the world you didn't know much about. Even if it does mean a few horribly errant golf shots.
Sign up here for our daily Thrillist email and subscribe here for our YouTube channel to get your fix of the best in food/drink/fun.
Matt Meltzer is a contributing writer to Thrillist who secretly enjoys watching monkeys mess up golf shots. Follow him on Instagram @meltrez1.