A Re:Birth installation.

| Photo by Yumiya Saiki
A Re:Birth installation.

| Photo by Yumiya Saiki
The 2024 Texas Eclipse Festival Is Basically Coachella for Astro Nerds
Staged just outside of Austin, the outdoor music bash is set to draw space fanatics directly into the path of totality.
On August 21, 2017, the planets aligned. Well, two of them, anyway. That year's highly anticipated total eclipse was the first to touch down in the US since 1979, and was it ever a doozy. With a 70-mile-wide path of totality that crossed the continental US from coast to coast, what was dubbed the "Great American Eclipse" captured the attention of millions. Eclipse-chasers treated themselves to new beach chairs and upgraded their special eclipse glasses. Some of the more spiritually inclined meditated, charged crystals, or set their intentions with a dose of eclipse water, infused by the light of the moon.
Meanwhile, music-lovers raged. Here was an opportunity for something akin to a full moon party, but rarer, and even more epic. There were no less (and probably way more) than eight music festivals that weekend, from the weeklong Burning Man-esque jam band extravaganza Oregon Eclipse, the first place the eclipse, well, eclipsed, to an EDM Yacht Party in Charleston called Eclipse of Denial, to Moonstock in Kentucky, where Ozzy Osboure played a memorable rendition of "Bark at the Moon" right at the moment the moon's eerie disc overcame the sun.
It was the artsy Oregon Eclipse Festival and its experiential installations that both caught the attention of—and inspired a bit of fomo in—Mitch Morales, producer of Austin's Euphoria Fest (among other credits). His friends were headed up to dance under the moon in the Pacific Northwest, and their pilgrimage gave him an idea. "I understood how rare [eclipses] were, so I looked at the Farmers Almanac to see if there was ever going to be one in Texas in my lifetime," he says. "And it just so happened that the next one was actually in Texas, super close to where I grew up."
2024's total eclipse hits North America on April 8, starting on Mexico's Pacific Coast, entering the United States via Texas, and then traveling on through Oklahoma, Arkansas, Missouri, Illinois, Kentucky, Indiana, Ohio, Pennsylvania, New York, Vermont, New Hampshire, and Maine. Up in Canada, it enters through Southern Ontario and exits in Newfoundland. Everyone along its path will be basked in an extraordinarily long totality of up to four minutes and twenty seconds. And hopefully they enjoy it—2024's event will be the last one visible in United States for the next 20-odd years.
In other words, for a festival producer, the eclipse presented more than enough reason to throw a huge bash.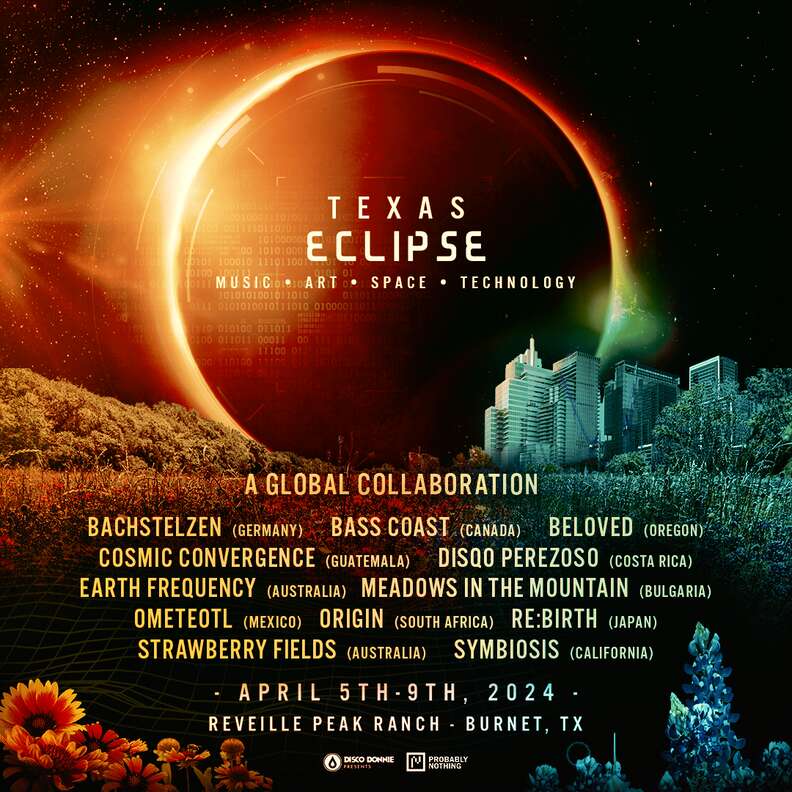 Tickets are on sale June 15 for Morales's vision, a self-described festival of music, space, art, and technology called Texas Eclipse that runs from Friday April 5, 2024 through Tuesday, April 9. Entry packages start at $199, and accommodations range from showing up and pitching your own tent and RV spots with power hookups to the whole VIP glamping shebang (check the website for more info).
Luckily, Morales found a sprawling Texas venue that fell right in the path of totality. "I got connected with a property called Reveille Peak Ranch that was just perfectly situated," he says. "You want to be as close as possible to the totality line because it maximizes the amount of time you experience the eclipse." Usually an adventure destination for horseback riding, hiking, mountain biking, and fishing, the 1,300-acre ranch is staggered with dynamic levels of terrain, plus trails leading up to higher vistas—key for getting that coveted close-up shot. "To view from elevation and see the shadows below you is super cool," says Morales. "There'll be a ton of amazing vantage points, both from the campground at the festival and also spots accessible by hiking."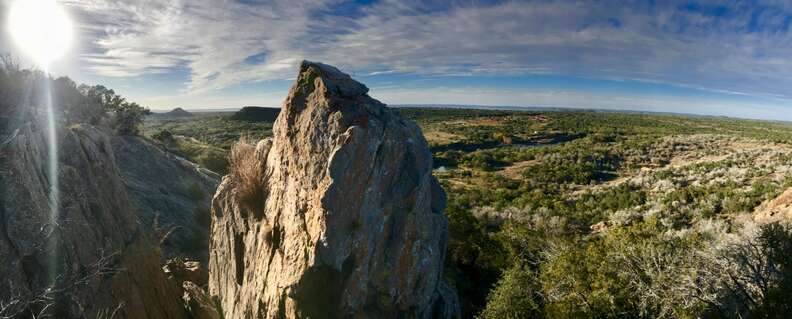 Produced in collaboration with EDM promoter Disco Donnie and—coming full circle, so to speak—the team from 2017's Oregon Eclipse, the multidimensional event will also host works from international artist creators and festival innovators like California's Symbiosis, Japan's Re:Birth, Australia's Strawberry Fields, and Canada's Bass Coast. (We hear one installation is a spa where you can book massages.) In future months, they'll be rolling out the music lineup plus plans for all-ages science and tech programming spanning kids areas with STEM workshops to NASA-caliber lectures. "We're playing with a lot of concepts around space and technology," Morales adds. "Really where we are as a species in this interesting timeframe."
The eclipse isn't the Lone Star State's only natural happening worth gawking at next spring. The festival is located smack-dab in West Texas's gorgeous bluebonnet season. And if this particular event isn't your bag, more are starting to emerge all over the country. Just nearby, in fact, is Austin's Shadow of the Moon, complete with drum circles along the Colorado River (there will be a lot of those, we imagine).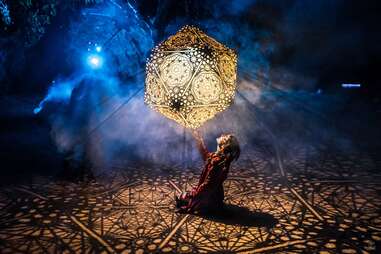 No matter where you end up, you'll definitely want to secure a pair of eclipse glasses. "We want everybody to be safe when they're looking at the eclipse," says Morales. "There's this whole long period when the moon starts to pass in front of the sun into the totality and then departs. So it's not just four minutes, it's actually a few hours."
The organizers haven't decided if, like when Ozzy played "Bark at the Moon," they'll schedule a live soundtrack during the actual window of totality yet, but Morales is leaning towards not. "From what I can tell, it doesn't make any sense to program during that time, because it's just gonna get lost," he says.
Because as much as Texas Eclipse is a celebration of music, art, space, and technology, it's much more about people coming out to share in those four minutes of celestial magic. "I think what's interesting about an eclipse is the anticipation of it," Morales adds. There are so few things now that really pull us all out, that we collectively can focus on together."
Correction - June 12, 2023: This story was updated to include corrected festival dates.
Vanita Salisbury is Thrillist's Senior Travel Writer. She is decorating her eclipse glasses with the sun, the moon, and the stars.