Hop on a Motorbike in Laos for an Adventure-Fueled Road Trip
Go full-throttle with disco caves, flooded ghost forests, and blue lagoons.
Travelers, start your engines: You are now entering The [Scenic] Route, a rip-roaring exploration of the world's most incredible international road trips, from lush Rwandan jungles and ancient Peruvian mountains to seaside Irish villages, dreamy Japanese forests, and twisty Romanian hillsides. For more reasons to hit the pavement—plus tips, interviews, and a custom road-ready playlist—cruise over to the rest of our coverage here.
For many, Laos is hardly more than a quick stopover on the well-trodden Southeast Asia circuit. Backpackers might find themselves in Luang Prabang for a night, maybe venturing to Vang Vieng to party or to the capital, Vientiane, to see more temples and monuments. But to leave without following the coffee-colored Mekong River further down into the depths of Laos for the motorbike loop of a lifetime? Now that would be tragic.
From the central Laotian town of Thakhek, adventurous types mount rented motorbikes and set off on a four-day route known as the Thakhek Loop, which takes drivers to many of the country's highlights. You don't have to be Evel Knievel to drive the easily-accessible motorbikes, but believe me: You'll want two wheels instead of four for this journey. The 275-mile road trip winds through mist-cloaked forest, past rice fields and terraced paddies, stopping off to explore vast and quirky caves, semi-secret swimming holes, and remote villages along the way.
With a map stowed under your seat, a belly full of fried rice, four days of essentials in your backpack, and a good deal of gusto, you're ready to burn rubber. Don't actually burn rubber, though; drive slowly and carefully on these beautiful but sometimes unruly Lao roads. Here's everything you need to know to road trip the underrated Thakhek Loop—from someone who's done it and lived to tell the tale.
How to rent a motorbike in Laos
Motorbikes dominate the streets of Southeast Asia because they're more affordable than cars, easier for a tourist to get their hands on, and compact enough to weave through traffic and traverse narrow or unpaved roads. At some points on the Thakhek loop—like on delicate wooden bridges and winding mountain roads—driving a motorbike is actually safer than driving a car. Plus, riding with the wind in your hair is just fun.
An International Driving Permit is needed to legally drive in Southeast Asia, which translates your current drivers license into a different language, depending on which country you select in your application. Getting one involves filling out a form and paying a $20 fee. That being said, not all motorbike rental shops ask for proof of an IDP, and many tourists here rent and drive motorbikes without one.
One thing to note is that the roads are chaotic and sometimes even dangerous (I mean, have you seen them?), so get behind the handlebars only if you are a confident driver—of any type of vehicle, that is—with plenty of miles under your belt. Travel insurance that includes medical coverage is also a good idea.
Before embarking on your four-day journey into the wilderness, research the road etiquette, like yielding to larger vehicles and using your horn to communicate, not just to express frustration. Practice driving in tourist-friendly cities like Luang Prabang to get a feel for it. Those used to driving in the U.S. are relieved to find that traffic moves on the right side of the road in Laos, unlike in neighboring Thailand.
Motorbikes here range from scooters to manual sport bikes, so choose a style and size you're comfortable with. Check the brakes, lights, and horn, and photograph any flaws before you leave the shop. If the cost of the bike doesn't include a helmet, then pay the extra and don't dare go anywhere without it.
Plan the ultimate Thakhek Loop itinerary
Four days is the minimum amount of time you'll want to spend on the Thakhek Loop if you want to A) drive safely and B) stop to enjoy the sites. There are many guesthouses on the route if you'd like to take it slower, but consider the weight of your pack before casually tacking more days onto the trip.
Speaking of the bag, it's best to leave the 60-liter hiking pack in a locker at the bike rental shop and bring just a lightweight day backpack with swimwear, pajamas, waterproof layers for you and your pack, basic toiletries, and a change or two of clothes. The motorbike rental shops in Thakhek often give out paper maps of the roughly drawn route, which come in handy when you're in the middle of the jungle with a dead phone.
As for when to go, know there are only two seasons here: wet and dry. The former has its perks, but the latter (November to April) is better for driving and seeing attractions on the loop. During the monsoon season, exploring the caves can become perilous with the potential of flash flooding. Plus, the heat and humidity are insufferable for the unaccustomed.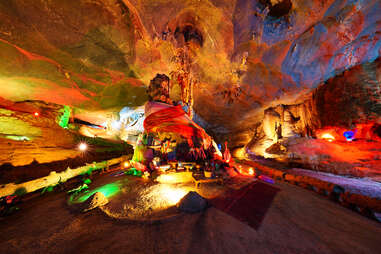 Day 1: Discover the subterranean wonders of Cave Alley
To set out on your adventure, drive eastward from Thakhek toward "Cave Alley," a stretch of Route 12 with multiple hollowed-out geological features filled with Buddhist shrines or disco lights or both.
Many people choose to make the first stop at Elephant ("Xang") Cave. Pay a few thousand kip to go inside and see the rock vaguely shaped like Southeast Asia's unofficial mascot and, perhaps more interestingly, the shrines installed in the rock crevices. Although many attractions along the route require an entry fee, most cost less than $1 USD.
Shortly after Elephant Cave on Route 12 is Xieng Liab, a limestone karst containing shallow water. If it's too early in the day for a dip, just stand at its entrance and marvel for a minute, then continue onto day one's true highlight: Tham Nang Aen.
Admire the tall ceilings, large chambers, and colorful pageantry of Tham Nang's rainbow-lit interior. Take a boat tour deeper into the cave system if you have time to spare. Make this your last stop before following Route 12 to Route 1E and parking at the Sabaidee Guesthouse in Thalang for the night. After about 66 miles of driving, you'll tuck into an all-you-can-eat barbecue feast (cooked nightly) and rehash the day's events with fellow Thakhek loop-ers.
Day 2: Cool off in a blue lagoon
During the first hour of driving on your second day, you'll cross a ghost forest flooded by a local hydropower project, traverse mountains, and pass sculptures of Buddha carved into rocks along Route 1E. Stop to refuel in Lak Sao, a small town with restaurants and a gas station, then follow Route 8 west. Skip Dragon Cave if day one left you with subterranean fatigue and especially to conserve your enthusiasm for the holy grail: the Kong Lor cave. Instead, spend the afternoon in the icy-blue waters of the "cool pool," a stunning lagoon surrounded by lush forest and baskers lounging on the banks.
When you're ready for a rather adventurous stretch of road, hop back on your bike and head toward Kong Lor. If you have the time to stretch your trip out a day or so, feel free to stop in Na Hin to visit the Nam Sanam waterfall. If you go during the dry season, it's but a trickle—and because it could take hours to visit, you might find it best to skip it altogether this time of year. A left off the main road will lead you along a less-maintained 26-mile stretch featuring several wooden bridges and bumpy sections. Take your time—hot food, cold Beerlao, and a comfortable bed await on the other side.
When you get to the village, treat yourself to a private bungalow at the Kong Lor Eco-Lodge, a welcome change from guesthouse accommodation.
Day 3: Go deep into one of the longest caves in the world
On the third day, rather than hopping back on the bike, take the day to explore the village and the depths of Kong Lor Cave, only about half a mile from the Eco-Lodge at the end of the main road that cuts through the town. The cave extends four and a half miles into the core of a limestone mountain, and locals guide tours of it by headlamp with a fleet of canoes parked at the cave's mouth. One of these boat tours could take two to three hours.
The rest of the day should be spent kicking back on the veranda of your bungalow, devouring curry soup and smoothies at the restaurant opposite (aptly called The Best One), and preparing for a long journey back to Thakhek the following day.
To cut down on tomorrow's miles, you might consider driving 26 miles back to the main road tonight and staying at the Sanhak Guesthouse in Na Hin.
Day 4: Drive through the mountains back to Thakhek
With 115 miles of slow ascents, steep declines, and traffic separating Kong Lor from Thakhek, the last day is guaranteed to be the most exhausting of the trip. Though Route 13 doesn't have much in the way of tourist attractions, there is a crystal-clear swimming hole to help break up the slog back to Thakhek. Turn left toward Khun Kong Leng Lake for one final plunge before winding up where you started. Otherwise, just keep your hand on the throttle as you inch toward the finish line and, finally, claim your imaginary medal for completing Laos' most epic road trip.
Olivia Young is a freelance journalist, slow travel advocate, and vanlife expert. Her favorite travel days usually involve vegan food, wildlife sightings, and an occasional liability waiver.