People talk about Thanksgiving like they're planning a trip to the DMV. If the holiday feels like some thankless chore you do for the sake of far-flung relatives you only talk to via Facebook comment, maybe it's time to consider going somewhere else for Thanksgiving. If you can swing a longer trip, we've a few suggestions for spectacular places to visit this November. But even if you're just looking for a quick Thanksgiving weekend getaway, we've rounded up some first-rate destinations that are not only bearable, but actually, y'know, pleasant. Enjoyable. Get ready to be that person at the office the following Monday who says, "Oh, it was fine, thanks!" and actually means it.
MORE: Here's the deal with Boxing Day, a confusing but very real holiday
Recommended Video
Please Don't Hang Up: The Best Things to See, Eat, and Do in Seattle, WA
San Juan, Puerto Rico
This is quite honestly the perfect window for visiting Puerto Rico. Hurricane season has drawn to a close, the hotels and bars and restaurants around San Juan have long since reopened for business since Maria, and no holiday is any kind of holiday without coquito. The food you'll find at Lote 23 and La Placita will put to shame any Thanksgiving feast you would have cooked at home. Plus, it'll give you some of the vibes of an international getaway without requiring even passport, and flights are cheap and short -- just two and a half hours for those of you in Miami.
MORE: There's never been a better time to visit Puerto Rico
Key West, Florida
November, after the Halloween crush, is the perfect time to head to the Keys. Though it's usually a rowdy, liquor-soaked party city, Thanksgiving is the rare time of year when you can actually fully chill in Key West. Gone are the careless tourists who stagger their way along Duval Street, leaving spots like Hogs Breath Saloon, Sloppy Joe's, and the Green Parrot free and easy to get a drink at. The sunsets over Mallory Square are no less spectacular, and the weather outside is cool and pleasant.
MORE: The best small American cities to visit for a long weekend
The Cayman Islands
If you haven't been to the Caribbean before, the Cayman Islands are a great starter kit. The shopping, dining, and infrastructure feel like Florida, but with an island twist. Spending your holiday lounging on the white sands of Seven Mile Beach isn't a bad option, but if you're certified to dive, check out one of the best wrecks in the world at the Kittiwake. On land, Cayman Pirate Week is spread across the islands throughout the first half of November -- expect a series of parades, festivals, fireworks, and street dancers celebrating the swashbuckling local heritage.
MORE: The best places around the world to scuba dive
Chicago, Illinois
This is a case when it pays to zig when everyone else zags. Because so many people travel out of big cities for the holidays, flights into them tend to be cheaper. Fly into Midway to avoid the masses connecting through O'Hare, and you've got a fairly easy journey into town. Get there a day early and you can catch the mayor lighting the city's Christmas tree, followed by the second-most famous Thanksgiving Day parade. Bring your skates and you can hit the free rink at Millennium Park. The city isn't typically too crowded this time of year, the attractions have shorter lines, and everyone looks good in a light jacket and scarf. If you've always wanted to check out Chicago, this Thanksgiving might be the time to do it.
Riviera Nayarit, Mexico
For those of you living west of the Mississippi, this region north of Puerto Vallarta is your perfect holiday weekend escape. The smaller towns like San Pancho and San Blas are lined with charming restaurants and craft stores, leading to sparsely populated beaches in semi-private coves. The main city, Sayulita, is energetic without feeling crowded, and it's also home to Hidden Beach, one of the world's most beautiful beaches, that's carved out of a rock in the middle of the Pacific. For the luxury traveler, Punta de Mita has a Four Seasons hotel with one of the best pool views in the world.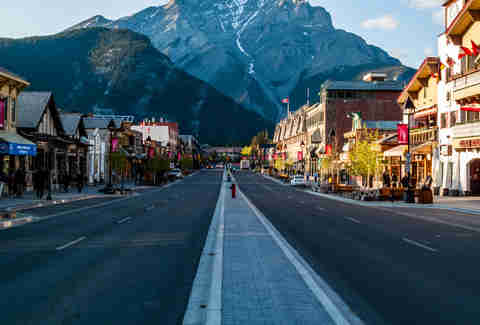 Banff, Alberta, Canada
Summer is the highest of high season in the jaw-dropping Canadian Rockies. But in the past half-decade or so, it has also become a top ski destination (as competitor slopes in the United States begin to feel the effects of climate change). Early season Lake Louise won't be nearly as packed, rates won't be as inflated, and the snow will still be in perfect condition. The resort hosts World Cup races around this time of year, so the runs are groomed but not yet worn down. And if you're hell-bent on home-cooking your own big turkey dinner after a long day of skiing, condos in local apartments and ski villages can be had for under $200 a night.
Porto, Portugal
Wine tasting for Thanksgiving sounds nice, doesn't it? It does. In the States, winemakers sometimes want to do wild stuff like spend the holidays with their families, and tours that weekend can be limited. But lucky for you, Portugal is one of the cheapest places to fly to in Europe right now -- for those of you around New York and New Jersey, there's even a direct route from Newark to Porto now. In the city, you'll find temperatures in the high 60s, great surfing, and laid-back nightlife (beers are rarely over $2). Venture out to the nearby Douro Valley wine country, stopping at scenic vineyards like Niepoort, Porto Reccua, and Sogevinus. The reds and whites are fantastic, but the star of the show is, of course, the port.
MORE: Your guide to visiting Porto, Portugal
Reykjavik, Iceland
The perpetually cheap flights make the short hop to Reykjavik well worthwhile, and this time of year, with the sky darkening for winter, is the best for seeing the Northern Lights. The onslaught of American tourists has given Reykjavik the energy of a much larger city, where bars are packed with sports fans watching their teams into the late hours. So, maybe you're looking to get out of the city -- to see the Aurora, drive the Ring Road and the steamy, volcanic wonders of the island along the way.
MORE: Maybe your Iceland trip should also be a Greenland trip
Chiang Mai, Thailand
The northern, mountainous region of Thailand contains the country's second-largest city, Chiang Mai, which is one of the best places to visit in Southeast Asia and one of our recommended places to travel to this November. Arrive in the lead-up to Thanksgiving, and you'll be there for two annual festivals of light, one involving candle-filled baskets on the river and another in which you release lanterns into the night sky. And with great respect to whatever marshmallow-yam casserole thing your great aunt produces each Thanksgiving, the food here outdoes it -- prepare for a low-cost feast of khao soi, squeaky bacon-wrapped mushrooms, sticky mango rice, quail eggs, pork rinds, and street meat you'll never identify and will miss for the rest of your days.
MORE: The most beautiful places in Southeast Asia
New York, New York
New York City is one of the best places you can visit in November, especially around Thanksgiving. We are biased over here, but we are also correct. You can count on the Macy's Thanksgiving Day Parade, an inflatable-cartoon-filled spectacle that draws 3 million live spectators and over 50 million at home. Being there in person is mesmerizing, as characters you've only seen on a childhood television set magically float through the concrete caverns of Manhattan. It also kicks off the greatest time of year to visit New York. When else can you knock skating at Rockefeller Center and seeing the world's most famous Christmas tree off your life to-do list? 'Tis the season.
MORE: Check out our ultimate New York City travel guide
Havana, Cuba
November in Cuba (and across the Caribbean) means that hurricane season has come to an end but the high season for tourists has not yet arrived, which leaves an ideal Goldilocks Zone for you, the discerning Thanksgiving traveler. The city is less crowded than it was this time a couple of years ago, when tourism was peaking before Trump's new travel restrictions made things more confusing. For the record, you can still fly into Havana, though you might consider a tour company to help you wade through the formalities.