Pretty much every city with a drainage canal these days likes to call itself something along the lines of, "The Venice of Saskatchewan". But it takes more than an artificial waterway to make a city with canals a legitimate canal city.
And since you already crossed Venice off your bucket list that time you were in Vegas and stopped for lunch at Buddy V's, here are 10 of the world's other beautiful canal cities worth a visit.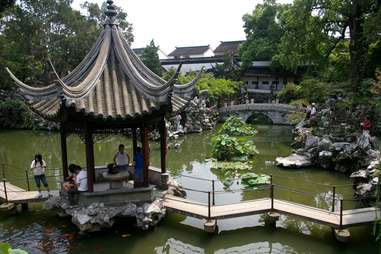 Suzhou, China
When you drift through the modest, historic homes that line the canals in this city outside Shanghai (where the Yangze River Delta meets Taihu Lake), it feels like a Jackie Chan chase scene could break out at any minute. Also, Suzhou's meticulously manicured gardens, and the stone bridges that cross the canals, are everything you'd imagine Chinese gardens and stone bridges to be.

St. Petersburg, Russia
Hardly a warm, summery canal city by anyone's definition, the grandest of Russian cities is built along the River Neva; and as such, you can take a ferry up the river to explore the city's system of canals -- and Russian Orthodox cathedrals and mansions over 200 years old -- that branch off of it.
Alappuzha (Allepphy), India
The houseboats in this Southern Indian city don't sit on a picturesque lake, but rather cruise the nearby backwaters. Kinda like Deliverance, but replace the banjos with sitars. Still, the swampy scenery and pristine beaches to the west will have you forgetting the insanity of urban life.

Stockholm, Sweden
Sweden's capital is made up of 14 islands connected by 57 bridges, which means one thing: Plenty of places for the Swedish Bikini Team to lay out and work on their tans. Seriously, what ever happened to them? What a great ad campaign. Anyway, you can also hit one of their canal-side beaches to soak up the Scandinavian sun (because it's sunny in Sweden all the time, right?) or ice skate on some of the smaller canals should the temperatures cooperate.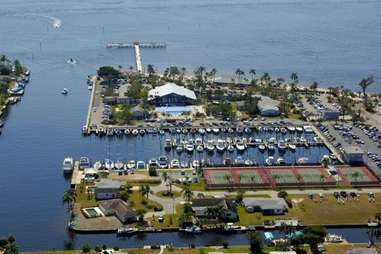 Cape Coral, Florida
Florida is known for two things: Sunning yourself on boats, and home foreclosures. And nowhere can you better combine the two than this Gulf Coast city which boasts around 400 miles of canals and was the poster child for sub-prime disaster. Which means you can spend a whole week working on your on-the-water tan while cruising the canals looking for short sales.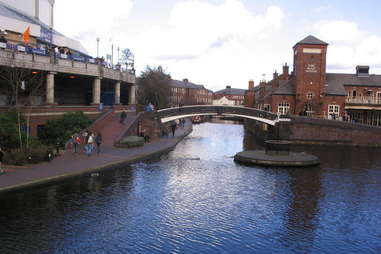 Birmingham, UK
Picture, if you will, Ozzy Osborne paddling a gondola down the canals of this industrial city in the West Midlands of England, gently crooning out "Mama, I'm Coming Home". Now, wipe that tear from your eye, because Ozzy would want you to continue reading about his hometown, which actually has more canals than Venice. While the canals were originally used to transport goods around the city (and to the rest of England and Europe) during the industrial revolution, today they're pretty much just for tourists and the occasional homecoming rock star.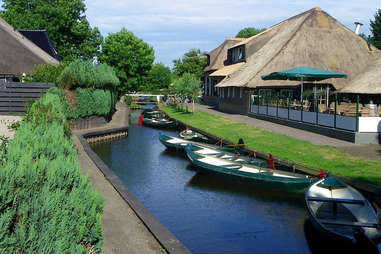 Geithoorn, Netherlands
The Dutch do a lot of things better than America. Beer, for one. Drainage. Red Light Districts. And also suburbia. While we have gated communities and eight-lane roads, they've got Geithoorn, a small city of just over 2,600 where, instead of using cars, residents traverse their sprawling lawn-fronted homes via boat and footbridge, of which there are over 150.
Why didn't we choose Amsterdam as our Dutch representative on this list, you ask? Because, in addition to being your go-to for all things men's lifestyle and travel, we occasionally like to educate. And admit it, you'd never heard of Geithoorn until about 90 seconds ago.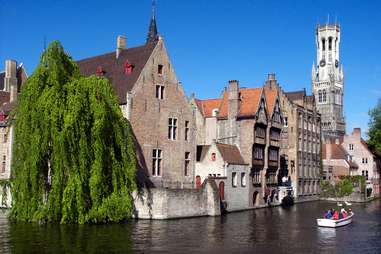 Bruges, Belgium
Those bells that kept reminding poor Colin Farrell he was "still in f*cking Bruges" come from the city's most notable landmark, a 13th century belfry; it's just one example of possibly the world's best collection of medieval architecture at which you'll nod approvingly as you cruise this West Flemish capital's canals. Or, you can get off the water and check out some amazing art at the Groeninge Museum. And no, it's not full of "Simpsons" stills.

Ft. Lauderdale, Florida
Once envisioned as the Venice of the West (or maybe that was Venice, CA, but whatever), Lauderdale is now more "Miami, without all the sh*tty parts". This South Florida sunspot has 165 miles of waterways within city limits, a fact that's not lost on importers of things that can't be brought through customs. But even if you're NOT in the illegal-importation business, you can enjoy the year-round sunshine as you ride their extensive system of water taxis from the bustling Las Olas riverfront district right out to Lauderdale Beach.

Tigre, Argentina
After you've spent enough time in Buenos Aires to not stop talking about how cheap the steak is and how "it's just like being in Europe!", head about 20 miles northeast to this town of islands (hundreds to be sorta exact) that's part fishing village, part-eco tourism hub. The city isn't built up like many on this list, so navigating its canals means experiencing both a modern city and untouched nature. Kinda like Sarasota, but with some history.