The 10 best cities for studying abroad
A semester spent studying abroad is as much a part of the college experience as all-nighters and walks of shame. And while exposing yourself (figuratively) to another culture is great and all, you also need to be careful not to come back as some ascot-wearing wannabe who scoffs at doing keg stands and won't stop talking about his new off-campus "flat".
So as an ever-invaluable point of reference, here are the top 10 study abroad cities in the world, and the "guy" you definitely don't wanna become after spending a semester there.

Sydney
Why it's awesome: Other than needing to learn, like, only seven new words (and one of them is "Didgeridoo"), our winter is their summer. Trade snow for surf and spend your afternoons skipping class on Bondi Beach, or ferrying around Sydney Harbor.
Just don't come back as: That guy who "picked up" an Australian accent after living there for all of a semester. You're from Portland, there, "mate" -- check the Paul Hogan imitations at passport control.
Paris
Why it's awesome: Well, there's the food, first of all. But even if your study abroad goal wasn't to gain 35 pounds, there are so many art museums, sidewalk cafes, late-night brasseries, and culture that you might actually start agreeing with the French people you meet who say Americans are uncultured slobs.
Just don't come back as: That guy who thinks Americans are all uncultured slobs. Or a chainsmoker.
London
Why it's awesome: You won't get a more international study abroad experience than you will in London, where, next to maybe New York or Miami, you'll ride the Tube (that's the subway, for the uninitiated) with people from more countries than anywhere in the world. The museums are all free, the West End theater is on par with Broadway, and the once-maligned food scene is now among the world's best.
Just don't come back as: The guy who won't shut up about Premier League soccer. And calls it "football".
Florence
Why it's awesome: While taking extra classes when NOT in class doesn't seem very "frat", learning to cook Italian food IN Italy will never not score you points with the ladies. Also a big point scorer: having a working knowledge of Renaissance art, which you can pick up at the famous Uffizzi and Palatina galleries.
Just don't come back as: That guy who goes to the best Italian restaurant in the city and says "This is okay, but I mean you haven't really had Italian food until you've been to Italy. It's the best food in the world. It's the care they take in making it and their slow pace of life. You wouldn't understand unless you've lived there". For a semester.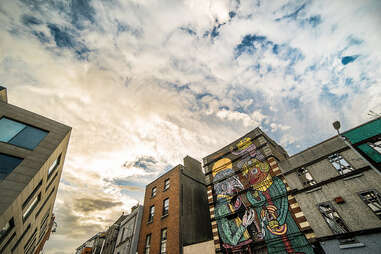 Dublin
Why it's awesome: When your (ho-hum) average college binge-drinking experience isn't quite enough, Ireland is your spot. Ok, so it's also home to the American College Dublin, which Abroad 101 ranked their top study abroad program in the world.
Just don't come back as: That guy who refuses to drink Guinness in America because "it's sooooo much better when you actually have it in Ireland".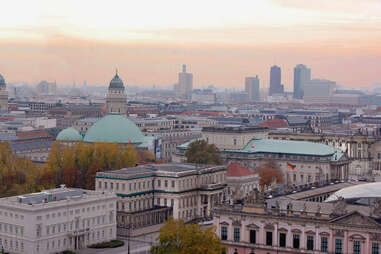 Berlin
Why it's awesome: Even if endlessly pounding electronic music isn't how you want to spend your time studying abroad, this once-divided city is known for its inventive -- and sometimes disturbing -- performance art, Bauhaus architecture, and loads of young people who've moved here as the city continues to ascend.
Just don't come back as: That guy who plays nothing but hard industrial techno in his car, screaming over it about how it's what Mozart would be composing if he were alive today.
Beijing
Why it's awesome: Sure, if you like "clean air" and "space", this might not be the best option for you. But if you want to see something different, like really different, without having to camp out in an Indian swamp, Beijing is it. Eating live shrimp that're being slowly killed by alcohol? Sure. Literally being pushed into a subway car by someone who's actual job is to push you? Check. Being the tallest guy in a three-mile radius? SIGN ME UP. Just don't expect things to ever run smoothly.
Just don't come back as: That guy who rides shotgun in rush hour traffic and says stuff like "Please. You don't know traffic until you've seen it in China". Yeah? Tell that to the eight million people sitting on the 405.
Barcelona
Why it's awesome: Probably the best part of studying abroad in Barcelona is FINALLY being able to wear that Messi jersey without having to sheepishly tell hardcore Barca fans that you've actually never been to Barcelona. Now, in addition to catching your first game at Camp Nou, you can spend your days off on the beach, or strolling La Rambla (just hold on to your wallet!) and your nights in arguably the best clubbing city in Europe.
Just don't come back as: That guy who refuses to eat dinner until 10pm, then sits there for four hours telling everyone to "take time and enjoy life" like they did back in Bar-THEY-lona. When did you develop that lisp, dude?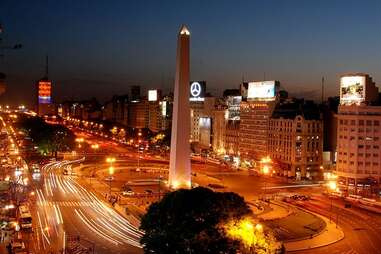 Buenos Aires
Why it's awesome: In addition to having opposite seasons, so winter won't really be a "thing' for you this year, BA is about as close to Europe as you'll get in South America. It was a post-WWII destination for many fleeing Europeans, so the architecture is more reminiscent of Paris than Peru, plus there's ample opportunity to tango down the street (literally, like they have live performances), or just sit at a café as if you're in France. But without actually being in France.
Just don't come back as: That guy who goes out for a steak dinner, looks at the prices on the menu, and says "You know for $38 in Argentina you got a filet, three bottles of wine, dessert, salad bar, a taxi ride, hotel room, and a tango lesson".
Amsterdam
Why it's awesome: The food in grocery stores is disturbingly cheap. Which is a good thing, because as you may or may not have heard, they have these bars there where you may occasionally leave hungry. But if you get over the legal hash and the red light district, Amsterdam's one of the most beautiful cities in the world, where almost everyone speaks English and is actually nice to you. It's also designed for bikes, which means less money on taxis and more on… textbooks.
Just don't come back as: That guy who says he went to the red light district but "just looked".