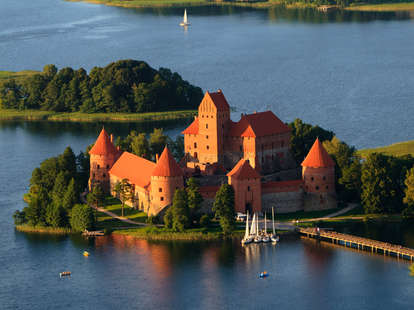 Shutterstock
Shutterstock
Plenty of people return to the same place on vacation, year after boring year. Florida timeshares are OK, and the Outer Banks can be cool if you like hanging out with families. But really, there's an entire world out there. No, really, there are 196 countries, and pretty much every one is more exciting than going to Disney World for the 32nd time. But where on Earth should you go?
Well, Lonely Planet just released its "Best in Travel 2015" list to tell you exactly that.
According to the survey, Singapore is the no. 1 destination to visit next year. Not because it's the most expensive city on the planet, but because 2015 marks the nation's 50th year of independence, translating into tons of events and partying.
Namibia, Lithuania, and Nicaragua were among the other top destinations for travelers, while less-popular destinations like Serbia (no. 7) and the Republic of Congo (no. 6) also made the list. Although, the Congo thing is a bit weird, since the State Department has a warning about security concerns for travelers. So there's that.
Here's the full list of nations that made the top 10.
10. Morocco
Why visit: Disparate cultures converge in Morocco, where European, Arab, and African influences make for a country like no other. Whether you're frequenting the food stalls in Marrakech, gawking at Islamic architecture like Hassan II Mosque, or trekking your way across the Sahara Desert, you'll find something new and exciting there.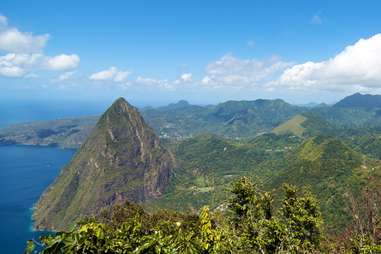 9. St Lucia
Why visit: It's basically a Caribbean paradise, but when you're not dropping dough at Castries Central Market, you can do more active stuff, like trekking through a rainforest or flying on a full moon zipline at night.
8. The Philippines
Why visit: Manny Pacquiao is from The Philippines, and that guy can beat up just about anybody. That's a good start. But gorgeous beaches, friendly locals, and stunning natural scenery, like the rice terraces at Banaue, mean The Philippines pack plenty of punch.
7. Serbia
Why visit: Although it's a landlocked nation, Serbia more than makes up for its lack of Mediterranean coastline by being cheap. Unlike many of its neighbors, Serbia isn't part of the eurozone, meaning it doesn't use the euro as its currency, so prices stay cheap. That means good things for you when you visit places like the Tower of Skulls, which is exactly what it sounds like: a tower built out of human skulls.
6. Republic of the Congo
Why visit: Go gorilla-spotting in the Parc National D'Odzala, get schooled in history at Brazzaville's National Museum of the Congo, and visit the Gorges of Diosso, a natural marvel in Pointe Noire. But again, just be advised about that State Department warning for where you should and should not go. Those guys aren't known for playing pranks.
5. Ireland
Why visit: It's Ireland. You know, the place that practically invented drinking whiskey. But if you don't find yourself melting into a pub stool, you can traverse the 26,000 acres of woodland at Killarney National Park, and soak in the view of scenic mountains and lakes; or visit Giant's Causeway in County Antrim, where 40,000 basalt stones remain after an old volcano eruption.
4. Nicaragua
Why visit: You can go surfing or hike up a volcano, and both of those things are pretty awesome. The small Central American nation boasts loads of surf camps along its Pacific Coast, or if you feel like playing with fire, you can explore the volcanoes at Masaya Volcano National Park. Maybe you'll even run into El Presidente, Dennis Martinez, while you're there. Actually, it's just a nickname. He's not really the president.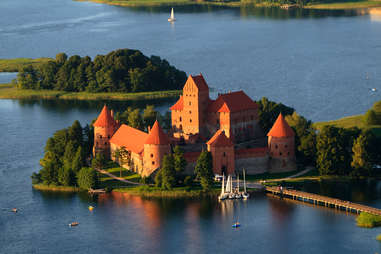 3. Lithuania
Why visit: Travel back to the 14th century with a visit to Trakai Island Castle, take a brewery tour through Vilnius (and munch on potato dumplings called "zeppelins"), and walk the historic/more than slightly creepy Hill of Crosses. Maybe not right after the brewery tour, though. Actually, a little liquid courage never hurt anyone.
2. Namibia
Why visit: Namibia sounds far out for most people, and you know what? It's really far away. Like, really far, since it's just north of South Africa. But if you get there, you can snuggle up close to wildlife on a safari through Etosha National Park, hike the 52-mile trail around Fish River Canyon, and visit the once thriving, now totally abandoned town of Kolmanskop, which has been neglected since 1956. Show the neglected beauty some love.
1. Singapore
Why visit: Can you believe the Michael Fay caning was 20 years ago? It was. Thankfully, Singapore has plenty more going for it these days than just thrashing 18-year-olds for being idiot vandals. During the day, check out the rainforest at the Botanic Gardens, and taste street food at Maxwell Road Hawker Centre; by night, sip on Singapore Slings at the drink's birthplace, and one of the world's most iconic hotels, Raffles.
Don't forget, the Golden Jubilee celebrating the country's 50th year of independence will mean plenty more partying than usual. And that's pretty much never a bad thing.
Chloe Pantazi is an editorial assistant on Thrillist's travel team. Yes, that's a British accent. No, she doesn't watch Doctor Who. Follow her on Twitter at @ChloePantazi.