The World's 10 Coolest Skyscrapers
Say what you will about the engineering prowess it takes to build one of the world's coolest bridges, when it comes down to it, skyscrapers are the undisputed king of the architectural hill. Also, they're totally, like, the future. They started humbly with Chicago's Home Insurance Building (which maxed out at a WHOPPING 12 floors and 180ft -- a big deal in 1884) and owe their existence to two major inventions: fireproof structural steel and... duh... elevators. Because nobody wants a 58-floor walk-­up, even if you live in Queens.
But which ones are worthy of your bucket list (assuming you're a person who creates weird bucket lists like "must-visit skyscrapers")? Well, these 10 showstoppers, of course.
Dubai, United Arab Emirates
Height/Floors: 2,722ft/211 floors
Currently the tallest building in the world (at least until 2019), Burj Khalifa is best known for co­-starring with Tom Cruise in Mission: Impossible 47 ­- Geritol Protocol. Or, an earlier sequel. Its impressive stats include 3.3 MILLION square feet of floor area and 58 elevators, and it currently holds 19 "highest this/biggest that" records. Like the world's highest nightclub (144th floor), which you should avoid if you're afraid of heights and dancing. Beyond the numbers, this Neo­-Futurist beauty designed by SOM (One World Trade) propels Islamic architectural motifs into the 21st century.
Ho Chi Minh City, Vietnam
Height/Floors: 861ft/68 floors (plus three basement floors)
Bitexco Financial Tower is a fusion of Vietnam's past and present, from the lotus blossom helipad to the chic office and retail interiors. Built to accommodate the country's growing business needs, Bitexco features a mall, a cinema, a food court, an observation deck, two fancy sky restaurants (Strata and Cirrus, get it?), that Tony Stark­-style helipad, tons of office space, and a three-­story convention center (Floors 61-­63). Pro tip: when you get bored at your trade show, head to the Alto Bar next to the helipad for tasty refreshments and spectacular vistas.
New York City, United States
Height/Floors: 1,792ft/94 floors (plus five basement floors)
Completed in 2014 after a 10­-year development and construction process, One World Trade is the tallest building in the Western Hemisphere and fourth overall in the world. And it has some extremely zippy elevators that launch you to the Observation Deck (Floors 100­-102) in under 60 seconds. That's faster than you can eat a dirty-water dog. The overall design by SOM incorporates state­-of­-the-­art security features and sustainable materials. Cool fact: the official architectural height is a symbolic 1,776ft. (The spire tops out at 1,792ft.)
Malmö, Sweden
Height/Floors: 623ft/54 floors
Although tiny in comparison to other skyscrapers, Turning Torso reigns supreme over high-rises in all the Nordic countries. So that's Denmark, Finland, Iceland, Norway, AND Sweden, just in case you're headed to a pub quiz tonight. The brainchild of Spanish architect Santiago Calatrava, this 147-unit apartment tower is based on a twisting marble sculpture with the uppermost cube­-thing oriented 90-degrees clockwise to the ground floor. Geometry, dude. In 2006, daredevil Felix Baumgartner skydived onto the top of Turning Torso, then BASE-­jumped from there to the ground.
London, England
Height/Floors: 1,016ft/95 floors
Another example of Neo­-Futurism, The Shard is one component of the London Bridge Quarter development and the (current) tallest building in the EU. Designed by international star­chitect Renzo Piano, this glazed pyramid is meant to be a "vertical city," because "horizontal" is soooo 20th century. Inside, you can find shops, apartments, the Shangri­-La Hotel, offices, restaurants, and bars... so if you live/work there you really don't need to go outside. Ever. Mind­numbing fact: The Shard contains 200 miles of wiring, roughly the distance from London to Paris.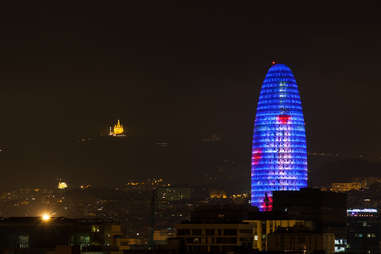 Barcelona, Spain
Height/Floors: 473.88ft/33 floors
Okay, okay, we know what you're thinking. Even architect Jean Nouvel thinks it looks phallic, but it was actually inspired by Sagrada Familia, Montserrat, and erupting geysers. (Seriously? C'mon.) Despite its favored local nickname "el supositorio" ("the suppository"), Torre Agbar quickly became an architectural icon, a cultural symbol of Catalonia, and a major tourist attraction. At night, the concrete and glass edifice shines brightly in the Barcelona skyline courtesy of 4,500 LEDs.
Shanghai, China
Height/Floors: 2,073ft/128 floors (plus five basement floors)
If you have $2.4B lying around, you could own the loftiest structure in China. Or anywhere, really. Opening this summer, Gensler's 4-plus-million-square-foot beast is so gigantic that it's made of NINE OTHER BUILDINGS stacked together. It has two completely transparent glass facades (inner, outer), and a unique design feature enabling stunning views from both inside and out. Once complete, Shanghai Tower will join the nearby Jin Mao Tower (1,255ft) and Shanghai World Financial Center (1,614ft) to form the world's first grouping of three "supertalls" (984-plus feet).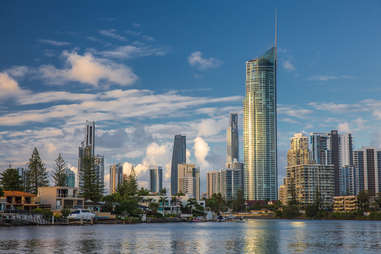 Gold Coast, Queensland, Australia
Height/Floors: 1,058ft / 78 floors (plus two basement floors)
Short for Queensland Number One, Q1 dominates all towers in the Southern Hemisphere and ranks as one of the largest residential complexes on Earth. Its design borrows elements from the Sydney 2000 Olympic Torch and the Sydney Opera House, and the name honors Australia's Olympic sculling team from the 1920s (also Q1). The SkyPoint observation deck looms at Levels 77 and 78 (771ft) and offers a 360-degree panorama of Brisbane (north), Gold Coast Hinterland (west), New South Wales (south), and the Pacific Ocean (east).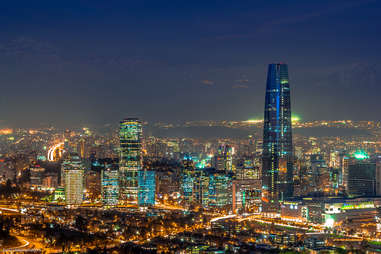 Santiago, Chile
Height/Floors: 984ft/64 floors (plus six basement floors)
Renowned Argentine architect Cesar Pelli wanted Gran Torre Santiago (Great Santiago Tower) to embody the look and tech of the 21st century, from intelligent solar shading to the sculptural-latticed crown. Mission accomplished. Rising above the Mapocho River, the sleek, tapered office building sits atop Latin America's largest shopping mall (Costanera Center), and casts a shadow more than a mile long. (For real.) And it's built to last, as demonstrated when it shook off an 8.8 magnitude quake in 2010 with ZERO structural damage.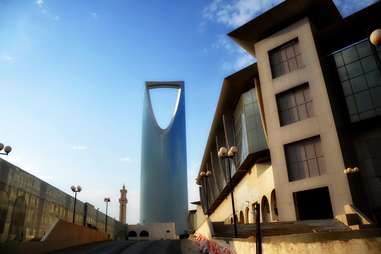 Riyadh, Saudi Arabia
Height/Floors: 991.8ft/74 floors (plus two basement floors)
What looks like a giant bottle opener is really the famed arch Sky Bridge of the Kingdom Centre, a mixed-­use facility designed by Ellerbe Becket and Omrania & Associates. The client, Prince Alwaleed Bin Talal of the Saudi royal family, envisioned an iconic building that symbolized Riyadh while incorporating Islamic geometries and expressive forms. So, file that away for your next cocktail party. Notable amenities include a 3,000-seat wedding hall (so, only 2,934 more invites to send out!) and the King Abdullah Mosque, the world's highest mosque above sea level (77th floor, 600ft).