Despite what you might think after watching everybody in that Pharrell video dance around like damn fools, the United States is not the happiest country in the world. In fact, we don't even crack the top 10. 
Nope, according to a recent report measuring the well-being of citizens in 135 countries, the United States is the 14th happiest country in the world, bested by the likes of Sweden, Uruguay, and even our overly friendly neighbors to the frigid north, Canada. But it's so cold there, how can that be?
Turns out, weather was only a partial factor. The Gallup-Healthways Global Well-Being Index 2013 -- which surveyed 133,000 residents per country -- assessed each nation's happiness level across five categories: physical, financial, social, community, and purpose. And the country who's apparently taken Pharrell's message most to heart? Well, believe it or not, that would be Panama -- they came in numero uno. 
As for the other nine nations (some of which may have you scratching your head), here are their happiness scores and our best guess as to what keeps 'em smiling.
10. Canada -- 34%
Canadians may be weird (come on, you know they are), but they are also, statistically speaking, happier than us. With a plethora of festivals annually -- from winter sports to film and jazz fests -- it seems there's always something to celebrate.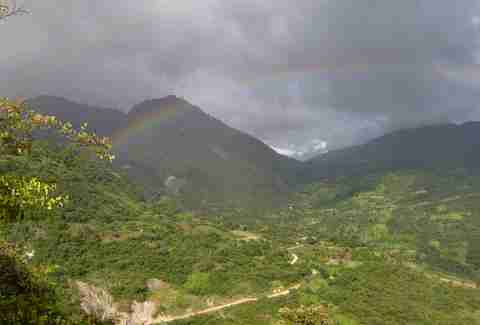 9. Guatemala -- 34%
It's easy to see what makes people happy in this country blessed with beautiful scenery; there's a tight-knit sense of community manifested in bustling local markets, colorful celebrations like Semana Santa (Easter), and entire villages partying in the streets.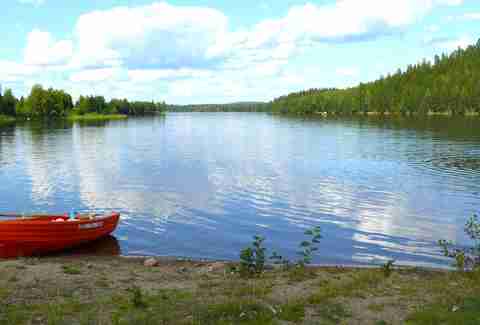 8. Sweden -- 36%
Sweden may be the most financially thriving country on the report, but its top assets are without a doubt its natural scenery and Viking heritage -- from its lakes and canals to medieval castles and bridges. Oh, and there's also the Northern Lights!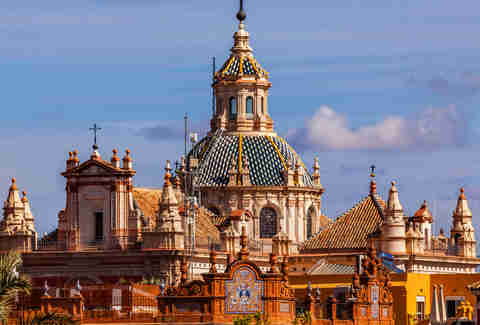 7. El Salvador -- 37%
Whether trekking through a cloud forest, surfing, soaking in the impressive architecture, or wandering around San Salvador's art galleries, there's plenty to keep residents smiling in this lively Central American nation.
6. Uruguay -- 37%
Expanses of serene nature, gorgeous sandy beaches, and natural thermal baths like the ones at Termas de Daymán make Uruguay one of the best places to relax in South America.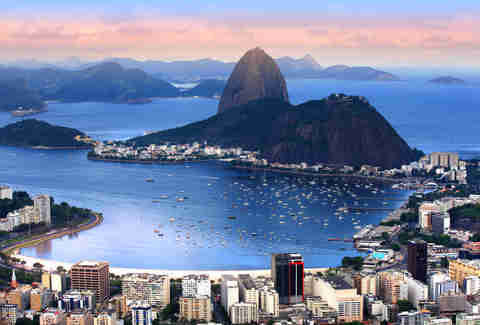 5. Brazil -- 39%
With phenomenal beaches, a vibrant soccer culture, and some of the sexiest women on the planet, Brazil's among the world's most attractive destinations. Undoubtedly the highlight of the year, Rio de Janeiro's carnival festivities get the entire community involved. 
4. Austria -- 39%
Between Alpine views (and ample skiing), fairytale-like architecture, and a lively culture scene, Austria's got plenty to keep its residents chirpy. Obviously, it's no wonder Jesse and Celine fell in love in the country's capital!
3. Denmark -- 40%
Last year's happiest nation according to the same index, Denmark's made up of quaint countryside towns with medieval churches, and hip cities like the capital Copenhagen, where even the subway is stunning. Also, pretty much everyone can get to a beach within an hour! You know, two months out of the year.
2. Costa Rica -- 44%
A land of unparalleled beauty, this Central American gem has it all: from jungles, rainforests, and abundant wildlife, to cloud-grazing mountains and volcanoes. Not to mention the pristine, clear-water beaches perfect for surfing, snorkeling, and "glass-bottom" kayaking.
1. Panama -- 61%
Panama's miles of lush jungle land, and paradisiacal (yep, we just went there) atolls like Contadora and Isla Grande, are bound to keep the locals' spirits up. Not to mention, the huge Carnaval held every February, in which revelers throw street parties complete with masquerade, giant floats, and fireworks.
Chloe Pantazi is an editorial assistant on Thrillist's travel team. Yes, that's a British accent. No, she doesn't watch Doctor Who. Follow her on Twitter at @ChloePantazi.