Few things in life are more depressing than watching your local seven-day weather forecast in the middle of February and realizing that all the temps (lows and highs!) are below freezing. Luckily, right before you change the channel and/or throw a shoe through the screen, though, one of those Mexican beer commercials comes on full of happy people drinking on the beach, and you think, "Yes, I CAN do this. Only a few more months and that will be me."
Yes, it will be you. And to help you hold on through these dog days of winter, we put together an inspirational list of the 11 most commercial-worthy US beach bars at which you will hopefully do said drinking.
Kailua-Kona, HI
Who says a beach bar has to be a funky shack (run by some eccentric old hippie) with sand on the floor and photos from 1985 on the wall? A cool beach bar CAN be located at a luxury hotel, especially if that hotel is the Four Seasons Hualalai on the Big Island. The bar jets out from the property almost to the shoreline, so you're pretty much sitting on sand while you sip on fruity tropical drinks and stuff your face with the legendary B.I. burger -- grass-fed beef with aged cheddar on brioche.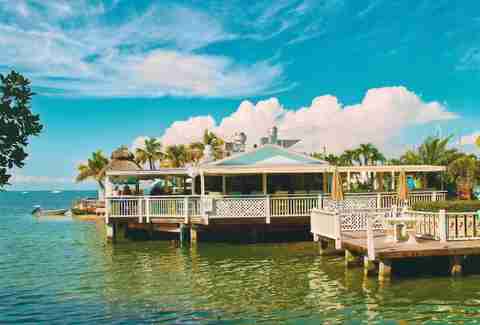 Islamorada, FL
Nothing really says "the Florida Keys" like listening to acoustic guitar under a Tiki hut as the sun sets over the marsh islands. Well, that's pretty much every night at the Lorelei, this on-the-water watering hole halfway between Miami and Key West. The place is known for having the best breakfast in the Keys and the vibe is so painfully laid-back that it's easy to lose track of time and not even realize that you just spent the entire day looking at... marsh islands. That is, until the music starts, the sun goes down, and a new party gets rollin' again.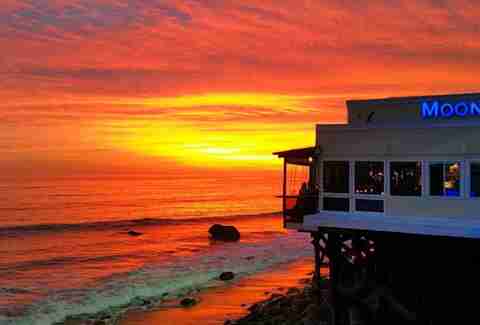 Malibu, CA
Not that LA was ever particularly hard up for swanky, see-and-be-seen day parties, but when Moonshadows -- the cliff-top restaurant with Mailbu's best view -- started running a weekly Sunday party in the lounge, it became a little slice of St. Tropez in SoCal. At the Blue Lounge, patrons relaxing on daybeds sip rosé to a soundtrack of crashing waves and tunes from a rotating lineup of DJs.
Sitka, AK
We know, we know. "Beach bars?? In Alaska? Geez, Thrillist, you wanna recommend a great snowboard park in Florida while you're at it? Unsubscribe." But talk about the most unexpectedly cool beach bar in America, the private island that houses the Talon Lodge and Spa is so remote it requires a 15-minute boat ride or short seaplane trip to get there. You don't need to be a guest to enter, and I think we can safely say, it's probably the only beach bar in America where you can enjoy your afternoon drinks with whales, bald eagles, and sea otters. Along with some of the best summer sunsets in the world.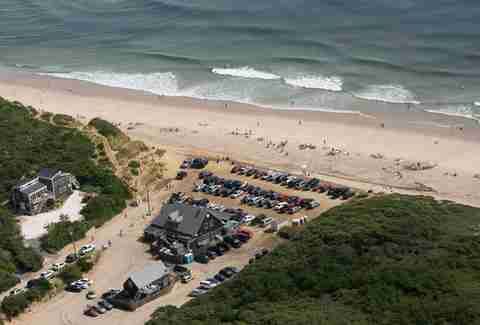 Wellfleet, MA
"The Comah," as it is colloquially known, was originally constructed as the Cahoon Hollow Life-Saving Station in 1897. Not a very catchy name for a bar, so in 1953 when Russell Gallagher converted it to a small inn, the name was changed and an icon was born. Cape Cod's only beachfront bar, the Beachcomber's parking lot is the sand between it and the ocean, and guests drive right up to the waterline before parking and sidling up to the 45ft open-air bar. At night it turns into a full-on nightclub, and you can catch all of the hot dance action live on one of the bar's webcams. You know, if that's your thing.
Cocoa Beach, FL
What is a hard-partying tailgater to do now that football season is over? Well, if you live anywhere in Central Florida, the answer is easy: head to Coconuts. The party here isn't so much inside the bar (though that's not a bad scene either) but on the sand behind it, where college kids and those slightly older set up an all-day beach party every Sunday. More reminiscent of a stadium parking lot than a stretch of sand, rows of tents, house grills, beer pong/flip-cup tables, and full bars are all open to anyone who happens to be walking by.
Cape May, NJ
When MTV brought Jersey Shore to Florida, they weren't exactly welcomed with open arms. But when a little piece of Florida is brought to New Jersey, well, that's just a cause for a summer-long party. The Rusty Nail -- probably the best-known drinking spot on the South Jersey Shore -- discourages patrons from wearing shoes as they pull up to the longest bar in Cape May. At night, there's an outdoor fire pit around which lifeguards, surfers, and other beach denizens crowd after the sun goes down. And inside there are always live tunes.
Narragansett, RI
This bar -- also a one-time home of the US Life-Saving Service (aka the Coast Guard) -- was built in the late 1800s, but has been a landmark bar and restaurant on Narragansett Bay since the 1940s. The place features a roof deck, solid granite bar, and, while we wouldn't recommend going during the winter, it's open year-round. A big draw is the daily $1 buck-a-shuck oyster happy hour and an award-winning wine list.
Redondo Beach, CA
This South Bay landmark was started by a worn-out commercial fisherman back in the 1950s and has grown to be one of Southern California's most popular beachside bars. Located at the end of the Redondo Pier, Tony's rocks big sliding glass doors that are usually open so you can enjoy the cool Pacific breeze blowing on your face while your drink. And the upstairs -- known as the Crow's Nest Lounge -- boasts a panoramic view from Santa Monica to Palos Verdes. Though Tony's might seem like a tourist trap, it's not: the crowd is decidedly local all year, full of families and crusty old beach veterans.
Cannon Beach, OR
Please try and resist the temptation to get up mid-drink and do the truffle shuffle as you enjoy a frosty beverage in the shadow of the Haystack Rock (the most beautiful place in Oregon and a filming locale for Goonies). The Wayfarer is a little more refined than that, a full-service restaurant and attached lounge with front-row seats to (and Instagram-worthy views of) the Pacific Northwest's best beach. On nice days during the summer, the doors and windows open up and you can listen to the waves crash against the rocks while enjoying a cocktail.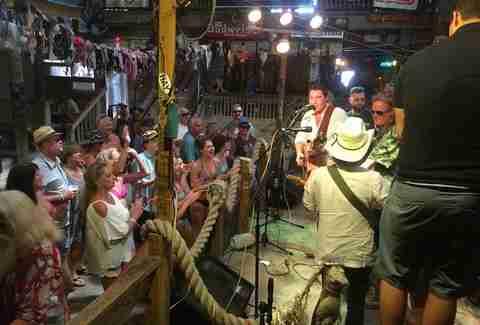 Pensacola, FL/Orange Beach, AL
Though there's not a whole lot of competition for the title of "Best Beach Bar to Drink in Two States at Once," this spot in the heart of the Redneck Riviera would make this list even without that novelty. Start with the annual mullet toss, not a competition of dudes with bangs twirling their hair, but rather a contest to see who can toss a fish across state lines the farthest. Then add in the weekly parade of Panhandle locals mixed with vacationing Southerners, bachelor/bachelorette parties, and live music, and you've got one of the coolest beach bar experiences in America.
Sign up here for our daily Thrillist email, and get your fix of the best in food/drink/fun.
Matt Meltzer is a staff writer with Thrillist. Catch his beach-drinking antics on Instagram: @meltrez1.