Sydney is a city known for its stretches of sand, which means there are plenty of options when you want to soak up the sun. But beyond the tourist traps of Bondi, there are more than 100 beaches located around the city and along its coastal reach. Whether you're seeking bikini-clad bods and waterside cocktails, or Herculean waves and locals-only hangouts, Sydney has a beach scene for every type. Here are the 12 best shoreline spots in town.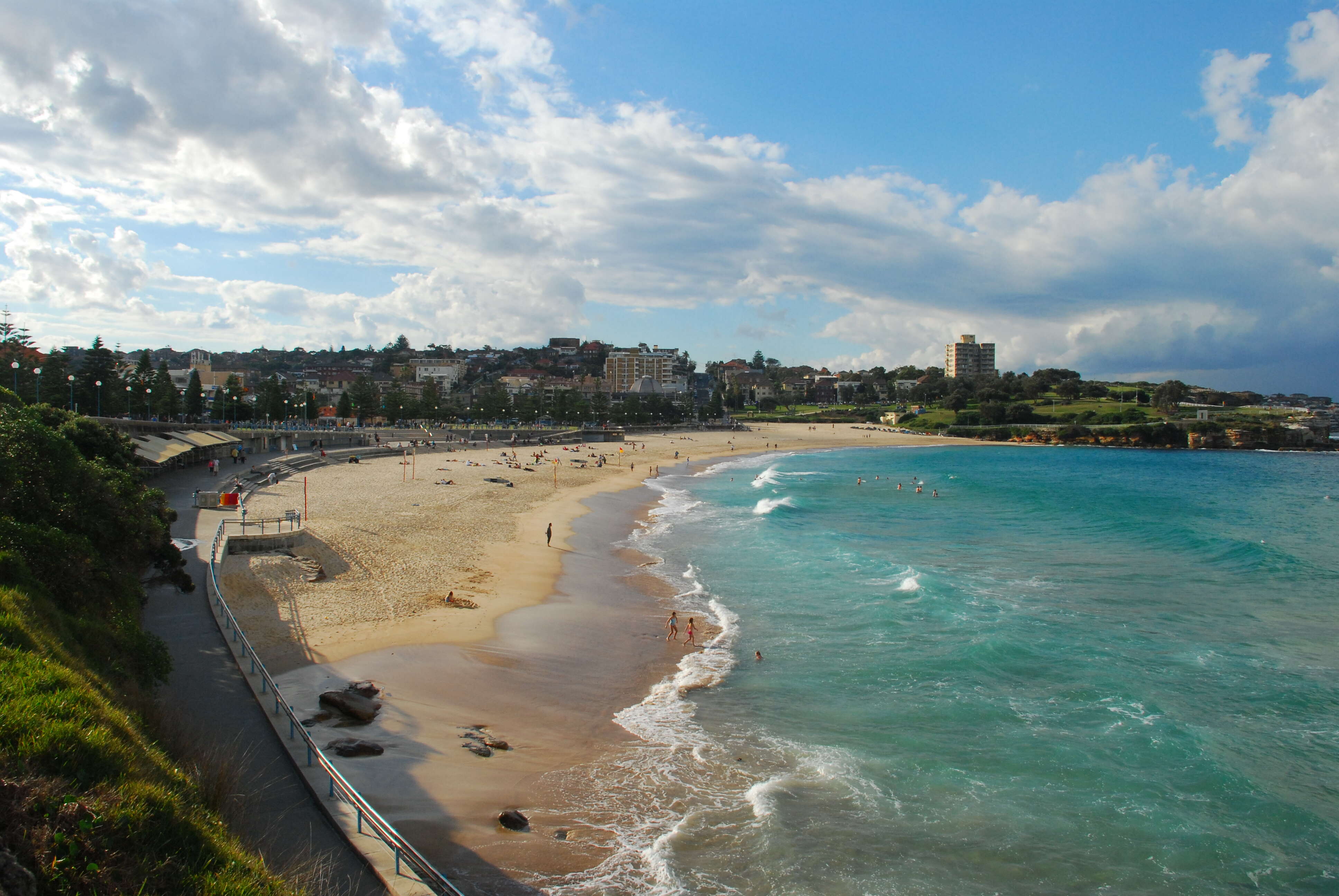 Coogee Beach
Arden Road, Coogee
The final stop on the city's famed coastal walk does not disappoint with its dramatic cliffside pathways and ocean views. Coogee's buzzing beach scene also features a two-story restaurant and bar where you can post up for a bit before the long Uber ride back to the city. Sip tasty cocktail creations at Coogee Pavillion and grab a wood-fired pizza. The restaurant also features a barber shop downstairs for the drunk and ambitious.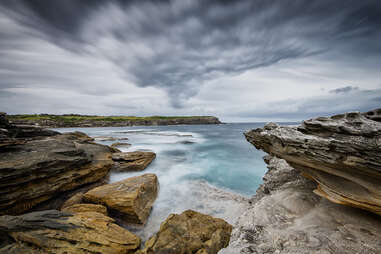 Little Bay Beach
Murra Murra Place, Little Bay
During the summer months, Sydney's bigger beaches are barely visible thanks to the droves of tourists taking up prime sand real estate. For fewer crowds, head to the hidden beach at Little Bay, tucked away at the end of the Prince Henry development. The beach is divided by a protrusion of rock, and offers a more relaxed vibe than the big waves and even bigger crowds at more mainstream spots.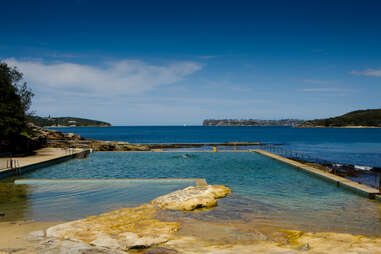 Manly Beach
South Steyne, Manly
This golden, mile-long stretch is one of many on Sydney's Northern Beaches, but it's certainly among the best, and part of that reason is how you get there. Take a ride on Manly ferry to see the sights inside of Sydney's harbor, and grab a drink at Manly Wharf Bar before a quick stroll down the promenade to reach the Oceanside. Described as "five miles from the city, a million miles from a care," Manly is one of Sydney's most charming spots to get lost. Stay for lunch at the Boathouse at Shelly Beach and drinks at Daniel San. One caveat, though: while wandering the shoreline, you'll likely find this writer.

Store Beach
Collins Beach Road, Manly
This beach is only reachable by water, which makes for a fun afternoon kayak ride. Pack a lunch and a bottle of wine and spend the afternoon working your tan under the Southern Hemisphere sun. Protip: Keep an eye out for Manly's endangered population of Little Penguins, which are supposedly spotted at Store Beach.
Freshwater Beach
Moore Road, Freshwater
A close neighbor to Manly, "Freshie" is a protected beach carved out along the northern coastline. The teal-hued waters still manage to heave massive waves despite a more hidden feel, making it ideal for an afternoon dip. Freshwater is also a great alternative to Manly when the masses arrive during the summer months. Granted, you have to ascend a nightmarish hill, but that makes it worthwhile when you finally arrive -- and eat a monstrous burger at JB & Sons. Don't skip out on the nachos.
Palm Beach
Ocean Road, Palm Beach
Home to Sydney's elite, Palm Beach is a star-studded hangout where you can pretend to have money. Located about 45 minutes from CBD, the famed beach is also the backdrop to the longstanding Aussie soap opera Home and Away. Lunch among billionaire locals at the Boathouse and take a dip before a long, sad ride home to contemplate how much you just spent on lunch.
Bondi Beach
Campbell Parade, Bondi
Okay, we'd be remiss to leave Australia's most famous beach off the list. Though the beach is often bursting at the seams with tourists, (you can't walk 10ft without tripping over a backpacker), Bondi is also home to some of the city's most stylish residents, making for an interesting scene when they intersect at local hangouts. North Bondi is best if you're looking to take a dip. For a stunning backdrop, head to Icebergs for Instagram-worthy views or grab a midday drink (or four) at The Bucket List and kick back to watch Sydney princesses scowl at a few bro travelers.
Tamarama Beach
Tamarama Marine Drive, Tamarama
"Glamarama," as this beach is referred to, is a scene for the beautiful and the hard-bodied. Though small in comparison to its neighboring beaches along the Bondi-to-Coogee walk, Tamarama is actually quite dangerous thanks to the number of rips coming in from both sides of the bay. If you're looking to impress a tanned body or two with your superior swimming skills, you might try your luck at Tamarama.
Balmoral Beach
The Esplanade, Balmoral
For a more relaxed vibe, try Balmoral beach near Taronga Zoo on the north shore's Middle Harbor. Though it's popular for families, the beach features a more intimate, sleepy experience for those looking to nod off into the afternoon. Grab a bite at Public Dining Room and slink back to the shore to soak up stunning views and sparkling, still waters.
Garie Beach
Garie Beach Road, Royal National Park
For a more adventurous beach trek, take a drive about 34mi south of Sydney to check out Garie Beach. Located in the Royal National Park, Garie Beach is a great departure from the city's usual spots, and requires a bit of hiking before you can relax. The sprawling beach is obviously fairly quiet, but rewards its guests with spectacular views.

Little Congwong Beach
Henry Head Lane, La Perouse
If you're after a tan-line-free swim (read: boobs), head to Little Congwong Beach in Botany Bay. Most local spots take a "clothing-optional" approach to sunbathing, and this little beach is no exception. It tends to be pretty quiet, which means you can spy naked babes from behind your Ray Bans in peace. If it's all a bit too much, head next door to Congwong Beach for a more appropriate, swimsuited affair.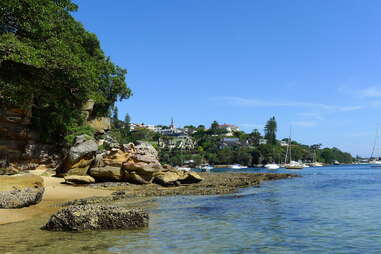 Milk Beach
Vaucluse Road, Vaucluse
Tucked away behind the Strickland House, up in the hard-to-reach Vaucluse area, is one of the city's best vantage points and small beaches. Milk Beach is worth the walk to catch a view of the Opera House and Harbour Bridge while soaking up Sydney rays. It's a residential area, so expect a few families, but that doesn't keep it from being a perfect spot for a boozy beach afternoon.

Sign up here for our daily Thrillist email, and get your fix of the best in food/drink/fun.
Courtney Subramanian is a contributing writer and recovering urbanite living on Sydney's Northern Beaches. It should be fairly obvious which beach she lives on at this point. Follow her and her many "hotdogs or legs" photos.