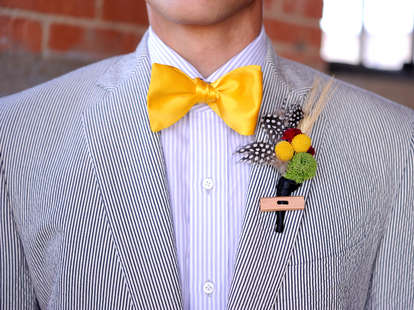 Nostalgic for that four-year vacation called 'college'? Us too, which is why we're bringing back College Week. Double-sink all of this week's college goodness, all week, right here.
The Ivy League's exclusivity may have peaked in the '20s, but preppy is still alive and well in the hallowed halls of our nation's universities. For affluent coeds, well-pedigreed legacies, or just regular students who loved The Talented Mr. Ripley, the allure of blazers and boat shoes remains strong.
But where will you find the most students rocking Nantucket Reds and Dubarry boots? Well, these 12 campuses, of course -- the preppiest colleges in the country.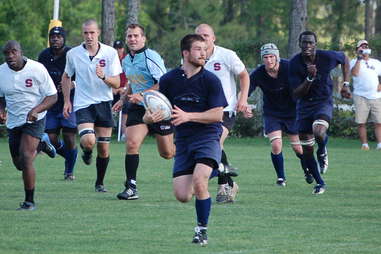 Middlebury College
Middlebury, VT
Nestled between relatively proletarian stretches of upstate New York and, ugh, New Hampshire, Middlebury is a shining beacon of bougie splendor that draws sorta-socially-conscious New Englanders named Chase and Tyler into the Midd Kid fold with its stunning landscapes and liberal arts swagger.
Dressed in a never-ending parade of Patagonia, Barbour, and Arc'Teryx (J-term gets cold, man!), these sons of Brunswick and daughters of Deerfield take to the broomball ice and school-owned ski hill all winter, then switch to the highly competitive sport of pretending to care about Panthers lax when the weather gets (slightly) warmer. Despite constantly cracking down on social houses (RIP DKE), giving birth to IRL quidditch, and boasting a solid contingent of real-deal hippies -- what up, Weybridge! -- Club Midd's blood remains as blue as its logo.
Williams College
Williamstown, MA
Frats might've been outlawed here in the '60s, but the social power vacuum that followed resulted in varsity athletes essentially taking over where the Greeks left off, creating the perfect stomping ground for jocks who didn't get enough of the "biggest man on campus" treatment back in high school. Add legacies, political types, and boarding schoolers who either did or did not play lax (doesn't matter), and this liberal arts school in the Berkshires lands squarely on the list.
Miami University
Oxford, OH
You might think of preppiness as an Ivy League thang, but Miami U's living proof that superiority complexes are just as prevalent in public universities. Maybe it's because the school's known as the "mother of fraternities"; or that their student body was somehow voted hottest in the nation; or hell, perhaps it's just that their college town sounds like a way more famous one in England.
Whatever the reason, a substantial chunk of the coeds at "J. Crew U" seem to be laboring under the impression that their school is the Midwest's answer to Harvard.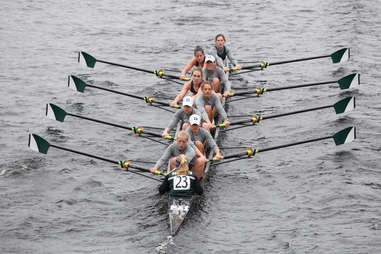 Dartmouth
Hanover, NH
The smallest of the Ivies, Dartmouth's 4,000-strong student body is so dominated by Greek life that around 63% of its upperclassmen join fraternities or sororities. This is the place that inspired Animal House, after all, and the game of beer pong is claimed to have been born at a Dartmouth frat party as well. Just don't let Neidermeyer see that pledge pin on your fleece vest.
Not to say that all Greek equals preppy, but throw in the whole "out-in-the-woods-New England-prep-school" vibe, and we're pretty much done here.
Pepperdine University
Malibu, CA
Don't be fooled: bougie behavior's by no means limited to the east coast. With its beautiful Pacific oceanside campus, Pepperdine puts a SoCal spin on the traditional Ivy prep scene; think mid-afternoon surf breaks instead of outings on father's yacht. When they're not walking the quad in board shorts, the well-heeled social elite in Malibu are sporting popped collars and limited-run Persols. Maybe the place should be called "Prepperdine" instead, eh? ZING!
Elon University
Elon, NC
The majority of the student body at Elon hails from out of state, a swarm of northern carpetbaggers looking for that southern university experience. Once they've bought a few gingham button-downs, joined a Greek house, and figured out where to consume mimosas on a wrap-around porch, they can get started learning the things that will define their college career. You know, like how to make a post-kegger Biscuitville run while tying a double windsor knot.
The University of Virginia
Charlottesville, VA
Did you go to Woodberry? Sidwell Friends? Westminster? Swing your elbows just a bit on a crowded night at The Virginian and you'll hit someone who attended those prep schools, plus a slew of NOVA kids who are ready and willing to explain to you how the public schools in Alexandria are actually basically like prep schools anyway.
Cruise Old Dorms first week to see first-years decked out to the nines in Barbour, Polo, Southern Tide, Orvis, and Brooks Brothers, or wander over to Mad Bowl to watch pearl-studded Kappas ignore the camo-hatted SAEs blasting Florida-Georgia Line from their porch. Remember: Bodo's is life, Sigma Chi is basically a thousand miles from Grounds, and the Comm School is molding the youth of today to be the Lexus-leasing, Arlington-residing middle managing "defense consultants" of tomorrow.
Hampden-Sydney College
Hampden Sydney, VA
This "finishing school for Southern gentlemen" is the oldest all-male private college in the country, having been a stronghold of starched collars and pastels since its founding in 1775. You can almost see President William Henry Harrison (class of 1791) in his teal polo now.
Just how preppy is HSC? Well, incoming freshmen are each given a copy of the school's etiquette handbook, entitled To Manner Born, To Manners Bred: A Hip-pocket Guide to Etiquette for the Hampden-Sydney Man. That should give you some idea.
Trinity College
Hartford, CT
Camp Trin-Trin. That's literally what they call this bastion of prep privilege, the place where New England prep school kids go to meet Mid-Atlantic prep school kids who also got waitlisted at Ivies. And, at points, it can feel like some sort of overgrown camp with classes in prep attire.
For guys, concentrations in Vineyard Vines with Nantucket reds purchased years ago at Murray's Toggery Shop are de rigeur, coupled with ribbon belts, Sperrys, and various subtle J. Crew accoutrement, the occasional old Ralph Lauren polo thrown in for good measure. Ladies, however, take more varied prep courses, focusing on nuance. They'll often major in dresses purchased at J. McLaughlin on Charles Street, or Sail to Sable (started in CT by a Trinity grad, no less), paired with Stubbs & Wooten skull and crossbone slippers (for fun!), or Dubarry boots, bags from Annabel Ingall, MZ Wallace, or Gigi on their shoulders.
And since it's easy to fall behind if you're not paying close attention, don't fret: summer style courses are offered in Chatham, Harwichport, Montauk, and, naturally, Nantucket.
Sewanee: The University of The South
Sewanee, TN
You know how you sometimes sit at your cubicle in your tie and think about how you miss the college days when you rolled out of bed and showed up to 9am math class in your sweats? Sewanee students, who are primarily New England boarding school kids and Southern prep schoolers who didn't want to go to their SEC state school, never have that problem, because they wore coat and (bow)tie to class every day for four years.
Add in the Gothic architecture (the campus was modeled after Oxford University), the mile-long list of secret and not-so-secret societies (including the Order of the Gownsmen academic honor society whose members also wear gowns to class, giving the college the Harry Potter effect you never knew you desperately wanted), and solid references in Faulkner novels (was there ever a more Southern writer?), and you've got a stronghold of Southern preppiness isolated on a 10,000 acre mountaintop campus.
Vanderbilt University
Nashville, TN
The students at Vandy are legendary for their inability to dress down at even the most non-formal of occasions. It's not uncommon for dudes to rock seersucker blazers and bow ties to class, while the ladies don pearls to grab a slice at the Pie and Leaf. On a Wednesday, no less!
Princeton University
Princeton, NJ
Twice a year, the upperclassmen at Dickie Greenleaf's alma mater emerge from their eating club mansions on Prospect Avenue, colloquially known as "The Street," to take part in a biannual music festival called Lawnparties. It's meant to bookend the school year, but in reality, it's just an excuse to party and dress even more to the nines than they ordinarily do -- we're talking salmon shirts, lilac sundresses, and more bow ties than Tucker Carlson's closet.
Sign up here for our daily Thrillist email, and get your fix of the best in food/drink/fun.
Gianni Jaccoma is a staff writer for Thrillist, and a proud graduate of the CUNY school system in NYC. Check out his plebeian meanderings on Twitter @gjaccoma.