Shutterstock
Shutterstock
Augustana College -- Rock Island, Illinois
A stone's throw from the Mississippi River (where River Readings are sometimes held with visiting scholars and poets), Augustana College was founded primarily as an institution for Swedish immigrants. So it makes sense that the school's central landmark, Old Main, was inspired by an Abba song (that's not true) and a building at Sweden's University of Uppsala (much more likely). Listed on the National Register of Historic Places, its European influence is evident in the stained glass windows and dome.
UC Berkeley -- Berkeley, California
At an impressive 307ft tall, Berkeley's Campanile (or the Sather Tower) is the world's third tallest clock-tower. So, they've got that going for them. But, refusing to stop at a single record-breaking tower, UC Berkley's 1,232-acre campus also houses Hearst Memorial Mining Building, a traditional European-style structure designed by architect John Galen Howard in 1907, and a reflecting pool in front that makes for an even more glorious view. Another show-stopper, Berkeley's Greek Theater is modeled after Epidaurus's ancient Greek amphitheater.
Berry College -- Mt. Berry, Georgia

Set on a sprawling 27,000 acres of Georgia mountains, woods, and forest, Berry College maintains horse, bicycle, and foot trails, and even offers archery deer hunts in the fall. Of the buildings on campus, Ford Auditorium, an English gothic-inspired building with a clock tower and reflecting pool, is the most eye-catching.
Northwestern University -- Evanston, Illinois
Just the view of the Evanston campus at sunset could have you anchored to this campus for hours… or four years. Architectural beauty, spanning collegiate Gothic to modern steel and glass, fills the university's 240 acres on Lake Michigan. On the way to see the impressive stained-glass windows of the Alice Millar Chapel, stop by The Rock (no, not Dwayne) and see one of the university's most artistic traditions, where student groups paint their message on the boulder as advertisement -- after staking it out for 24 hours for the right to do so.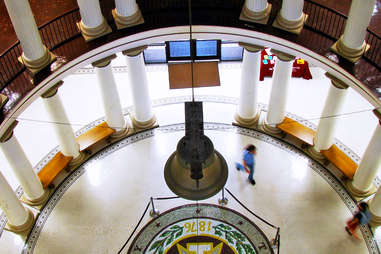 Texas A&M University -- College Station, Texas
"Everything is bigger in Texas" just so happens to be one hundo percent true when it comes to Texas A&M, one of the largest universities in Texas and the sixth largest in the country. Stretching out over 5,000 acres, Aggieland features the mammoth Kyle Field, alongside monumental buildings like the palatial Academic Building and its mint accented dome, and the Alumni Center, with its 12-foot high bronze Aggie ring. And all against that expansive blue Texas sky? Some clichés are so worth the hype.
University of Colorado Boulder -- Boulder, Colorado
Some campuses have roaring crowds and impressive stadiums to intimidate opponents at their football games. Colorado Boulder has all of that, plus the Rocky Mountains as an imposing backdrop. While the classic red brick buildings are nothing to sniff at (or the planetarium! What!), Boulder's true glory has got to be the stunning natural beauty that surrounds the campus, with wide open spaces and towering mountains that frame the town and university.
University of Hawai'i at Mānoa -- Honolulu, Hawaii
How the students at UH Manoa ever get anything done while attending school in a lush valley on the south shore of Oahu is, frankly, beyond all of us. Though attendance there could easily descend into a four-year vacation, the university still boasts an impressive reputation as a top research institution, where graduate students can study coral reef at a marine biology lab… built on a coral reef. Can't get much closer to the action than that unless your name is Nemo.
Flagler College -- St. Augustine, Florida
Well, it definitely doesn't hurt to offer students glorious ocean views, palm trees, and an outdoor swimming pool. Not only that, but one of Flagler's residence halls is housed in the historic Ponce de Leon building, a Spanish Renaissance Revival structure that opened as a hotel in 1888 and boasts a marble staircase, castle-like turrets, and a Rotunda. Also, we mentioned the ocean, right?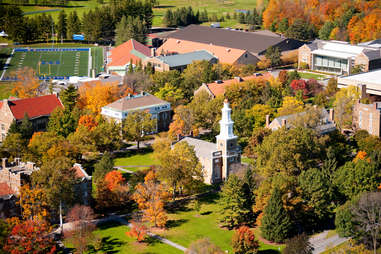 Hamilton College -- Clinton, New York

Often dubbed "College on the Hill" for, unsurprisingly, its idyllic hilltop location, this liberal arts school in Upstate New York is an oft-overlooked gem. Hamilton's most famous landmark, the College Chapel, was designed/built by architect Philip Hooker and trustee John Lothrop in 1827, and is listed on the National Register of Historical Places. To be honest, that's pretty much all we know about Hamilton. Other than the fact that 50 percent of accepted students scored between 680-750 on the math section of the SAT, so that's good.
Elon University -- Elon, North Carolina
Ranked the nation's most beautiful campus by The New York Times and The Princeton Review for its classic collegiate architecture, Elon University is the quintessential Southern campus. The high praise is unsurprising; the campus is bursting with colonnades in front of red brick buildings, and the practically Photoshopped lawns are classified as a botanical garden.
Kenyon College -- Gambier, Ohio
This small liberal arts college in rural Ohio not only boasts such notable alumni as Paul Newman and President Rutherford B. Hayes, but also a campus loaded with European-inspired, Gothic buildings. Also, a weirdly named school song that's surprisingly not about marathon runners, entitled "I Want a Kenyon Man". But back to the architecture; your must-hit is Old Kenyon, a stone dorm built in 1829 whose spire towers above the campus' treetops.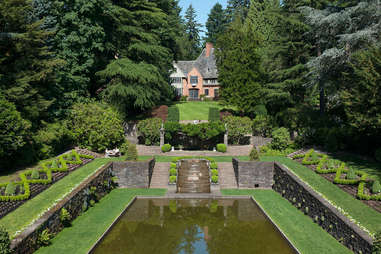 Lewis & Clark College -- Portland, Oregon
Thanks to over 600 acres of wooded trails, an outdoor swimming pool, and a prime hilltop location that looks out onto Mount Hood, this Oregon spot lands squarely on our list. Apparently the students are also really attractive, which can only makes the campus more beautiful, right?
University of Michigan -- Ann Arbor, Michigan
Assuming that The Big House isn't enough to make the case, Michigan's campus also offers plenty of Gothic architecture, as well as a handful of buildings designed by renowned, 20th-century architect Albert Kahn. One of Kahn's greatest, the 212ft-tall Burton Hill Memorial Tower, rocks a 55-bell carillon which ties it for the fourth heaviest carillon ON THE PLANET. So, there... suck it, Spartans. On the flip side, the 1980s-designed Allan F. and Alene Smith Library with its glass facade offers gorgeous reflective views from both outside and in.
The University of Mississippi -- Oxford, Mississippi
Ole Miss began in 1848 with one building, the Lyceum. Its Greek Revival architecture (and oldest college bell in America) landed it on the National Register of Historic Places and influenced nearly every other building that followed. From Ventress to the Cochran Center, the campus is dominated by clean lines, brown brick, and gleaming white plaster accents.
If classic architecture's not your thing (and that's cool, nobody's judging), the lush foliage of The Grove provides a welcome contrast. The beating heart of the entire campus, it's home to some epic tailgating on Saturdays in the fall.
University of Montana -- Missoula, Montana
Sitting in the shadow of Mount Sentinel on the Clark Fork River, the University of Montana's campus showcases no fewer than 60 different architectural styles, from the Art Deco of the Student Union to the Queen Anne-inspired Prescott House. This eclectic mix is anchored by the Main Hall's stately, green-capped clock tower, whose 47 carillon bells ring out across the campus at precisely high noon -- although considering it's in Missoula, you'd figure 4:20 was the better time.
Mount Holyoke -- South Hadley, Massachusetts
One of the nation's first and most prominent all-women schools, Mount Holyoke's leafy campus in the heart of Western Massachusetts' Pioneer Valley screams quintessential New England college (especially in the Fall). Mary Lyon Hall -- named for the school's founder -- looks more like a castle than a college building, the library resembles something from Hogwarts, and the campus is designated a botanical garden complete with green house & arboretum, outdoor amphitheatre, and two lakes, one of which rocks a waterfall and wooded running path.
University of Notre Dame -- South Bend, Indiana
In the words of esteemed ND alum, Erik Christensen: "From the lush green quads to the top of the golden dome, every square inch of campus is meticulously buffed with a fine chamois." And speaking of said golden dome, it was added to the Main Building's façade in 1882 and is topped by a 19ft-tall statue of the Virgin Mary. Between it and the steeple of Sacred Heart Basilica, you'll know when your exit is close on I-80/90.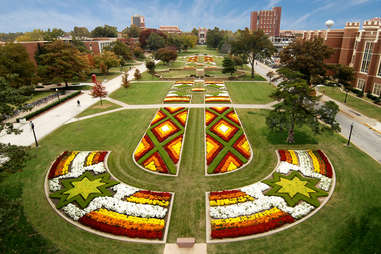 University of Oklahoma -- Norman, Oklahoma
Red brick Gothic buildings and an impeccably manicured quad adorned with flowers in the school's colors (crimson and cream) highlight OU's campus. The centerpiece, a National Historic Landmark, is Bizzell Memorial Library, which was built in 1929 and resembles a grand English court far more than it does a building you wouldn't think Brian Bosworth spent a lot of time in but apparently did, graduating with a 3.2 GPA. Love the Boz!
Pepperdine -- Malibu, California
Green space, an oceanfront view, and terracotta-roofed buildings tiered across tumbling hilltops; everything on Pepperdine University's Malibu campus looks like it's been treated through the Lo-Fi filter. Alumni Park is especially impressive since the Pacific Ocean – literally on Pepperdine's doorstep – serves as a dramatic, blue backdrop.
Furman University -- Greenville, South Carolina
A magnificent Florentine bell tower overlooks Swan Lake and no, this isn't the setting of a classic ballet -- it's just the tip of Furman University's campus, which also includes an 18-hole golf course. One of the real points of interest is the lakeside rustic cabin -- a replica of Henry David Thoreau's, built by students to better understand and connect with his classic Walden.
St. Olaf College -- Northfield, Minnesota
Established in 1874, this eco-friendly liberal arts college -- whose school song is based on a Norwegian folk tune and is entitled "Um Ya Ya" -- boasts two buildings on the National Register of Historic Places including The Old Main, a turret-topped, Gothic structure erected in 1877, and the domed, Greek Revival-designed Steensland Hall.
Another fun fact not related to "Um Ya Ya": the school maintains its own wind turbine -- which supplies more than a third of the campus' electricity -- on nearby prairie land.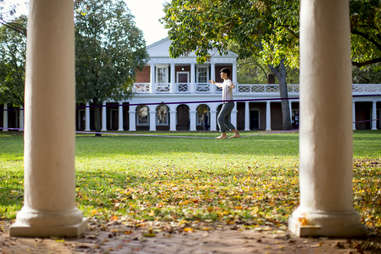 University of Virginia -- Charlottesville, Virginia
The only university in the nation to be named a UNESCO World Heritage Site, UVA's 1,682 acre campus in Charlottesville was originally designed by Thomas Jefferson himself. The school's most iconic structure, the Rotunda (a stately Neoclassical building with a white pillar facade crowned with a dome), was modeled after the Pantheon in Rome. Also, it was destroyed in a fire in 1895, so you're actually looking at a replica.
Wake Forest University -- Winston-Salem, North Carolina
Think of Wake Forest as 340 acres of picturesque woodland and Neo-Georgian architecture. While the school's Wait Chapel and ZSR library are impressive in their own right, the true stars of this North Carolina campus are the trees. With its full compliment of Maples, Magnolias, Oaks and Cedars (to name only a handful), Wake Forest bursts forth with the kind of deep reds and yellows that the Martha Stewart Harvest Collection can only dream about.
University of Washington -- Seattle, Washington
As if the gorgeous views of Mount Rainier and Lake Washington from inside Husky Stadium weren't enough to put UW's campus on the list, the fact that you can both tailgate on a boat and appreciate the spring cherry blossoms on the quad most certainly do.The school also rocks plenty of exemplary architecture including the stunning Suzzallo Library and impressive, glass-fronted Paccar Hall.
Yale University -- New Haven, Connecticut
Regardless of how crappy a city New Haven is, Yale's little "don't stray too far off it" oasis of a campus boasts more than three hundred years of architecture and includes buildings from prominent architects like Frank Gehry and Philip Johnson, as well as gardens landscaped by James Gamble Rogers. Assuming you're not in a rush to get to IKEA, you can also appreciate the 15-floor cathedral-styled Sterling Memorial Library, two art galleries stocked with masterpieces by Monet and Picasso, and the 216ft tall Harkness Tower, pictured above.
This article originally published on September 12, 2014.