The Most Stunning College Buildings in America
<strong>Cadet Chapel |&nbsp;</strong>Shutterstock
<strong>Cadet Chapel |&nbsp;</strong>Shutterstock
Since game-day coverage pretty much focuses on crowded stadiums, crazy fans, and foam fingers, it's easy to forget there's a whole campus beyond the goal posts. And we don't just mean the tailgating lot. Last year, we told you about the 25 most beautiful college campuses in the country, which is why for this go-around, we're focusing exclusively on insanely photogenic buildings, and all the special significance they hold for students, faculty, and alumni. From colonial-era throwbacks to newer mega-unions, these are the 25 most stunning college buildings in America.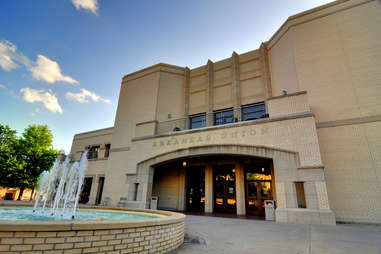 Arkansas Union
University of Arkansas
At the heart of Razorback Nation is the Arkansas Union, a beloved campus gathering place that if you attend, attended, or have been anywhere near the University of Arkansas (maybe on game day, you were looking for a bathroom?), you've spent some time in. Packed with fun AND learning, it houses everything from academic offices and lecture space to restaurants, the Razorback Shop, and a fitness center. Can we get a "Woo Pig Sooie!?!?!"
Beinecke Rare Book & Manuscript Library
Yale University
While Yale's campus is stacked with many architectural prizes, the Beinecke Rare Book & Manuscript Library by Gordon Bunshaft (of the acclaimed architectural firm, SOM) tops them all with a cool factor straight out of left field. On the outside, the windowless shoebox-like façade features a gridded Vermont Woodbury granite framework supporting marble panels. No big deal, right? Wrong. On the inside, the marble glows amber from the sunlight and shields the glass climate-controlled book enclosure from direct rays. The spacious multi-story room is also decorated with leather chairs and sleek tables that would make Don Draper jealous. Bonus display: one of 48 extant copies of the Gutenberg Bible.
Butler Library
Columbia University
Built in 1934, this Neoclassical icon is the largest of the university's libraries and contains over 2 million volumes of humanities including history, literature, philosophy, and religion. Oh, and also America's most extensive trove of ancient Greco-Roman materials, in case you'd like to beef up the Wikipedia entry on wrestling. Nerdiness/high-dive techniques aside, Butler Library anchors the majestic South Lawn amidst other classical structures and is typical of Columbia's architectural mojo.The building also has study spaces, the Columbia Center for Oral History, and the Digital Humanities Center… because one day humanity will be digital. (Too late.)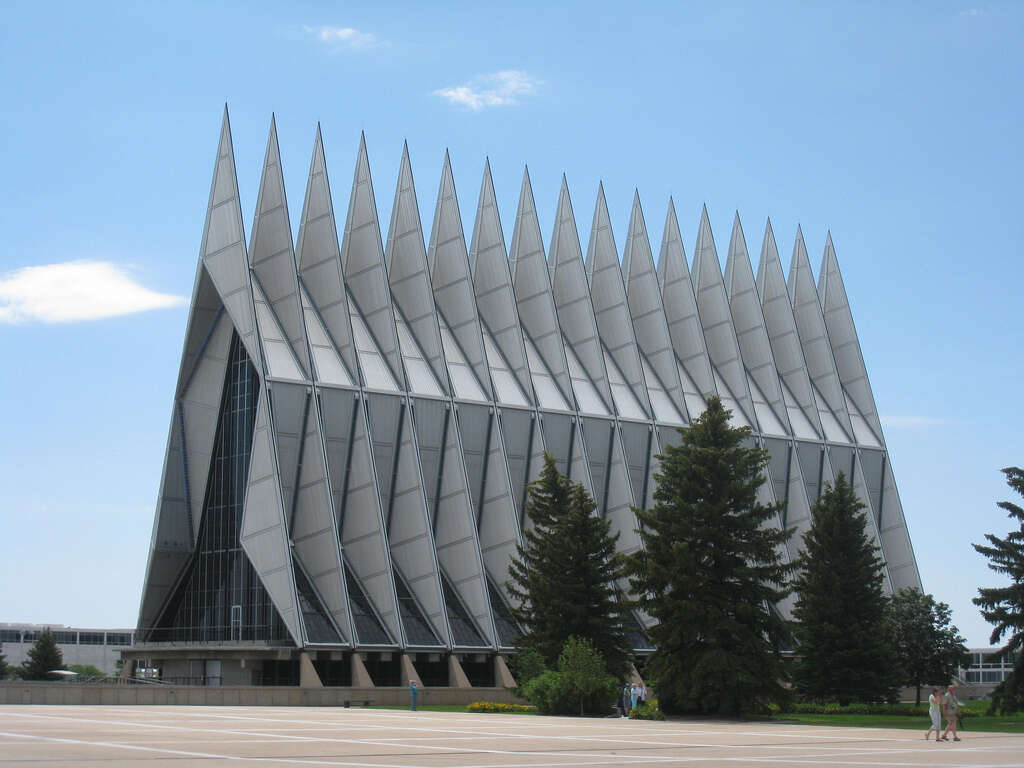 Cadet Chapel
United States Air Force Academy
Believe it or not, the multi-denominational Cadet Chapel is the most popular man-made attraction in Colorado and is visited by 500k+ visitors each year. So there's that. The distinct modernist exterior, comprised of 17 angular spires, is made of aluminum, glass, and steel, and soars (rim shot) to a height of 150 feet. Stained glass windows stretch from floor to ceiling and add dashes of color to the main worship space, while equally tall regular windows supply sweet views of the campus and countryside.
The Campanile (aka Sather Tower)
University of California, Berkeley
The most recognizable of all Berkeley buildings, the Campanile (bell + clock tower) heads 307 feet into the air and is the third largest campanile in the world. It's also one of the reasons that Berkeley is the best college town in America. It boasts a full concert carillon of 23 bells, and even jazz legend Herbie Hancock has played the old-school chimes (back in 1968). Major bonus: the 8th floor observation deck provides incredible views of the entire Bay Area.
Carpenter Center for the Visual Arts
Harvard University
Forget selfies in front of the John Harvard statue (ho hum) and head to Harvard's real must-see architecture: the Carpenter Center. The brainchild of Modernist pioneer Le Corbusier, it's his only structure in the US… and it's a doozy. The concrete forms seem both heavy and light depending on your vantage point, and there are two long swooping ramps the lead up to the second level from the street. Inside, among other things, you'll find a free art gallery open to the public and the Harvard Film Archive -- where you catch regular movie screenings in the 200-seat theater.
Doheny Memorial Library
University of Southern California
Designed by Ralph Adams Cran, the king of Gothic Revival, Doheny Library sits adjacent to Alumni Park and has been the center of USC book-learning since it was first built in 1932. The Los Angeles Times Mirror Reference Room and the Arts Corridor are two of the best/most picturesque places to study on campus, and there's even a tea house (LiteraTea) in the building.
Duke Chapel
Duke University
No, the answer is not Cameron Indoor Stadium, although that place is pretty sweet, too. Duke Chapel pretty much defines "Collegiate Gothic" with its pointed arches, a Canterbury inspired bell tower, vaulted ceilings, and the brick and limestone façade. Located on the highest ridge of the West Campus, the 1,800 seat chapel looms at 210 feet and is one of the tallest buildings in all of Durham County. The main space is bedazzled by 77 stained glass windows constructed from over ONE MILLION individual pieces of glass from England, France, and Belgium. Three substantial pipe organs, each in a different style, amply fill the cavernous hall with music during services, ceremonies, and recitals. (Sadly, no, they will not play "In the Garden of Eden" by I. Ron Butterfly.)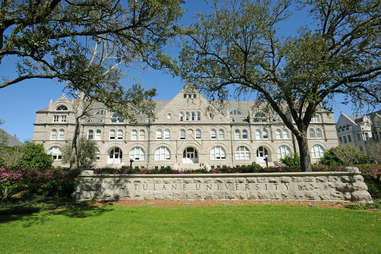 Gibson Hall
Tulane University
Distinguished Gibson Hall (1894) acts as the gateway to picturesque Tulane from Cowen Circle straight through to the tree-lined Gibson Quad. Besides being the oldest building on campus, the Richardsonian Romanesque behemoth (which accommodates senior-level admin offices and the admissions department) symbolizes Tulane's history and traditions, and it's the starting point of students' academic experience there. So kind of a big deal.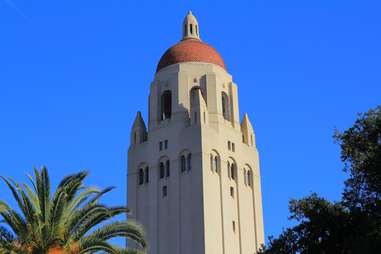 Hoover Tower
Stanford University
Home to the Hoover Institution Library and Archives (as in President Hoover, not J. Edgar. Or the vacuum cleaner guys.), Hoover Tower was Stanford's 50th birthday present to itself in 1941. And what a nice gift: a 285-foot beloved campus legend/icon/landmark. The first nine floors holds library stacks, while the upper floors have offices and an Observation Platform, which is open to visitors for a nominal fee ($3). On a clear day, you can see all the way to San Francisco. Seriously. Major crazy fact: exiled Nobel laureate Aleksandr Solzhenitsyn lived on the 11th floor for a while in the mid-1970s. (Totally better than Communist Russia.)
The Lyceum
University of Mississippi
As part of Ole Miss' "Lyceum-The Circle Historic District," the Lyceum stands watch over the core campus (i.e. University Circle and The Grove). It was the school's first structure (1848) and formerly contained just about everything including lecture halls, classrooms, offices, a geological museum, and the library. (It was even a hospital during the Civil War.) These days it's the administrative center of the university and the columned façade is depicted on the official crest. Ergo, they love it there.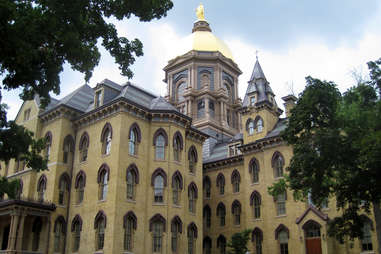 Main Building
University of Notre Dame
While Touchdown Jesus gets more TV time, the Main Building's gold leaf dome and 19-foot tall statue of St. Mary can be seen for miles around and is the centerpiece of ND's manicured campus. The fact that students and alumni call themselves "Domers" tells you how much this building means to ND Nation. During the first few years, it hosted dorms and classrooms, but today it's an administrative HQ. True story: undergrads are not allowed to ascend the front steps until they graduate.
Memorial Union
Oregon State University
The oldest student union on the West Coast, the MU (as known to Beavers) was funded by students for students and dedicated to those who gave their lives in defense of America. And it was designed by an alum, Lee Arden Adams, who had graduated from OSU's predecessor Oregon Agricultural College. So yea, this building means business. Completed in 1928, it has been described as "one of the finest examples of neoclassic architecture in Oregon." The grand entrance leads to an even grander rotunda, and over half of Oregon State's 30,000+ scholars visit the building each day for the dining hall, shops, and study areas. Also, the bowling alley. Because everybody loves bowling.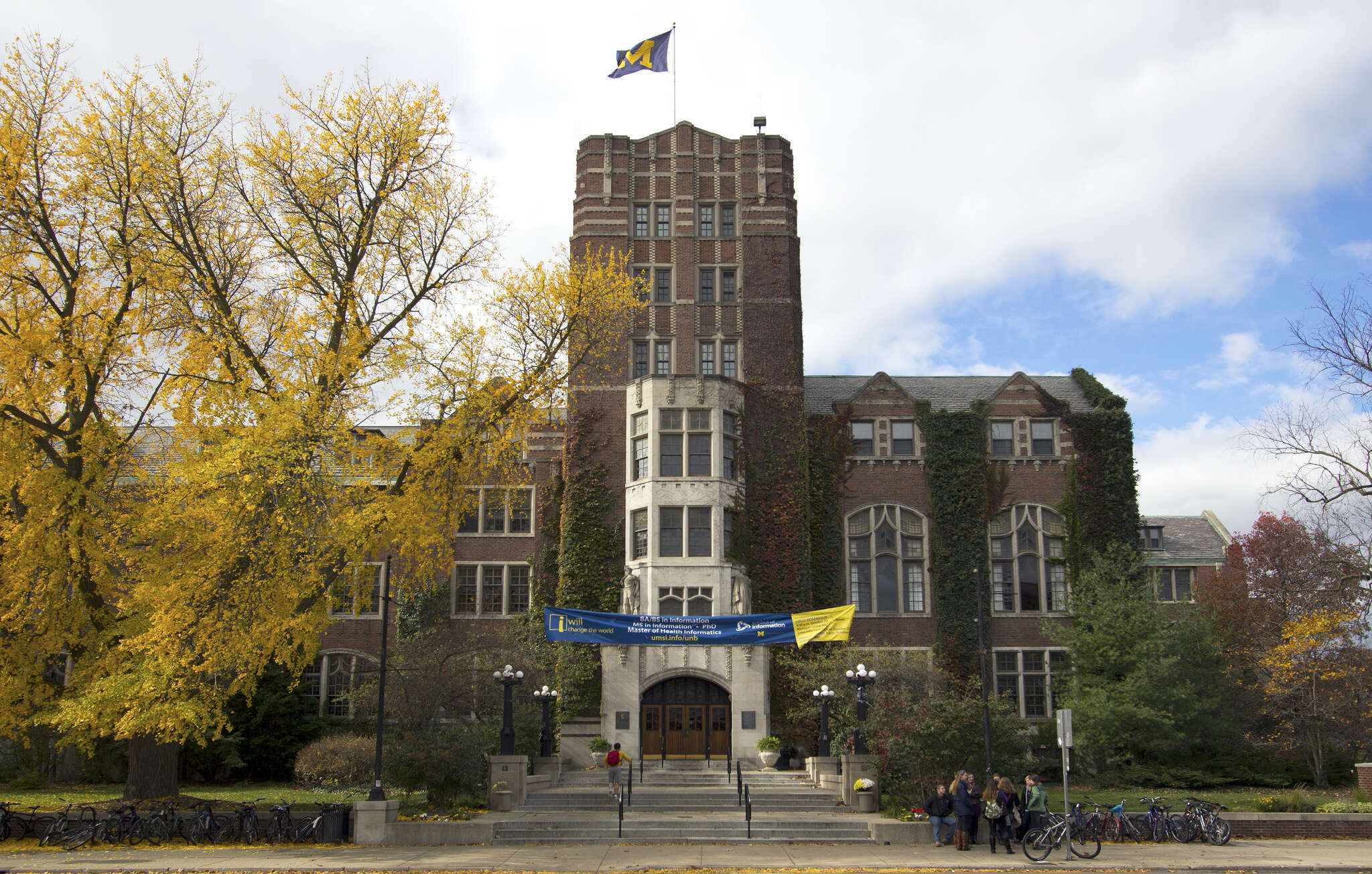 Michigan Union
University of Michigan
In a plot twist worthy of M. Night Shyamalan, the Michigan Union started in 1904 not as a building, but as a study group. (Bet you didn't see that one coming. Also, the study group reportedly could see dead people. Or not.) Eventually the club outgrew its temporary digs, and by 1919 Michigan Union (the building) was in full swing with assembly rooms, a billiard and games room, a bowling alley, a barber shop, a swimming pool, and dining spaces. Almost 100 years later, the ivy-covered icon still serves as a gathering place and includes restaurants, study areas, and student organization offices. Fun fact: the statues flanking the front entrance represent an athlete (facing the playing fields), and a scholar (facing the classroom buildings of Central and North campus).
Nassau Hall
Princeton University
Listen up, history nerds! If the walls of "Old Nassau" could talk, they would tell you more stories than you can handle -- and not just about John Nash and Dickie Greenleaf. When it debuted as part of The College of New Jersey in 1756 (not a typo), it was the largest building in the colony and had a library, a chapel, classrooms, and student/faculty residences. It suffered heavy damage in the Battle of Princeton (1777), but kept going until it briefly became our nation's capitol during the Continental Congress of 1783. Read that again: Our nation's capitol! After 200+ years of action, the term "Old Nassau" is now synonymous with the entire university… as referenced in the alma mater. Elegant (and sturdy) Nassau Hall has always been large and in charge, and today houses the administrative hub of the school.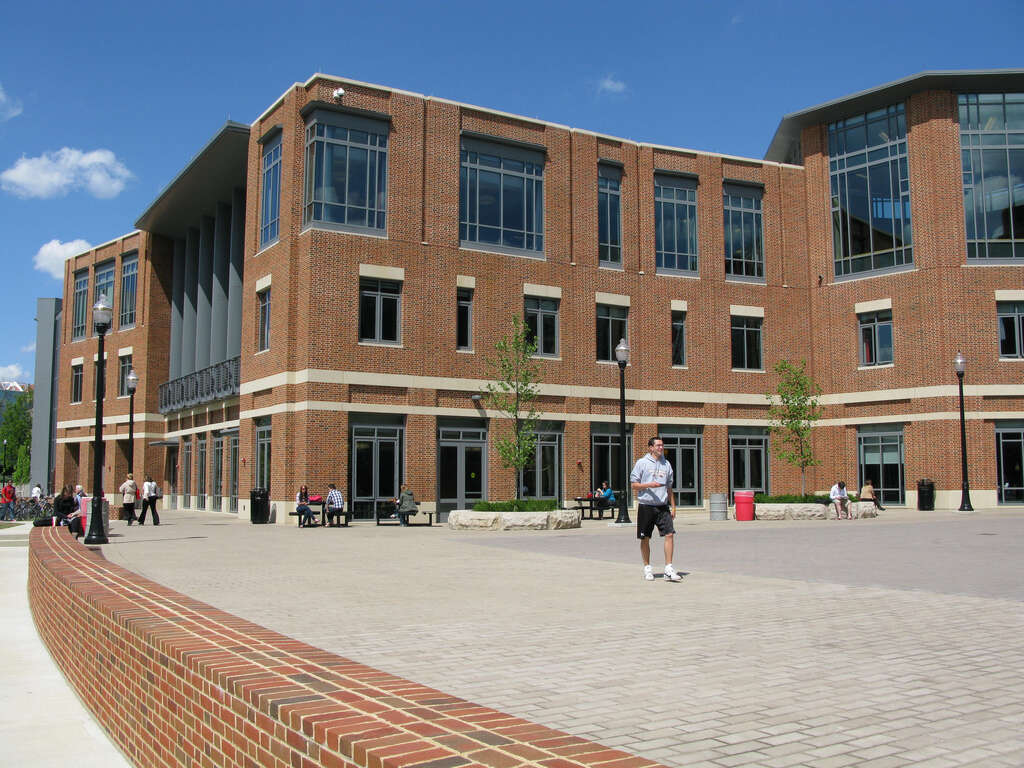 New Ohio Union
Ohio State University
By far the youngest building on the list, New Ohio Union's only been around since 2010. But with four main eateries (Sloopy's, Woody's Tavern, Union Market, and Espress O-H) and a triple-decker atrium large enough for the Goodyear Blimp (maybe), it's naturally the big man on campus. Known as The Union, students were integral to designing it (they picked color schemes, furniture, etc.) and the building's customized door handles spell out OHIO.
Old Main
University of Colorado Boulder
Originally surrounded by only sagebrush and cacti, Old Main is now the centerpiece of CU Boulder and proudly sits in the Norlin Quadrangle Historic District. Constructed in 1876, this "Pioneer Victorian" is brick from head to toe, and it once contained the entire university. Like, everything. As such, it remains a vital link to the school's humble edge-of-the-frontier beginnings. Today Old Main is home to the CU Heritage Center and a museum, both treasure troves of artifacts including vintage sports gear and an authorized collection of Glenn Miller memorabilia. (The jazz legend attended there for three semesters before heading to LA.)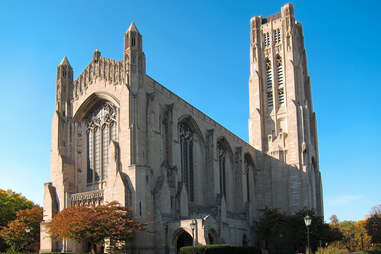 Rockefeller Memorial Chapel
University of Chicago
Rockefeller Memorial Chapel is another dazzling "Collegiate Gothic" gem and was made entirely of load-bearing masonry… it has no structural steel. (File under: they don't build 'em like they used to.) Finished in 1928, the church came fully-loaded with extras: miles of mosaics, 70 integrated sculptural figures, White Appalachian Oak carvings, and seats for 1,700 people. And it stays very busy hosting ecumenical worship services, weddings, university convocations, film screenings, musical programs, and guest speakers. The soaring interior is highlighted by an 80-foot tall ceiling, gothic arches and vaults, and an E.M. Skinner pipe organ complete with trumpets.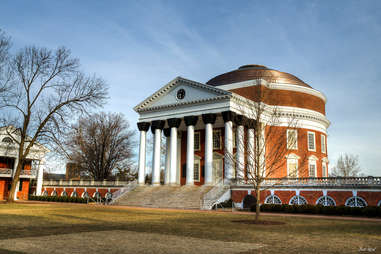 The Rotunda
University of Virginia
Inspired by the ancient Pantheon in Rome, Thomas Jefferson designed UVA's Rotunda library to "represent the authority of nature and power of reason." That's heavy, dude. Luckily for Jefferson, 16th-century Italian architect Andrea Palladio published detailed drawings of the Pantheon in The Four Books of Architecture. And luckily for all of us, the resulting composition provides a stunning focal point at the end of UVA's iconic Lawn/Academical Village. Due to its major historical significance, The Rotunda (along with nearby Monticello) is a UNESCO World Heritage Site.
Smith Hall
University of Alabama
Smith Hall, a grand Beaux-Arts beauty, looks like a stately museum straight out of central casting… and that's exactly what it is. Built in 1910, this ionic-column clad building houses the Alabama Museum of Natural History and has "whoa-level" artifacts such as the state fossil Basilosaurus cetoides (that's a whale) and local mastodon skulls (you know, those pre-elephants from 10,000 years ago). The must-see exhibit, however, is the Hodges Meteorite -- the first and largest extraterrestrial object to strike a person on earth!!! (And that person, Ann Elizabeth Hodges, lived to tell the tale.)
S. R. Crown Hall
Illinois Institute of Technology
Home to IIT's famed architecture school (not ITT Tech, from the late-night commercials), S. R. Crown Hall was created by legendary German architect, Mies van der Rohe. Of, course. The building is widely considered to be his masterpiece and one of the most significant Modernist buildings ever. The elegantly simple exterior structure supports the entire roof span thusly leaving the interior column-free and wide open to maximize views through the massive windows. The universal floor plan also allows for rooms and spaces to change functions according to need. Tours of this National Historic Landmark are available, and they're not just for architecture geeks.
Suzzallo Library
University of Washington
No, it's not Hogwarts, but Harry Potter would be happy at Suzzalo Library. If it looks more like a medieval church to you, then you're also correct, as former president Henry Suzzalo believed that universities "should be cathedrals of learning." The buttressed brick and stone façade is the most recognizable on campus, and many generations of students have burned the midnight oil here. (And probably prayed for good grades.) The crown jewel of Suzzalo is the gigantor Graduate Reading Room that occupies the entire third floor. It tops out at 250 feet long, 52 feet wide, and 65 feet high, and is adorned with gothic chandeliers, endless hand-carved oak bookcases, 35 stained glass panels, and two hand-painted globes. (Sorry, no gregarious ghosts played by John Cleese.)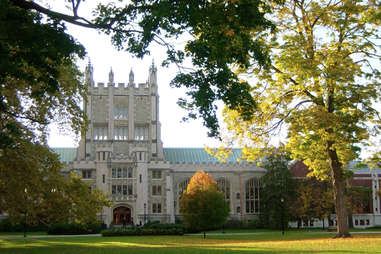 Thompson Memorial Library
Vassar College
Although Vassar boasts several modern structures by the likes of Marcel Breuer, Eero Saarinen, and Cesar Pelli, the distinctive 1,000-acre campus/arboretum is mostly bedazzled with historic showstoppers. Exhibit A: Thompson Memorial Library. It first debuted as a smaller Perpendicular Gothic hall in 1905, but it has since grown via additions and renovations to now hold one of the largest undergraduate collections in America. Highlights include exclusive Einstein papers, the FBI files on MLK, and LBJ's Vietnam War Security Files. However, Thompson's main attraction is The Great Window, a stained-glass stunner depicting Elena Cornaro Piscopia receiving her doctorate from the University of Padua (circa 1670s).
Willard Straight Hall
Cornell University
The hub of Big Red country (and Andy Bernard's life), "the Straight" was one of the first college unions in the country when it was completed in 1925. (Yes, it's Collegiate Gothic. Again.) Donor Willard Straight wanted some of his estate's money to make Cornell a more "human place," and his family decided something social was the way to go. Mission accomplished. Because today it is all that (and more) with several dining facilities, lounges, and student org offices, not to mention an art gallery, a dance studio, and the Cornell Cinema. See you at Okenshields!
Wren Building
College of William & Mary
This colonial-era time capsule, crafted by the renowned architect Sir Christopher Wren, is vintage 1700 and even predates nearby Williamsburg. The Wren Building is the oldest continuously used academic building IN THE UNITED STATES and forms the college's "Ancient Campus" with pals The Braferton and the President's House. Gutted by three major fires in 1705, 1859, and 1862, the stout brick structure was finally restored to its original state in 1931. History aside, the Wren Building provides the setting for many of William & Mary's traditions such as the freshman and senior processionals (in opposite directions), the Honor Code Pledge in the Great Hall, and the annual Yule Log Ceremony. Fun fact: the secret Bishop James Madison Society supposedly meets here.
Sign up here for our daily Thrillist email, and get your fix of the best in food/drink/fun.
Erik Christensen is a freelance writer and a senior project designer at an architecture firm in Boston, with over 17 years of experience in the industry. He also has over 17 years of experience in deadlines, late nights, strong coffee, and stronger coffee.