Dreaming of a trip to Europe? Well, it's time to get more specific. There's a grand total of 48 countries across this ultra-diverse continent, from Iceland in the north to Cyprus in the south, and even out to the Ural Mountains in Russia. To help you decide where to plonk your American booty next, here's the most flat-out gorgeous spot in each and every one of 'em.
Albania
Ksamil Beach
Is Albania at the top of your beach vacation wishlist this summer? Didn't think so. Maybe that's because you haven't seen the beach at Ksamil, the jewel of the Albanian Riviera, with dazzling white sand, turquoise water, and three idyllic islands in the bay. Don't forget your snorkel.
Andorra
Lagos de Tristaina
These high-mountain lakes are your reward for taking on the Estanys de Tristaina hiking trail, a 3-mile route next to the French border in the north of this bite-sized principality. Free-grazing horses hang out up here, presumably for the killer combination of fresh water and awesome views. Take a picnic, and something to wear for your well-earned dip.   
Armenia
Tatev Monastery
This 1,000-year-old monastery has endured a history almost as dramatic as its clifftop setting, with imperial invaders taking turns ransacking it and even the odd earthquake shaking things up. Legend has it that the name comes from the time an apprentice fell from the tower and called out for God to give him wings -- "Ta tev" in Armenian. Probably best not to check if that trick still works.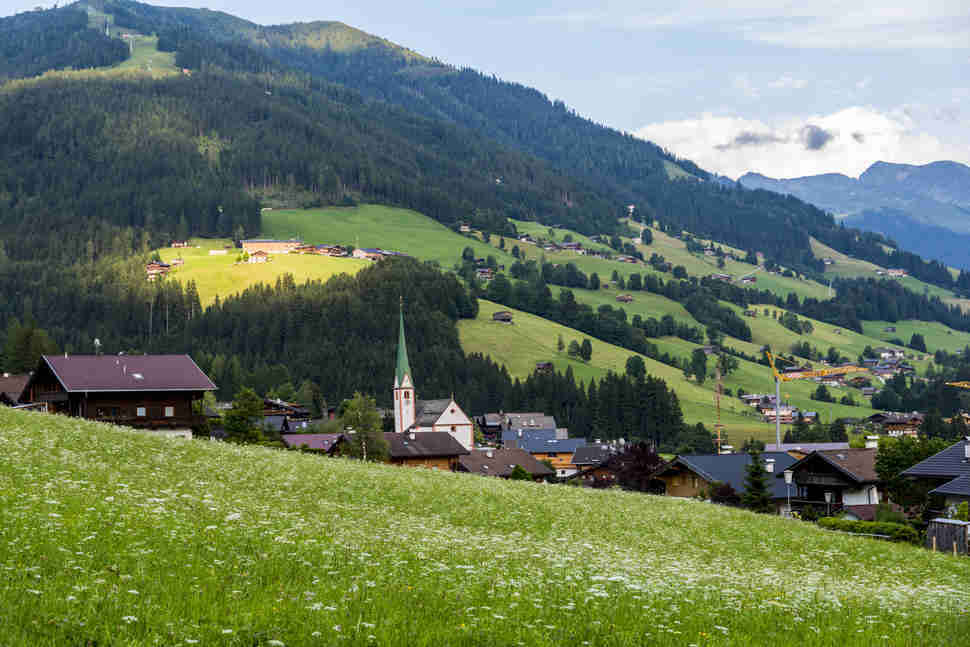 Austria
Alpbach
Alpbach's been voted Austria's most beautiful village by... all of the people in all of Austria (we chose Hallstatt, but maybe they know better). The area's lush green fields were reportedly a filming location for The Sound of Music and in the winter, the hills are even more alive as snow-caked ski runs.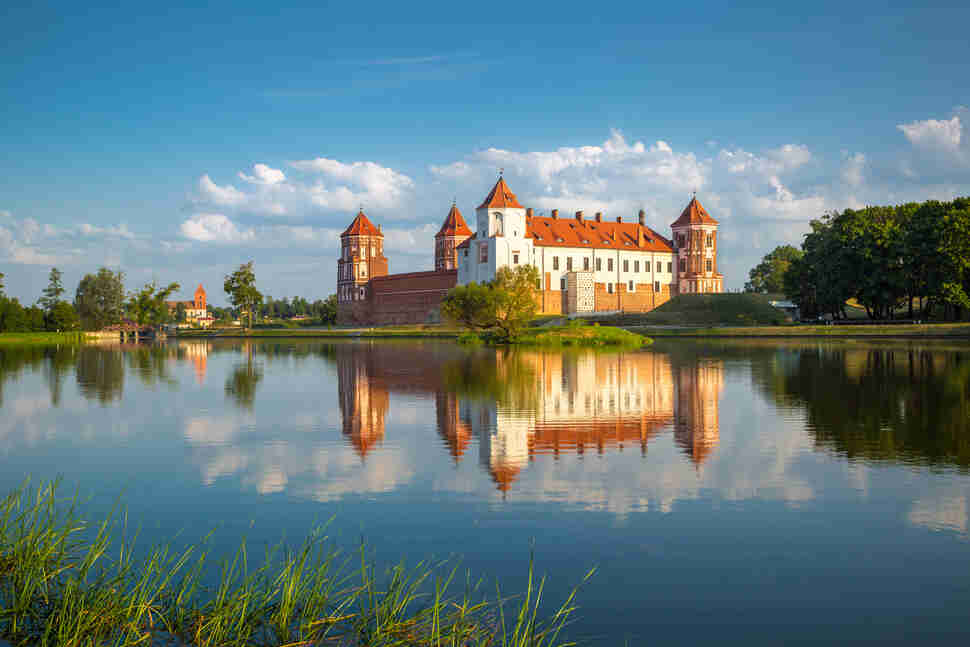 Belarus
Mir Castle
This 16th-century castle was built in Gothic Belarussian style, before Baroque and Renaissance touches were added on by a later owner -- so really it's a wonder it has turned out so pretty. Inside, it's a treasure trove of history, from the castle's aristocratic origins to its conversion to a Jewish ghetto during World War II.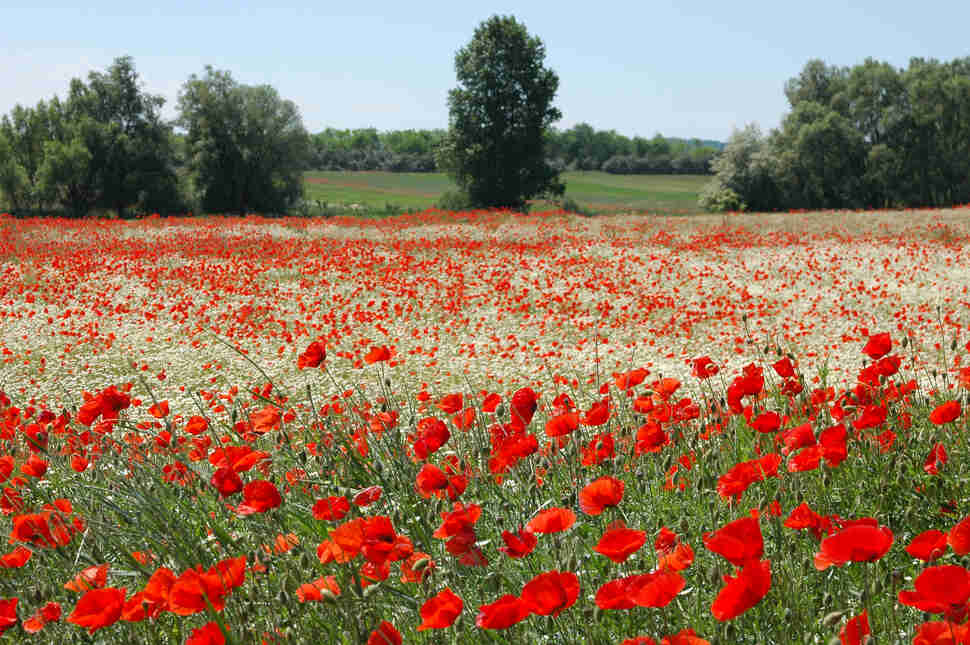 Belgium
Flanders Fields
This poppy field isn't only beautiful; it's also deeply symbolic. After World War I, vivid red flowers sprung up on former battlefields like this one, and the image is now synonymous with the heavy burdens of war. Today, Flanders Fields is also a much-visited cemetery and memorial.
Bosnia-Herzegovina
Pliva Waterfall
The River Pliva plunges into the River Vrbas right in center of Jajce, a pretty hillside town two-and-a-half hours from Sarajevo. The 60-foot wall of water is spectacular year-round, but come on the first weekend in August and you get the added thrill of seeing people far less sane than you compete in the annual jumping contest.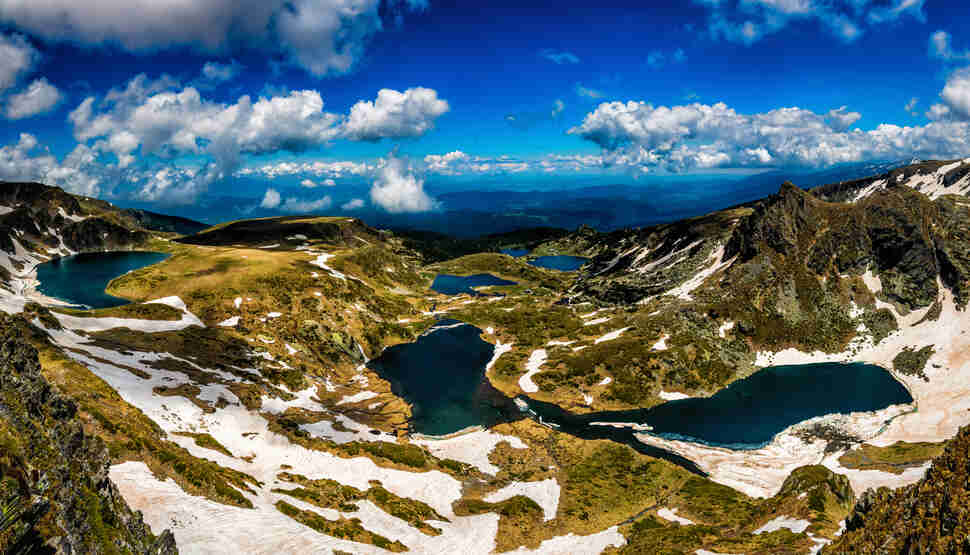 Bulgaria
Seven Rila Lakes
Ask any Bulgarian, and they'll tell you the Seven Rila Lakes is not to be missed. These seven glacial pools are rugged and majestic, sitting 8,200 feet above sea level in the country's remote northwest. A day's trek around this meandering region, and you'll understand the meaning of living free.
Croatia
Plitvice Lakes National Park
You've seen these waterfalls before -- on Pinterest, or Instagram, or your dad's desktop screensaver. It looks like something out of FernGully. While Plitvice's waterfalls are undeniably the most beautiful, you might also try the nearby but lesser-known Krka National Park; it's about 80% as scenic, but unlike at Plitvice you can actually go swimming.
Cyprus
Aphrodite's Rock (Petra tou Romiou)
Greek mythology says this boulder marks the spot where the Goddess of Love was born amid wild, churning water. Which makes sense, as the waves are rough and swimming is ill-advised (although local legend has it that anyone who does will be blessed with eternal beauty -- assuming, of course, that they survive).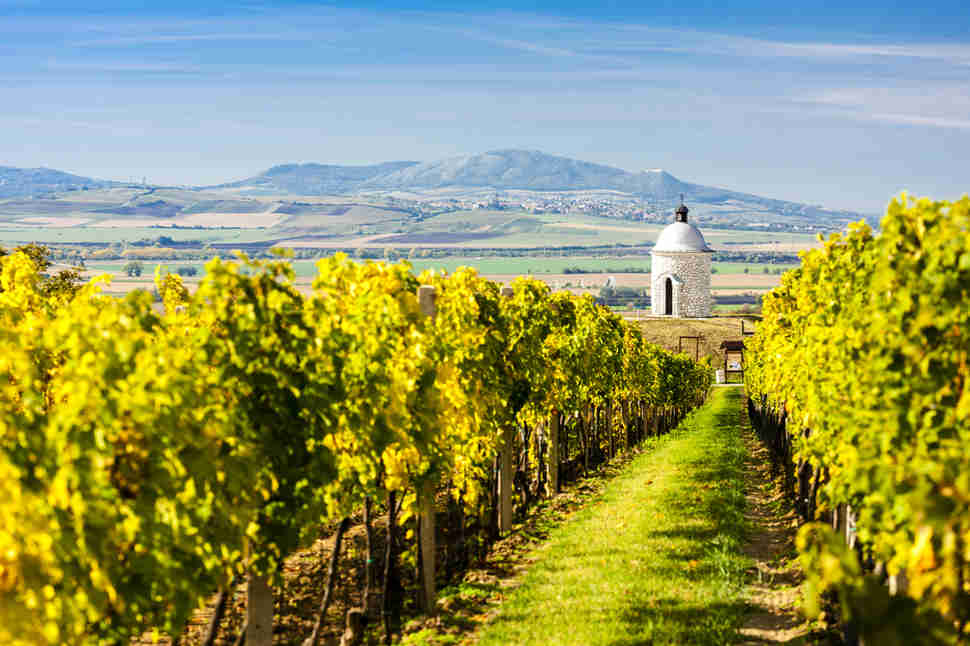 Czechia
Moravia
Prague tends to take a lot of credit for the Czechia's beauty, but there's something equally as magnetic -- and delightfully underrated -- about Moravia. These emerald landscapes and vineyards seem to stretch on forever. Maybe it's the wine goggles, but settling down here doesn't sound like such a bad idea.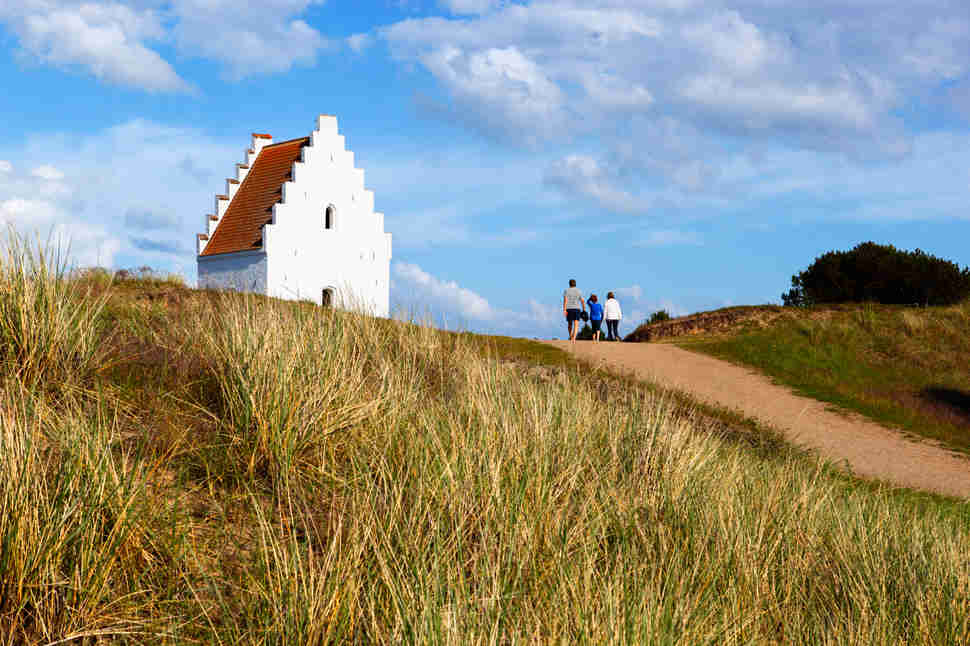 Denmark
Skagen
For years, Denmark's artistic and bohemian crowd have been coming to Skagen for inspiration. The scenery is amazing, crystal blue waters layered with colorful fishing boats and the most surreal sunsets. At the tip of Skagen you can find Råbjerg Mile, northern Europe's largest wandering sand dunes. Although where they're wandering, nobody knows. Badum-ching!
Estonia
Tallinn
Estonia's capital is one of few destinations in the world that seamlessly blends medieval and modern, with glass skyscrapers and ancient turrets both locked in the same gaze. Tallinn's one of Europe's best-preserved walled cities, and 21st-century history definitely adds another interesting veneer to its rickety cobblestone streets. And it's cheap, to boot.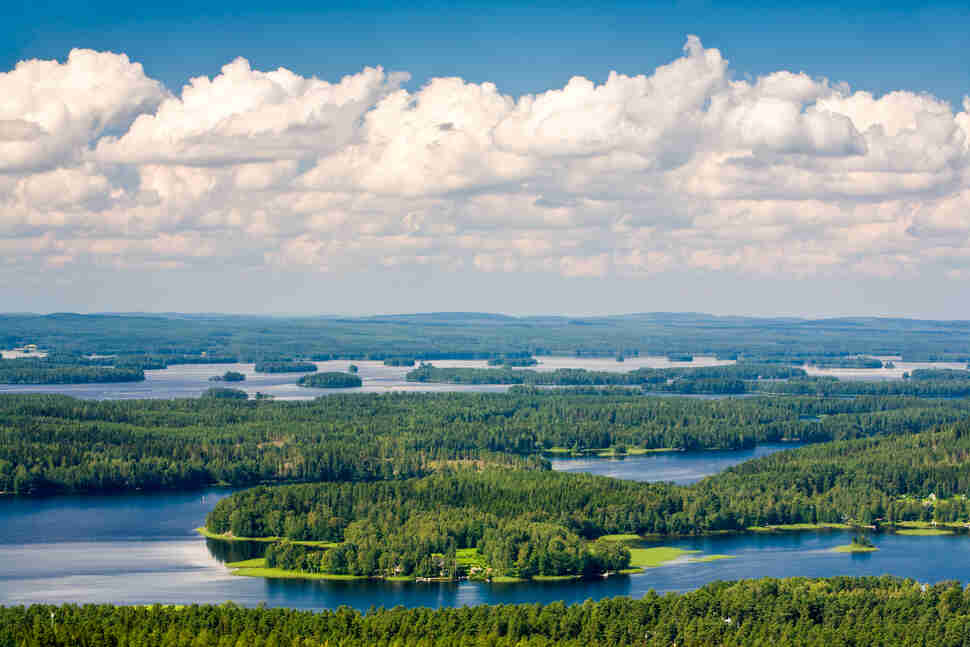 Finland
Finnish Lakeland (Järvi-Suomi)
Thousands of years ago, continental glaciers shifted to create one of Europe's most striking natural masterpieces: Järvi-Suomi, or the Finnish Lakeland. It's the continent's largest lake district, an incredible labyrinth of thousands of ponds, rivers, islands, and streams.
 
France
Giverny
Giverny is the real-life setting for some of Claude Monet's most famous works. Today, the birthplace of French impressionism is every bit as stunning as it was in watercolor: a fairytale garden of rose arches, weeping willows, and water lilies tucked into Normandy's countryside.
Georgia
Ushguli
This village of 200 people is 7,190 feet above sea level, making it the highest settlement in Europe (unless you include Amsterdam HA HA HA). It's a tiny, tumbledown kind of place, but well worth the trip for the wall-to-wall views of the mighty Caucasus Mountains and the chance to hike or horse-ride to the Shkhara glacier.
Germany
Bavarian Alps
Even if you find dirndl and lederhosen to be a questionable fashion statement, there's no denying that the Bavarian Alps are surefire beauty. Thick fir forests, rural pastures, and the rugged mountains (of course) are what make this region so alluring. Also, the beer.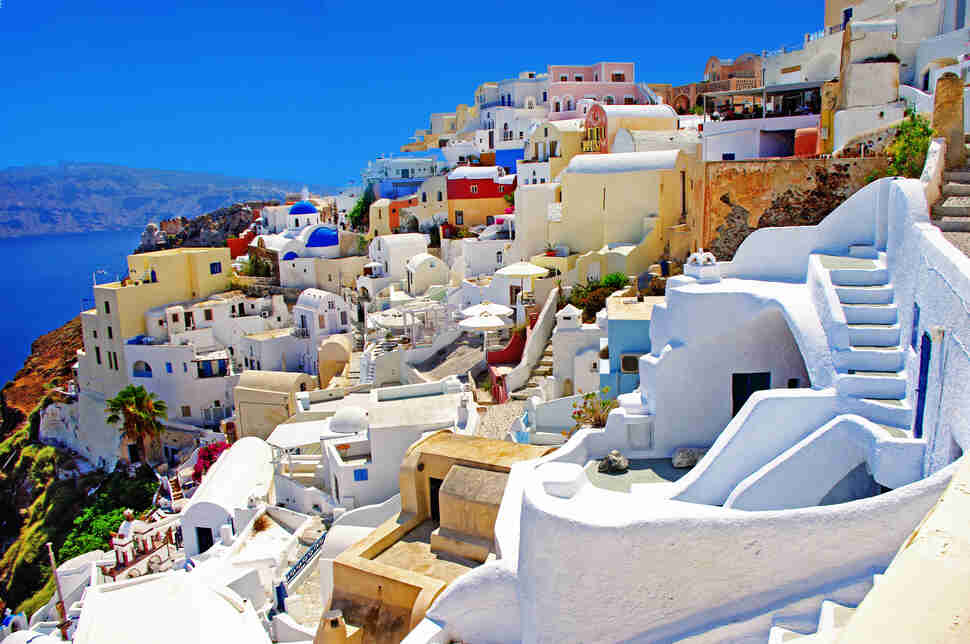 Greece
Santorini
So it's not exactly under the radar, but crowds be damned: It's impossible not to fall in love with Santorini. Just look at it! As if the island's natural beauty, multi-colored cliffs and deep-blue waters, wasn't already dreamy enough, the characteristic Cycladic architecture is seriously spellbinding. Definitely one of the world's most romantic destinations.
Hungary
Lake Balaton
Lake Balaton is nothing but gorgeous turquoise for as far as the eye can see. Hungary's most famous blue-green body of water is also the largest and shallowest in all of Europe (that's right, probably the most relaxing swim of your entire life). It would all seem rather Mediterranean if it weren't for all those cute Hungarian farmhouses wrapped in thick woodland groves.
Iceland
Mount Kirkjufell
Iceland has got more than its fair share of contenders, but the beauty pageant sash has got to be draped over Mount Kirkjufell, for the way its smooth, slender shape rises like a shark fin into the frozen sky. It's located along Iceland's Ring Road -- itself one of the most stunning road trips you'll ever take. Catch Mount Kirkjufell on a good night, and you'll get the Northern Lights as a backdrop.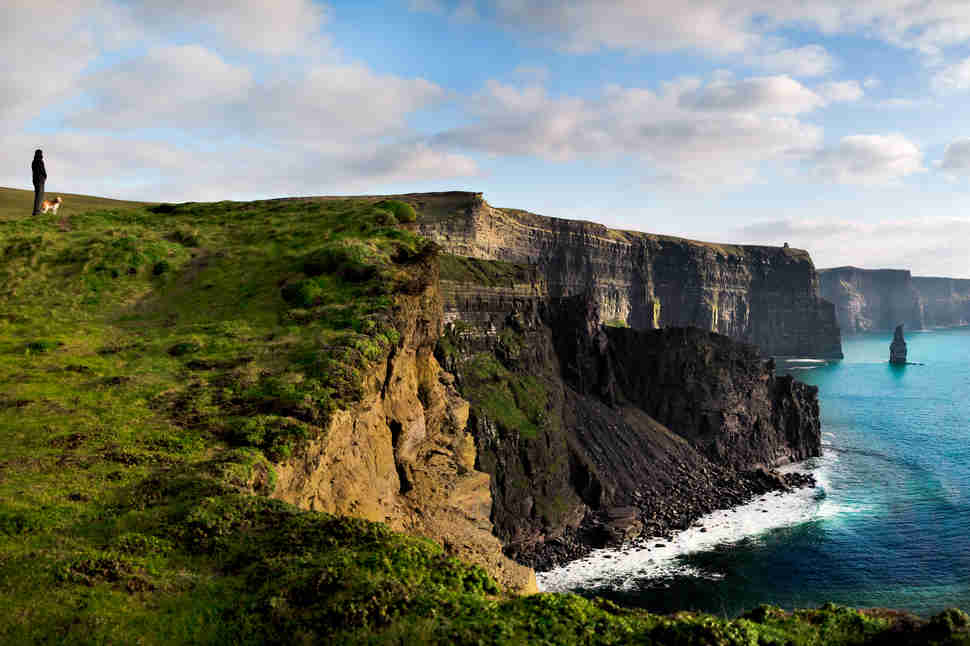 Ireland
Cliffs of Moher
As seen in Harry Potter, the Princess Bride, and some Maroon 5 video (does it really matter which one?), the Cliffs of Moher are one of the world's must-see attractions -- and with good reason. From atop these platforms of vertical limestone, you can see for miles on a clear day. The rush of the wind and the salty sea air make this the kind of spot that everybody should throw on their bucket list before they "Runaway." Fine, there, we told you the song.
Italy
Venice
It's kind of impossible to pick the most beautiful place in Italy... just look at those beaches! Those lakes! The Alps! Still, giving it to Venice just seemed right, what with all that sinking and all. In all seriousness the Queen of the Adriatic is considered by many to be the most beautiful city in the world. Describing Venice's gorgeous architecture and lacework waterways doesn't nearly do it justice.
Kosovo
Sharr Mountains
Springs, lakes, and frozen-in-time wooden villages are dotted across the landscape beneath these 9,000-foot peaks, which offer some of the best hiking and biking in the Balkans. Keep your eyes out for wild horses, rare Balkan lynxes, and Europe's only freshwater turtles.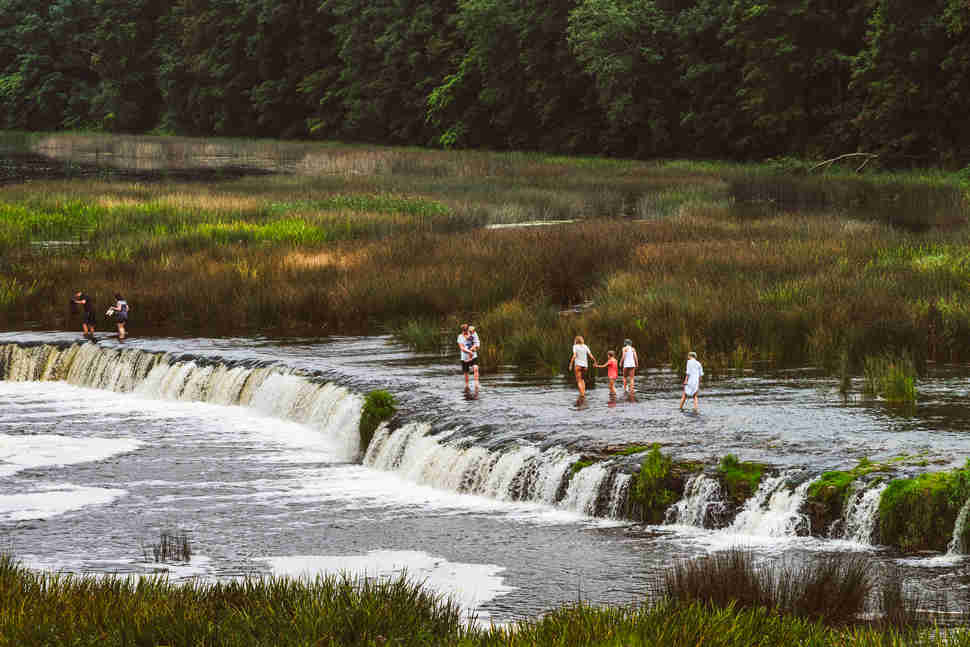 Latvia
Venta Rapid (Ventas Rumba)
OK, so this waterfall probably won't fit in your iPhone camera frame. Venta Rapid is a playful combination of broad (360 feet wide) and stubby (all of 6 feet high). Its sheer cascade falling over green moss and rocks is peaceful and a lot of fun to splash around in.
Lithuania
Curonian Spit
Wild forest, sand dunes, and the ocean hypnotically unite at Curonian Spit. This UNESCO World Heritage Site boasts a lagoon with Europe's highest sand dunes and Drunkard's Forest, which is covered in tree trunks that are mysteriously curled, twisted, and always asking for money to hit the liquor store.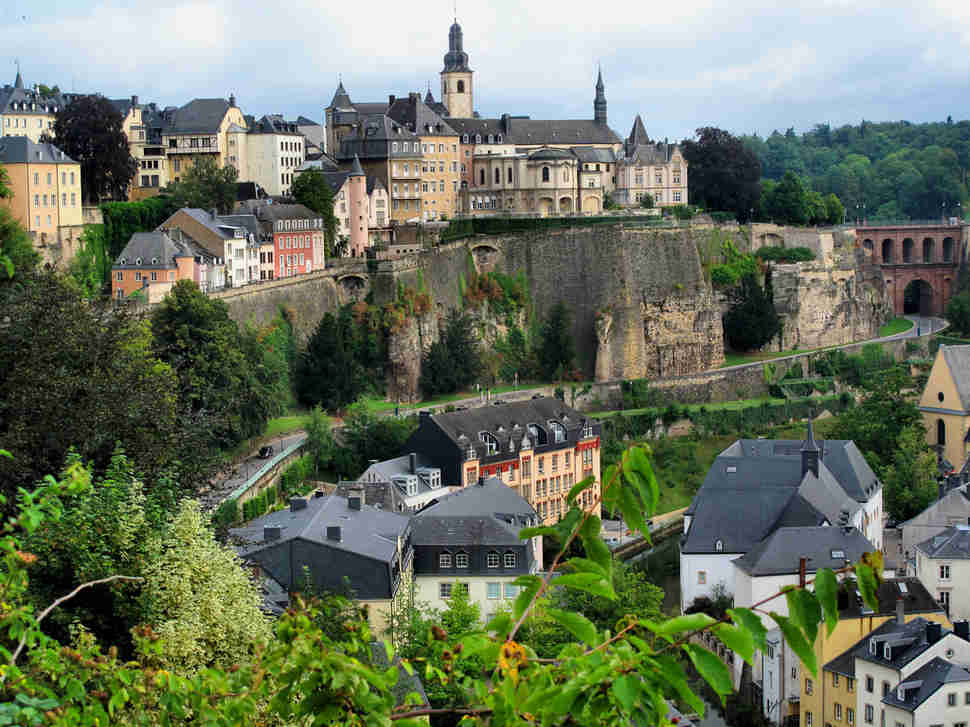 Luxembourg
Chemin de la Corniche
Hailed as Europe's most beautiful balcony, a stroll down Chemin de la Corniche never gets old. The promenade offers amazing views of the river canyon and Luxembourg's ancient fortress Wenceslas Wall. In the winter, when the trees and houses are tipped with ice, Chemin de la Corniche looks even more like it came out of a storybook.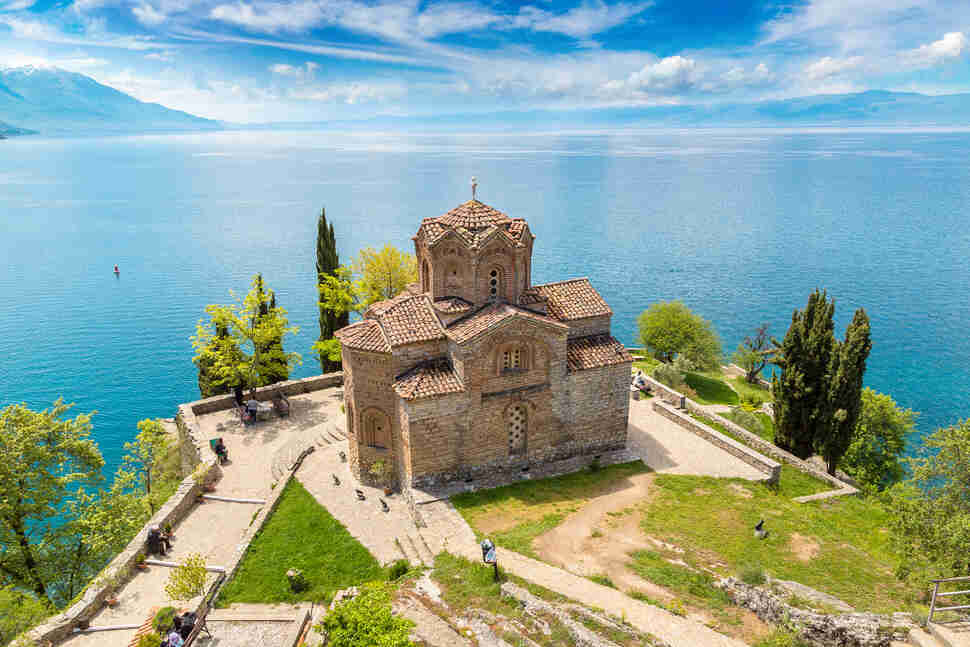 Macedonia
St. Jovan Kaneo
If the locals in the fishing village down below needed any encouragement to go to church, they got it in spades when St. Jovan Kaneo was built. It's got 13th-century frescoes and stone carvings aplenty, but this place is all about its setting: perched on a cliff above the glassy Lake Ohrid.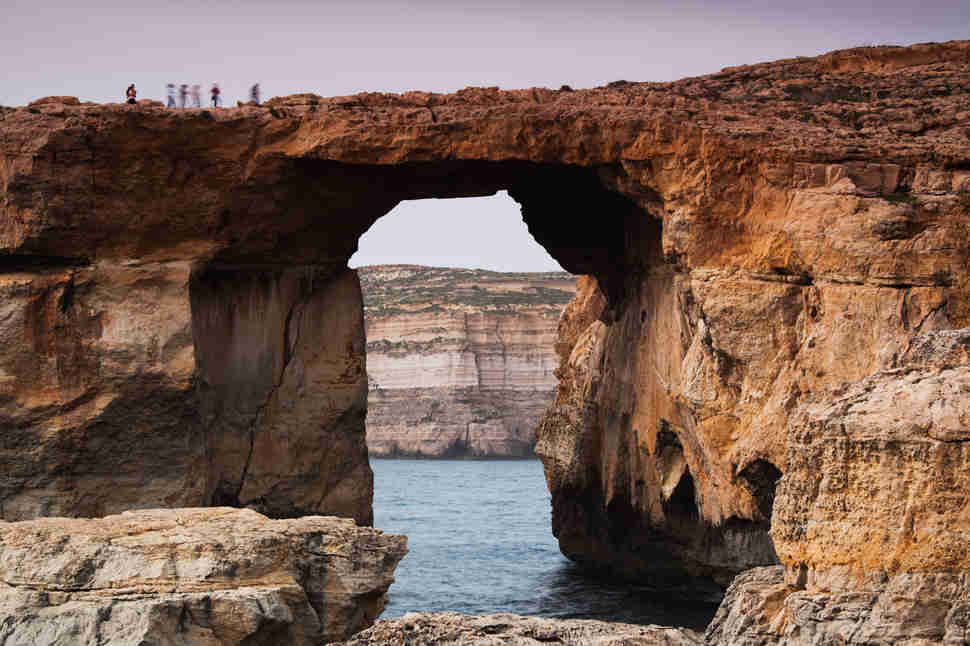 Malta
Dwejra Bay
This giant rock arch on the island of Gozo is home to some of Malta's best rock pooling, snorkeling, and diving. Its most famous spot is the rock formation called the Azure Window, like a limestone picture frame for the Mediterranean Sea and sky.
Moldova
Cricova winery
If you didn't know already, Moldova is big on wine. The Cricova estate is the most prestigious, entertaining and intoxicating the likes of Yuri Gagarin, John Kerry, and Vladimir Putin in its maze of underground cellars. Up above, gazillions of vines stretch across rolling hills near the capital city, Chisinau.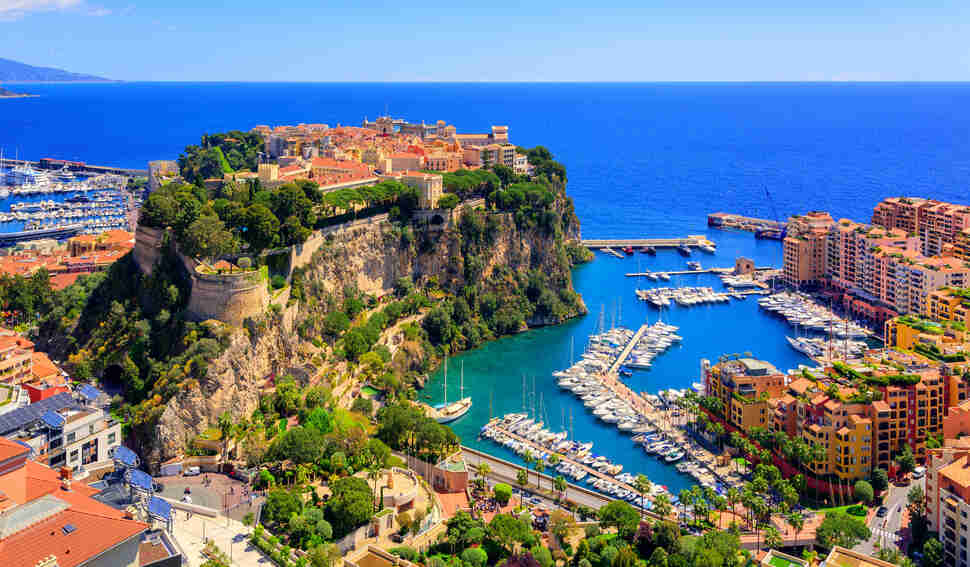 Monaco
Le Rocher
There's not a whole lot of Monaco to choose from, and most of it is made from concrete and glass. "The Rock" stands out as the prettiest part of this micro-country, with a royal palace and quaint old town that feels a million miles from the apartment blocks and superyachts down below.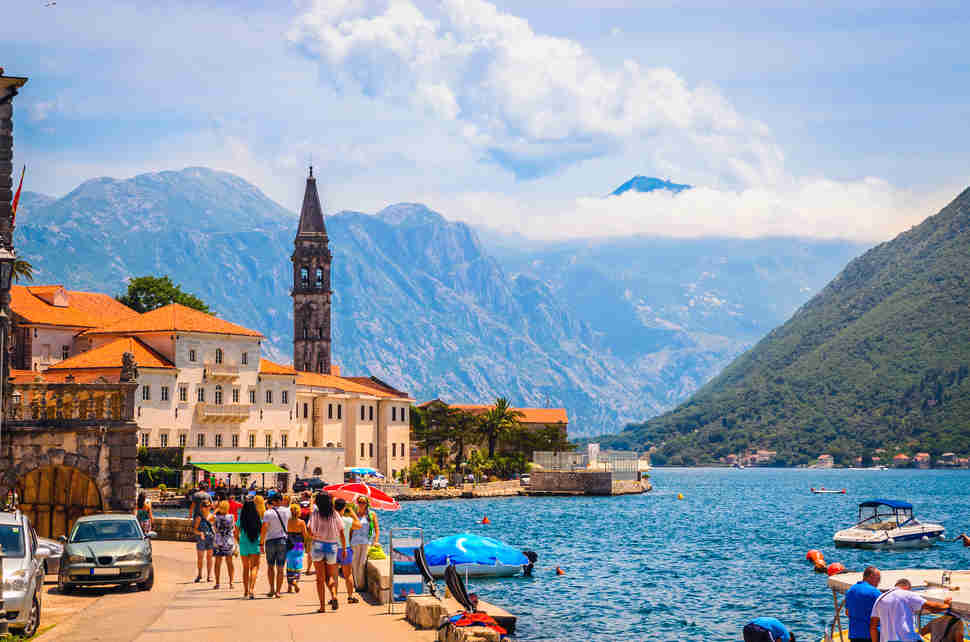 Montenegro
Perast
There's only one main street in Perast, but it has a whopping 16 churches and 17 Italianate palazzos. Take a boat out to the islands of St. George and Our Lady of the Rock, or spend the day paddling in the Bay of Kotor (you know, the one you've salivated over in every cruise ship brochure since 2008).
Netherlands
Keukenhof
This psychedelic flower field is only open from March to May every year, and it's seriously a blooming spectacle. Keukenhof is one of the world's largest flower gardens, with over 7 MILLION tulips, daffodils, hyacinths, and so on packed onto a mere 80 acres.
Norway
Trolltunga
We know, you've seen that photo a thousand times on your Instagram feed, but that's doesn't make it any less of a jaw-dropper. "The Troll's Tongue" juts out into open air some 2,000 feet above Ringedalsvatnet lake, giving you the perfect opportunity to raise your arms and lord it up over the landscape.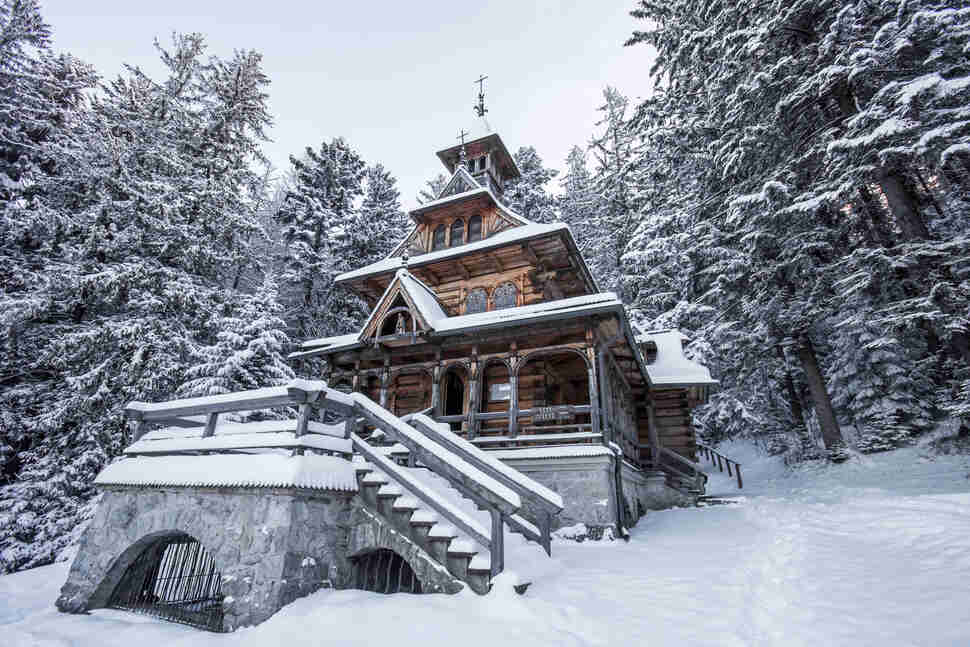 Poland
Zakopane
Poland's winter capital, Zakopane, is one of those rare places that truly comes alive after the snow falls. It's rather secluded, with rustic log cabins set against glistening summits and alpine meadows. If you're thinking about a cozy ski getaway in the middle of nowhere, consider your decision made.
Portugal
Sintra
Located just outside of Lisbon and once the home of Portuguese monarchs, Sintra is still just as enchanted; it's often called Disneyland for grownups, because of its collection of towering castles. Pena Palace draws from a broad range of architectural styles, and the National Palace apparently still looks exactly the same as it did in the 16th century.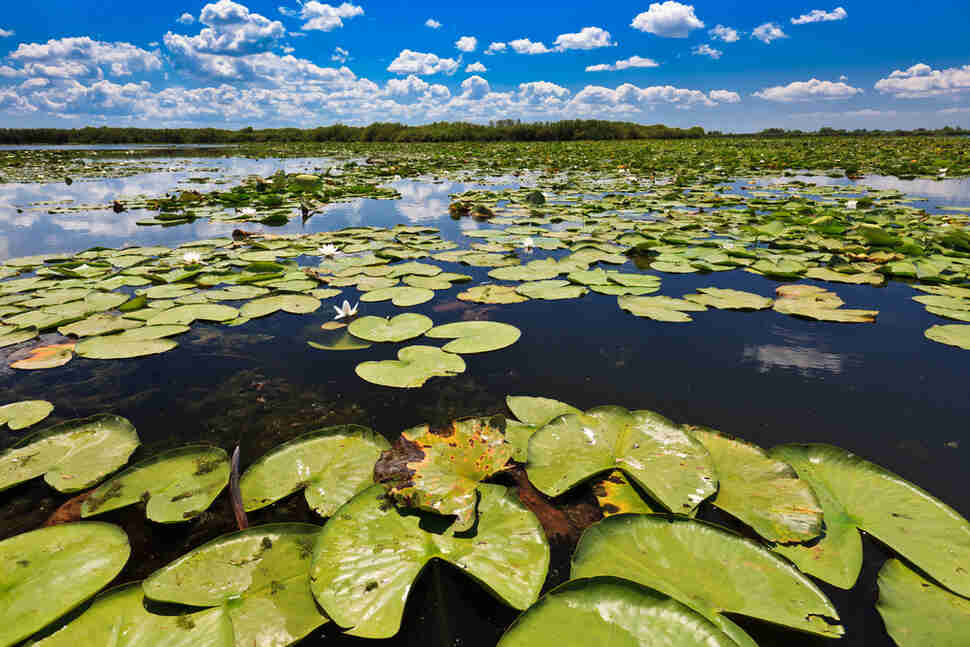 Romania
Danube Delta
The Danube River stretches from Germany to the Black Sea, and the stretch that runs through Romania is particularly superb. Reed marshes and swampland accents the clear blue waters, and there are even secluded beaches to discover.
Russia
Suzdal
It seems like time stopped in Suzdal in 1864, the year the Russian government decided not to route the Trans-Siberian Railway through the town. Today, the storybook Kremlin with its starry blue onion domes remains just as it always was, with a river meandering by and choristers shuffling to services across the courtyard.
San Marino
Guaita
Of the three mountain-top medieval towers in San Marino, Guaita is the oldest, largest, and most photogenic. It has stood proud over the microstate since the 11th century, and not once -- not once! -- has it been conquered.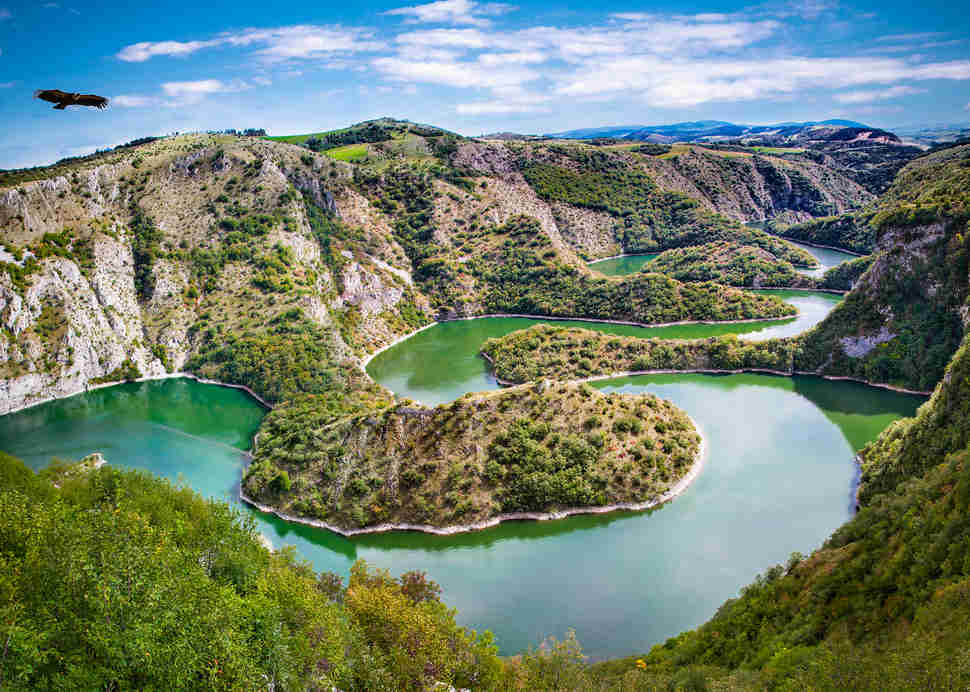 Serbia
Uvac Gorge
Gorge by name, gorgeous by nature. The Uvac river curls lazily back and forth through this sheer-sided canyon, where dozens of mysterious caves have eroded out of the limestone cliffs. The best way to explore them is on a guided boat tour -- just remember to look up occasionally to spot the 10-foot wingspan of griffon vultures swooping overhead.
Slovakia
High Tatras Mountains
The tallest range of the Carpathian Mountains, the views from the High Tatras Mountains are astounding. Here you'll find top ski resorts tucked into an alpine wonderland, and some of the most gasp-worthy trails that Europe has to offer.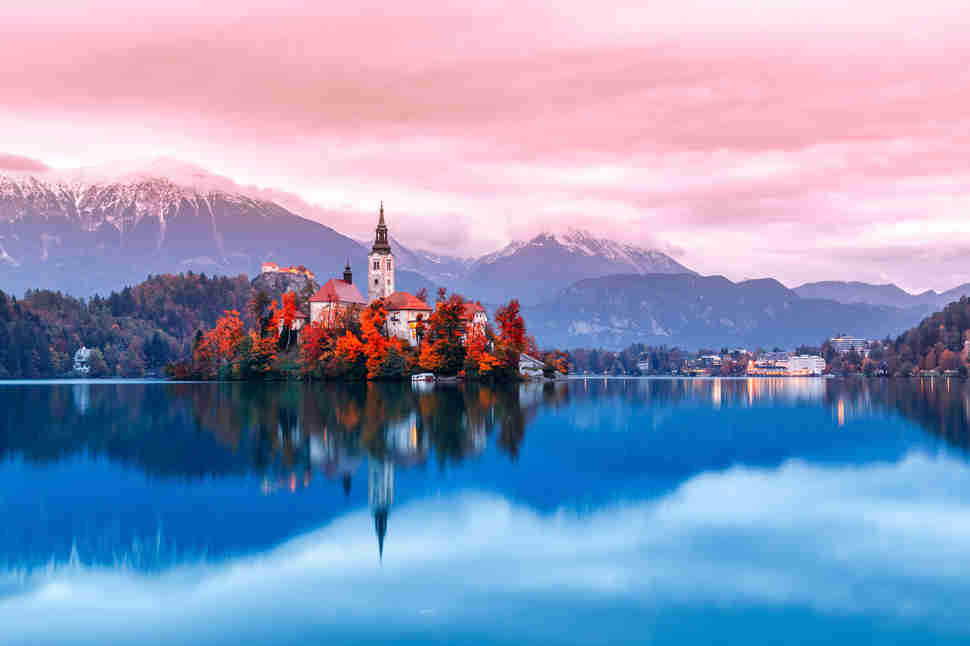 Slovenia
Bled
Despite the foreboding name, this is Slovenia's most popular holiday resort town and is found between the highest peaks of the Julian Alps and the Karavanke. Lake Bled's known for its transparent azure waters and Vintgar Gorge, a 5,249-foot wooden walkway (built 1893) that daringly crisscrosses over the Radovna River.
Spain
Formentera
Ibiza's little neighbor couldn't be any more different in its atmosphere. Formentera is calm, relaxed, and utterly flush with untouched beaches and lapis lazuli water. The Balearics are well known for their sunsets and sunrises, and here you'll enjoy them without having stayed up all night at the club.
Sweden
Kosterhavet
One road trip through Sweden's marine national park, and you'll fall head over heels with Kosterhavet's idyllic scenery. Life just moves slowly here too, like the gentle breeze on the water rocking the docked fishing boats. This is the kind of place you can count on for an adventure, but you know, the chill kind.
Switzerland
Zermatt
Switzerland is full of fantasy landscapes come true, and they don't come dreamier than Zermatt. Cozy chalets are nestled beneath sculpted ski runs and sweet-scented pine forests, with the almighty Matterhorn presiding over the entire valley.
Turkey
Cappadocia
Unless you've got connections at NASA or a few billion in the bank, this is your best shot at landing on another planet. It's close enough, anyway, with a surreal landscape of honey-colored rocks and ancient caves. Hot air ballooning is the thing to do.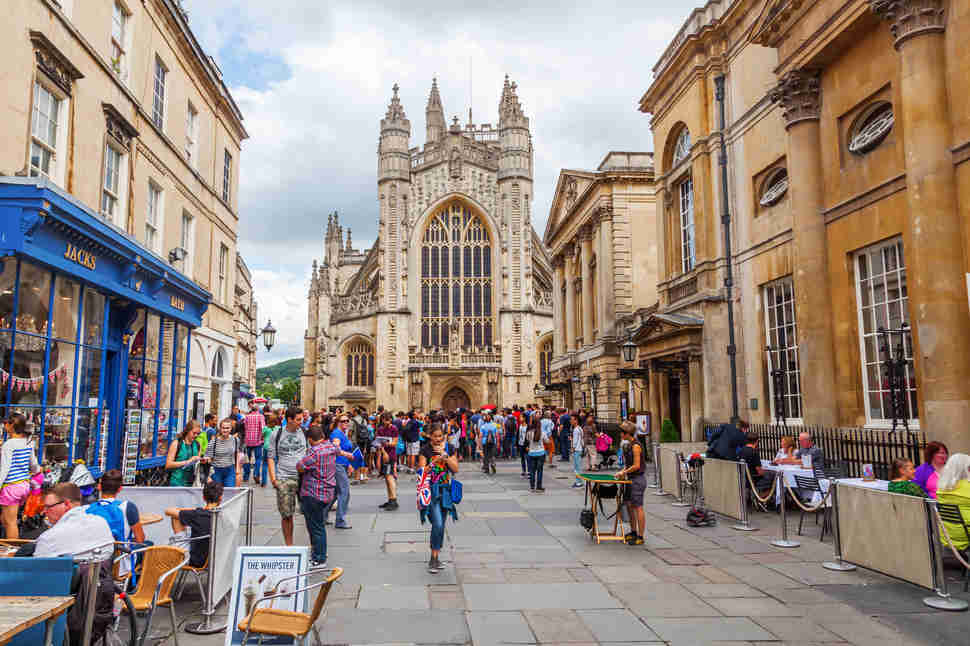 UK
Bath
All decked out in Georgian architecture, Roman bathhouses, and a jaunty ascot, Bath is über-sophisticated and proud of it. As if that's not enough, the Somerset countryside is also seriously easy on the eyes.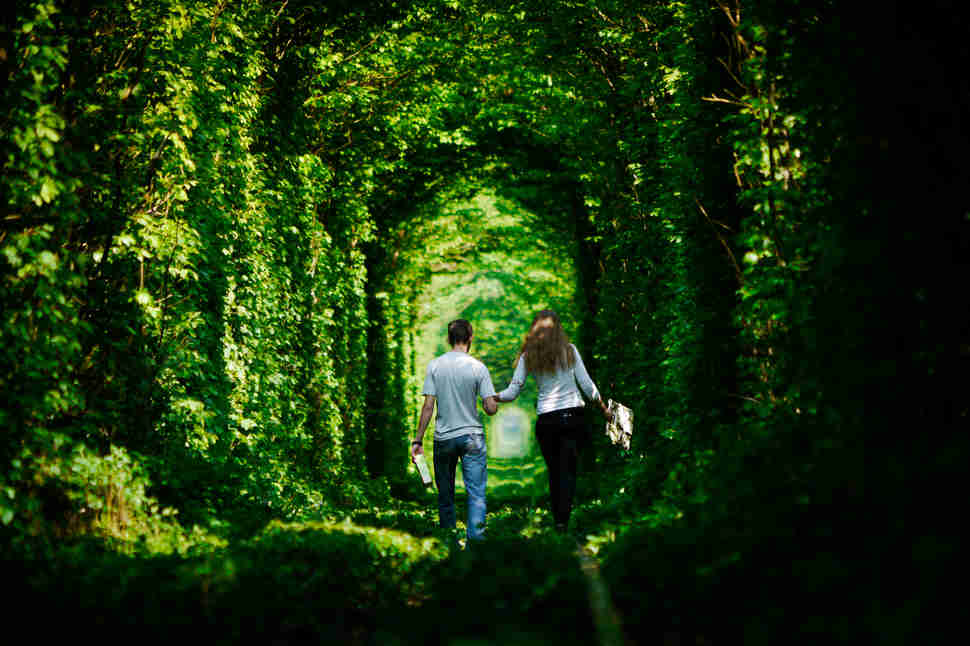 Ukraine
The Tunnel of Love
Nature has had its way with this disused railway line, and couples everywhere should be thankful for it. Nowadays, the trees arch right over the tracks, creating a magical sun-dappled tunnel. And tempting though it is, don't be that guy blasting Springsteen out of a Bluetooth speaker -- unless you get kicks out of ruining someone else's engagement.
Vatican City
Sistine Chapel
It's the world's smallest country, so we can be specific: the most beautiful place in the Vatican City is about 25 paces into the Sistine Chapel, looking up at the ceiling in wonder and wishing you'd paid more attention in art class.
Sign up here for our daily Thrillist email and subscribe here for our YouTube channel to get your fix of the best in food/drink/fun.