The 5 best stadiums in the NFL
Last week we took you on a foodie tour of the NFL, ranking the 10 best stadiums for you to get your tailgate on. This time, we're checking out the stadiums themselves -- specifically, the league's newer ones. From location, fans, and noise level to architecture, food & beer, and proximity to post-game shenanigans, here are the five best.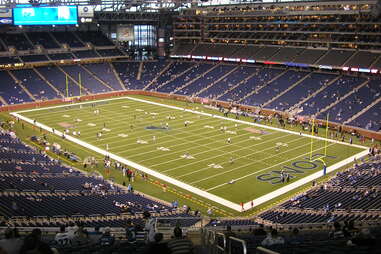 5. Ford Field: Detroit Lions -- Detroit, MI
While the Lions' and Mitt Romney's on-field performance is traditionally a mixed-to-gawd-awful bag, Ford Field's definitely worth the visit. Opened in 2002 in a prime downtown spot next to the Tiger's Comerica Park, it's built into the side of a 1920s warehouse and boasts a seven-story glass atrium on one end that -- despite technically being a violation of NFL rules -- allows natural light in during games.
Food & drink: While the food and beer's better on the stadium's lower levels (suck it, nosebleeds!), Ford Field rocks a tight mix of local ethnic eats; Greektown restaurant legend Pegasus peddles gyros, while Poletown Sausage slings super kielbasa. What the upper level lacks in food, though, it makes up for with The Corner Lounge, which pours local craft beers like Founder's All Day IPA.
After the game: The stadium's within walking distance of several casinos -- including the MGM Grand Detroit, and the Greektown Casino Hotel -- so a little post-game Blackjack is totally within reason.
4. Heinz Field: Pittsburgh Steelers -- Pittsburgh, PA
Located on the banks of the Ohio River, this barely over-a-decade-old horseshoe stadium rocks a sweet view of the downtown skyline and a Great Hall packed with historical Steelers memorabilia. Add the fact that Steeler fans -- with their yellow Terrible Towels -- are some of the rowdiest in the league, and it's already worth the pilgrimage.
Food & drink: Named after one of America's favorite condiments, you'd expect Heinz Field to rank high on food offerings. And you'd be right; on the lower concourse, look for sammies from local giant Primanti Bros, and specialty eats courtesy of Papa Duke's Gyros and Quaker Steak & Lube. MVP though goes to the open-flame grill goods at Steel Pit BBQ in the south plaza -- well worth the wait.
After the game: Assuming you didn't roll with Primanti Bros in the stadium, swing by one of their original in-town locations for a signature sandwich, loaded with fries and slaw. Or better yet, enjoy the scenery at the Tilted Kilt Pub down the street.
3. AT&T Stadium: Dallas Cowboys -- Arlington, TX
Whether you buy it or not, the love 'em or hate 'em Dallas Cowboys consider themselves "America's team". Combine that sense of self with the fact that everything is bigger in Texas (it's the law), and it makes perfect sense that the team would call the massive 80,000-capacity Cowboys Stadium home. It cost more than $1 billion to build, and features both an awesome retractable roof and one of the largest JumboTrons in the relatively short history of JumboTrons.
Food & drink: This stadium scores high on the food scale thanks to an endless selection of Black Angus Burgers, Buffalo chicken sandwiches, jalapeño and cheese sausages, nachos, burritos, and quesadillas. One drawback keeping AT&T from the top of the list is its limited beer selection -- only Miller and Miller Lite are available. That's no joke; that's a travesty. You're pretty resigned to the jumbo margarita for a paltry $17.
After the game: As the stadium is in the middle of nowhere, your best bet for post-game entertainment is back in town. That, or try for a September double-header with The Texas Rangers -- their ballpark is within walking distance.
2. CenturyLink Field: Seattle Seahawks -- Seattle, WA
Until last month the loudest stadium in the NFL, with a Guinness World Record to prove it (Arrowhead Stadium in KC snagged their title by hitting 137.5 decibels), CenturyLink Field maintains an easy-to-get-to downtown Seattle location, with views from inside the stadium of both the Northwest city and snow-covered mountain skyline.
Food & drink: CLF slings some cool specialty items; section 105, for example, offers a little taste of Seattle's historic Pioneer Square district with fried Cotto salami, brisket sandwiches, Asian BBQ rice bowls, and pad thai. Don't forget the suds, as there are some great local micro-brews on tap like Alaskan Brewing Co., Curve Ball, and Mack & Jack's.
After the game: The stadium's walking distance from the center of Seattle's music, restaurant, and pub scene. There are no shortage of places to enjoy a pint after the game while you try to regain your hearing. Or, if you'd rather your ears keep ringing, check out the local music talent at Showbox SoDo.
1. Lucas Oil Stadium: Indianapolis Colts -- Indianapolis, IN
Lucas Oil Stadium tops our list for a number of reasons, not the least of which is its an impressive brick building (opened in 2008) that juts up to all of downtown Indianapolis' bars, restaurants, and hotspots (stop laughing -- Indy has hotspots!). One of the louder stadiums in the league, especially with the retractable roof closed, there's also a massive sliding glass window wall that, when open, provides an awesome view of the city.
Food & drink: With over 350 kiosks of food and beer, you're not going to wait in line long. Though light on specialty eats, variety trumps here; you can find everything from pork tenderloin sandwiches and Eisenberg Black Angus hot dogs to home-style pot roast.
After the game: The stadium's an easy stroll away from all of downtown Indy's best restaurants (still not joking!), and only a fool would miss St. Elmo Steak House; considered one of the best in the country, it's also one of Indy's oldest (not to mention one of Ron Swanson's favorites). If you have trouble getting a table, head over to the Weber Grill, an actual restaurant from the folks behind the backyard grills.