The 5 Best Things About Every New England State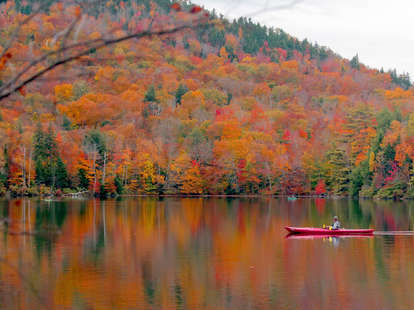 Shutterstock
Shutterstock
New England is a region awash in stereotypes. To hear outsiders tell it, the six states house egg-heady, grumpy Puritans; eat bland food like baked beans; and totally lack in sophistication and style. Also, everybody wears North Face and talks like they're from South Boston. Or, maybe Downeast Maine, if they're giving directions.
To all of that we say, nice try! In reality, each principality boasts its own distinct character and singular pull, be it culinary, cultural, or related to the countryside (most likely, an amalgam of all three). So toss aside the Brahmin bromides and take a fresh look at what makes each New England state so alluring.

Vermont
1. Ben & Jerry's
Need it even be said? The state that gave you Cherry Garcia is clearly a spot worthy of your devotion. But at the company's Waterbury factory, you can actually see where the hippie-double-dippy magic happens, thanks to 30-minute tours that culminate at the sample-friendly scoop shop. Those nostalgic for Wavy Gravy can visit the Flavor Graveyard -- which is exactly what it sounds like, tombstones and all -- and pay their respects. Just look for the happy plastic cows out front.
2. Burlington
There is perhaps no more on-the-nose Vermont city than Burlington, and not just because it birthed Phish. The college town has it all: prototypical hippies, locavore cuisine, foliage-dotted hills, historic churches and buildings, a thriving music and arts scene, and an unmatched commitment to renewable energy. For those craving a little Quebecois culture, Burlington is also less than an hour from the Canadian border. And yes, a certain senator and presidential candidate used to feel the burn as mayor of this lakeside lefty spot.
3. Dog-friendliness
One of the state's special charms is just how much everyone loves their pups -- which means they love your pup too. Your four-legged family member is allowed pretty much anywhere, from coffee shops to hiking trails to breweries. Pet stores like The Quirky Pet in Montpelier raise pet ephemera to the next level, and hotels such as the Stowe Mountain Lodge dedicate significant resources to make sure Ozzy Pawsborne is walked, fed, groomed, and coddled -- even if Mr. Pawsborne is a 140lb Mastiff banned everywhere else.
4. Outdoorsy-ness
Snow or shine, Vermonters never stay indoors for long. And it makes sense -- no matter the calendar month, the state remains pristinely beautiful. In the winter and spring, locals and visitors can ski, snowboard, snowshoe, and dogsled the Green Mountains. Come summer and fall, they turn their attentions to hiking, biking, running, and horseback riding. Trust us: anyone who's visited has daydreamed at least once about ditching city life, settling into a remote cabin, and becoming an outdoor warrior.
5. Cheese
Yeah, yeah, we know: Wisconsin. Well, we'll see them their silly foam hats and raise them a sharp white raw-milk cheddar from the Green Mountain State. Cabot Creamery is the big name here, but the Vermont Cheese Trail is awash in washed rinds and many other cheese types -- 46 different cheesemongers populate the trail, churning out artisanal cheddars, fresh chevres, blues, and more. Do the cheeses pair well with the state's numerous craft brews? There's only one way to find out.
Massachusetts
1. The Berkshires
One of the state's most appealing areas is bizarrely unsung, at least among the non-Tanglewood set -- which is probably what keeps its charm intact. The westernmost portion of the Bay State is both halcyon and culturally sophisticated, a collection of picturesque, historic villages once called home by the likes of Edith Wharton, W.E.B DuBois, and Norman Rockwell. Its artistic offerings, from museums to the aforementioned Tanglewood Music Center, are only outdone by the pristine outdoor surroundings. This is Vermont for the Massachusetts set.
2. Boston restaurants
Will Boston ever get its dining due? Despite a capital city awash in experimental kitchens and celebrated chefs, from TV celebs (Tiffani Faison, Kristen Kish, Ming Tsai) to Relais & Chateaux honorees (Barbara Lynch), Boston usually misses out on those redundant "top 10 dining cities" round-ups. Whatever -- let the haters hate as you gorge your way through restaurants and bars both entrenched and blossoming, many of which were committed to regional ingredients before "nose-to-tail" was even an overused foodie phrase. Then, wander outside the city limits to discover a surprisingly eclectic suburban dining scene.
3. Brimfield Antique Show
This is where the interior designers come, be they regional or far-flung. The thrice-annual, summer antique-a-thon is one of the best buying events in the country; rare is the local who can't point to a single item in their home as a Brimfield find. Regulars start making their plans months in advance and often book a moving truck for the occasion. And yes, celebrity spotting is on the menu -- Diane Keaton is just one well-known regular.
4. The Cape and islands
Call them the anti-Berkshires. Cape Cod, Nantucket, and Martha's Vineyard are roundly and justly lauded as unparalleled New England vacation spots. But still, what other state can boast such a richness of waterside getaways? Each area shares beaches, saltbox homes, excellent dining, and charming inns, but New Englanders are fiercely loyal to one region over the others and can produce a detailed laundry list explaining why their chosen summer respite rules (and yours sucks).
5. North Shore
We almost just wrote, "Fried whole-bellied clams," because that's 75% of the North Shore's allure -- a cluster of clam shacks that take their fried clam responsibilities beyond seriously. Put aside the obvious appeals of breaded seafood, however, and you'll find enviable kayaking, antiquing, artist studios, and horseback riding, as well as some of the state's loveliest beaches (Crane, Wingaersheek). Some Bostonians skip the Cape vacays and instead drive an hour north to hole up here for the summer.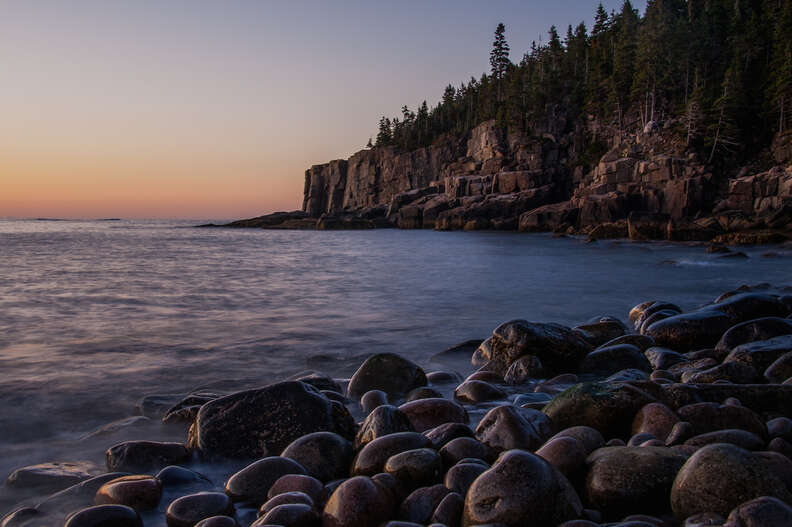 Maine
1. Beaches
It's not just about the iconic lighthouses. New England's most northern state happens to have some of the country's loveliest beaches -- who knew? There's Ogunquit Beach, a three-and-a-half-mile oasis of white sand and exciting tides; Goose Rocks Beach in Kennebunkport, a secluded three-mile strand beloved by locals (who can get a little possessive); and Scarborough Beach, a favorite vista of one Winslow Homer. But one of the joys of exploring the Maine coast is finding smaller and lesser-known pocket beaches, especially as you head farther north.
2. Acadia National Park
It's New England's only national park and the first Eastern national park in the nation. Amidst the 47,000 oceanside acres, you can hike granite trails, bike challenging paths (two-wheeling is a way-serious activity here), or climb Cadillac Mountain, often the first US locale to see the sunrise. Once you've paid your respects to nature, you can head into nearby Bar Harbor for a little shopping, a little boating, and a whole lotta lobster and blueberry pie.
3. Lobster pounds
There's really only one way to eat a lobster: in the rough, at a picnic table overlooking the Atlantic (yeah yeah, weather permitting). And Maine's numerous lobster pounds provide you with that no-frills joy. The ritual is simple: pick your still-kicking dinner from a tank, add some corn and steamed clams, then wait for your number to be called while you lazily gaze out at the horizon. Soon enough you're breaking down that steamed 2-pounder while butter drips down your digits. You can also opt for a lobster roll crawl up the coast, sampling all the ways in which subtle tweaks to the form (knuckle or tail meat, mayo or butter, bun toasted or no) can completely transform one of New England's iconic foodstuffs.
4. Portland
Basically, you'll spend 24 hours there and start perusing real estate listings. The waterside city has become a bastion of forward-thinking, sustainable cuisine, with spots like Duckfat, Eventide, and Fore Street grabbing the headlines. Add in an outré cocktail scene, myriad indie retail shops tucked into historical brick buildings, and easy ferry access to some of the country's most beautiful island retreats (see below), and you have one of those too-good-to-be-true-except-it-isn't cities. Have we mentioned that Maine is considering decriminalizing marijuana and that the Greater Portland farming scene is ripe for a cannabis revolution?
5. Islands
The state of Maine contains more than 3,000 coastal islands! Many are unoccupied or privately owned, but there are also more than a dozen that entertain tiny year-round populations and open their craggy shores to in-the-know visitors come summer. A half-hour ferry ride can take you to places where time stands still: people are friendly, food is simple and fresh, roads are quiet, and Wi-Fi is sporadic -- which means you have zero excuses not to drop the device and get outside already. We're particular fans of Chebeague Island and the eponymous inn there, a lovely yellow clapboard structure with a wraparound porch to die for.
Connecticut
1. Mystic
We love a good fishing village, especially one ripe with history, and especially especially one where Bogie and Bacall once honeymooned. A little boating, a little antiquing, a little aquarium-ing, and a little caz dining (yes, there really is a Mystic Pizza) make for a quintessential New England afternoon. And lest the attractions feel a bit too G-rated, the state's two celebrated casinos, Mohegan Sun and Foxwoods, are just a short drive away.
2. Hot lobster rolls
The counterpart to the mayo-filled varietal is the lobster roll Connecticut-style, which might just be the superior of the two. Served hot instead of cold, with warm butter dribbled on top, this version really lets the flavor of the meat shine through, and also serves to placate those who really just eat lobster for the melted butter.
3. Ocean Beach Park
What if we told you there was a lovely white-sand beach that neighbored an Olympic-sized freshwater pool, a boardwalk, a mini-golf course, an arcade, and a waterside watering hole? One doesn't automatically head to the Nutmeg State for a little beachside R & R, but this is one of those throwback attractions that reminds us the Jersey Shore hasn't cornered the market on cheesy beachside fun.
4. New Haven pizza
It's called apizza, actually, and it is indeed fabulous. Defining characteristics include a thin, charred crust; an oblong rather than circular shape; and a relative lack of melted cheese (mozzarella, or "mootz," is considered a topping rather than a central ingredient). Go for the white clam pie, pair it with a white birch soda, and you're officially a local.
5. Northwest Corner
What do Meryl Streep, Manolo Blahnik, and Oliver Platt all have in common (besides bank accounts that dwarf yours)? They've all bought homes in CT's Northwest Corner, one of those undiscovered retreats that underscores just how many secrets our region still contains. And NWCT is indeed pretty spectacular: you have the Appalachian Trail and live theater and farm-to-table dining and local breweries and three bona fide vineyards. On top of it all, there's some well-priced real estate to be found. Don't you want Meryl to be your neighbor?
New Hampshire
1. White Mountains
Vermont's Green Mountains gets all the accolades, but the Whites and surrounding towns provide the same iconic New England charm. There's challenging hiking aplenty ("Hike the Whites!" is the battle cry), plus fishing, golfing, and skiing in winter. Breweries and charming restaurants abound throughout the region -- there's even a dinner train -- and natural attractions like the Flume Gorge make for terrific off-the-grid entertainment. Wonder why some many autos in New England boast bumper stickers that read "This Car Climbed Mt. Washington"? This is the place to find out.
2. Portsmouth
The waterside city has always been a fun day trip destination, but in recent years Portsmouth has become a bona fide weekend getaway, owing to an increasingly sophisticated restaurant scene, proliferating breweries, indie boutiques, and revamped hotels. Why, some have even dubbed it the next Portland (Oregon, not Maine). Have we mentioned the shopping remains tax-free?
3. The grand hotels
A century ago, the state was awash in Dirty Dancing-like resorts: enormous wooden hotels surrounded by huge grounds that invited summer-long family vacations. Lightning strikes wiped out a lot of these buildings, but several beauts remain, including Mount Washington Hotel, Balsams Wilderness, and Wentworth by the Sea, located just outside the afore-celebrated Portsmouth.
4. Hampton Beach
You want honky tonk? We give you honky tonk. Hampton has it all: Skee-Ball, soft serve, salt-water taffy, scantily clad locals, sand sculpting, and scads and scads of tacky trinket stores. Why fight it when you can embrace it? Ditch the cover-up for a string crop top and the sunblock for suntan oil, then devote yourself to an afternoon of low-rent summertime excess.
5. Political involvement
OK, forget about Trump mania for a moment. This is a state that prides itself on its political savvy, owing to the fact that it hosts the country's first presidential primary election every four years. Town hall meetings are invariably packed and punctuated by sophisticated audience questions. Start chatting with a local bartender and he'll soon reveal his past as a local office holder. Lawn signs are more ubiquitous than seafood shacks, and everyone has an opinion, even if it's one that makes your ears bleed. (Anything's better than the low-information voter.)
Rhode Island
1. The music clubs
The Renaissance City is a city on the rise for many reasons, from the summertime canal events to the burgeoning dining scene. But Providence's longtime calling card has been its downtown music scene. Iconic clubs like Babyface and Lupo's Heartbreak Hotel have lately been joined by celebrated newcomers like Fête and Columbus. And once you get outside of the city, spots like Lily Pads have been attracting celebrated national indie acts.
2. Hot wiener
It sounds like a sex euphemism, but it's actually the state's heart-stopping take on the hot dog. The formula: a thin veal-and-pork dog topped with celery salt, yellow mustard, onions, and taco-like meat sauce. Just to make it more confusing, it's sometimes called the New York System wiener, a name employed as a marketing strategy a century ago when Rhode Island was but a gleam in most diners' eyes. Regardless, the thing is ridiculous and ridiculously delicious.
3. Boating
The Ocean State -- unsurprisingly -- boasts resplendent beaches, but RI swim culture is surpassed by its boat culture. Newport turns into a mainland Nantucket in the summer, where boat shoes, Izod, and yachts abound. Block Island, the unassuming archipelago just 13 miles offshore, is its own boating enclave; little surprise that the island's best bar is called The Oar. And the tiny, but super-charming town of Bristol actually houses the America's Cup Hall of Fame.
4. Weekend retreats
For such a tiny state, Rhode Island boasts a damn-high percentage of highbrow sanctuaries. For starters, there are three Relais & Châteaux stunners: Castle Hill Inn and Resort, Ocean House, and Weekapaug Inn are all equally alluring for their water views and culinary aspirations. Newport is basically boutique hotel central; Providence landed on NYCers' radars when the hipster enclave Dean Hotel opened its doors, and Bristol gives you Point Pleasant Inn, a massive waterfront mansion turned B&B.
5. Coffee milk/Del's Frozen Lemonade
Coffee milk is the official drink of Rhode Island, and it's a diabetic doozy: coffee syrup and milk. The state legislature feverishly debated the issue back in 1993, with the two finalists being coffee milk and Del's Frozen Lemonade (exactly what it sounds like). Even though the brain-freezing latter eventually lost out, we love that the debate made it to the highest echelons of government in the first place. Regardless of the official winner, it's mandatory that you sample both.
Sign up here for our daily Thrillist email, and get your fix of the best in food/drink/fun.
Meaghan Agnew is a Boston-based writer who pets strange dogs with impunity. Follow her on Twitter @meaghandeth.