Because everybody knows that the only thing cooler than being cool, is being ICE COLD (alright alright alright alright alright alright alright alright), we rounded up eight of the world's frostiest snowtels.
Kemi, Finland
Rebuilt each season in the town of Kemi, this gigantic snow fort boasts 21 guest rooms (all of which are kept at a tropical 23 degrees Fahrenheit), a Castle Lounge that peddles light bites and hot drinks, a restaurant with tables made entirely of ice, and even a Snow Chapel, were you can heat things up by... getting hitched?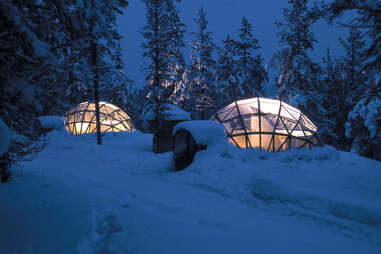 Saariselka, Finland
Forget roughing it like the Eskimos (or the Finnish equivalent of Eskimos); these toasty luxe igloos made from thermal glass have private bathrooms and beds from which you can watch the Northern Lights dance as you fall asleep. Also on the property: the world's largest smoke sauna, four restaurants, and access to snowshoeing and cross-country skiing.
Balea Lac, Romania
Every year this hotel unveils a new design based on a different theme: this season's motto is "zodiac" (although, hopefully, not the killer). All rooms have ice beds topped with comfortable mattresses, sheets, soft furs, and a sleeping bag. Before retiring to your sub-zero room, though, guests can dine at the on-site restaurant.
Kittilä, Finland
At SVF, located 125 miles north of the Arctic Circle, you have the choice of staying in an ice room complete with sculpted ice furniture, or in a significantly warmer log cabin. If you choose to brave the cold, you'll be rewarded with a fleece-lined sleeping bag and hot berry drink in the morning. And since you're already well on your way to the North Pole, the reindeer safari seems like a fitting afternoon activity.
Jukkasjärvi, Sweden
Originally opened in 1990, this Swedish spot was the first ice hotel in the world. Each year there's a new design and everything is rebuilt from ice, including the beds, chairs, and even drinking glasses. The property also features a bar, church, main hall, reception area, and restaurant -- all of which're kept below freezing temperatures. The only place to warm up? The bathrooms, of course.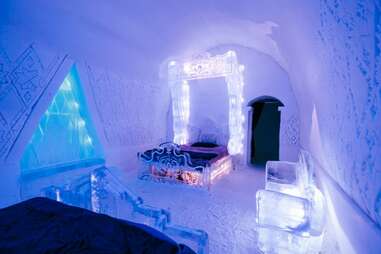 Quebec City, Canada
Guests are stunned when they see Hôtel de Glace's huge snow vaults, crystalline ice sculptures, and 44 rooms/suites for the first time. You can sip cider from ice flutes, while sitting around ice tables, before falling asleep on a couch made from ice in your own personal freezer -- ummm, room. Upgrade to a suite, though, and that freezer/room comes with a private fireplace and spa. Want to know how to make those ice cocktail glasses you're sipping from? Good, 'cause they'll teach you at the Ice Workshop.

Kirkenes, Norway
Cozy up in thermal bed spreads and sleeping bags as you fall asleep whilst staring at the custom snow art that adorns the walls of each room in this chilly hideaway -- after you've soaked up the Northern Lights, of course, and a cocktail at the ice bar. The hotel also offers cold-weather activities like king crab fishing, dog-sled rides, and cross-country skiing.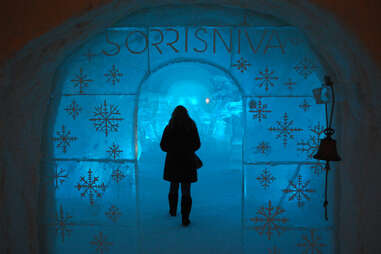 Alta, Norway
While no room in this hotel climbs above 25 degrees Fahrenheit, natural reindeer hide "mattresses" and sleeping bags keep guests warm throughout the night (although they also recommend you don a sleeping cap for extra heat). During the day, there's snowmobiling and an on-site sauna, among other activities.