Colin Farrell made four trips to the quaint store where multiple generations of women hand-knit wool sweaters using traditional patterns that Vogue popularized in the 1950s. He lunched at the café run by a group of chatty sisters who serve fresh crabmeat and Guinness beef stew to long lines. He walked—or jogged, in short shorts, captured by tourists' prying cameras—the gravel pathways connecting 14 villages lined with stone walls, Bronze Age ruins, green hills, grazing cows, and cliffs overlooking the Atlantic Ocean's dramatic Galway Bay. In the evenings, his pal Brendan Gleeson played the fiddle at Joe Watty's, a lively pub celebrated for fish and chips.
At first, the roughly 850 locals who live on Inishmore, an Irish island 144 miles from Dublin, were starstruck. But when a celebrity is in your midst every day for six weeks, you get used to it. The pride they share in having welcomed Hollywood to their home is palpable, and now that The Banshees of Inisherin is in theaters, the whole world can understand the enchantment of this storybook setting where modernity hasn't overwhelmed its timeworn charm.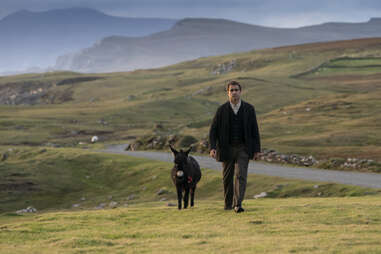 The Banshees of Inisherin wasn't the first movie to shoot on Inishmore, the largest of the three Aran Islands. The influential 1934 quasi-documentary Man of Aran depicted agrarian life, and some of the homes built for that film are still standing. More recently, the romantic comedies The Matchmaker and Leap Year—starring Janeane Garofalo and Amy Adams, respectively—featured scenes set there. But even though director Martin McDonagh (In Bruges, Three Billboards Outside Ebbing, Missouri) uses a fictional version of the island, Banshees is the biggest movie to set up shop thus far. (Some of its scenery also comes from Achill Island, 60 miles up Ireland's west coast.) Having garnered glowing reviews, the poignant dark comedy about a dispirited musician (Gleeson) who abruptly decides he no longer wants to spend his days swigging pints with his happy-go-lucky friend (Farrell) is poised to rack up Academy Award nominations come January.
It's also bound to bring more tourism to Inishmore. During the summer months, when average temperatures hit the mid-60s Fahrenheit, approximately 1,200 to 2,000 travelers visit per day, according to Cyril Ó Flaithearta, a tour guide who was intimately involved with Banshees because his horse Minnie is one of several animal stars. Guests arrive by ferry or flight. They can stay overnight in one of the charming bed-and-breakfasts, bike or hike the pastoral landscape, swim in the beaches, observe the seal colony, take the horse-drawn tours that once documented Farrell exercising, and go to the same shops and taverns that he and his colleagues frequented. Some also surf or partake in what Ó Flaithearta calls the most challenging rock climbing in Ireland.
Inishmore developed as a pagan outpost until early Christians transformed it into a monastic settlement where notable Irish saints studied. It has maintained Catholic roots ever since, though religion no longer carries the same stronghold. In 1916, Inishmore helped start the uprisings that launched Ireland's quest for independence from the British Empire. That long chapter of rebellion included the Irish Civil War, a backdrop that lends the 1923-set Banshees existential texture. Even with a supermarket and the spoils of Wi-Fi, locals remain strikingly self-sufficient. Many harvest their own food and barter with neighbors. If the movie treats remote life as bleak, the reality today is anything but.
"Everyone wanted to pitch in," costume designer Eimer Ní Mhaoldomhnaigh says of the shoot. Her department operated out of the community hall that hosts social events, indoor sports, and small-claims court. "We had a lot of locals who worked as extras, and we got to know a lot of people that way. The makeup artist, Lynn Johnston, and I brought our teenage boys over for a few weeks, and one of the local ladies did school lessons with them and they went swimming—jumping off the pier with the locals kids every evening. It was idyllic."
When I was on Inishmore to survey the locations where Banshees filmed, Jo Watty's provided a Saturday night as merry as anything in Dublin's crowded center. Co-owner Grace O'Flaherty extolled the economic gains this sort of Hollywood production might prompt, especially after the challenges of nationwide COVID-19 shutdowns. Like others who run businesses on the island, her welcoming vigor would make the most far-flung wayfarer feel snug. That night, O'Flaherty's son performed a mix of Celtic folk standards and American pop hits, inspiring singalongs to Ed Sheeran's "Galway Girl," Billy Joel's "Piano Man," and John Denver's "Take Me Home, Country Roads."
"Every day is a festival here, if you ask me," Ó Flaithearta said while bussing our group around, pointing out spots where glamping and destination weddings have become common.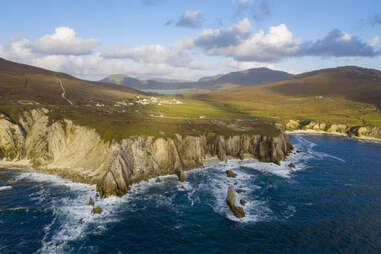 Inishmore can be a simple day trip off the mainland, but Ó Flaithearta recommends three days to experience it in full. I left wishing I could stay for more than one night, in part to hear more of the Gaelic spoken among natives. (Don't worry: Everyone knows English, too.) There's majesty in these hills, rife with folklore about the haglike fairies whose wails portend death. Sheila Flitton portrays one such banshee in Banshees. After visiting, maybe you'll be able to spot the road where Farrell's character ducks behind limestone to avoid her macabre approach. Ditto the cliff where she lurks while he waves farewell to his sister (Better Call Saul's Kerry Condon) as she departs by boat. Flitton is a highlight of the film, as are Barry Keoghan and Condon, whom Ó Flaithearta says went above and beyond to make sure the animals on the set were well cared for.
Farrell and Gleeson have spoken fondly of Inishmore during recent Banshees of Inisherin press appearances, including on The Graham Norton Show and Late Night with Seth Meyers. The former called it "a magic, magic place that doesn't feel like it's changed too much." Surely the actors' names will be added to Ó Flaithearta's year-round tours, marking another vibrant episode in the island's history. In a sense, Inishmore is to Dublin what Big Sur is to Los Angeles, or Cinque Terre to Rome—an escape from the bustle that proves even more picturesque than the metropolis itself.
"There's something spiritual about the island," Condon says. "It's healing. Where I was staying was near a private beach. I had lost my dog of 15 years before the shoot, and I would go down to the beach in the mornings and it's like I could feel her there. It makes me want to retire there."