The Best Après-Ski Towns in the Mountainous Land of Canada
Banff Lake Louise Tourism/Noel Hendrickson
Canada isn't just your friendly northern neighbor. It's your winter haven with a dash of something for everyone. Whether you're into skiing epic deep powder, cozying up in winter lodges, or experiencing a hint of Europe in both culture and cuisine, Canada has it all. So, what do you do when you grow weary of your dreary winter existence south of the 49th parallel? Pack up your ski gear and head for the True North, strong and free — because Canada comes alive when most choose to hibernate.
Banff Lake Louise Tourism/Paul Zizka
The SkiBig3 Resorts
Alberta
SkiBig3 is the nickname for Ski Banff-Lake Louise-Sunshine, the three resorts located within the oldest national park in Canada, Banff National Park in Alberta. With one ticket you can access all three resorts and experience all the snow-capped Canadian Rockies have to offer during their most beautiful season.
Where to Stay: Travelers looking to match comfort with convenience can find it at the Fox Hotel and Suites, located on Banff Avenue just past the busiest section of the strip. Its most unique feature is the Cave and Basin–themed hot pool and steam room, which is modeled after one of Banff's most popular natural attractions. If you're looking for a more secluded, quiet escape, travel 20 minutes west of Lake Louise to Emerald Lake Lodge in the heart of Yoho National Park that lies just across the border in British Columbia.
What to Do: Basically anything is good when you wake up to this view, right? This rule proves true on multiple fronts with Banff's wide array of activities. Spa-dwellers can lounge in the park's natural Hot Springs; we recommend going in the morning for the most quiet and relaxing experience. Looking to get your culture fix on your ski getaway? The Banff Centre for Arts and Creativity is world-renowned as a think tank and incubator of innovative multi-media, visual, and dramatic arts. Above all, nature lovers will find their paradise in the many wonders at Banff National Park that just don't exist south of the border, including the breathtaking Northern Lights. Follow Aurora Alerts on Twitter to find out when this natural phenomenon will be active for the best possible photo op.
Where to Eat: As two of the most popular destinations in Canada, you can bet Banff and Lake Louise boast numerous culinary delights. We recommend Elk and Oarsman in Banff for traditional pub fare and an authentic Canadian hockey-watching experience with a great mountain view, or Kuma Yama in Lake Louise for a steaming hot bowl of ramen, fresh sashimi, and inventive, mountain-themed rolls. Most importantly, hit up one of the oldest establishments in après-ski; Mad Trapper's Smokehouse was established in 1928, and to this day, hungry skiers can pick up hearty comfort foods that include house-smoked beef brisket, pulled pork, and chef's signature dry rub.
Mont Tremblant
Mont Tremblant
Quebec
Relax on a patio with a pint and listen to the buzz of French all around you — it's almost like you finally took that long-awaited trip to the Alps! Mont Tremblant in Quebec offers a quaint pedestrian village with a European vibe — but without the Euro price tag — making it the perfect après-ski experience just two hours outside of Montreal.
Where to Stay: Stay at the Algonquin condominiums for the ultimate ski-in/ski-out experience, complete with a spectacular view of Lake Tremblant. Head out at the crack of dawn for the freshest powder and ski directly onto the trails of Domaine de la Forêt. At the end of the day, ski right back to your condo and spend a cozy night enjoying your very own wood-burning fireplace and thinking of all those poor folks stuck in the city.
What to Do: Work off the foie gras and cheese plates (more on that later) with some cross country skiing through Domaine Saint-Bernard across varied terrain, including the Devil's River trail, which is often overlooked by visitors and therefore has some of the best snow on fresh powder days. Meanwhile, adrenaline junkies can take a walk on the wild side at Mont-Tremblant Paintball, a park that boasts 15 different playgrounds, or they can try to hack it at ice climbing.
Where to Eat: Les Québécois learned from the French themselves, so you can be sure that Mont Tremblant boasts some excellent French cuisine, fine dining, and just generally great gastronomy. Try Altitude Seafood and Grill's excellent five-course tasting menu with a view, or Le Cheval de Jade's traditional, candlelit French fare (splurge on the Ducking à la Rouennaise for the real Québécois experience). For more casual options, we recommend Microbrassie la Diable's European sausages and top-notch beer selection (brewed in-house, of course), or Casey's Resto Bar for a quick meal and hockey game on the big screen.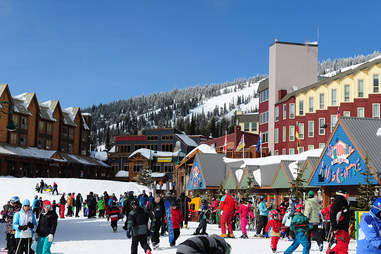 Big White Ski Resort
Big White
British Columbia
Often overlooked in favor of the glitzier resorts, Big White is the second largest ski-in/ski-out resort in British Columbia, and should not be underestimated as an après-ski destination. The powder will be the freshest and fluffiest Canada has to offer and the intimate village has all the food, drinks, and activities you need for your next getaway.
Where to Stay: After a long day of eating, skiing, and general frolicking in heaps of powder, crash at the quaint Chateau Big White, located in the heart of the village, and warm your toes in the outdoor hot tub. All rooms are fully equipped with gas fireplaces and kitchenettes for those planning to stay a little longer. The best part: the lodge is ski-in/ski-out, and is ideally located near many restaurants and shops.
What to Do: Hit the slopes for a unique snow limo tour that allows non-skiers to "ski" with their group or solo while strapped into the comfort their "snow limo" (think of a lounge chair on skis). Your chauffeur will take you on a guided mountain tour that simply can't be experienced from the base. After a day on the slopes, relax with a horse drawn sleigh dining tour where you'll be transported via sleigh to Big White's secluded cabin in the woods and served a gourmet dinner prepared by the chefs from the Kettle Valley Steak House. Or, wait to take the tour on the second morning of your trip and enjoy a true Canadian breakfast topped with real maple syrup. No Aunt Jemima here.
Where to Eat:Cecil's Perogies, a ski-up perogi truck virtually buried in a snow bank, is a local favorite serving up authentic Eastern European food and perogies crafted from a time-honored traditional recipe. Looking to warm up with a mid-afternoon drink on the slopes? Snowshoe Sam's guarantees a good time as Canada's number 1 ski bar as voted by Ski Canada Magazine, or hit up Gunbarrel Grill for their signature Gunbarrel Coffee. Trust us, you'll be warm and toasty after sipping on this brandy and chocolate liqueur concoction.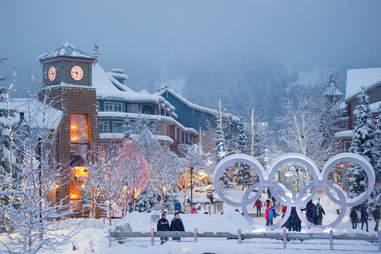 Tourism Whisler/Mike Crane
Whistler
British Columbia
Whistler is the jewel in the crown of Canadian après-ski destinations. This resort community is not only the ultimate Canadian winter getaway, but it's also the ultimate North American winter getaway as the largest and most-visited ski resort on the continent. With 200 runs at Whistler Blackcomb, this resort is excellent for a weekend of skiing (or relaxing) and has the restaurants and activities to accommodate pretty much anyone.  
Where to Stay: Splurge on a luxurious stay at Canada's only AAA Five Diamond property, the Four Seasons Resort Whistler. You can pick up s'mores and hot chocolate in the lobby while you check-in, and new skiers can get help from the dedicated Ski Concierge for all their rental, lift passes, shuttle, and other skiing needs. Stunning mountain views, an award-winning spa, a heated outdoor pool, and a daily wine tasting reception — what more could you possibly ask for?
What to Do: Non-skiers, worry not; there's plenty to do in this winter wonderland. Any snow sport you could possibly think of, Whistler has it: heli-skiing, tubing, luging, tobogganing, snowmobiling. The weekly Fire and Ice show features skiers and snowboarders performing death-defying acts with rings of fire. Crystal Hut Fondue transports you via snowmobile to a traditional fondue dinner perched 6,000 ft. atop Blackcomb (warm cheese on a cold winter's eve? Yes, please!). At the end of a long day of skiing and eating, relax with your companions at the Scandinave Spa, where you can bask in the 25,000 square foot outdoor spa surrounded by incredible mountain vistas.
Where to Eat: Pick up breakfast at Purebread before you hit the slopes. Get there early to beat the line and prepare to suffer from serious menu anxiety: the choices are overwhelming and drool-worthy. After your day on the mountain, head down to the Village for a refined dinner at Araxi. A well-established Whistler favorite, Araxi focuses on local, seasonal ingredients; try their excellent selection of oysters and peruse the wine collection of over 11,000 bottles. For a casual meal, Creekbread makes the locals' favorite all-natural, wood-fired pizza, while Splitz Grill has been churning out the best burgers on the mountain non-stop since 1997. Lastly, you can't leave Canada without trying a BeaverTail, the national pastry and a Canadian treasure. While the majority of flavors are ultra-sweet and chocolatey, the best-kept secret is the simple lemon juice, sugar, and cinnamon.
Blue Mountain Resort
Blue Mountain
Ontario
Blue Mountain is Ontario's premier après-ski destination an easy two and a half hours north of Toronto. In the 1940s, Blue Mountain founder Jozo Weider stood atop the Niagara Escarpment and envisioned something completely novel: a ski resort in Central Ontario! Jozo began with a mere three runs; today, Blue Mountain has grown to over 42 trails and a fully-fledged ski village.
Where to Stay: Escape the sleet of the city and shack up in a cozy townhouse at Historic Snowbridge. Tucked amidst the fairways of the Monterra golf course, these one- to four-bedroom townhouses are the perfect quiet, secluded getaway. With your own fully stocked kitchen, soaker tub, gas fireplace, and flat screen TV (Netflix time!), you'll never want to leave. There's even a free shuttle that will take you straight to Blue Mountain Village and its plentiful options for food and drink.
What to Do: Done with fireside snuggling? Check out the trails along the Niagara Escarpment for stunning views of Georgian Bay and the surrounding region. Snowshoeing newbies have nothing to fear: your guide will help you with rentals, show you the ropes, and even point out wildlife during your trek. Mill Pond is the largest outdoor rink in the area — break out the hockey sticks and a brew for the true Great White North experience. Thrill seekers should also check out (or register for?) Frozen Rail Jam 2017. You can watch people show off their stuff on the rails at Ontario's largest freestyle ski and snowboard rail jam.  
Where to Eat: Blue Mountain will fulfill your foodie cravings from upscale dining to no-nonsense pub grub. Get your surf n' turf at Copper Blues Bar & Grill; try the King Crab Dinner or Seafood Platter for Two. Pick up casual pub food and catch the hockey game at Jozo's, a longstanding favorite of both locals and visitors alike and named for the resort's founder. This place offers good deals and a low-key vibe making it the perfect spot to grab a pint après-ski. Round out your evening with a ping pong tournament on Smash's four Olympic standard ping pong tables, or dance the night away on Fridays and Saturdays when it turns into a club.
Sarah Cooper is a proud Canadian and Thrillist Toronto contributor who has more than once cried while trying to decide what to order at Purebread Whistler. Follow her on Instagram at @agirlcalledcooper.