Sure, the waters surrounding Australia host hungry sharks, saltwater crocs, and deadly jellyfish, but once you set eyes on the white sand and crystal-clear waves of the country's coast, you'll agree that a death-defying swim is worth the risk. Well, at least a trip to the beach is. And to help you figure out which beach to visit on your next trip Down Under, we picked the country's 14 best.
Recommended Video
Send Foodz: Newport Beach Wine & Food Festival
Coral Bay
Coral Bay, Western Australia
Why it made our list: It's a spot where wild dolphins swim up to snorkelers, unprovoked and free of charge. The tiny town of the same name is an oasis of palm trees in the vast outback, a place where caravan parks -- not luxury hotels -- offer turquoise ocean views. Walk left down the town's beach to join a popular drift snorkel route over the Ningaloo Reef. Or, walk right to encounter a shark nursery, where baby blacktips swim at your ankles.
Bonus: The nearby Coral Resort Bakery's Aussie meat pies are legit. Reef and beef FTW.
Wineglass Bay
Freycinet National Park, Tasmania
Why it made our list: This Freycinet National Park stunner is reached on foot via a steep hike through the Hazards mountain range, the peaks of which afford breathtaking views of the beach below. The waters of Wineglass are great for swimming, snorkeling, and fishing, but you'll have to bring everything you need for the day with you (including plenty of drinking water) and keep in mind that the round-trip hike can take four to five hours.
Bonus: Just outside the national park, the Freycinet Marine Farm serves the fresh oysters and seafood that Tasmania is famous for.  
Cable Beach
Broome, Western Australia
Why it made our list: Aside from being located in an important region for local Aboriginal culture and Australia's historic pearling industry, Cable Beach is your go-to spot for riding a camel into the sunset. Seriously. While camels aren't native to Australia, the Outback's plagued by almost 1 million of the feral animals, which were once imported to help with construction but are now often rounded up and sold back to the Middle East.
Bonus: Nearby Gantheaume Point provides a scenic view of Cable Beach and is a good lookout during the whale migration season. Casually, it is also the location of several 130-million-year-old dinosaur footprints. Australia.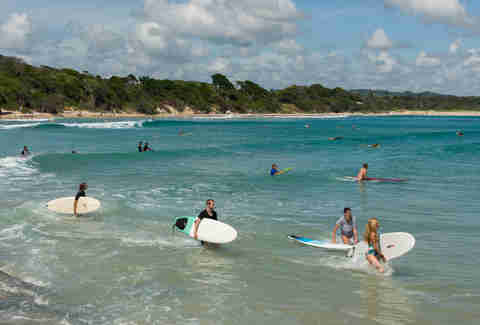 Byron Bay
Byron Bay, New South Wales
Why it made our list: Surfers and hippies are drawn from around Australia to the country's most easterly point, lured by both waves and the gut-healthy bacteria found in jars of locally made sauerkraut. Byron's main beach is patrolled by lifeguards year-round and is a calm place for new surfers to get some experience before heading over to more challenging surf beaches.
Bonus: The annual Byron Bay Bluesfest is held here. Headliners in 2016 include Kendrick Lamar, Noel Gallagher's High Flying Birds, and Brian Wilson.
Eighty Mile Beach
Between Broome and Port Hedland, Western Australia
Why it made our list: Any beach that's EIGHTY straight miles (what, no kilometers now, Australia?) of white sand and turquoise water deserves a prize for winning at life. Or, at least a spot on this list. This beach between Broome and Port Hedland on the country's forgotten west coast is known for its impressive population of migratory shore birds and exciting beachcombing. Yup! Beachcombing can be a thrill, especially when the water is too risky for swimming, and you're out of beer. Maybe?
Bonus: Excellent threadfin and blue nose salmon fishing can be done from the shore here. Yum.
Bondi Beach
Sydney, New South Wales
Why it made our list: It's Australia's most famous beach, but Bondi's no tourist trap. The crowded crescent lined with cliffs and cafes offers golden sand and churning blue waters, and the country's oldest lifesaving club still patrols the shore. Plus, the widely loved beach hosts everything from surf schools to sculpture exhibits -- a day spent lazing on this strip is pretty much a local rite of passage.
Bonus: A snap of the Bondi Icebergs Club (those iconic seaside swimming pools that get filled by crashing ocean waves) will definitely do well on your Insta grid. #BondiBeach!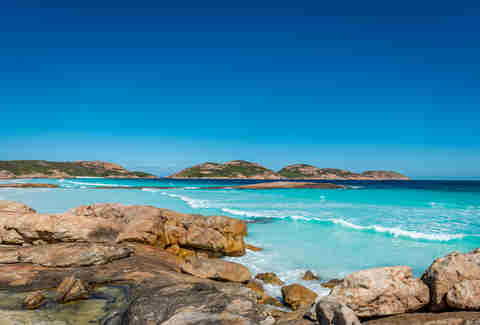 Lucky Bay
Cape Le Grand National Park, Western Australia
Why it made our list: Another top contender in the never-ending contest to be Australia's whitest beach (the sand, not the people), this three-mile strip of coast in the Cape Le Grand National Park checks off all of the expected criteria: migrating whales pass by within viewing distance, there's no crowd, and it always breaks into the "running man" when "Bust a Move" comes on the radio. Also, the turquoise water is see-through.
Bonus: Tame kangaroos chill out amongst the sunbathers. They know what's up.  
Whitehaven Beach
Whitsunday Island, Queensland
Why it made our list: Despite not being able to swim here without wearing something sexy called a stinger suit, this beach in the Whitsunday Islands manages to remain one of the most romantic places in the world due to the striking appearance of its shifting sands and neon-blue waters.
Bonus: Airlie Beach -- the archipelago's jumping-off point on the mainland -- is known for its backpacker and nightlife scenes. Paradise comes with a party.
Hyams Beach
Hyams Beach, New South Wales
Why it made our list: Hyams Beach received the Guinness World Record for having the whitest sand in the world in 2006. It sits on Jervis Bay -- an inlet of the Pacific Ocean -- about equidistant between Sydney and Canberra and is surrounded by a national park, walking trails, and native forests.
Bonus: Explore the reef and you may come face-to-ugly-face with the very odd-looking Port Jackson shark.
Greens Pool
William Bay National Park, Western Australia
Why it made our list: Though the water is cold here, Greens Pool benefits from uniquely positioned boulders and rocks that naturally shelter the beach and make the otherwise rough seas of the Southern Ocean safe for swimming.
Bonus: When things get a bit too family-friendly (and they will), head over to the nearby Elephant Rocks, where massive boulders reveal hidden coves and private patches of beach.
Noosa Main Beach
Noosa Heads, Queensland
Why it made our list: This north-facing beach in Tropical North Queensland is patrolled by lifeguards all year long and is safe for swimming and surf lessons. Though the beach gets busy with families and the glamorous fashion set, a boardwalk across the top of the sand leads towards relative isolation on the west end.
Bonus: The annual Noosa Festival of Surfing bestows "pure stoke" on the town for several days of competitions and entertainment.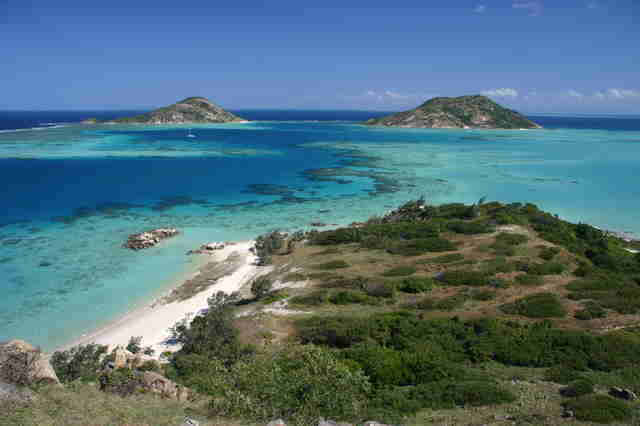 Lizard Island
Lizard Island National Park, Queensland
Why it made our list: We can't specify one particular beach on this island because the whole damn place is pretty spectacular and, along with the neighboring isles, it boasts 24 powder-white beaches, any of which we'd be happy to die on. Seriously, we could easily name this article "Lizard Island's Best Beaches." Even better, they're all surrounded by the Great Barrier Reef -- the beauty of which will pretty much blow your mind every day.
Bonus: If you can't afford the one swanky resort that sits on this island (only accessible by private charter, of course) you can camp in the national park at Watsons Bay. If the camp well runs dry, there's a spigot of fresh water behind the hotel bar that you can use. Just don't talk to the paying guests.
Shell Beach
Near Denham, Western Australia
Why it made our list: Shell Beach is one of the only beaches in the world where sand doesn't steal the show. Nope, here billions of tiny white shells from the same species of cockle make up the 62-mile strip. Beachcombers may get bored, but sand haters have no excuse not to high-five one another when they arrive.
Bonus: Leave your mark by using the whitest shells from near the water to write your name in the darker spots further up on the beach. Or don't, and instead make fun of the people who do. Up to you.
75 Mile Beach
Fraser Island, Queensland
Why it made our list: This is pretty much the most Australian beach on this list, except for the miles part. Why? Because this straight strip of sand on Fraser Island's east coast is an official highway for 4WDs. Smart use of space! It's also a landing strip for tour planes. That's OK! It's also home to packs of wild (and sometimes aggressive) dingoes. Hide your baby! It's also infested with tiger and bull sharks. Must we go on? The currents are vicious... Stingers...
Bonus: Should you feel the need to cool off when you're on the beach (and, God forbid, you don't want to die), head to one of Fraser Island's over 100 freshwater lakes, Eli Creek, or the Champagne Pools, where the ocean waters are protected from sharks and stingers by volcanic rocks.
Sign up here for our daily Thrillist email, and get your fix of the best in food/drink/fun.
Elspeth Velten is a contributing writer for Thrillist who learned the hard way about rogue bluebottle tentacles in the waters off of Western Australia. Welts for weeks. Follow her on Instagram and Twitter.