The California coastline is 840 miles long and has more than 420 public beaches. This means there are sandy beaches and rocky beaches, sunny beaches and foggy beaches, crowded beaches and secluded beaches. There are beaches known for dudes who work out and beaches known for perfect waves. Beaches where you can swim in an itsy-bitsy bikini and beaches where you can swim in nothing at all! And yet, somehow, we narrowed them all down to the 15 best. Surf's up!
Recommended Video
This Florida Mansion is 62 Acres of Movie-Inspired Magic
Baker Beach
San Francisco
You'll want to wear a lot of layers if you go to Baker Beach, unless, of course, you want to wear nothing at all. In which case, you're headed to the north end where nudity is allowed. What makes this dune-covered beach so special isn't actually the water (in fact, swimming can be dangerous thanks to the currents) but the stunning views of the Golden Gate Bridge and the Marin Headlands. On a sunny day, get there early to grab one of the picnic areas with grills.
Bolinas Beach
Bolinas
The people in the small, unincorporated town of Bolinas would prefer their beach not make this list. In fact, they voted to not have any signs point to their community, so you'll have to find it via unmarked roads. However, thanks to the beginner-friendly waves and laws that permit dogs to roam off-leash, this secluded spot is great for a laid-back afternoon. Just an FYI: great white sharks also agree. And while nearby Stinson Beach shuts down at the first sight of a fin, Bolinas pretty much always stays open -- so keep your eyes peeled.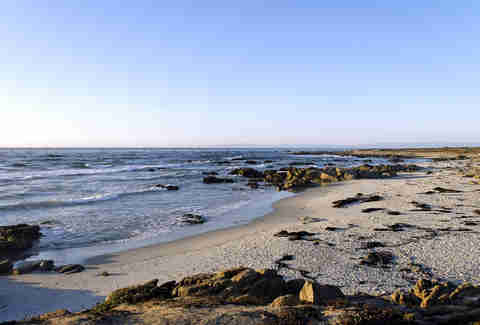 Carmel Beach
Carmel-by-the-Sea
Carmel Beach is known for its gorgeous sunsets, majestic cypress trees, and fine white sand, not to mention intense surf and dog-friendly rules. Swimming actually isn't permitted because of the vicious riptides, but you can at least wade near the surf line. Or, better still, stroll the scenic path that runs above the sand. The entire town is quaint and welcoming, and it's a good spot for a romantic weekend, even if it's just with your pup.
Cayucos State Beach
Cayucos
Cayucos is often called "the last of the California beach towns" thanks to its laid-back vibe, untouched terrain, and miles of spotless sand. It's a must-hit if you're into taking long contemplative walks, exploring tidal pools, beachcombing, kiteboarding, kayaking, surfing, or fishing off of a pier (without having to buy a permit!)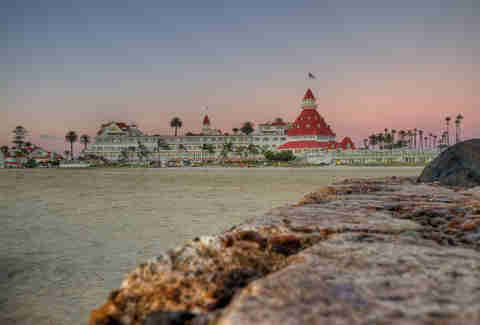 Coronado Beach
San Diego
Home to the iconic Hotel del Coronado (whose turrets likely inspired the Wizard of Oz castle, as L. Frank Baum lived right around the corner), Coronado Beach is magical -- and not just because of the Oz thing. It also boasts white sand beaches that are somehow not crowded even on the most crowded of days, warm water for swimming, a flat beach for skimboarding, (attractive) seasonal lifeguards, restrooms, showers, volleyball, fire rings, a dog run, and did we mention the hot lifeguards? Well, whatever. They're worth mentioning twice.
Cowell Beach
Santa Cruz
Thanks to 15 volleyball courts, beginner-friendly waves (and local surfers who aren't overly possessive of them), and its proximity to the Santa Cruz Beach Boardwalk, "Cowells" is a popular spot for both newbie surfers and lazy beach-goers. So popular, in fact, that parking is impossible on sunny summer days. Really, it can be a nightmare. Still, if you're looking to learn to surf, this is the place to bring your longboard. Just don't drop in on anyone, brah.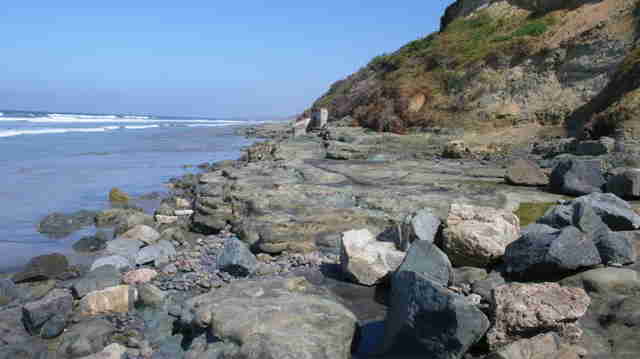 Del Mar City Beach
Delmar
"You'd catch 'em surfin' at Del Mar..." The Beach Boys knew what was up. 15th St Beach is the place with good swimming, good intermediate surf, two parks with picnic areas, and easy access every two blocks (that's what he said?) Only problem -- parking can be brutal.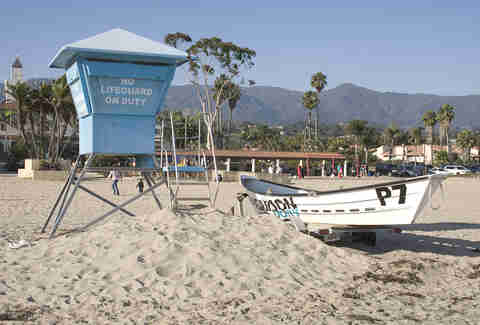 East Beach
Santa Barbara
Honestly, we love a beach that still has tons of sand even at high tide. And that's East Beach. But it has so much more: volleyball courts, a bike path, generous (albeit scattered) parking, palm trees, and the East Beach Grill, a chill beachfront breakfast-lunch spot where you're gonna want to order the blueberry pancakes, even though you're wearing a bathing suit all day. Trust us.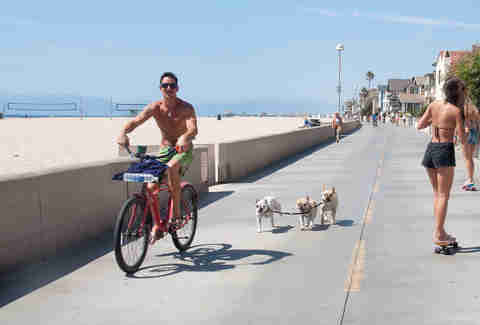 Hermosa Beach
Los Angeles
Hermosa Beach is all about die-hard volleyball players, surfing, and really, really attractive people. Like, "really, really, ridiculously good-looking" people. But even if you're more of a lounger than a Zoolander model or "let's play paddleball" kind of person, this spot can still be your jam thanks to the mile-and-a-half of clean white sand and comfortable warm water. If you do get inspired to exercise, The Strand, a 22-mile paved path for bikers, hikers, joggers, and rollerbladers (yes, they still exist) runs right along the beach.
Huntington Beach
Huntington Beach
Surfers may say that Santa Cruz is the real "Surf City, USA," but the moniker officially belongs to Huntington Beach, which is known for its sweet swells, surf culture, and long stretch of sand. Don't surf? Don't worry -- Huntington also boasts 20 volleyball courts, an 8.5-mile bike path, dolphins (!!), fire pits, and an area for dogs (fittingly named, Dog Beach). It also hosts tons of events that NBC usually airs on Saturday afternoons (because it doesn't have the rights to more popular sports) like the US Open of Surfing and AVP Pro Beach Volleyball.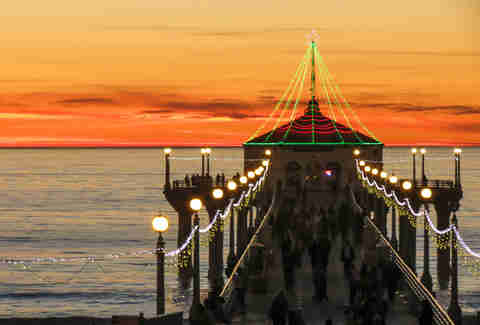 Manhattan Beach
Manhattan Beach
When you think Southern California beach, you're probably envisioning Manhattan Beach. Surfers, toned volley players, girls sunbathing in bikinis, people jogging on a walkway lined by ridiculous million-dollar homes, and a gorgeous pier for scenic photos. The Downtown area with its shops and restaurants is also within close walking distance, so you'll only have to park once, which you'll be very, very thankful for.
Moonstone Beach
Cambria
Moonstone is where you go when you want to get away. But not because something awkward happened like in one of those Southwest Airlines commercials. The beach here is never crowded and there are tons of cute little inns and a quaint Main St on which to enjoy tasty food and fine wine. As far as the actual beach goes: stroll the one-mile boardwalk or along the water and you might see whales, dolphins, and sea otters. And those rocks along the beach? Look closely... they might just be moonstones.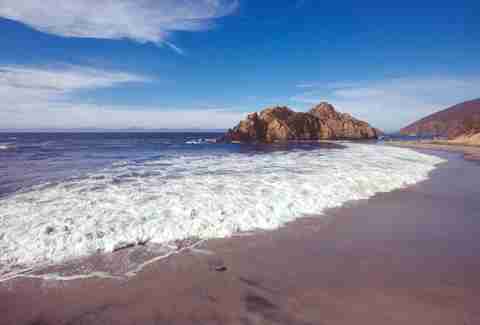 Pfeiffer Beach
Big Sur
Pfeiffer Beach is hard to find if you don't know where to look, which makes it that much more special. However, know going in that this isn't your typical beach. The rugged coastline juxtaposes a wide, secluded beach that's famous for, wait for it: PURPLE sand. And if you thought that was crazy, you'd be right, except that Pfeiffer Beach also has a keyhole rock which provides the backdrop for some amazing setting-sun photos during the winter. All that said, don't be surprised if you find yourself wearing jeans and a puffy jacket in the middle of July.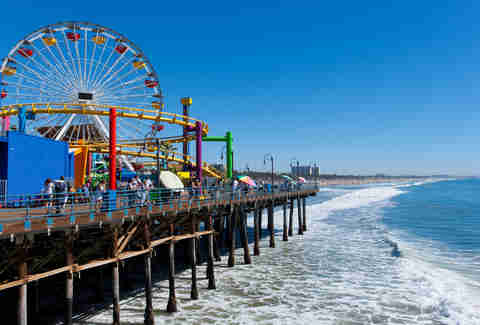 Santa Monica State Beach
Santa Monica
Though Santa Monica State Beach is three miles long with 245 acres of sand, gorgeous views of the mountains, beach volleyball courts, surf classes, and a super-popular bike path, it's really the Santa Monica Pier with its food, shopping, and rides that make this such an iconic destination. If you love roller coasters, Ferris wheels, arcade games, and churros, ignore the rest of this list and just come here.
Venice Beach
Venice
Probably the most recognizable stretch of sand in the history of movies, Venice Beach is more of a circus than an actual beach, but a circus with sand and an ocean. And that's why it had to make the list. It's a global tourist destination thanks to the bodybuilders at Muscle Beach, the guys playing intense streetball (we're looking at you, Billy Hoyle), the performers who juggle, sing, tell jokes, and charm snakes, and all of the tourist shops. While you'll mostly go to people-watch, Venice Beach does also rock an actual beach and some solid surfing.
Sign up here for our daily Thrillist email, and get your fix of the best in food/drink/fun.
 
Daisy Barringer is an SF-based writer who once took her enormous Saint Bernard to Bolinas. He proceeded to drink all of the ocean water, pee on someone's bag, and then throw up for hours after. She still counts it as one of her favorite places on Earth. Follow her on Twitter: @daisy.