The best beer hotels in the country
Last week we took you on a suds-inspired adventure around the globe to visit some of the world's best hotels for beer lovers. This time, we're keeping it right here in the good ole U-S of A. Here are 10 of the country's top brew-friendly overnighters.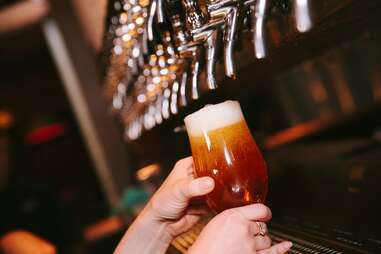 10. Park Hyatt Aviara Resort -- Carlsbad, CA
Park Hyatt Aviara Resort partners with local Stone Brewing Co. to host an Aviara Ale Academy (thru 3.31.14), during which hotel guests become Ale Apprentices by figuring out a way to get Gary Busey and Bret Michaels to sell beer on a street corner. The Academy's "challenging" curriculum involves riding VIP-style to the brewery in a private luxury sedan for a tasting and tour before crafting your own brew. A picnic beer lunch and pairing dinner are your final tests before graduation.
While you're there: San Diego County boasts over 70 craft breweries, and you can tour the best of them in a 6x6 Swiss Military Pinzgauer with Scavengers Beer Adventures.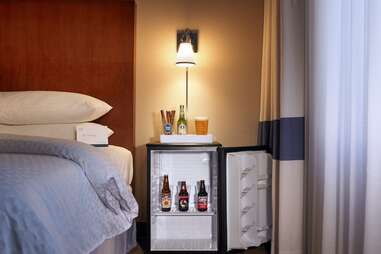 9. Four Points by Sheraton LAX -- Los Angeles, CA
Even the pickiest beer snob'll appreciate the offerings at Four Points by Sheraton LAX: A 100-beer menu at the onsite Brewster's Bar, monthly beer appreciation nights, and a Beer Club Package that includes a mini-fridge stocked with your choice of suds, brew turndown service, and souvenir glass. There's also a tasty pairing menu, complete with Smoked Stone Porter and salmon or Young's Double Chocolate Stout with chocolate-covered strawberries.
While you're there: Nearby, El Segundo Brewing serves up pale ales, stouts, and those incredible hoppy IPAs the West Coast is becoming known for.
8. The Atlantic Resort & Spa -- Ft. Lauderdale, FL
Learn Florida's local brews inside and out at their Spa Atlantic's Citrus Suds Body Cocoon & Bath, which includes a citrus beer body exfoliation, body wrap, beer hair and scalp treatments, and a soak in a six-pack of beer (while also drinking one). Afterward, head to their East End Brasserie for a mix of local/ international brews (half-priced pints from 4-7p) and oceanfront views.
While you're there: Nearby breweries like Funky Buddha Brewery and Big Bear Brewing Company allow you to drink up the local culture (though as it is Ft. Lauderdale, "culture" might be the wrong choice of word).
7. The Brown Palace Hotel and Spa -- Denver, CO
This AAA Four Diamond luxury property in downtown Denver immerses guests in the local craft sud scene through exclusive hotel-inspired beers from Wynkoop Brewing Company. Best in show might go to their seasonal Rooftop Honey Saison, which is made with honey sourced from… surprise, the property's roof! The hotel's Ship Tavern pours 35 different brews highlighted by an unusual selection of Trappist Beers imported from various European monasteries. Brown Palace Hotel and Spa also offers a Signature Micro Beer Package that includes accommodation, commemorative t-shirt, a signature glass, and two micro brews per night at the Ship Tavern.
While you're there: If you need a break from drinking beer (it's cool, no one's judging you), head to the Ritz-Carlton, Denver Spa (ok, maybe starting to judge a little) for one of their beer-infused treatments, including a "Mile High Malt Scrub & Microbrew Massage" and "Hops N' Honey Ultimate Pedicure" (uhhh… mum's the word -- at least on the pedi).
6. Pronghorn, an Auberge Resort -- Bend, OR
For those eager to obnoxiously flaunt their beer knowledge in an effort to boost their self-esteem make friends feel inferior, the five-star Pronghorn offers a two-day Master Cicerone Level 1 Certification course. As for dog owners who've always dreamed of sharing a cold one with their pups after a long day at work, the property serves a frothy "Dawg Grog" which contains vegetable broth, water, and spent grains from a local brewery.
While you're there: Visit the more than ten breweries along the Bend Ale Trail, or take a local beer-themed tour with the Well Traveled Fork.
5. The Shawnee Inn and Gold Resort -- Delaware, MD
The Shawnee Inn and Golf Resort is home to the Shawnee Spa, where suds-enthusiasts can partake in beer pedicures/ facials, beer-infused hair conditioning treatments, and the indulgent "Shawnee Craft Body Wrap", which involves being exfoliated with a 10-grain scrub and coated in a mud mask laden with Shawnee Craft yeast. Afterward, sip your way through the menu at the attached ShawneeCraft Brewing Company.
While you're there: The nearby Pocono Brewing Company pairs craft beer with skeeball (how many tickets does it take to win a pint?), foosball, ping pong, and live entertainment.
4. The Sebastian Vail -- Vail, CO
Both men and women can appreciate The Sebastian Vail Bloom Spa's Crazy Mountain Pale Ale Pedicure, where feet are soaked in local Edwards Colorado beer (whilst lips happily sip on it. Although not the same beer your feet are in -- that's gross). At the onsite Frost Bar, pair small bites with an impressive selection of Colorado craft brews.
While you're there: If soaking your feet in the good stuff wasn't enough, head to the nearby Four Seasons Resort Vail Spa for a treatment involving more beer, this time from Vail-based Crazy Mountain Brewing Company; think Cara de Luna Black Ale Wrap, Amber Ale Foot Scrub, Brewsage, or a Beer Brew Bath.
3. Woodstock Inn, Station & Brewery -- North Woodstock, NH
A good brewery can be hard to leave, which is why Woodstock Inn, Station & Brewery offers country accommodation. While tours and tastings are offered daily, visit during one of their popular Brewer's Weekends and you can make your own oatmeal stout (or other beer of your choice) before indulging in a five-course pairing dinner.
While you're there: Located near the White Mountains, Sabbaday Falls, and Echo Lake, North Woodstock's a sweet spot for a scenic beer picnic. Or get your outdoor adventure on; golfing at Owl's Nest, kayaking the Pemigewasset River, fishing in Beaver Lake, and hiking Cannon Mountain should keep your beer belly at bay.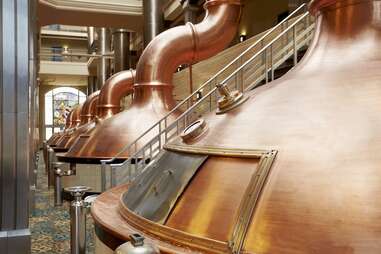 2. Brewhouse Inn & Suites -- Milwaukee, WI
Located in the historic Pabst Brewery, Brewhouse Inn & Suites keeps Milwaukee's beer history alive and its guests buzzed in their onsite Jackson's Blue Ribbon Pub, where the PBR pours from an original tap. The hotel eschews fine art in favor of enormous copper brew kettles, flower "vases" made from beer cans, a front desk crafted from the bottoms of Pabst bottles, and a stained glass window adorned with the patron saint of brewing, King Gambrinus.
While you're there: Enjoy vintage beer commercials, learn about local brew heritage, and, most importantly, drink a Pabst -- all on The Best Place's Beer History Tour.
1. Rogue Ales Hop 'N Bed and B&B -- Newport and Independence, OR
Rogue Ales is notorious for unconventional brews (Beard Beer, anyone?), and those wanting the full experience can stay at one of their two Oregon properties. The Hop 'N Bed's located on the 42-acre Rogue Hopyard (where they grow the aroma hops), and is a stone's throw away from the Chatoe Rogue Tasting Room. You can also rest your dizzy head at Rogue Ales Public House, where they rent out "Bed & Beer" apartments upstairs.
While you're there: Learn the history of hops at Independence's Heritage Museum, or sample the famous clam chowder at Mo's. Or, get crazy and do both!