Paid Content For
Destination Canada
From Coast to Coast, These Are the Best Cities to Visit in Canada
Paid Content For
Destination Canada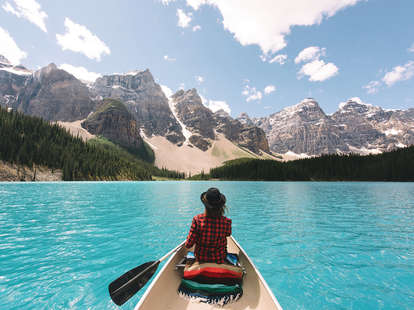 Johan Lolos
Johan Lolos
If you travel just north of the US border, you'll find a magical land full of maple syrup, poutine, and some of the friendliest people you'll ever meet. But Canada is so much more than these stereotypes and the birthplace of Ryan Gosling (though we are forever grateful). And to truly appreciate its wonders, you need to explore its great cities. That's why we've compiled a list of 10 of the best (that you might not have heard of). From coast to coast and everywhere in between, here are the Canadian cities you need to visit on your next vacation.
Haida Gwaii, British Columbia
Formerly known as The Queen Charlotte Islands, this archipelago off British Columbia's West Coast was first inhabited over 13,000 years ago by the Haida Nation, an Indigenous people with their own distinct language and culture. And with an oceanic climate (it is a group of islands, after all), Haida Gwaii is a Canadian paradise ideal for all kinds water activities. Just choose a bay (Gray, Dogfish or Sheldens to name a few) and embark on a day of fishing and kayaking.
How to spend the weekend: You'd be remiss not to get in -- or at least near -- the water when visiting these islands. Join forces with West Wave Fishing for a fully-inclusive trip that'll keep your eyes on the prize. Their mantra: "A good fishing experience is when the end of the trip always seems too near and the next trip always seems too far." Take your pick of salmon, halibut, or steelhead and get out there with the pros. Of course, if you don't feel like strapping on your life jacket, The Queen Charlotte Seawalk is an oceanside stroll designed to wind around all the most scenic stops: breathtaking gardens, docks, and more.
Canmore, Alberta
Positioned in the Bow Valley right next to the Canadian Rocky Mountains, it's not easy to find a bad view in Canmore -- which also happens to be surrounded by Banff National Park and many of Alberta's Provincial Parks. Naturally (get it?), this makes Canmore a great spot for exploring the even greater outdoors. But aside from skiing, hiking, biking, and fishing, there's a robust music and arts scene to enjoy here. Though you just missed the Canmore Folk Music Festival and the 14th Annual Charity & Motorcycle Show, the upcoming Canmore Highland Games is one of the season's most exciting weekends. This Celtic festival (Sept. 2-3, 2017) features competitions in piping and drumming, dancing, and Scottish heavy athletics. Wear your best tartan.
How to spend the weekend: Book a day with Canmore Cave Tours and feel what it's like to truly immerse yourself in the Canadian Rockies. You can choose between hikes meant for adventure, inspiration, or personal growth. Afterwards, kick back with a Beavertail Raspberry Ale (say that five times fast) at Grizzly Paw Brewing Company, the town's only homegrown brew pub.
Bay of Fundy, New Brunswick
Sandwiched right between the coast of Maine and New Brunswick and Nova Scotia, The Bay of Fundy is known for having the highest tidal range in the world, meaning the difference between the lowest lows and the highest highs (as tall as four stories) can't be beat. This made the site a finalist in the 2009 competition to name the New 7 Wonders of Nature, which garnered 100 million votes over the course of two years. Not sure what all the buzz is about? Guess you'll just have to go see for yourself…
How to spend the weekend: The best place to see the tide range is at Hopewell Rocks. Once you pay an entrance fee, it's good for two days -- so you can return when the tide is low, and again when it's high (the difference being six hours and 13 minutes). After exploring, get in and feel the tides for yourself with FreshAir Adventure, where an experienced guide will take you on the kayaking tour of your life.
Cavendish, Prince Edward Island
One of Canada's top summer destinations, Cavendish is full of beaches upon beaches and oceanside cliffs -- you know, if mind-boggling views are your thing. And because it truly thrives in the warmer months, this small town in Prince Edward Island remains intimate, reaching just around 7,500 residents daily. For relaxation and some of the freshest seafood you'll ever eat, it's Cavendish all the way.
How to spend the weekend: It's currently lobster season (August-October) on Prince Edward Island, and we wouldn't want you to miss out. The award-winning Pearl Eatery is an island favorite, serving up the buttery crustacean plus tons more seafood. Afterwards, head over to Green Gables Heritage Place, the historic landmark that inspired L.M. Montgomery's famed novel Anne of Green Gables. Here you can explore sites like Balsam Hollow, the forest that inspired the Haunted Woods and Campbell Pond, known to literary fans as The Lake of Shining Waters.
Antigonish, Nova Scotia
Founded in the late 18th century, this Nova Scotian town is well preserved -- meaning there's a ton to explore on your trip. In addition to the downtown boardwalk of Pomquet Beach (which has plenty for thrill-seekers), the rich culture of Antigonish shouldn't be missed.
How to spend the weekend: Take a walking tour of Historic Antigonish. On Main and Church Streets, you'll find buildings well over 100 years old, like the Heritage Museum. Built in 1908 and now used to celebrate the roots of Antigonish, this once functioned as the town's train station. Then there's the Antigonish County Court House, which was built in 1855. No need to break the law to see the inside; it was recognized as a National Heritage Building in 1981.
Ferryland, Newfoundland and Labrador
Ferryland is on the island of Newfoundland, and is known for being a tiny piece of Ireland in Canada. The Irish were permanent settlers here in the 18th century, and their traditions are still alive and well. (For example, the annual Shamrock Folk Festival comes around every July featuring Irish folk music). But the real reason to come here, just like going to Ireland, is the landscape. You can check out the 3.3-mile Caplin Bay Path (a picturesque hiking route) that runs through Ferryland, and is part of the 335-mile wilderness and coastal trail system that makes up Canada's East Coast Trail.
How to spend the weekend: Spend the morning climbing Ferryland Head Lighthouse, where from October through September you can catch glimpses of icebergs (plus whales and seabirds) off the coast. If you get hungry, they serve picnic lunches (which you can take outside or enjoy in the newly renovated interior). For dinner, though, Bernard Kavanagh's Irish Loop Restaurant has Irish favorites, like fish and chips, and panoramic windows over the coastline. Now that's the kind of view you go on vacation for.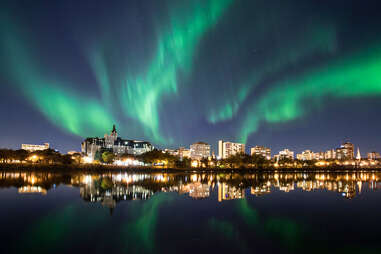 Saskatoon, Saskatchewan
The South Saskatchewan River runs right through the city of Saskatoon, making it one of the most picturesque towns in Canada -- complete with seven bridges from which you can take in the views. You could also experience it by riverboat, with a cruise on the Prairie Lily. Their biggest draw, though, may be the city's festival calendar, which is packed with events that focus on arts and culture. (There's the annual FolkFest and the Shakespeare on the Saskatchewan Festival to name a few.) It's also home to the Wanuskewin Heritage Park, a national historic park dedicated to teaching about the Northern Plains indigenous peoples.
How to spend the weekend: Take the morning to go for a hike along the Meewasin trail, which runs along the forested riverbank and through the downtown area. After, explore Saskatoon's Broadway District, an urban village with 175 independent merchants, museums, theaters, and local dining options. For dinner? Try Ayden Kitchen and Bar, set in an old local diner, from Top Chef Canada's Chef Dale MacKay. It's also got a huge craft cocktail menu.
Churchill, Manitoba
If you've ever wanted to visit the North Pole, but don't want to experience its blistering cold, consider Churchill in the north of Manitoba. It offers much of the same experiences -- except you still have cell service. This town sits on the edge of the Arctic tundra, so you can see polar bears in their natural habitat. (It's actually one of the few human settlements where you can view them.) Churchill's favorite summer pastime -- swimming with beluga whales -- is pretty sweet, too.
How to spend the weekend: Bundle up and let Tundra Buggy take you on a day tour to spot all the natural wonders of this Canadian landscape. They'll even get you right up close and personal with any polar bears you see. For the complete chilly weather expedition, call the Lazy Bear Lodge your home base, and dine on pan-fried Arctic char fresh out of the Hudson Bay, or slow roasted bison in a red wine rosemary jus. Don't forget to curl up by the fire with a good book after.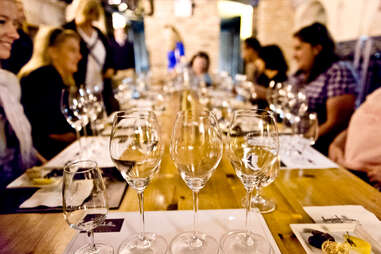 Niagara-on-the-Lake, Ontario
Niagara-on-the-Lake is literally where the Niagara River meets Lake Ontario, so just a short drive up the Niagara Parkway will put you at Niagara Falls. But it's not all about the great white waterfall. You can also explore local 19th century buildings and enjoy a glass of icewine (made from grapes that have frozen before harvesting). Thanks to its cool climate, Niagara-on-the-Lake is one of the largest producers of icewine in the world -- which they celebrate annually with a huge White Effect Dinner (complete with 1,000-plus guests dressed in white dining outdoors on Queen Street). It's a town that takes pride in its history, and it's one of the best preserved places of Victorian architecture in the country.
How to spend the weekend: Spend the morning biking along the Niagara Parkway and taking in the sights, and explore the flower gardens and Victorian architecture on Queen Street. Enjoy an afternoon wine tasting in Canada's grape juice country; Insikillin Wines is considered Canada's first estate winery, and Pillitari Estates Winery has been producing there since the 1940s.
Quebec City, Quebec
An entire section of Quebec City is actually a UNESCO World Heritage site, because it's the oldest city in North America (400 years old, as a matter of fact), and the only walled city north of Mexico. It's like traveling to a French city, but without the pricey airfare. Some notable sites include the Petit-Champlain District (named after the founder of Quebec City, Samuel de Champlain), Place Royale (a museum dedicated to the city's history and territory of New France), and the Parliament building (built in the late 19th century). There's also the Château Frontenac along the Dufferin Terrace, the most photographed hotel in the world thanks to its castle-like architecture, copper roofs, and giant center tower. And just a 45-minute drive outside of the city every winter, you can visit Hotel De Glace, or Ice Hotel -- an entire hotel built completely out of ice and snow.
How to spend the weekend: After exploring Old Quebec City, the Montmorency Falls Park is just a short drive from downtown, and you can take a cable car up to the top of the falls (which are actually taller than Niagara Falls). Quebec is also known as a foodie city, famous for French influences in the city's cuisine. For traditional Quebec dishes try Aux Anciens Canadian (located in the oldest house in the city), or Le Hobbit, a Tolkien-inspired gourmet French restaurant.
See, Canada is much more than the birthplace of Ryan Gosling (and Drake and Justin Bieber. Wow, Canada rules.) So what are you waiting for? One of these cities has your name all over it.