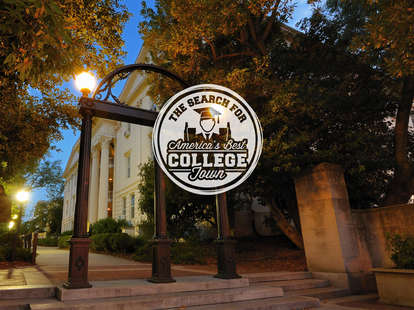 Everyone thinks their college is the best college. And while no college is outright BAD, some are certainly better than others. And from there, it reasonably follows that one college -- and the town that makes it what it is -- must be the finest of them all.
Over the course of many tireless months working much harder than actual college students, we'll be conducting our noble Search for America's Best College Town. Now keep in mind, we're not really talking about academics at all, and in some ways, even sports are only a small part of the formula. It's the everything else -- the bars, the burgers, the bars, the buildings, the lovable famous weirdos on the streets, the weather, the bars -- that build a college town's case. Get ready to re-enroll.
Next up: Athens, home of the University of Georgia. From musical legends and a stadium pet cemetery, to silly-cheap rent and a record-breaking number of bars, look past the hedges and you'll find 14 reasons why Athens stands atop America's college towns.
80 bars. Repeat: 80 bars.
Downtown Athens' most famous (and fully accurate) attribute is having more bars per capita than any other city in the country -- 80 bars in a single square mile, to be exact. And yes, they're all steps away from campus.

Terrapin Brewery gives away free beer
Or, if you don't have $5 to spend at one of those 80 bars, just head over to local brewery, Terrapin, and drink for free. Or at least take a free tour and try their latest and greatest Mosaic Red Rye IPA, Pumpkinfest, and special releases like So Fresh & So Green and the Cinnamon Roll'd Wake-n-Bake coffee oatmeal imperial stout.
Weaver D's fried chicken and biscuits will change your life
Located on the outskirts of downtown, this infamous soul food shack smothers everything in butter and gravy. Its awesome combo of sketchy and delicious even inspired R.E.M.'s album title, "Automatic For The People" -- it's the Weaver D's slogan.

The "fancy" rent is $400
Tell someone you're paying more than that, and they'll think you're the Prince of Dubai. Or rob you, probably.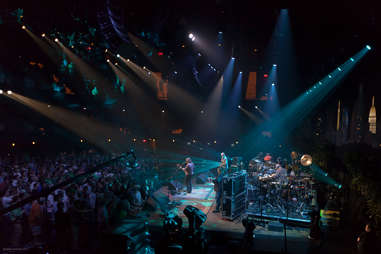 Speaking of R.E.M., two words: music scene
Yep, Widespread Panic, Drive-By Truckers, and the B-52s also all got their starts in Athens. The town isn't known as the birthplace of modern alt rock and new wave for nothing.

These same bands will put on secret shows
Although 40 Watt and Georgia Theatre are the go-to venues for live tunes, R.E.M.'s Michael Stipe and Widespread Panic's lead singer John Bell have been known to stop in at local watering holes and, well, just start performing. Like, out of nowhere!
Game Day really is as awesome as it looks on TV
Does your college town have a "Dawg Walk" that involves 90,000 red- and black-clad fans marching up the to the stadium, filling their floppy flasks? Wait, do you even know what a floppy flask is? Exactly.

The football stadium doubles as a pet cemetery
All deceased Ugas -- the English Bulldogs that've served as the Georgia mascot since 1956 -- are entombed in a wall mausoleum near Gate 9 of Sanford Stadium. And how revered is Uga, btw? Well, let's just say that on game day he lounges on the field near the cheerleaders in an air-conditioned doghouse.
Kim Basinger is an Athens native
Vicki Vale. Vicki Vale!!!

The fraternity band parties are actually awesome
Bone Thugs-n-Harmony, Coolio, and 2 Live Crew have all headlined, and may or may not have participated in "Around The World" shots beforehand. (Spoiler alert: they totally did.)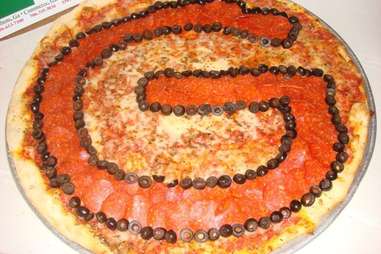 Late-night pizza joint Little Italy once allegedly doubled as a meth lab, and no one seemed to care
And unlike Los Pollos Hermanos, it's still going strong. Bow down, Gus Fring. Bow down.

There's a totally out-of-place shady strip club in Downtown called Toppers
True story: As the female student body population at UGA is attractive (truth), and the strippers at Toppers are not (also, truth), any non-employee, girl-on-girl action -- no matter how innocent -- will be viewed as "competition" and will lead to you immediately getting booted from the joint. Please don't ask how we know this story is true (But if you did, we'd be happy to tell you).
The movie Road Trip was filmed there
That beautiful campus through which Tom Green tours perspective students -- and the mom he later makes out with -- is actually UGA's historic North Campus. Also did you catch that "G" on the football field? Yeah, that's not for Ithaca.

Campus traditions are taken very seriously
And since we mentioned North campus, it's home to both the Chapel Bell and the Arch, neither of which is to be walked under until one graduates. To keep this from happening accidentally, elbowing and shoving will 100% happen. Everyone agrees this is a totally rational superstition.

Liz Newman was raised in Florida, and to avoid weird looks, told that to as few people as possible during her four years at UGA. She got on stage with 2 Live Crew during the aforementioned band party, and knows the photo evidence is out there. Somewhere.