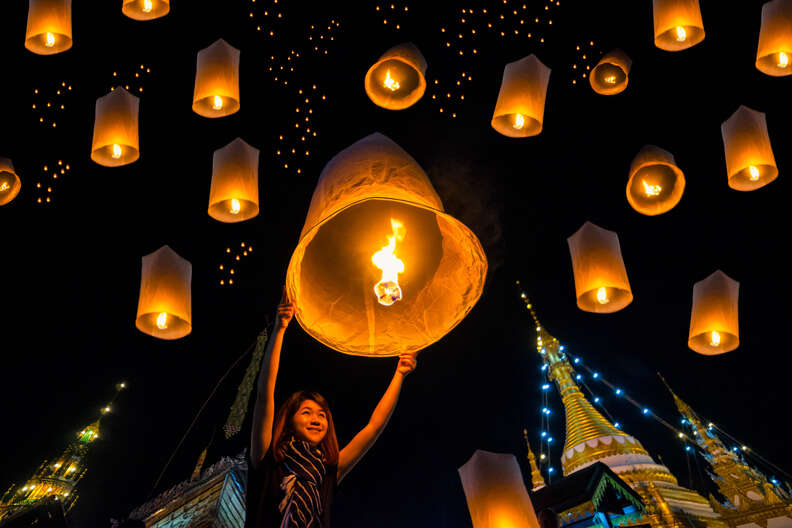 yee peng festival, Wat Jongklang temple

| Mongkol Chuewong/Moment/getty images
yee peng festival, Wat Jongklang temple

| Mongkol Chuewong/Moment/getty images
How to Pick the Best Country to Visit in Southeast Asia
One of the sillier things aspiring young travelers do is lust after places like Amsterdam, where the average beer costs, like, $37. Meanwhile in Southeast Asia, you can spend your days island hopping, your nights drinking on the beach, and your in-betweens eating delicious street food that will cost you $1. This is the part of the world where you'll find pygmy elephants. One-of-a-kind coffee beans. That tree-covered temple from Tomb Raider and Indiana Jones. Jackfruit, which is disgusting, and I'll not hear otherwise, but is a cool-ass fruit nonetheless. And you can see it all for a fraction of what you'd spend in northern Europe.
Below you'll find a complete guide to the region. Many of these are majority-Islam countries, so be mindful of certain dos and dont's to ensure you act respectfully -- as a baseline, try to keep at least your legs and shoulders covered. If you're non-Muslim, you can BYOB, but confine any alcohol-drinking to your hotel or restaurant. Southeast Asia is generally considered safe and friendly for women traveling alone; for LGBTQ travelers, it varies -- homosexuality is criminalized in various countries under Sharia law, though many of those still have a gay cultural scene, so we'll address them individually. There are 11 countries total; let's find the one that's right for you.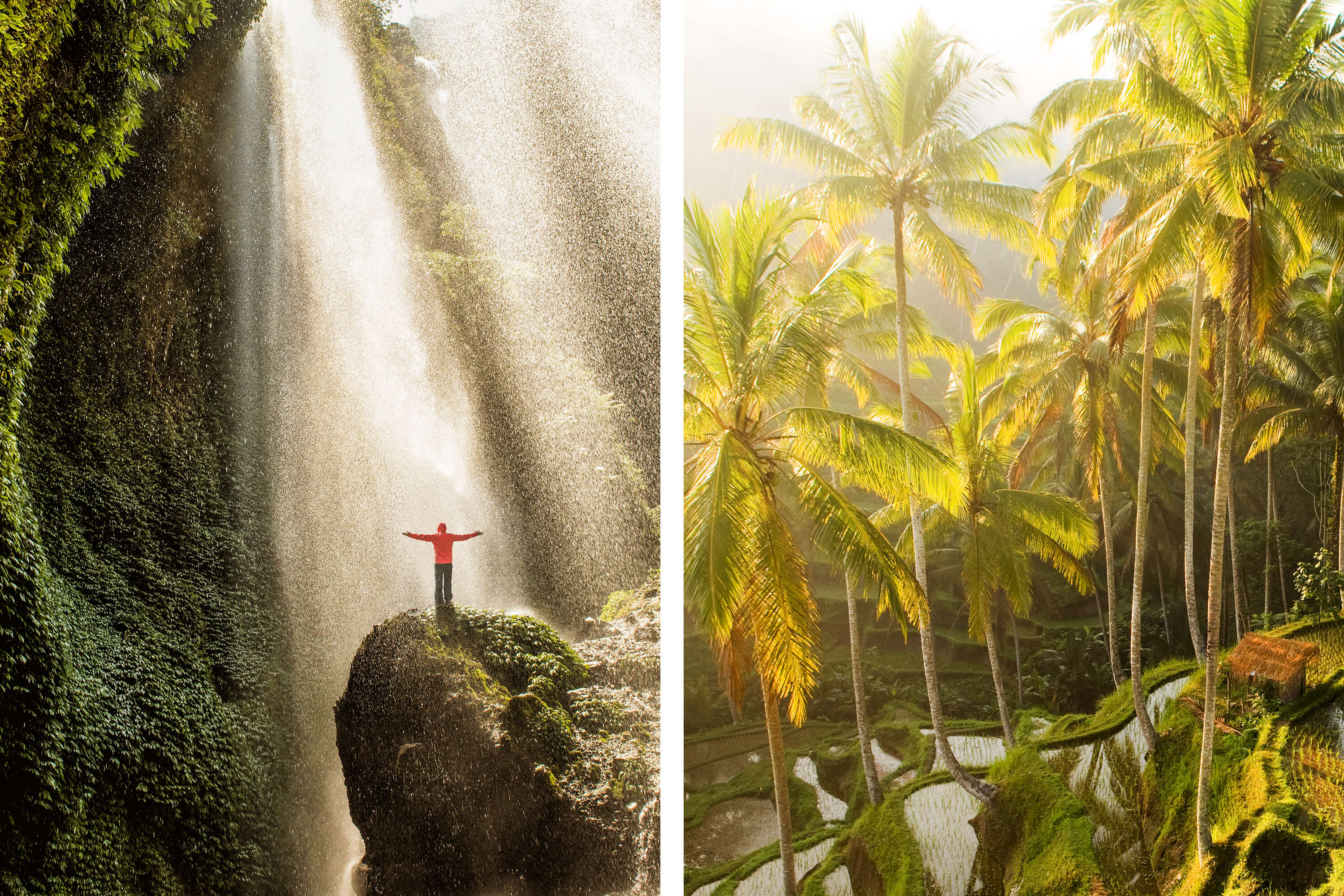 Indonesia
Best for: Coffee, spa vibes, chill scuba diving, shopping, views
Indonesia is straight-up the most photogenic place I have ever been. Everything looks photoshopped; it's something to do with the tint of the sunlight and the way it pools along the edges of stuff. I'm not on Instagram, but if there's a filter that makes everything soft and gold and glowy -- but still in focus -- it's very that. It is not, however, one of the LGBTQ-friendlier options.
Best place to go: Bali. Visitors to Indonesian Bali tend to collect a bit lower down in Denpasar, but the thing about Denpasar is it's basically still Australia. Head north to Ubud and you'll find a town filled with luxurious (but affordable) boutiques and restaurants, some of the best views anywhere in Indonesia, and people who are not 35-year-old bros under the mistaken impression that they are there for spring break. There are also some great scuba sites just off the beach, for those who like to dive shipwrecks but don't like the choppy boat ride it often takes to get to one. If you get really hooked on the island, maybe even move there.
Food to eat: Cat poop coffee, and this is not a joke. Civets (which are small cats but not, like, the same kind as your small cat) are presented with coffee berries and -- being of discerning palate -- will only eat the tastiest, most perfect ones. Their digestive enzymes then refine things further, and by the time they poop it out, that lil' bean is ready to be made into the world's finest coffee -- and the world's most expensive. I have it on good authority that you can go here and sample an entire flight of blends, plus snacks, while gazing over fields of rice paddies for a few bucks' gratuity. The good authority is me, I went there and did that and it was really good coffee, you don't even taste the poop at all.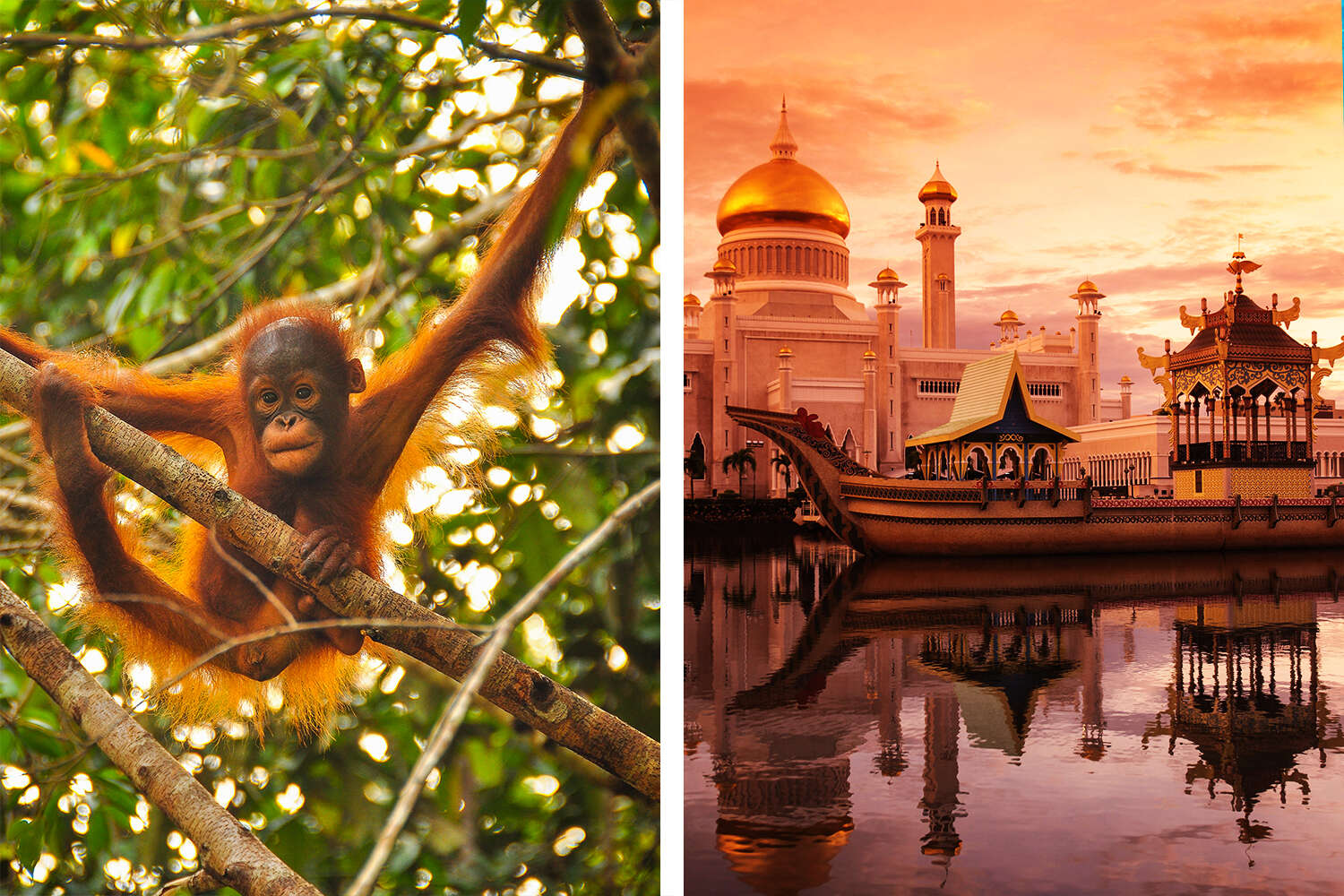 Brunei
Best for: Solo travel, simple pleasures
If you were ever in a situation where for some reason you needed to name all 11 countries in Southeast Asia (trivia night, I dunno, indulge me) Brunei is probably that final one that would eventually make you give up. People know it for being teensy (it sits on a Delaware-sized sliver of the island of Borneo) and big-boy rich (oil). It's also the last stronghold of the world's most-poached animal, the pangolin. It's not one of the LGBTQ-friendlier options (they're coming though, stay with me). In short, Brunei is mostly boring and quiet, but for a minority of travelers it's worth a trip if you prefer places free of crowds and partiers (you'll find no alcohol for sale here).
Best place to go: Lately Brunei has been making an extra push to raise its tourism profile. To gawk at what all that oil money looks like IRL, head to capital Bandar Seri Begawan and from there into the historical Kampong Ayer -- the largest water village in the world. All the houses sit on stilts, and a boat tour through the area is both a cultural education and a fun time. After dusk, hit up Gadong Night Market for your pick of street foods.
Food to eat: Make your way to Roti Culture, a trendy eatery with a goal of introducing Brunei's cuisine to travelers, for the namesake roti (Indian flatbread). Don't leave Brunei without trying ambuyat, the country's national dish, made from the starchy sago palm. For something a little more flavorful, try nasi katok -- fried chicken with chili paste and steamed rice.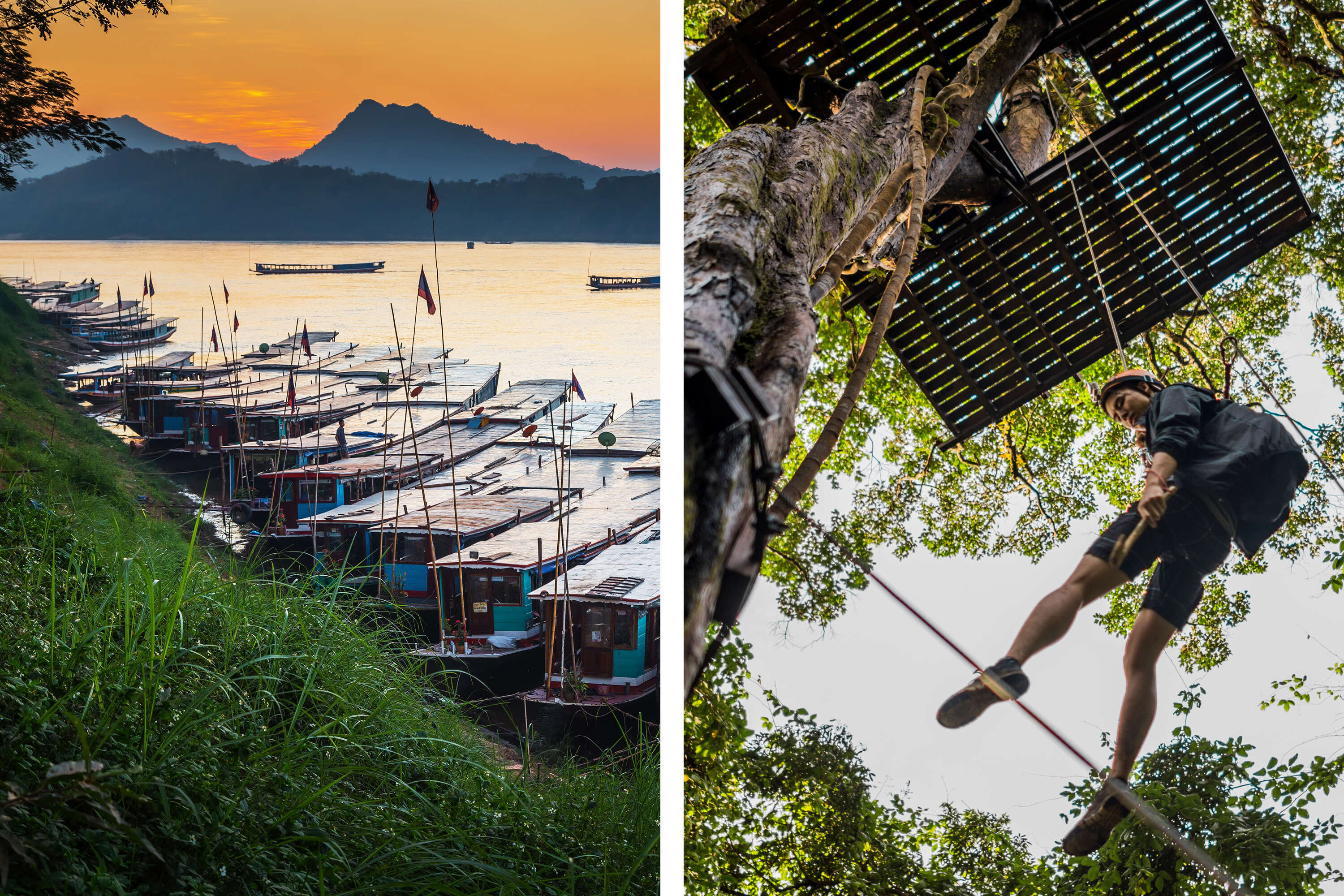 Laos
Best for: Adventure-lite travel, ecotourism, sunbathing
Laos scares me very slightly, only because it's so hypnotically beautiful and soothing I am all but guaranteed to fall asleep in the sun and burn until I am but a tiny lump of charcoal drifting out to sea on a too-comfy floaty. Landlocked Laos still rocks rivers and deltas jammed with (reputedly) 4,000 islands, and since it's less popular with backpackers than neighbors like Thailand or Cambodia, it's fantastic for lazing in sunshine while avoiding the gap-year crowd. Though Laos doesn't recognize same-sex marriages, there are no formal discrimination laws on the books here and LGBTQ travelers can feel welcome.
Best place to go: The ancient capital Luang Pragang, which is now a UNESCO World Heritage Site. Known for spectacular temples, it sits at the confluence of two major rivers, meaning the views are unlike any other in the world. If you want to make your view a bit more interactive, you can go zip-lining. The town of Vang Vieng offers a lot of the (environmentally friendly!) activities that pack about a 6/10 on the adrenaline scale: tubing, kayaking, caving, hot-air ballooning, and the ever-popular ziplining. Up your trip's sustainability factor by staying in an agritourism business.
Food to eat: Mango sticky rice. Sticky rice is the bread and butter (sorry) of Laotian cuisine, and going for a version sweetened with mango and coconut milk gives you the kind of flavor that'll refresh you on a hot, humid day. It'll revive you in time to realize your floaty is floating out to sea.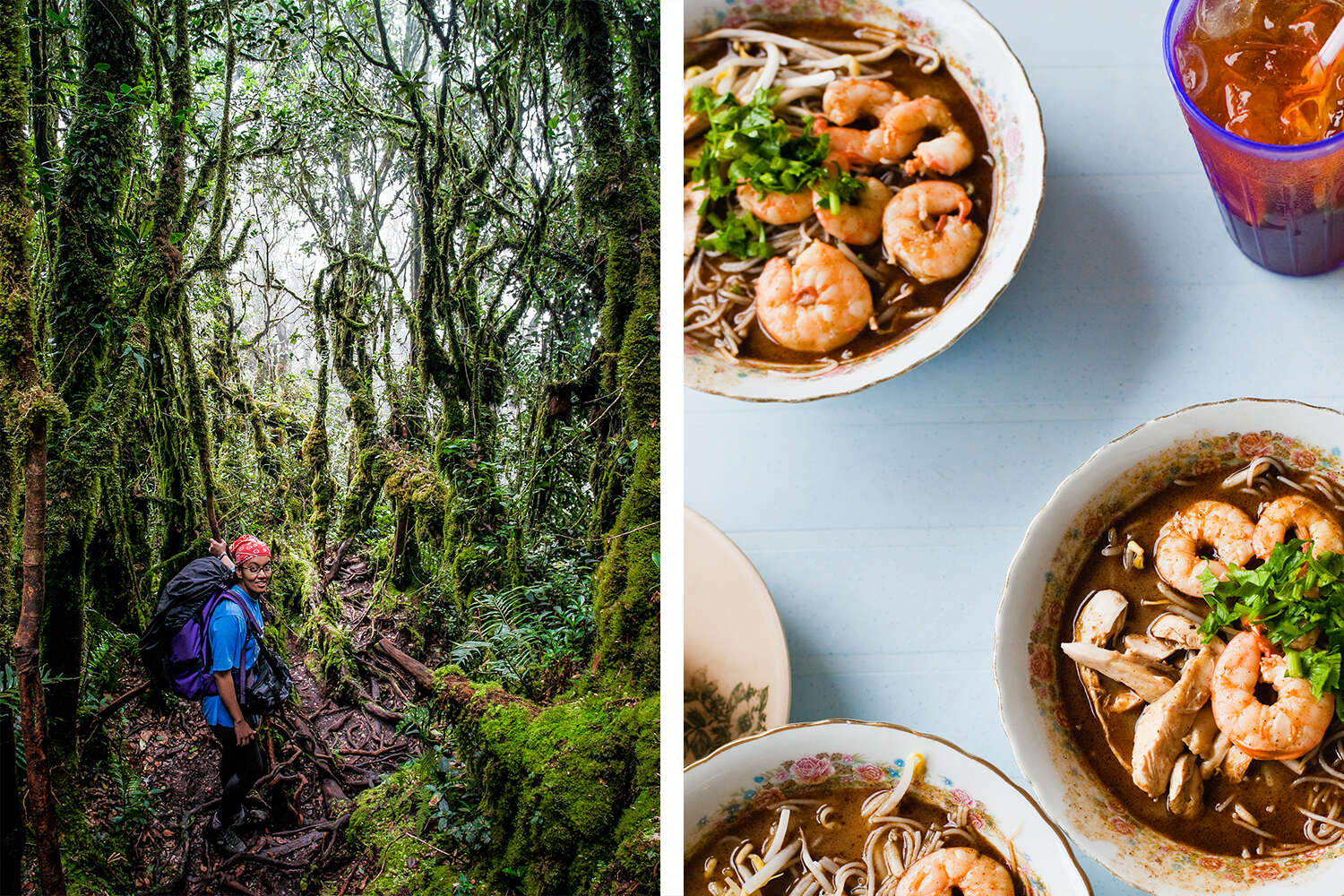 Malaysia
Best for:Safaris, endangered species, hiking
Underappreciated by Americans, Malaysia is rightfully known for its incredible ancient rainforests. You could spend your entire trip hiking and visiting wildlife sanctuaries -- I had a nice time watching the world's derpiest-looking bear at the Sun Bear Conservation Centre -- without ever getting bored. And yet you can still wander through Kuala Lumpur to get your shopping and dining fix. Malaysia also routinely comes out on top in world rankings of countries most attractive to Muslim travelers (along with Singapore, which we'll get to in a sec).
Best place to go: Borneo. The island is divvied up among a few different countries -- visit the Malaysian slice for Kinabatangan River. Book a boat tour (Sukau Greenview is a great one) for viewing all manner of wildlife, including the region's legendary orangutans, which are on track to go extinct in less than a decade (for a much closer look once you're done, catch a bus to Sepilok Orangutan Sanctuary). If you are very lucky, you'll also spot some pygmy elephants. Have you ever seen a baby pygmy elephant? It is literally the smallest a creature can be and remain an elephant.
Food to eat: Laksa. I'm going to keep this brief because thinking about it while not being able to eat it is vaguely distressing, but laksa is a thick, spiced, brightly colored coconut curry with a truly magical combination of add-ins like hard-boiled egg and lime. I think it's best with shrimp, but you find the laksa that works for you.
Philippines
Best for: LGBTQ travel, island-hopping, snorkeling, shopping
One of the safest, most fun destinations for gay travelers in Southeast Asia is also where you can take your pick of rainforests, beaches, shopping hubs, and excellent food. By no means does Laos have a lock on the most magical islands in Southeast Asia -- the Philippines has 7,000. On the largest, Palawan, you can take a boat ride on an underground river; on Bohol, you can visit the fabled Chocolate Hills, a geological formation that's straight out of a Dr. Seuss book.
Best place to go: Masungi Georeserve, a huge conservation area you can explore via what is essentially a ropes course. Did you ever go to Discovery Zone as a kid? (RIP, DZ.) This is that, but for grownups and in a rainforest. Save an evening for Bank Bar -- a chic secret bar hidden inside the storage room of a Manila 7-Eleven. For a more bustling, cosmopolitan vibe head into Manila on the island of Luzon, the capital city named after a rather underrated queen from RuPaul's Drag Race.
Food to try: Halo-halo, the beloved Filipino shaved-ice dessert that will keep you cool for the summer. A bizarre-looking mix of flavors that seem unlikely to get along yet somehow just do, the ingredients will be a little different everywhere you go.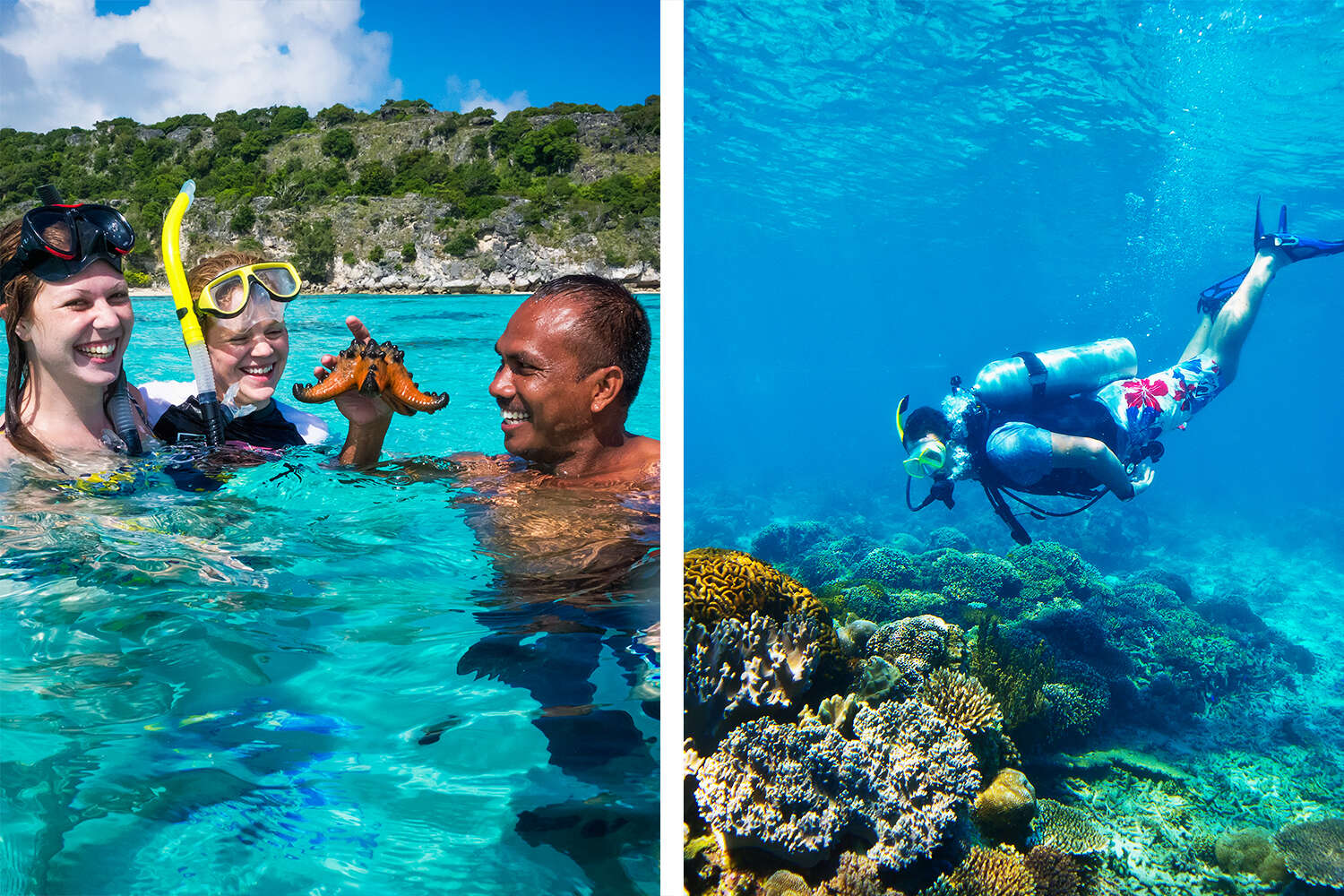 Timor-Leste
Best for: Scuba diving, whale watching, long walks on the beach
This Connecticut-sized country is a great destination for whale watching and rocks the world's most biodiverse reef. If you are a certified diver you are going to have a good time: coral reefs, turtles, dolphins, sharks, and whales both humpback and sperm. Unfortunately it's not one of the better gay-friendly options, though.
Best place to go: Atauro Island, for the aforementioned rad scuba diving. If you're determined to stay dry, you'll love the beach at Areia Branca, where you can relax on white sands while still enjoying a ton of bars and restaurants a few feet away. Don't leave without getting a look at the massive Jesus statue known as Cristo Rei; only Christ the Redeemer in Rio de Janeiro is larger.
Food to eat: An emphasis on corn, beans, and a rotating cast of seasonal vegetables makes this an especially good bet for vegetarians, but the cuisine is definitely not lacking in meat and fish options. The most distinct export, though, is probably coffee -- to sample the best, spend a day in the Ermera district.
Singapore
Best for:Nightlife, gambling, high-rolling, high-tech adventures
Singapore is unquestionably the cosmopolitan hub of the region -- one of the world's great party cities and arguably the greatest place on the planet to be if you need a snack. This is where you go to see and buy and eat things that you won't find anywhere else you'll ever go. Its Marina Bay District contains all the shopping and nightlife, including extravagant casinos and that one hotel with the infinity pool. Falls somewhere in the middle for LGBT-friendly travel.
Best place to go: Sentosa, where you can bounce from dolphin encounters to indoor skydiving to a waterpark to a very, very large adventure park. Also, it is with some surprise that I must recommend Singapore's Botanic Gardens. I generally consider botanic gardens to be overrated but these are exceptional. Like, if you only ever go to any botanic gardens one time, go to these. Most of the grounds are open 'til midnight, but make sure to catch the National Orchid Garden before it closes at 7pm. Little India and Chinatown are also fantastic for just wandering around.
Food to eat: Make your way to a night market. Assuming no food restrictions, start working your way through the push-cart vendors and just go nuts. There is never a time when laksa is on-hand that I will not recommend you try the laksa, but go for the fish-head curry if the spirit moves you. When you want to switch gears to something more decadent-feeling, look for hidden bar Operation Dagger.
Cambodia
Best for: History, spirituality, nightlife, movie reenactments
Hey, look, we're back to gay-friendly territory! Also, Phnom Penh is pronounced "P'nom" Penh, not Nom or Fnom or anything like that. Speaking of, if you're in Phnom Penh you might consider setting aside an afternoon for Tuol Sleng, the national genocide museum. I will not bullshit you -- this was, emotionally, the most difficult museum I've ever visited, and I respect that your vacation days are precious and you don't want to spend them doing things that don't make you feel good. But the legacy of the Cambodian genocide is not a thing that's really separable from daily life, and ultimately you get more out of a trip when you understand how and why a place came to be the way it is. Plus, you'll find more than enough good vibes during the rest of your stay, such as:
Best place to go: Rent a bike for like a dollar and ride around Angkor Wat -- that temple you've seen in Tomb Raider and Indiana Jones -- drinking palm juice. If you're coming from Phnom Penh, skip the bus or car -- instead opt for a river taxi. This mode of transportation is a good way to see what Cambodia looks like to real Cambodians, not to backpackers or expats (though if you want to party with other backpackers, this is certainly one of the places to do it; just check into the biggest hostel you can find and let nature take its course). Fair warning, what is advertised as a journey of a few hours might take, I dunno, all day, depending on how healthy your river taxi is, but this is one of those things where you need to just let go and surrender to the process. You will get there when you get there.
Food to eat: Don't @ me for this being too basic, but honestly the fruit juice. Anyone stands to be delighted by the endless succession of perfectly ripe Cambodian fruits that someone will squeeze into your glass for probably around $1. Try sugar palm if you want something new.
Myanmar
Best for: Independent travel, dolphins, coffee
Let's get right to it: Myanmar is the home of an ongoing, state-led ethnic-cleansing campaign that has displaced about 1 million Rohingya to become the fastest-growing refugee crisis in the world. This doesn't necessarily mean it's not safe to travel there -- none of the areas that you, a tourist, would ever end up in are areas of conflict. The concern is more that your tourism dollars could potentially end up funding the military, which is to say, funding genocide. As of the time this article was published, the general sentiment is that a strong tourist economy does, in fact, benefit the Burmese people, and the country's Hotels and Tourism Ministry is actively trying to draw in more visitors by creating attractions like ecotourism venues and wildlife sanctuaries. Still, make sure you spend a few minutes on Google before you plan a future trip on a whim. There are also a limited number of entry points into the country, so know that you can't just roll up from wherever you happened to finish up in Thailand. If you want to simplify things, there are reputable companies dedicated to arranging for you a trip that's safe, ethical, and also a very good time.
Best place to go: Consider the former capital of Yangon, which maintains a vibrant gay scene even though homosexuality is still illegal in Myanmar. For an experience you truly can't get anywhere else, look to the Irrawaddy River. A vanishing class of fishermen know how to not just find the dolphins, but cooperate with them to hunt fish -- it's an incredibly rare phenomenon. You can hire local fishermen for a boat tour along the river to spot endangered freshwater dolphin, an activity which benefits everyone involved -- the fishermen get paid, the dolphins get fishermen more incentivized to pursue ecotourism opportunities rather than the electro-shock fishing that threatens the species further, and you get a look at an animal that looks, no joke, like this:
Food to eat: Coffee. Now that the country is emerging from isolation, it's begun forming a nascent coffee culture. Get in on it early.
Vietnam
Best for:LGBTQ travel, history, market haggling, food, beer
Vietnam is known as one of the best countries in Southeast Asia for LGBTQ travelers. It's friendly, it's bustling, it's filled with the delicious smells of one thousand simultaneously cooking foods. You may need a visa before you go, but they're not hard to get -- if you're coming from somewhere like Cambodia, your hostel might even help procure yours before you leave. Once there, you can take your pick of floating markets, museums, caves, grottoes, cool-as-hell scenery, noodles, you get the idea. Do not be afraid to haggle in markets; assume it's built into the initial price and try to have fun with it.
Best place to go: In Hanoi, you'll find the absurdly beautiful Temple of Literature, the country's first university. For a look into history that's darker in both the literal and spiritual meaning of the world, tour the underground network of the Cu Chi tunnels, once headquarters for the Viet Cong. Also, remember the largest cave in the world from Planet Earth? That's this one.
Food to eat: Vietnam is a place to drink beer, both from craft breweries sprouting up all around the country and from street vendors hawking bia hoi -- the local draft. You must also try bun rieu, a noodle soup that is not pho. And sorry to harp yet again on coffee, but look, this coffee has egg in it.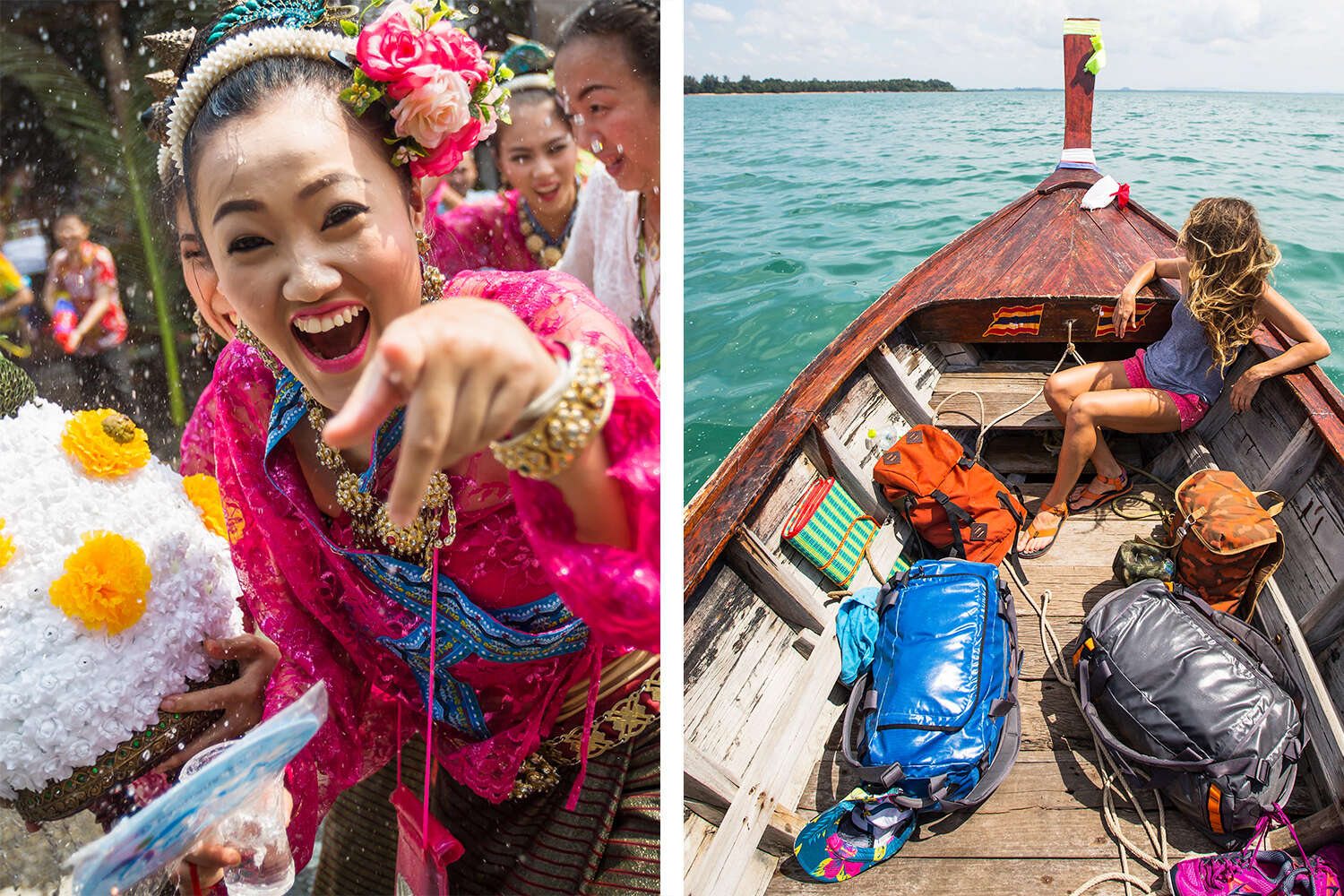 Thailand
Best for:LGBTQ travel, partying, spirituality, food
The fact that people spend half their lives wanting to go to Thailand and then confine themselves to Bangkok and the abhorrent Full Moon Party is baffling to me, but fortunately we've found each other in time for you to do the thing right.
Best place to go: For a trip both different and better than the one everyone else goes on, head into the confusingly underhyped northern region of Chiang Mai and rent a scooter. If you're really ready to throw down, go to Wat Ram Poeng for a silent meditation retreat (minimum 10 days). It has been three years since I did this and my back still hurts whenever I think about it, but as meditation retreats go, this is the real shit. In Bangkok, do your very best not to get killed in a traffic accident. Then decompress on the beaches of Ko Muk, an island where you can get Thailand's signature gorgeous beaches without the signature crowds.
Food to eat: Khao soi -- a coconut curry with crispy egg noodles, some kind of meat, and a loosely enforced roster of herbs and spices. Like bagels in New York or tacos in LA, khao soi will be excellent pretty much anywhere you go in Chiang Mai, just in different ways. The place with the best khao soi is the place you find after a leisurely walk from your hotel, where you can smell the noodles deep-frying while you take your pick of the plastic chairs and tables outside, most of which are empty because it's still early. (You, unlike the rest of the tourists, know that the best way to enjoy khao soi is for breakfast.)
Sign up here for our daily Thrillist email and subscribe here for our YouTube channel to get your fix of the best in food/drink/fun.
Kastalia is Thrillist's resident Travel Writer, which means she's based in Manhattan. If you have found good khao soi in Manhattan, please DM her urgently at @kastaliamedrano.
Additional Image Credits:
Indonesia -- L: Supoj Buranaprapapong/Moment R: Laughingmango/istock
Brunei -- L: John Crux Photography R: amnat30/shutterstock
Laos -- L: Sanchai Loongroong/Moment R: Rosanna U/image source
Malaysia -- L: asmaruddin jamaluddin/eyeem R: Andrew Watson/photolibrary
Philippines -- L: Tom Cockrem/Lonely Planet Images R: sergio amiti/moment
Timor-Leste -- David Kirkland/Perspectives
​​​​​​​Singapore -- L: Gavin Hellier/Image Bank Film R: Lonely Planet/Lonely Planet Images
Cambodia -- ​​​​​​​L: Matteo Colombo/Moment Open R: Jim Purdum/Blend Images
Myanmar -- ​​​​​​​L: DoctorEgg/Moment R: Santi Sukarnjanaprai
​​​​​​​Vietnam -- L: Todd Brown/The Image Bank R: NicolasMcComber/E+
​​​​​​​Thailand -- L: Tim Gerard Barker/Lonely Planet Images R:​​​​​​​ Jordan Siemens/Taxi