12 Awesome Driving Ranges You Need to Hit (At)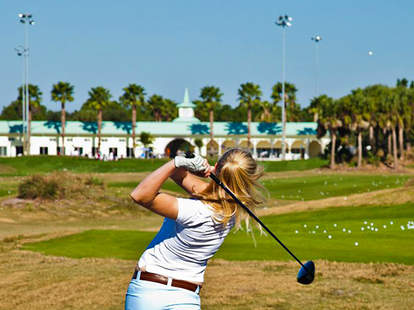 <a href="http://www.facebook.com/106600133930/photos/a.10150821878168931.396813.106600133930/10151816183778931" rel="nofollow" target="_blank">PGA Learning Center/Facebook</a>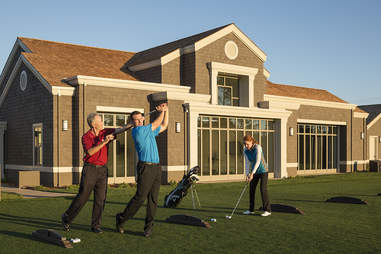 Tom O'Neal
1. Pebble Beach Golf Academy & Practice Facility
Monterey, CA
It used to be the saddest part of playing golf at Pebble: that such a sublime course could be saddled with such a sorry little driving range. That changed in early 2014 with the launch of this bleeding-edge facility. Twice as large as its predecessor, the new double-ended range has natural grass hitting areas instead of mats, and sculpted target greens that mimic course challenges. Throw in a 40,000-square foot short game complex, replete with bunkers, chipping areas and a sprawling putting green, and you've got no excuses. You should be primed and ready for the round of your life.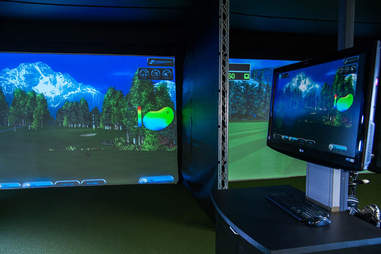 <a href="http://www.facebook.com/106600133930/photos/a.10150462769008931.360043.106600133930/10153465581403931" rel="nofollow" target="_blank">PGA Learning Center/Facebook</a>
2. The PGA Center for Golf Learning and Performance
Port St. Lucie, FL
Like the Derek Zoolander Center for Kids Who Can't Read Good, the name's a little clunky, but make no mistake: this place is slick. As the letters "PGA" suggest, it attracts top professional talent, but it's also open to the public on a daily, monthly and annual fee basis. Your buy-in gets you access to more than 100 full-swing practice stations; five acres of private instruction and practice grounds; a three-hole teaching course, an equipment testing and fitting facility, and more. Pretty soon, you'll be playing real good.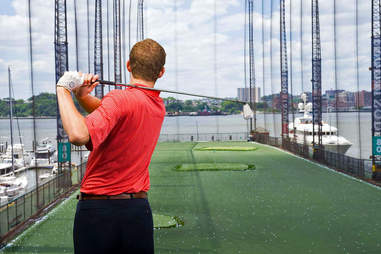 <a href="http://www.facebook.com/golfclubatchelseapiers/photos/a.10151349843425517.803140.123001365516/10154493488190517" rel="nofollow" target="_blank">Golf Club at Chelsea Piers/Facebook</a>
3. The Golf Club at Chelsea Piers
New York, NY
This gridlocked metropolis leaves little room for drivers. Heck, there's barely even green space to chip and putt. Luckily, there is this welcome refuge along the Hudson River, a four-tiered driving range, facing the water, with a 200-yard hitting area, ringed by nets. New Yorkers being a hardy lot, the range is open year-round, but for the wimps among us who don't like winter weather, there are plenty of indoor simulators too.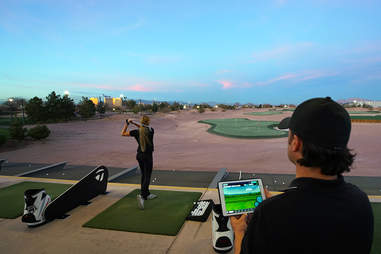 Courtesy of TaylorMade Golf Experience
4. TaylorMade Golf Experience
Las Vegas, NV
No wonder Donald Trump has a hotel in Sin City. Everything around these parts is yuuugge. That includes this hotspot on the far end of the Strip, a mega-facility whose blowout features include a lighted par-three course, a giant two-tier driving range, and a bar and grill that's perfect for bachelor parties, natch.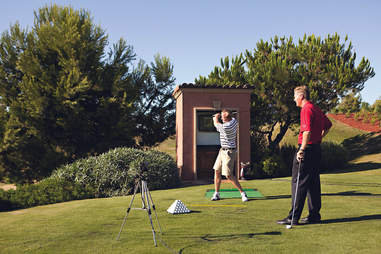 Courtesy of Fairmont Hotels & Resorts
5. Fairmont Grand Del Mar
Del Mar, CA
As a resort guest at the Grand Del Mar, you'll enjoy access to this tricked-out facility, whose sprawling grounds include a seven-acre double-end driving range, a secluded short-game area with a battlefield of bunkers and four chipping greens. On the futuristic front, the teaching pros here can help fine-tune your fundamentals with the help of a Trackman (it's a space-age shot-tracker) and a SAM PuttLab, which offers a detailed, high-tech look at your alignment and your stroke.
Courtesy of Topgolf
6. TopGolf
Scottsdale, AZ
One part driving range, two parts entertainment center, this hybrid concept has 22 locations in the United States, including this sweet Scottsdale spread. Like other TopGolf spots, it has hitting bays, of course, but it's also got a lounge, a rooftop deck, live music and other stuff you'd look for on an evening out. The atmosphere is lively, and the golf balls aren't duds either. They've got built-in microchips that offer instant feedback on the distance and accuracy of every shot. You can compete against yourself, but don't be anti-social. The best part is playing games against your friends.
<a href="http://www.facebook.com/MOG.AnnArbor/photos/a.173118288871.123909.173086023871/10152974499783872" rel="nofollow" target="_blank">Miles of Golf/Facebook</a>
7. Miles of Golf
Ypsilanti, MI
Ok, so maybe not miles. But this practice range does cover a lot of ground, creating enough room for 40 covered tees that are sheltered from the elements and heated, so they stay open year-round. In summer, there's always natural grass to hit off, along with a beautiful putting green just south of the pro shop.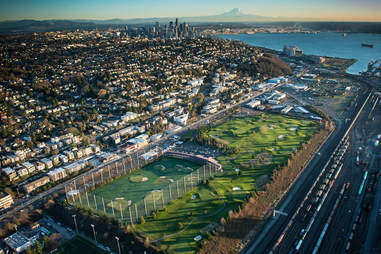 <a href="http://www.facebook.com/163891316974078/photos/o.141321785915911/954872817875920" rel="nofollow" target="_blank">(c) Jay Dotson Photography/Interbay Golf Center/Facebook</a>
8. Interbay Golf
Seattle, WA
In a city that gets its share of precipitation, it seems like golf balls are always raining down here. Of the 80 covered stalls at this expansive practice facility, 40 are heated, so they get plenty of action, no matter the weather. Interbay is open year-round, but the best times to show up are Monday-thru-Friday before 9am and late on weekdays during the last two hours of business, when you get double the range balls for the same price.
Courtesy of Knights Play Golf Center
9. Knight's Play Golf Center
Apex, NC
Not all practice facilities were created equal. The difference, in fact, is often night and day. Take this sweet spot in the high-tech Triangle, whose 60-station lighted driving range stays open until midnight, weather permitting. When you're ready to put that practice into play, Knight's also has an illuminated par-three course. When we say moonshots, we mean that literally.
<a href="http://www.facebook.com/manowargolf/photos/a.10151107461057317.482792.60166807316/10151107461702317" rel="nofollow" target="_blank">Man O' War Golf/Facebook</a>
10. Man O' War Golf
Lexington, KY
Here's a rarity: a driving range that keeps itself in country club condition, so it truly replicates what you encounter on the course. Two large grass hitting areas are a big attraction. But so are the heated, covered hitting bays, the pristine pitching and chipping area, and practice greens that roll as smooth as a linoleum floor.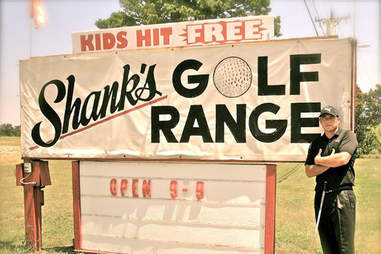 <a href="http://www.facebook.com/RobbieShankBiershenk/photos/a.246022858776479.64973.245130342199064/246024165443015" rel="nofollow" target="_blank">Robbie "Shank" Biershenk/Facebook</a>
11. Shank Golf Academy
Powdersville, SC
Anyone who's fond of the film Tin Cup should have an instant soft spot for Robbie Biershenk, a Tour pro-cum-instructor who cuts the profile of a real life Roy McAvoy. Though he's competed plenty in professional events, Biershenk also earns his keep as a swing guru, guiding his students on the fine points of the game at this unassuming facility in his home state. The barebones setting looks straight out of Tin Cup, and Biershenk himself (his name, pronounced Beer-Shank, is almost too good to be true) comes off as plucked from fiction. But he's flesh and blood, alright. So real, in fact, that he's even been the subject of a reality show, Chasing The Dream. 
Alamy
12. Presidio Golf Course Driving Range
San Francisco, CA
Yeah, you often have to hit off mats, and the air can grow so cold and damp that you get why Mark Twain kvetched about the fog around these parts. But consider the location, smack dab in the heart of San Francisco, not to mention the rich history: more than a century old, the club was army-run for much of its existence, and shares its name with the famous decommissioned military base that it calls home.