Amsterdam in April? The Best Months to Visit 12 European Countries.
The best thing any traveler can be is flexible. Not in a downward-facing-dog kind of way (although that's probably helpful when visiting tiny huts and underground tunnels), but when it comes to scheduling. After all, isn't booking early or last minute how you score the most stellar travel deals?
For most of us, though, things like jobs, family, and general adulting get in the way of true flexibility. It's tough to jump on that one-day-only $200 airfare to Istanbul when you've got a big deadline due at the office.
But here's the deal: your European bucket list doesn't need to suffer because your boss won't approve a June holiday. There are plenty of amazing destinations around the continent for any time of year (and any schedule). And to prove it, we picked one must-hit country for each month.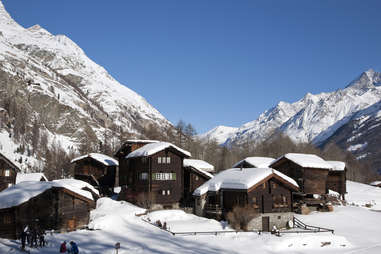 January
Switzerland
Why now: It's very un-Swiss to say this, but Switzerland is probably Europe's best winter getaway (neutrality be damned!). Glacier lakes, wooden huts, the Alps… and even though it's chilly, forget about seasonal depression. The town of St. Moritz, for example, gets sun around 322 days of the year!
Don't miss: Anywhere above 3,000 feet is where you want to be this time of year, for copious sun and powdery peaks. St. Moritz, Zermatt, and Davos are all known for ski resorts and outdoor terraces basking in rays. You can even travel between them by train.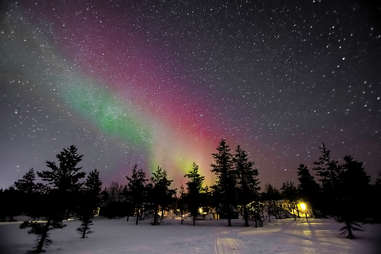 February
Finland
Why now: If we're being honest, February's not a great time to visit anywhere in Europe -- but alas, life's too short to hibernate. That's why we've picked Finland, which really comes alive with wintery activities (dog sledding, anyone?) and the dreamy Aurora Borealis.
Don't miss: The Northern Lights, obviously. Getting as far north as possible is your best bet, such as Inari Lake, Kilpisjärvi, or Utsjoki.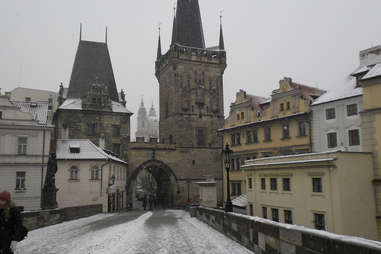 March
Czech Republic
Why now: Czech Republic is easy to love in any season -- even that awkward one when winter turns into a sloppy mess and American kids studying abroad descend for Spring Break. March clouds only make bohemian architecture look more elegant, and there are hot springs and cafés for escaping more dubious weather. And said students. Another coffee and strudl, please.
Don't miss: Prague's legendary Easter market, the grown-up answer to the egg hunts of your youth. Except here, wooden stands covered in hand-painted décor serve beer, mulled wine, and ham and sausage roasted on spits. Your inner child will be ecstatic.
April
The Netherlands
Why now: Once spring has sprung, the Netherlands bursts into surreal flower power. Dutch weather is finicky all year, but at least April avoids the tourist flocks of July and August.
Don't miss: Keukenhof, the world's largest flower garden, with over seven million bulbs that look totally psychedelic. Apparently, there's also a nice cannabis coffee shop around the corner.
May
Italy
Why now: May is the start of Italy's high season, and while tourist mobs are not awesome, the warm and breezy weather is. So instead of visiting hotspots like Rome and Venice, skip the crowds and hit the countryside.
Don't miss: Check out the May festivals in some of the small Italian villages. There's the ancient snake fest in Cocullo (reptiles roam free in honor of a saint, so it's a-okay, guys), or the annual fish feast in Camogli.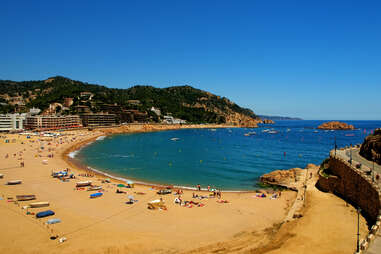 June
Spain
Why now: Spain, we certainly wouldn't kick you out of bed anytime of the year. But it's true, there's no beating your summertime vibe, especially considering how much there is to do here -- Ibiza, the Canary Islands, Granada, and don't even get us started on Madrid and Barcelona.
Don't miss: Southern Spain, particularly Andalusia's Mediterranean coastline where daily temps range around 68 degrees Fahrenheit with a lovely breeze. In July, you can also check out Sonar in Barcelona, one of the world's best electronic music festivals.
July
Germany
Why now: Germany can get somewhat depressing during the winter, especially in the capital where grey skies and crabby Berliners abound. In comparison, summer takes a more glorious turn with outdoor beer gardens, beer picnics in parks… beer anywhere al fresco really, is just a wonderful thing.
Don't miss: Summer in Berlin, when flea markets, art and music festivals and open-air parties, take over. With nightclubs and venues that open Friday night and close Sunday morning, weekend benders are a local tradition.
August
Slovenia
Why now: Europe's high-season prices can be a vacation buzzkill ($5 for a Coke in Paris? Sacre bleu!). That's why more tourists are turning to under-the-radar destinations -- cue Slovenia. Not only is it easy to enjoy on a budget, Slovenia's also unbelievably pretty -- mountains, forest, and old world architecture. Take that, France.
Don't miss: The capital Ljubljana is one of Europe's most underrated cities, known for its lush greenery and café terraces. Then there's also Bled, a resort town located on one of Europe's most magnificent (and again, underrated) lakes.
September
Ireland
Why now: The setting of summer in Ireland can only mean one thing, my friends: more free space and cheaper rooms. September weather is still balmy and mild, which can be perfect for exploring the country's rolling hills and cliffs.
Don't miss: Dublin is a bull's eye of action in September, packing in lots of food and culture festivals before autumn's onset. For those interested in scenery, Connemara and Doolin are both epic road-trip stops.
October
Greece
Why now: Greece in October is seriously underrated. Good weather, goodbye tourists, and let's face it: your snaps of ancient ruins will be looking hella better without iPads and selfie sticks raised in the air.
Don't miss: Conquering Athens best tourist attractions, like the Acropolis and Ancient Agora (shorter lines and lower prices. Yay!). Crete and Rhodes are also a couple islands that don't wind down by October.

November
Turkey
Why now: Turkey checks all the boxes for this time of year -- sunshine, fewer visitors, and cheaper flights and hotels. If that's not enough, November is also the beginning of citrus season; so you can start every morning with a glass of fresh OJ.
Don't miss: Cool evenings make November prime for getting acquainted with Istanbul, but if you still want beach, the Antalya coast is known for being peachy this time of year as well.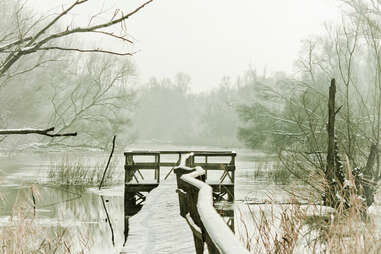 December
Hungary
Why now: 1) Palinka, a fruit brandy that burns, burns, burns; 2) Ruin bars, which also serve palinka; and 3) Thermal hot springs. Bring your own palinka.
Don't miss: Budapest's Christmas market, which is tough to miss with its thousands of fairy lights, cheery buzz, and wooden stalls. There are hearty traditional dishes like grilled meats, fluffy cakes, and mulled wine -- and you guessed it, more palinka!
Sign up here for our daily Thrillist email, and get your fix of the best in food/drink/fun.
Barbara Woolsey is a Berlin-based writer who grew up braving -22 Fahrenheit on the reg in Canada. So these days, anything's a vacation. Follow her European adventures on Facebook and Twitter.