The Best Free Attractions in 16 Major European Cities
<a href="http://www.shutterstock.com/gallery-78654p1.html?cr=00&pl=edit-00">jan kranendonk</a> / <a href="http://www.shutterstock.com/editorial?cr=00&pl=edit-00">Shutterstock.com</a>
Traveling in Europe is not cheap. A night of debauchery in Amsterdam, a few too many pints in Dublin, getting pickpocketed in the Louvre, before you know it there are no Euros left in your new European carry-all.
But not to fear, there are still plenty of fun and enlightening and totally free things to do on your trip. Here are some of the best.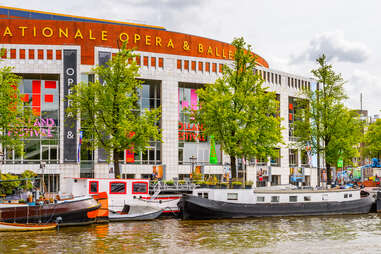 Amsterdam
Free concerts
Assuming you're a classical music aficionado and/or trying to show the Australian girl from the hostel how 'cultured' you are, then you'll be pleased with Amsterdam's many free orchestra performances. The Dutch National Opera & Ballet and Concertegebouw Orchestra hold complimentary lunchtime concerts on Tuesdays and Wednesdays, respectively. There's also the Muziekgebouw aan t' IJ, a slick-looking concert hall where conservatoire students play gratis on the last Thursday of every month.
Athens
Filopappou Hill
The Acropolis is incredible, but it sucks for two reasons: 1) summer admission is going up to $22, and: 2) throngs of tourists crowding your Parthenon selfies. So head down to Filopappou Hill for a panoramic view of Athens, the Acropolis, and even the Aegean Sea. Walking up, there are also a couple more cool (and yes, free) attractions to be found, like a 16th-century church and the prison where Socrates is thought to have died.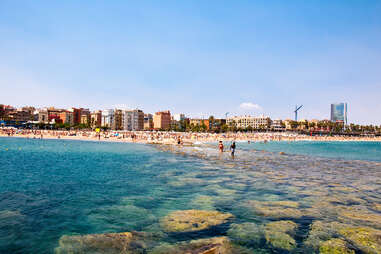 Barcelona
Go to the beach
In Catalonia's capital, the best things in life really are free -- namely, the sun and all that sand. Barcelona has plenty to beaches to choose from -- from relaxed to raver's paradise (at least at night) -- and the further you get away from the city, the more pristine and peaceful the scenery gets.
Berlin
Bearpit Karaoke
Don't miss the Mauerpark flea market, where you'll find thousands gathered at a legendary daytime karaoke party. Located by a former death strip that separated East and West, some of the vocal talent is admittedly depressing -- but some will also blow you away.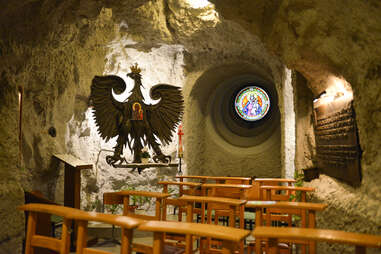 Budapest
Gellért Hill Cave Church
For a tiny chapel carved into rock, Gellért Hill Cave's got an amazing history. It was first constructed in the 1920s and served as a field hospital during WWII before being sealed for 40 years. Open again, monks hold ceremonies here regularly.
Edinburgh
Free Fringe Festival
Every year, Scotland's capital is home to a festival offering live music, standup comedy, and theater shows free of charge. This year's event is scheduled for August and will be the biggest yet, with over 300 performances across dozens of venues.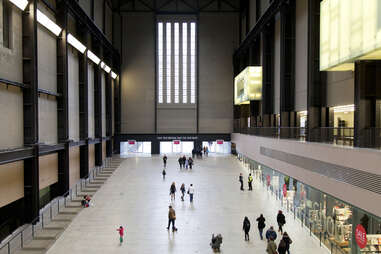 London
Guided tour at the Tate Modern
You've probably already got this modern art gallery on your London bucket list (after all, it costs nothing), but make the most of it by catching one of four complimentary daily tours. That way, you can also learn the difference between a Turner, a Pollock, and what's just a used Kleenex on the floor.
Madrid
Museo Nacional del Prado
For a taste of classic art, check out Spain's main national art museum during the evening when there's no entry fee. Here you can find one of the finest collections of European art, including paintings and sculptures from as far back as the 12th century.
Lisbon
Berardo Collection Museum
It costs $25 for a day's admission to MoMA, but in Lisbon you can see all modern art masterpieces for free at the Berardo Collection Museum. There are works from Pollock, Picasso, Dali and more -- plus it's also open every day of the week.
Milan
Aperitivo
In Italy, happy-hour drinks often come served with a buffet of everything from fresh mozzarella and handmade pizza to pastas and even dessert (aka, a multi-course dinner, grazie). Milan's scene is famous for aperitivo, and you'll find it everywhere from fancy hotel bars to bakeries.
Munich
English Garden
Being bigger than Central Park, you can imagine there is much to explore in Munich's English Garden. It's got a lake, whitewater rapids where people surf, monuments, and even three little islands; so spend a day walking, cycling, or Instagramming the whole scene – careful though, plenty of sunbathers here like to go au naturel.
Oslo
Vigeland Sculptures
At the world's largest sculpture park, you'll find over 200 bronze and granite sculptures set against a lush green Norwegian landscape. There's no better summer hangout than the park fountain, an epic art installation of trees and bodies above a mosaic floor.
Paris
Père Lachaise Cemetery
Cemeteries make for pretty creepy tourist attractions, but Père Lachaise is one to hit before you die. Here you'll find the final resting places of a lot of famous folk, including Jim Morrison, Oscar Wilde, and Edith Piaf. Seeing as there are over 700,000 graves, print out a (free!) map here.
Reykjavik
Museum of Photography
If you thought your iPhone's camera roll was full, get ready to be blown away by Reykjavik's Museum of Photography. There are over FIVE MILLION inspiring snaps on display, some dating as far back as 1870.
Rome
Pantheon
It's hard to believe Rome's most lauded landmark is a freebie, so get there early (as in, 9am early) to avoid the annoying crowds. But even covered in swarms of tourists, you can't deny the magnitude of this majestic 2,000-year-old temple.
Sofia
Alexander Nevsky Cathedral
This Bulgarian cathedral is one of Europe's most beautiful (and most underrated) churches. It's a Byzantine feast for the eyes, from its gold-plated dome to lavish mosaic interiors. As the world's largest Eastern Orthodox
Sign up here for our daily Thrillist email, and get your fix of the best in food/drink/fun.
Barbara Woolsey is a Berlin-based writer who once had 3.5 minutes of fame performing Spice Girls at Bearpit Karaoke. Yes, there are videos of her on Facebook and Instagram.