The Best Free (or Incredibly Cheap) Things to Do in Copenhagen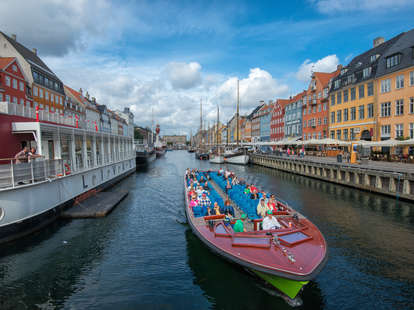 <a href="http://www.shutterstock.com/gallery-823195p1.html?cr=00&pl=edit-00">Rolf_52</a> / <a href="http://www.shutterstock.com/editorial?cr=00&pl=edit-00">Shutterstock.com</a>
Copenhagen has a reputation for being expensive, which can make it intimidating for a traveler on a budget. But it's so pretty and friendly and clean and welcoming and [insert other glowing accolade here] that it's absolutely worth a visit -- even if you're strapped for cash.
The good news for budget travelers is that most of the city's museums offer a weekly free day, the town is easily walkable, and -- if you are willing to shell out around $50 -- the Copenhagen Card scores you free entrance to over 70 attractions and unlimited transport on the buses, metro, and trains.
Even better news: there are also these 11 fun activities that are either very inexpensive or totally free. Skal!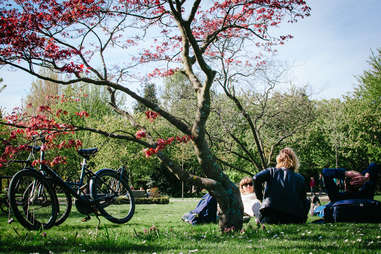 Nørrebro is home to the famous Coffee Collective and Laundromat Café (no, you don't have to bring a load of laundry to enjoy a cocktail and the fun vibe), both of which are worth a stop. But first, you'll want to stroll through the lush green Assistens Cemetery where Hans Christian Andersen and his biggest critic Søren Kierkegaard are buried. If the weather's nice, pack a picnic -- this cemetery is as much a local park as it is a place where dead people rest.
If you're going to visit Denmark, you should probably learn something about the people and the history. Luckily, you can do that for free at the National Museum of Denmark, the country's largest cultural and historical museum. And yes, there's tons of cool Viking stuff, including Bronze Age horned helmets, a cauldron from the 1st century BC, and the famous 3,000-year-old Sun Chariot. And not that you'd go there just to check your email and post pics on Instagram, but they do have gratis WiFi if that's something that you're into.
Climb a tower
Christiansborg Palace is home to the Danish Parliament as well as Tårnet, a tower that boasts panoramic views of Copenhagen (and on a clear day, Sweden!) from a free viewing platform 144 feet up. Just be sure to go during the day or at sunset, as there's not much to see at night.
If you're willing to fork over about $4 and climb almost 700 feet worth of stairs, check out The Round Tower, the oldest functioning observatory in Europe. Alos, don't miss the floating glass floor.
Copenhagen Street Food's a huge warehouse located on Paper Island where you can buy inexpensive street food from 35 stalls, Airstreams, and trucks, and then enjoy it at a picnic table by the water or inside by a fire. They serve everything from Korean BBQ and pulled duck burgers, to authentic shawarma, organic hot dogs, and, of course, the traditional Danish open-face sandwiches. There are also plenty of bars where you can grab a beer, a cocktail, or a bottle of wine (complete with bucket of ice to keep it cold). The only sad thing? It's temporary. Come 2018, it will all be demolished as part of Paper Island's new urban plan. Better hurry up.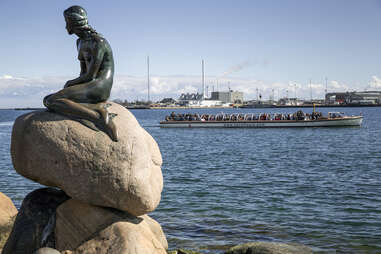 Yes, it's totally tourist to hop on a boat and take a tour of Copenhagen via the canals, but it's also totally worth it. Plus, after hours and hours (and hours and hours) of walking, you'll be elated to sit on your butt and enjoy the scenery while a guide entertains you with stories about Copenhagen's Opera House, Black Diamond, and Old Stock Exchange.
The best part? You'll get to see The Little Mermaid statue, which is so not worth a separate excursion (she really is very, very little), but is worth crossing off your bucket list, you know, since the boat's gonna take you right by her anyway. Free with your Copenhagen card.
Dupong was started by four college kids who wanted a place with inexpensive drinks and fun games. Join in a game of Berlin-style ping pong or play foosball in the basement. Good times don't get cheaper than that.
No joke, GRØD makes organic (of course) porridge that's so tasty even Goldilocks would ask for seconds. There's breakfast porridge (get it with dulche de leche, apples, and roasted almonds), lunch porridge, and yes, even dinner porridge. They also serve beer, which just seems like something you should know.
Strøget is home to some of Copenhagen's most expensive stores, but it's also one of the longest pedestrian streets in Europe (at over half a mile), which makes it perfect for a leisurely (and free) stroll. And it's always bustling, so there are plenty of people -- and street entertainers -- to watch. Duck down the side streets for some of the more unusual shops.
Go to church
Good news for you: church is one of those places where they'll let anyone in and admission is free. Marmorkirken (The Marble Church) is worth a stop as it boasts the largest church dome in Scandinavia, while the Vor Freslers Kirke (Church of Our Savior) and its 311-foot twisted spire is one of Denmark's national treasures. There's a small fee to climb the 400 steps to the top and the last 150 run outside the rim of the tower. Consider yourself warned.
Does it sound sort of cheesy to go to an amusement park when you're "traveling"? Maybe. Do you care? Of course, not. And you definitely shouldn't, 'cause not only is Tivoli Gardens totally part of history (it was established in 1843, making it the second old amusement park in the world), but it's also incredibly charming and a legit fun way to spend a couple of evening hours.
Ride one of the world's oldest wooden roller coasters and then take a whirl on the Star Flyer, a 262-ft watchtower-style ride that spins you around while providing sweeping views of the city. Oh, and there's plenty of booze and food to boot. Entrance costs about $15, but it's totally free with your Copenhagen card.
Okay, maybe don't join a commune, but definitely visit one. Freetown Christiania is a cool, car-free 84-acre "village" in Copenhagen founded in 1971 by a group of squatters and artists who took over an abandoned military base and proclaimed it a "free zone" where Danish law does not apply. Somehow, it remains that way today.
Christiania's covered in colorful murals and has tons of cool little art galleries, museums, and cafes. There's also an area called Pusher Street (or "The Green Light District") where "vendors" in closed off stands openly sell pot and hash. (It's not legal, but completely tolerated). Just follow the rules on the signs and don't take any photos. After all, hospital visits aren't free.
Sign up here for our daily Thrillist email, and get your fix of the best in food/drink/fun.
Daisy Barringer is an SF-based writer. Her favorite thing about Copenhagen was the bikes. And the beer. And the boys. Follow her on Twitter @daisy.