The Best Hidden Gem Vacation Spots in the Country to Reset Your Headspace
Casey McCallister / Stocksy
Casey McCallister / Stocksy
Riddle us this: if vacation is meant to be a break -- time off from the everyday annoyances of life -- why are you going to big, difficult-to-navigate cities, crowded beaches, and expensive resorts? All across the US you can find the same beauty in way quieter, way less cluttered destinations. From the coast of California to the islands of Michigan (yes, you read that right), we found the ultimate relaxation stations across the country. Just be careful where you share this if you want to keep these spots to yourself.
Kent, Connecticut
New Yorkers know this more than anyone: getting out of the big city every so often is crucial for preserving sanity. That's where Kent comes in. Located just 80 miles north of Manhattan (less than a two-hour drive) in northeast Connecticut, this small town of just under 3,000 is close enough for a day-trip, or far enough away to hide out for a weekend. And it's got way more than just mom and pop businesses and pretty hikes (but you can bet it's got those, too).
Why it's worth going out of your way: Well, because it's not really that out of the way. Check out Club Getaway, a summer camp for adults where you get to stay in luxury cabins, water ski, wakeboard, zipline, rock climb, do yoga -- and basically anything else your 10-year-old self could dream up. (The season goes through mid-October so don't sleep on reservations.) If you're looking to do your own thing, Kent Falls State Park is a good place to start. Close your eyes and listen to the water flowing for 250 feet down to the Housatonic River, the birds chirping, and feel the sun on your skin -- all without someone bumping into you because they were mindlessly texting and walking.
Mackinac Island, Michigan
Make your way to Northern Michigan and you'll find an island so sheltered you can only get there from two cities (Mackinaw from below and St. Ignace from above) by private boat, ferry, or small aircraft (though in the winter you can ride a snowmobile over an ice bridge if you're brave). This of course, is the picturesque Mackinac Island. It's only 3.8-square miles and has a year-round population of about 500, but don't let its size fool you; there's no shortage of good times to be had here.
Why it's worth going out of your way: A piece of US history can be found on the island; Fort Mackinac, built in 1780 during the American Revolutionary War, is a former British and American military outpost-turned-museum. It's comprised of 14 of the original structures -- including the oldest building in Michigan, Officer's Stone Quarters. It's a great place to be alone with history, or -- and we can't stress the quality of this idea enough -- you can meditate on your truth by firing a cannon. Only one person gets to do it per day (see? Solitude), so it's another reason to plan your trip in the off-season. Start your day off with a literal blast and fire that cannon. They say you can never truly know the measure of yourself till you've been in combat. Consider this the safe version. After visiting the exhibitions, taste what makes Mackinac Island famous: FUDGE. Known as the "fudge capital of America," it's home to more than a dozen fudge shoppes (like Detroit favorite Ryba's) within the 3.8-square miles. And it's not uncommon for any one of the shoppes to sell about 1,000 pounds of the chewy goodness in a single day. Bring your sweet tooth.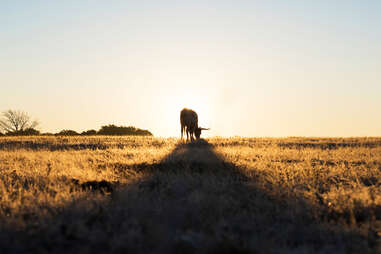 Texas Hill Country
Where West, Central, and South Texas meet is Hill Country, located in the Edwards Plateau. Made up of tall, rugged limestone and granite hills (the tallest being Packsaddle Mountain reaching just over 1,600 feet), the area is known for its dark caverns (like Bracken Cave and Inner Space Cavern) and scenic hikes. Not only is it one of the most unique experiences in the Lone Star State, The New York Times said it's like nowhere else in the world. "Here you'll find a delicious tension between the rural and refined."
Why it's worth going out of your way: Explore the underground at Bracken Cave, the summer home to the largest colony of bats in the world. We're talking, like, 15 million Mexican free-tailed bats. In the summer months you can experience an incredible sight when, three hours before sundown, the bats emerge to find sustenance. Watch them fly around for hours while the Texas sun sets. The area's known for growing yucca, wildflowers, desert spoon, and the delicious prickly pear cactus, so during your visit definitely visit Hill Country Distillers, where you can taste a spirit that embodies the region: prickly pear moonshine.
Dry Tortugas, Florida
With just 60,000 annual visitors, Dry Tortugas National Park -- a chain of seven islands located in the Gulf of Mexico -- is one of the United States' least visited national parks. But if it's so great then why don't more people go there? you're thinking. Well, it's only accessible by boat or seaplane. But at just 68 miles off the coast of Key West and with a complex history and one-of-a-kind scenery… we'd swim if it were the only way to get there.
Why it's worth going out of your way: Fort Jefferson, a massive, unfinished fortress, was built just after the War of 1812 in an effort to protect the eastern border of the United States. At its height, it housed 1,729 people and served as an island prison; its most notable inmates being Dr. Samuel Mudd and Samuel Arnold, both of whom assisted John Wilkes Booth in the assassination of Abraham Lincoln. Fort Jefferson is included in your $10 entrance fee to the park (good for a week), and you can take yourself on a self-guided tour anytime. And of course, since you're in the middle of the ocean, do yourself a favor and do some snorkeling or diving. There are countless recommended snorkeling spots on the various islands, and since the park is home to 67,000 acres of coral reef, there's no wrong choice. If you're a newbie, try Little Africa, a protected, shallow, and calm area right off the north side of Loggerhead Key. You're bound to see lobster, barracuda, and various types of tropical fish.
Crater Lake, Oregon
Drive south from Portland for four hours and watch as the city disappears behind you and nature (namely a crystal clear body of water) welcomes you with open arms. Crater Lake, which was formed after a volcano erupted over 6,500 years ago, is the main attraction of Crater Lake National Park in Southern Oregon. The deepest lake in the US at 1,946 feet, there are no rivers flowing in or out; instead it's fed entirely by rain and snow. It's more of a look/take photos of/marvel at instead of swim in kind of lake though, since the temperature never rises above 38 degrees Fahrenheit.
Why it's worth going out of your way: Crater Lake National Park is nature at its most pristine (which is why rules like no drones, no snorkeling, etc., are enforced). Pack a picnic and hit one of the many hiking or walking trails. For beginners, the Pinnacles Valley Trail is pretty easy, allows bicycles, and can be completed in a half hour. If you're looking for a workout and a view, the Cleetwood Cove Trail is the one. The route begins on the right side of Rim Drive at an elevation of 6,850 feet and ends at the shore of Cleetwood Cove, where a boat will tour you around the lake or drop you off at Wizard Island to explore. It takes about 60 minutes and is totally worth it for the views (and all the Instagram Likes).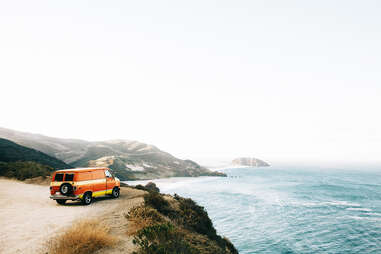 Big Sur, California
Located between Carmel-by-the-Sea and San Simeon, this lightly-populated (like, less than 1,000 people) California region is known for its rugged edges and mountain views thanks to the Santa Lucia Mountains and the Pacific Ocean on either side. (Did we mention there's not a bad view to be seen for roughly 90 miles?) Attracting nearly 2 million tourists a year (compared to the 47.3 million Los Angeles County saw in 2016, just to keep things in perspective), this coastal belt is not to be missed. Open the sunroof and feel the enchantment of Big Sur as you make the epic, winding drive down Highway 1.
Why it's worth going out of your way: If it was good enough to inspire a Jack Kerouac novel, it's good enough for you. So escape the hustle and bustle of Los Angeles (about a six-hour drive) or San Francisco (just under three hours) and take in the nature that makes California one of our most beautiful states. You can hit up Big Sur Campgrounds or Fernwood Resort to fully immerse yourself in the land; take a horseback ride on the beach; or hike any one of the breathtaking trails to commune with the redwood trees. Despite names like Last Chance, Hellhole, and Devils Falls, the abundant waterfalls here are also heavenly sights culminating in gorgeous blue pools. Limekiln State Park, open for campers, feels like a jaunt through the Cretaceous. Reaching the titular kiln's dead-end access and intermittent fog feels like the fantastical thrill of finding an important map point in a video game. And finally, if you want to go all the way into your head, hippies can book a stay at Esalen, the wellness retreat center that empowered Mad Men's Don Draper to create the most successful commercial of all time. Just make sure you stay feeling rejuvenated when you hit traffic on the way home.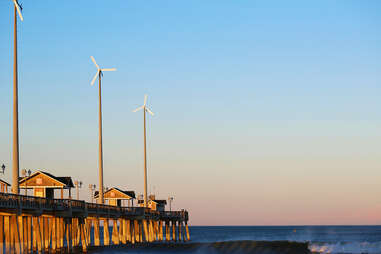 The Outer Banks, North Carolina
Yeah, that's right. The east coast has sweet beaches, too. The Outer Banks is a 200-mile-long stretch of barrier islands (islands parallel to the mainland, but not the mainland, therefore more tucked away) that reach from North Carolina to Virginia. And man, are they awesome. With a population of about 58,000, residents of these secluded communities (including Bodie, Roanoke, and Hatteras Islands among others) are living the beach life. Don't let them have it all to themselves. Also living the beach life? Gorgeous wild horses.
Why it's worth going out of your way: From Washington, DC or South Carolina, The Outer Banks are just six hours and 45 minutes by car; from New York or New Jersey, they're about nine hours, AKA well worth it for a week of sun, sand, and downtime. While you're there, check out Jockey's Ridge State Park in Nags Head. This 426-acre park is home to the tallest natural sand dune (90 feet above sea level) this side of the US. Here you can hang-glide, fly kites, and see a sunset the likes of which you won't believe. (It sets over the water and the view from that high up ain't too shabby.)
Or just kick back with a great meal; locals thrive off the fresh seafood. Outer Banks Boil Company will bring the boil to you. Book 24 hours in advance and they'll show up and cook you a traditional coastal shrimp boil and take the mess with them when they leave. Man, if that's not the coolest thing we've ever heard…
Truth or Consequences, New Mexico
If you're looking for a place to unwind with a little more luxury, look no further than Truth or Consequences (formerly known as Hot Springs, NM). But first, let us address the elephant in the...springs? Tired of being confused with cities of the same name, the town you've definitely never heard of two hours south of Albuquerque agreed to rename itself after the radio game show Truth or Consequences. In exchange, the program broadcasted its 10th anniversary special there. Of course, name change aside, T or C (as it's commonly referred to by its neighbors) is still a spa town -- meaning it's based on mineral springs. Some believe the water here -- clear, odorless, and warm -- can heal your ailments. Others think it's just relaxing and indulgent. Win-win.
Why it's worth going out of your way: Because it's a town of spas and magic water, obviously. Seriously this stuff ranges in temperature from 98 to 115 degrees Fahrenheit year round and contains trace elements of 38 minerals. At Riverbend Hot Springs you can soak with riverside, mountain views and just maybe cry happy tears as the water detoxifies your body and melts away your stress. Then, continue on your #treatyoself tour by sampling the ales at Truth or Consequences Brewing Co. From the Peach Wheat to the Hefe, these are just two of the reasons you'll never want to leave T or C.
San Juan Islands, Washington
Made up of four main islands (San Juan, Lopez, Shaw, and Orcas) and 168 littler guys, this archipelago located between the US mainland and Vancouver Island, British Columbia, is ideal for escaping everyday life -- especially since you can only get there by ferry, boat, or seaplane. But what makes the San Juan Islands a great destination is that you don't feel like a character on Lost once you're there; these islands are fully equipped to handle your every vacation desire.
Why it's worth going out of your way: This is one of the best places in the world to see orca, so don't miss the opportunity. Since they can be seen year round (Transient whales stay on the coast, while Southern Residents are harder to track and are usually only around spring through fall), check out a whale-watching company on the island you're visiting. Maya's Legacy has charters departing daily from San Juan Island, while Outer Island Excursions departs from Orcas. Afterwards, visit Pelindaba Lavender Farm where the beautiful purple plant is spread out as far as the eye can see (seriously, there's 25 acres' worth), and mountain and lake views surround you. Pick up some lavender soap so you remain zen long after your trip is over.
Phoenicia, New York
When you think "fun New York vacation," you probably don't think of Phoenicia. After all, it's a small Catskills town about two and a half hours from Manhattan with a population of around 309. This Ulster County hideaway, complete with a mountain backdrop and small town hospitality, is off the grid. But, dare we say it, you might want to make it your permanent residence after experiencing local treats like the intense rapids of Esopus Creek or the 47-foot tall Tremper Mountain Fire Tower hike.
Why it's worth going out of your way: The Phoenicia Diner alone is worth it, being one of the most famous in New York state. Though it's changed hands since, this joint has been around since 1962 and current owner Mike Cioffi is putting a modern spin on things (like opening The Lot at the Phoenicia Diner, where you can grab-and-go food-truck style). After, head to the epic Mystery Spot Antiques and get lost for hours sorting through their collection of vinyl, creepy dolls, 1940s vintage typewriters, and so much more. You can't find this stuff on Fifth Avenue, that's for sure.