Working out is hard enough at home, so you can forget about keeping fit when you're on the road and the hotel "fitness center" is little more than a windowless room with two rowing machines and a treadmill in disrepair. Thankfully, hotels are stepping it up, and not by just adding a Stairmaster or two; we're talking full-on gyms complete with rock walls, tennis courts, and Olympic-sized pools. Here are five of our favorites


5. Canyon Ranch Hotel & Spa
Miami, Florida
In addition to open-water swim training in their adults-only, heated saltwater rooftop pool, Canyon Ranch offers guests a two-story indoor rock wall, beach bootcamp programs, and a fitness room with microchip performance-tracking equipment (whatever that means) and stunning "floor-to-ceiling ocean views".
4. Bellevue Club at Hotel Bellevue
Bellevue, Washington
Boasting ten indoor and outdoor tennis courts (with ball machines!!), this massive 200,000sqft space's also equipped with three pools, an elevated running track, and a gym where you can play basketball, badminton, or, thankfully, pickleball. They also offer 70+ non-pickleball-related fitness classes.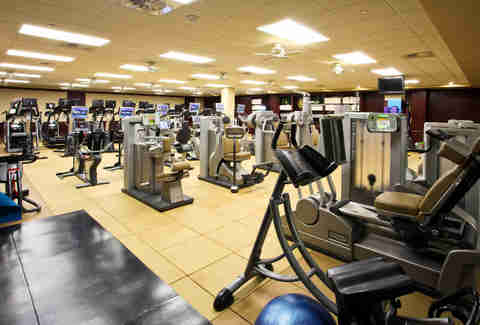 3. The Houstonian Hotel, Club & Spa
Houston, Texas
If the multiple pools, water slide, and outdoor track aren't enough for you, the 6000-member Club also sports a paltry 300 weight/cardio machines, and a meager 250 fitness programs. Talk about skimping.
2. Forza at the Ritz-Carlton, Denver
Denver, Colorado
As you might expect, considering it is in Colorado (and "inspired by the lifestyle"), this three-floor mega-gym rocks a 40-foot rock climbing wall, yoga studio, salt-water lap pool, kickboxing studio, and advanced weight training room.
1. Life Time Athletic Club at The Grand Hotel Minneapolis
Minneapolis, Minnesota
Take a day off from the Mall of America to get fit at this 58,000sqft facility, which's anchored by a stately six-lane indoor lap pool and features racquetball/handball courts, a boxing studio, and even private training sessions and metabolic testing.