The Best Island Getaways From the US
April is the cruelest month? Yeah, right. Try December through March, especially if you call the Northern United States home. But even if you don't live in climes that experience regular snowmageddons, winter ennui is a bitch. Solution: an island escape. And to help with the planning, we've rounded up 10 of our favorite archipelago respites -- spreading the love between the East and West Coasts -- and offered a few must-dos to help max out your vacation time, and in some cases, your credit card.
Kamira/Shutterstock
The Florida Keys (yep, all of 'em)
Must-stay:The Marker Resort
Must-eat/drink: Conch fritters and a mojito with Key West Legal Rum, Sunset Ale
Must-hit: Bahia Honda State Park
Key West grabs most of the headlines, and justifiably -- it's a bohemian paradise that seduces foodies, revelers, fishermen, sailors, music fans, and beach bunnies in equal measure. But it's worth it to remove your KW blinders, because some of the lesser-known Keys offer up similar pleasures with an added dose of honky-tonk. Islamorada gives you art galleries, sophisticated dining, and incomparable fishing on both the Gulf and Atlantic sides (Ted Williams was a regular and asked that his ashes be spread there before, uh, his head was chopped off and cryo-frozen). Marathon gives you shipwreck diving and a sea-turtle museum, the only licensed one in the nation. And the Lower Keys host the region's greatest beach (Bahia Honda) and also serve as a sanctuary for the docile, miniature-sized Key deer.
Crobard/Shutterstock
Martinique
Must-stay:Cap Est Lagoon Resort & Spa
Must-eat/drink: Accras de morue (salt cod fritters) and Champagne
Must-hit: Saint-Pierre for scuba diving and dormant volcanoes
Did you know there's an island in the Caribbean where they drink more Champagne than in any other French region? Added bonus: the island is largely undisturbed by American tourists, which means no chain hotels and a far more European feel. Yes, it's Martinique, and it probably rang a bell for you thanks to Mount Pelee, the semi-dormant volcano that last erupted in 1902 and was the topic of countless fourth-grade science reports. Head to the rebuilt city of Saint-Pierre to get an up-close look at the crater from Anse Turin beach before scooting into the capital city of Fort-de-France for Creole cuisine, iron and glass architecture, and some fort-hopping.
Kauai
Must-stay:The Villas at Poipu Kai
Must-eat/drink: Puka Dog; Smith's Luau and Mai Tais at the Nui (featured in TheDescendants)
Must-hit: JoJo's for Hawaiian ice
In some ways, the Garden Isle doesn't make your life easier. Restaurants are few and far between and hard to spot from the roads. The relative lack of people means you're sort of on your own once you leave the hotel. Many of the hikes are rugged if not downright dangerous. The helicopter rides are both thrilling and unnerving. The swells on the north shore become life-threatening in the winter months. And all this, of course, is why certain vacationers thrill to Kauai so quickly. You have to work to truly experience this island, which makes every discovery feel exceptional.
Sorin Colac/Shutterstock
Curaçao
Must-stay:Marriott Beach Resort & Emerald Casino
Must-eat/drink: Ayaka (meat tamale in a banana leaf) and blue Curacao liqueur
Must-hit: Curaçao Underwater Marine Park; Downtown Willemstad
You can save your pennies for a bender in Amsterdam, or you can fly direct to a Dutch-Caribbean island that grants you oodles of culture on top of white sand beaches and, well, Curacao waters. A criminally underexplored Caribbean island, Curacao will slowly shut down your stressed synapses with its yin-and-yang blend of art galleries, diving, alfresco fine dining, mountain biking, and 17th-century architecture in the capital city of Willemstad. Further proof of the island's eclecticism: special events range from a film festival to an international drag fest.
Martin Valigursky/Shutterstock
Tahiti, French Polynesia
Must-stay:The Brando
Must-eat/drink: Poisson cru and Tahiti Drink (yes, that's what it's called)
Must-hit: Paul Gauguin Museum
The clichéd Tahitian images really are born of truth: outriggers, thatched bungalows, white sand beaches, and emerald lagoons do indeed abound everywhere. Just remember that French Polynesia is actually made up of 118 atolls -- easily hopped between, but you'll want to choose your home base carefully. Bora Bora has its obvious charms, but Tahaa, Rangiroa, and Moorea, to name but three, give you a quieter feel and the same unparalleled natural beauty. Other options: Rurutu for humpback whales, Nuku HIva for horseback riding, and Tetiaroa, once owned by Marlon Brando and now home to the luxe Brando resort.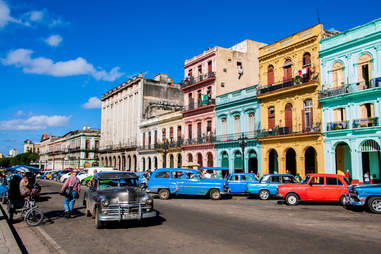 <a href="http://www.shutterstock.com/gallery-1520069p1.html?cr=00&amp;pl=edit-00">Hang Dinh</a> / <a href="http://www.shutterstock.com/editorial?cr=00&amp;pl=edit-00">Shutterstock.com</a>
Cuba
Must-stay:Hotel Nacionale
Must-eat/drink: Roasted peanuts or churros from street vendors and rum rum rum rum rum
Must-hit: Malecon sea walk; any baseball stadium
Because there's no time like the present. There are tons of ways to get to the singular island nation these days, but why not fly there like a boss: JetSuite now offers nonstop, private jet service to Havana. Once there, you should try to do it all: walk the Malecon, take in a baseball game, spend hours strolling the streets of old town Havana and Trinidad, hit the beaches of Varadero, visit one or more of the six UNESCO biosphere, and take in every museum you can, including the Museo Hemingway. Oh, and does it even bear mentioning that rum, cigars, and salsa Cubano are obligatorio at night? Before you go, though, read our crazy-comprehensive guide to visiting Cuba here.
Martin Valigursky/Shutterstock
Fiji
Must-stay:Likuliku Lagoon Resort
Must-eat/drink: Lovo and kava
Must-hit: Tovoro Waterfalls; firewalking on Beqa
It would be a hard sell to not sell you on Fiji, but here's our best shot: it's, um, a long flight to get there. OK, now that that's out of the way, here's why you're compelled to visit: aquamarine lagoons, hotel rooms overhanging the water, beach snorkeling, waterfall hiking, pearl shopping, and nighttime displays of firewalking. A trip to Fiji is also not complete without a sampling of kava, the local drink made from sun-dried kava root that is said to be a mild aphrodisiac (but no hangover!!!!).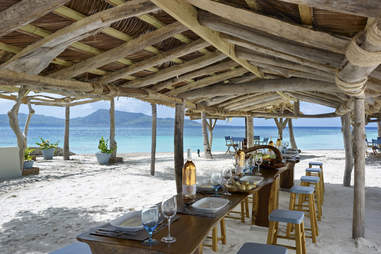 Courtesy of Petit St Vincent
Petit St. Vincent, Caribbean
Must-stay:Two-bedroom beach villa on the private island 
Must-eat/drink: Flame-grilled lobster and rum punch
Must-hit: Island picnic on Mopion
Need to power down your work-addled brain? A private island without Wi-Fi, television, or phones should do the trick. Petit St. VIncent -- site of this year's Sports Illustrated Swimsuit Edition shoot -- consists of 22 one- and two-bedroom cottages, a world-class dive center from Jean-Michel Cousteau, and a plethora of opportunities to do a whole lotta nothing. "But how do I order room service?" you might whine. Funny you should ask: PSV is all about the analog, specifically a "flagpole system" wherein you raise a yellow flag for butler service and a red flag to signal "do not disturb." Once you're ready to be disturbed again, you can head down to one of the beaches for barbecues, yoga, sailing, kayaking, and a little fishing. Replugging upon departure will be a bear.
<a href="http://www.shutterstock.com/gallery-825217p1.html?cr=00&amp;pl=edit-00">ATGImages</a> / <a href="http://www.shutterstock.com/editorial?cr=00&amp;pl=edit-00">Shutterstock.com</a>
Saint Lucia
Must-stay:Anse Chastanet
Must-eat/drink: Curried lambi (conch) and BBC (frozen Bailey's Banana Colada), Piton beer
Must-hit: Sulphur Springs mud baths
Saint Lucia, a sleepy, celebrity-populated enclave (think Oprah and Bieber, but not together), gives you a lot more than the standard sun, sand, and sea. The Piton mountains, a UNESCO World Heritage Site, invite hiking and mountain biking, the rainforest is best seen by tram, and the iconic Sulphur Springs mud baths offer up a cost-free spa service. When you're sick of the grand beauty of Marigot Bay, you can envelop yourself in the grand beauty of the botanical gardens. As for the Bieb, he's a fan of the private yacht; consider chartering one yourself to explore the windward islands.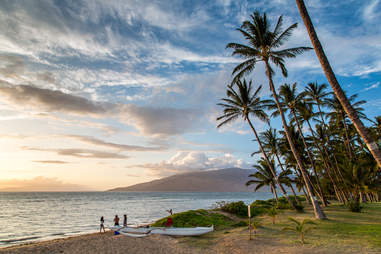 loneroc/Shutterstock
Maui
Must-stay:Montage Kapalua Bay
Must-eat/drink: Plate lunch and Blue Hawaii or Mai Tai (might as well, right?)
Must-hit: Ironwood Ranch for horseback riding
An island state so nice, we chose it twice. While Kauai wins points for rugged relaxation, Maui gives you the all-inclusive vacation experience. Beaches? We cast our vote for the orange-sanded Makena Beach. Snorkeling? A boat trip out to Molokini Crater might even net you a turtle (not literally). Surfing? Head to Maui Surf Clinics for an immersive experience. Shopping? Skip the outlets for more authentic artifacts at the Hana Cultural Center. Looking to sun in the altogether? Little Beach is a nudist's nirvana. But even if you spent a week doing nothing more than tooling around the island in a convertible, soaking in the sun and sights, you'd return to the mainland a blissed-out variant of your former self.
Sign up here for our daily Thrillist email, and get your fix of the best in food/drink/fun.
Meaghan Agnew is a Boston-based writer who pets strange dogs with impunity. Follow her on Twitter: @meaghandeth.