Having lived in places with mountains and places without mountains, I'd take the mountain town 10 out of 10 times. How could you not, right? With peaceful vibes and serene natural beauty, there's no town so crappy that it can't be enhanced by the presence of giant rocks in the background.
But this list isn't about crappy towns. Quite the contrary. It's about exceptional towns that just happen to be located on or around the hills. And while, sure, narrowing down an endless number of mountain towns in a country with myriad mountain ranges was no easy task, we took into account scenery, activities, mountain "feel," and the bar/restaurant scene to determine the nine spots that clearly tower above the rest.
Editor's Note: For the sake of fairness, we included no more than one town per state. Sorry, Colorado.
Recommended Video
Next Time You Fall in Love in the City of Light, This Guy's Got You Covered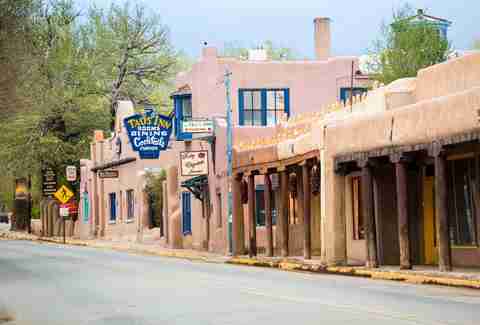 Taos, NM
What the Sangre de Cristo Mountains surrounding this New Mexico adventurer's paradise lack in size, they more than make up for in character. And whether fly fishing, mountain biking, horseback riding, hot-air ballooning, river rafting, hot springing, or llama (yes, llama) trekking, a stunning mountain view is almost always in sight. The town itself is an artists colony replete with the adobe-hut charisma of Santa Fe and more than 80 art galleries. Plan to people-watch while sipping margaritas at the happening Adobe Bar at Taos Inn or drink Tecate and play shuffleboard at the oldest house in town, Alley Cantina.
Homer, AK
Whether you call it "The Halibut-Fishing Capital of the World" or "The Cosmic Hamlet by the Sea," there is no denying the strong pull of this delightful little town on the southern terminus of the Kenai Peninsula's Sterling Highway. Take in views of the massive Kenai Mountains by boat or plane, or drive out onto the Homer Spit (the world's longest road into ocean waters) to eagle-watch and drink at the iconic Salty Dawg Saloon. A boat ride to Alaska's only state wildlife park, Kachemak Bay State Park, will have you mingling with whales and sea otters or, if you prefer to stick closer to home, explore the funky town's hippie vibes (at places like Ptarmigan Arts) and knock back a few with local fishermen at Homer Brewing Co.
Lake Placid, NY
As the site of the 1932 and 1980 Olympics, as well as the annual Lake Placid IRONMAN triathlon, you might think you need to hit the gym before being allowed entry to this peaceful Adirondack town best known for the "Miracle on Ice." And while you can use the town as a base for adrenaline-junkie activities like climbing the 46 High Peaks of the Adirondacks or bobsledding the Olympic Complex, no one's gonna give you trouble for filling up your growler at Lake Placid Pub & Brewery and walking the trail around Mirror Lake. There's also a gondola ride, scenic railway, and plenty of perches for lakeside drinking and dining like The Cottage at Mirror Lake Inn.
Telluride, CO
The beauty of Telluride stops you dead in your tracks. To stroll through this charming Old West town face to face with the massive, snow-capped San Juan peaks rising up from its box canyon location is to know the sheer awe-inspiring power of mountain living. And while there are few better ways to spend a day than exploring the soulful peaks, you don't want to be soulful alll the time -- and worthy distractions include the Last Dollar Saloon and New Sheridan Hotel rooftop. The town is also famous for hosting a ridiculous number of top-tier music festivals including the Telluride Bluegrass Fest, Telluride Blues & Brews, and The Ride. Don't worry about hiring a designated driver, the public transit here is by gondola.
Bend, OR
The sheer variety of natural wonders surrounding Bend is what sets this Central Oregon town apart. Not only are there gorgeous views of Mount Bachelor to be had from Todd Lake in Deschutes National Forest, but there are also volcanoes, waterfalls, buttes, caves... even rugged badlands ready to be explored. Plus, the Les Schwab Amphitheater is one of the finest outdoor venues in the West. Did we mention Bend is also home to Deschutes Brewery, Bend Brewfest, and the Bend Ale Trail? Because it totally is.
Truckee, CA
No self-respecting list-maker would omit Lake Tahoe from a compilation of top mountain towns. But instead of the crowded touristy lodges and casinos that steal a bit of South Lake Tahoe's soul, you can keep your chakras clean in the locals-friendly North Lake Tahoe town of Truckee. While it's one of the world's premier ski/snowboard destinations (didn't it seem like every member of the US team during the Sochi Olympics was from here?), what really makes Truckee a top mountain spot is the lively yet laid-back action in the historic Downtown -- a drink at Moody's, dinner at Morgan's Lobster Shack, or a bite at Jax Truckee Diner all offer a bird's-eye view into the fine art of clean mountain living.
Coeur d'Alene, ID
Yes, there's a helluva lot more to do in Idaho than just toss around the football with Napoleon Dynamite's Uncle Rico. Gosh. While some argue that CDA isn't close enough to the hills to be a true mountain town, we disagree. And the deep blue waters of Lake Coeur d'Alene combined with vibrant pine forests, colorful sunsets, lazy beaches, and a charming small-town vibe conspire to make this a perfect mountain/lake getaway. You can also hike the Northern Idaho Centennial Trail, grab a burger (no fries) at the iconic Hudson's Hamburgers, check out the Snake Pit Derby Dames roller girls, or golf one of the world's top courses with a floating green on the 14th hole.
Eureka Springs, AR
With historic Victorian architecture and winding streets, you'dd be hard-pressed to find a town as distinct as this little Ozark gem. The entire city is listed on the National Register of Historic Places, which means you can consider your burger and Bloody Marys at the Balcony Bar or your green-screen karaoke disaster at Eureka Live Underground a lesson in history. And when you're done "learning" and are ready to explore, there's zip-lining, cave tours, boat excursions on the lake, and postcard-perfect foliage in the fall. Just don't pass up a trip to the nearby Thorncrown Chapel, a jaw-droppingly beautiful glass chapel in the woods.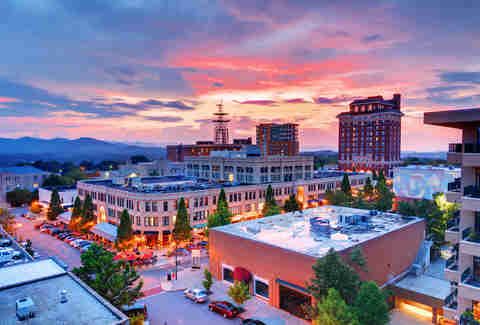 Asheville, NC
It's one of America's best drinking cities, best live-music cities, most underrated food cities, and a city all the cool kids are moving to with one of America's most hipster (and most historic) neighborhoods. As much as we wanted all this attention to be a disqualifier, that doesn't change the fact that Asheville rocks. Since you already know about all the great live music (at venues like the stunning mountain-wrapped Biltmore), the ridiculous 18 breweries within city limits, the trendy restaurants serving locally sourced cuisine from area farms, the cool festivals like Moogfest, and the offbeat weirdness of this freaky arts-centric town, let's focus your attention on this: the Blue Ridge Mountains. They're right there. As is the Blue Ridge Parkway, which is basically like hiking in your car.
Sign up here for our daily Thrillist email, and get your fix of the best in food/drink/fun.
Jay Gentile is a Thrillist contributor and he prefers hiking in his car whenever possible. Follow him: @innerviewmag.