The Coolest New Design in America
<a href="http://www.flickr.com/photos/photographingtravis/24124013866" target="_blank">Travis Wise/Flickr</a>
Spacious skies and amber fields of grain are fine and all, but America's looking pretty beautiful in the man-made sense. It has been a busy few years in the architecture and design world, so we've rounded up some awesome new additions, from where to dramatically improve your 9 to 5, and cribs you wish you could live in, to places to eat, drink, and hang.
Places to live (in your dreams):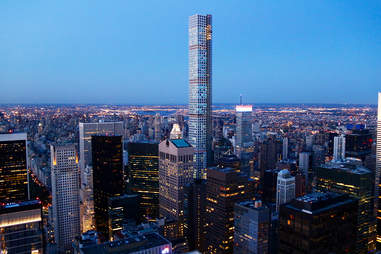 CIM Group
432 Park Avenue New York
Where: New York, NY
Architect: Rafael Viñoly & SLCE Architects, LLP
Why it's cool: It's the tallest residential building in the Western Hemisphere.
Are you a billionaire retail magnate? If you answered no to the last question, sorry, you'll have to settle for wandering the lobby on your lunch break. This 96-story residential tower houses 104 luxury condos, boasting 10-foot windows, heated bathroom floors, and private screening rooms and golf facilities on the premises. Even though Tim Gunn thinks it's merely a thin column in dire need of a hat, you have to give it props for drastically altering one of the most famous skylines in the world.
Bill Timmerman/Courtesy of <a href="http://willbruderarchitects.com/" target="_blank">Will Bruder Architects</a>
Blackbird House
Where: Aspen, CO
Architect: Will Bruder Architects
Why it's Cool: It's a super-luxe and modern, but still puts the "r" in rustic.
Among the historic cabins and Victorian houses that line the streets of this ski-resort town, Blackbird house is the brand new "Mr. Steal Yo Girl." It has that quiet cool, and for all its spaciousness and light, and sweeping mountain views, it's actually pretty easy to miss from the street. That's a compliment: its three levels, paneled with burnt cypress, fit right in with its wood-sided miner's cabin neighbors. It's also a trapezoid -- the shape of winners.
 
Places to get cultured:
Florian Holzherr/Courtesy of MOS Architects & MOA
Museum of Outdoor Arts Elements House
Where: Anton Chico, NM
Architect:  MOS Architects
Why It's Cool: It's designed to be perfectly self-sustainable and off-the-grid, independent of public utility services
This would be the perfect nest egg for the Doomsday prepper who has your heart, if it weren't actually a museum. It features energy-efficient, structurally insulated panels (SIPS) -- high-performance but low-cost walls that are quick to construct due to their foam core -- solar panels, a water recycling system, and LED lighting. The shape was inspired by the Fibonacci sequence (apologies if this trigged flashbacks to math class), which means that if you started with two modules for example, you could add more while still keeping the structure connected. How does a Doomsday colony sound?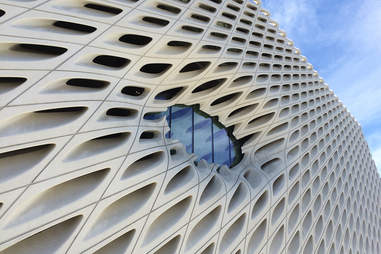 <a href="https://www.flickr.com/photos/kmacelwee/20162286169" target="_blank">Kent MacElwee/Flickr</a>
The Broad Museum
Where: Los Angeles, CA
Architect: Diller, Scofidio + Renfro,
Why it's cool: Its "veil and vault" design, which translates to "latticed exterior."
With its matte-white honeycomb exoskeleton, this building kind of looks like an artsy sugar cube. Its 318 skylights diffuse light into the galleries, in contrast to the completely enclosed, titanium Disney Concert Hall nearby. (One man's architectural dream is another's iteration of poorly-applied fake eyelashes. But hey, it's subjective.)  Instead of some musty basement, the storage vault is visible through an opaque glass veil, and allows guests to catch a glimpse of artwork not yet on display.

Places to play:
<a href="http://www.facebook.com/studiogangarchitects/photos/pb.83931349955.-2207520000.1453907417./10150345994179956" target="_blank">Studio Gang Architects/Facebook</a>
Boathouse at Clark Park
Where: Chicago, IL
Architect: Studio Gang Architects (SGA)
Why it's cool: Its crooked roofline alludes to the motion of rowing.
These guys are off a 2016 American Institute of Architects' Institute Honor Award win. Beyond mimicking a rowing motion, the roof's alternating M and V shapes allow light to infiltrate the upper windows, warming the floors in the winter, ventilating the building in the summer, and making it easy to peep at totally ripped rowers as they practice their form (or whatever it is they actually do in there, don't pretend to care). Though the river itself was notoriously polluted and neglected, the boathouse has helped revive the area, and contribute to some seriously sculpted triceps.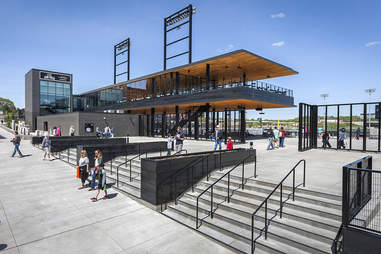 © Paul Crosby/Courtesy of Snow Kreilich Architects, Ryan A+E, AECOM
CHS Field
Where: St. Paul, MN
Architect: Snow Kreilich Architects, Inc, AECOM, Ryan Companies US, Inc
Why it's cool: It's a seriously environmentally friendly ballpark that's integrated with the community, both physically and in spirit.
CHS serves as the new home for the district of Lowertown's wacky minor-league baseball team the St. Paul Saints (partially owned by Bill Murray -- true story), in a design that the architect describes as "porous": It's open to the street wherever possible, with a 360 concourse that includes grassy fields on one side where fans can lay out on the grass. It's also got other baseball fields beat in terms of environmental friendliness, with 90% of the park made from the former Gillette building that sat on the property, as well as solar panels, a rainwater-collection system, and bike racks.
 
Places to work: 
Jasper Sanidad/Courtesy of Bestor Architecture
Beats By Dre Headquarters
Where: Culver City, CA
Architects: Bestor Architecture, Loescher + Meachem
Why it's cool: The space is open enough for an employee to have long sightlines, encouraging socialization between different departments.
You won't find that try-hard, foosball playing Silicon Valley vibe on this campus. Cavernous but with plenty of natural light and walls awash with striking primary colors, this space is bold yet sophisticated, like Steve Carell's nostrils. The open plan makes it easier for different departments to get together, with better visibility across the offices, comfortable upholstered seating areas that are perfect for traveling employees, and collaborative spaces (like a full corner designated as a communal whiteboard).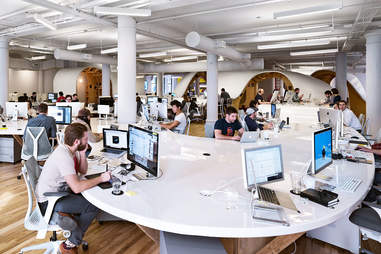 Courtesy of The Barbarian Group
The Barbarian Group Headquarters
Where: New York, NY
Architect: Clive Wilkinson Architects
Why It's Cool: SUPERDESK
Work in an open office and you hate that one guy at your desk?  If you work at the Barbarian group, you're going to have to be more specific. The main feature of this open room is the rippling, undulating 4400 square foot desk that swells and crests throughout the office, creating arched grottos that house built-in sofas and private tables, while seating about 125 people at workstations simultaneously. Yes, even that guy.
 
Places to eat & drink:
<a href="http://www.facebook.com/workshoppalmsprings/photos/a.200685516674140.50062.200685163340842/200685520007473/?type=3&amp;theater" target="_blank">Workshop Kitchen + Bar/Facebook</a>
Workshop Kitchen & Bar, Palm Springs
Where: Palm Springs, CA
Architect: SOMA architects
Why It's Cool: Cathedral ceilings meet raw concrete.
If winning a James Beard Award for Outstanding Restaurant Design means nothing to you, then maybe walking into a restaurant with 27-foot-high ceilings will move you. The renovation of the historic El Paseo building resulted in 17-foot-wide booths flanking a long communal table in the middle, with the Brutalist vibe offset by the warm lighting. It's intimidating and grand, yet handsome and personable -- just like Alan Rickman was.  
<a href="http://www.facebook.com/jaleolasvegas/photos/a.332255380143490.76494.166320933403603/332990296736665/?type=3&amp;theater" target="_blank">Jaleo Las Vegas/Facebook</a>
Jaleo Las Vegas
Where: Las Vegas, NV
Architect:  Rockwell Group, Rockwell Group Europe
Why It's Cool: The inside is made to look like a fancy lady's shawl
This James-Beard nominated, tapas-and-paella power is the real deal; the interior furnishings and art are all from real Spain. The design itself is dreamy and warm, evoking the feeling of looking out from behind a lace mantilla (that's a shawl worn by Spanish women). Jaleo also has a small, private room -- a restaurant within a restaurant -- seating eight people on a round table, surrounded by Spanish Surrealist artwork.