The Best of the Middle of Nowhere
<a href="http://www.flickr.com/photos/auvet/4851272838" rel="nofollow" target="_blank">Jimmy Emerson, DVM/Flickr</a>
The great American road trip has little to do with Point A or Point B, and everything to do with the interesting to downright bizarre things you find along the way. We've rounded up the coolest off-the-grid stops you can make, and what exactly you'll be tagging the hell out of, from a Prada store to an igloo city (oh yes). Stretch your legs and bend your mind here…
<a href="http://www.flickr.com/photos/thelostadventure/6930630030" rel="nofollow" target="_blank">thelostadventure/Flickr</a>
1. Wigwam Motels
San Bernardino, CA, Holbrook, AZ, and Cave City, KY
The Wigwam Motels chain, featuring teepee-shaped rooms, had seven locations -- Kentucky, Alabama, Florida, Arizona, Louisiana, and California – during Route 66's heyday. Today, the remaining three are listed on the National Register of Historic Places.
Insta factor: The Arizona location hews the closest to history, with original hand-made hickory furniture and vintage cars permanently parked around the property. Because a Wigwam Motel just isn't trippy enough.
Sue Stokes/Shutterstock
2. Prada Store
Valentine, TX
No, you can't actually buy any Prada clothing at the Prada Store, located on Highway 90. European artists Michael Elmgreen and Ingar Dragset constructed it in 2005 out of adobe bricks and plaster. The Texas Department of Transportation has since reclassified the building as a museum -- exempting it from the regulations that forced the removal of a nearby 40-foot-tall Playboy bunny.
Insta factor: Actual Prada bags and shoes, hand-picked by company scion Miuccia Prada, hang in the window. But grab that selfie before the brutal West Texas sun causes it to crumble back into the surrounding landscape.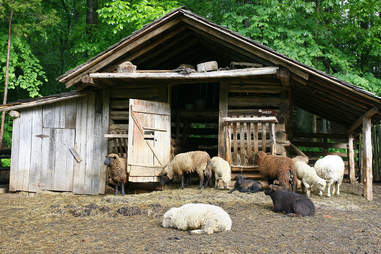 <a href="http://www.facebook.com/246873745073/photos/a.10150256503265074.540428.246873745073/10151563015665074/?type=3&amp;theater" rel="nofollow" target="_blank">Museum of Appalachia/Facebook</a>
3. Museum of Appalachia
Norris, TN
In the 1960s, John Rice Irwin began collecting everyday items near and dear to his East Tennessee heart. Once his holdings outgrew the garage (and then the driveway), he reassembled a pioneer cabin on his property, off I-75, which eventually turned into 35 historic structures across 63 iacres, plus a restaurant, a gift shop, and even an annual music festival.
Insta factor: Officially affiliated with the Smithsonian Institution for the last decade, the Museum of Appalachia's 250,000+ artifacts (complete with idiosyncratic, handwritten index cards to describe them) might just be the most awe-inspiring case of amateur preservation in the United States.
<a href="http://www.flickr.com/photos/matthewstinar/3139363559" rel="nofollow" target="_blank">Matthew Stinar/Flickr</a>
4. Paul Bunyan statues
Bangor, ME, Akeley, MN, and Klamath, CA
Numerous cities claim American folk hero Paul Bunyan -- he of the seven feet tall, blue ox-loving, forest-clearing lumberjack creation myth -- as their own, from Maine (where he supposedly caused such a ruckus as a baby that locals built him a crib anchored a few miles offshore) to Northern California. Which explains the preponderance of Paul Bunyan statues laying around, like the 31-foot tall, 3,700-pound, red flannel-clad, hurricane-rated one in Bangor, or the 49-foot wooden beam one with matching 35-foot statue of Babe the Blue Ox in Northern Cafornia.
Insta factor: Our favorite -- Akeley, Minnesota's 30 ½ foot version, which allows visitors to sit in his giant palm for photos.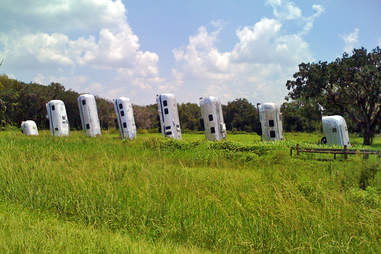 <a href="http://www.flickr.com/photos/foqus/2686667732" rel="nofollow" target="_blank">foqus/Flickr</a>
5. Airstream Ranch
Dover, FL
Frank Bates' Airstream Ranch -- seven and a half vintage Airstream trailers buried nose down 15 miles outside of Tampa —was a marketing ploy to celebrate the classic trailer company's 75th anniversary, in 2006, and borrows heavily from the Cadillac Ranch in Amarillo, TX. Thought a local judge ordered it dismantled, as it was immediately tagged with gang insignia, it was saved by a Circuit Court panel ruling, and cemented in American road trip lore.
Insta factor: You can pull off the side of I-4 to have a look any time -- or roll up to Bates RV Exchange and ask for a quick tour (be forewarned: you might be pressured into buying a new trailer).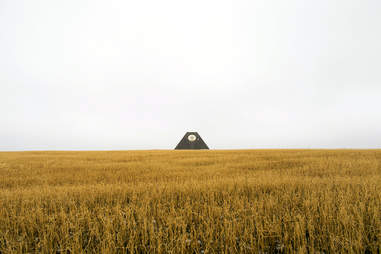 Alamy
6. Stanley R. Mickelson Safeguard Complex
Nekoma, ND
If you find yourself driving north on Interstate 29 toward the Canadian border, hang a left on Highway 66 for Nekoma, North Dakota, where an eerie Mayan-style pyramid is all that's left of the long-abandoned Stanley R. Mickelson Safeguard Complex. Built at the tail end of the Cold War to protect America's intercontinental ballistic missile capabilities, the complex cost $6 billion but was only operational for 24 hours before Congress pulled the plug on it. A religious group purchased it in 2012.
Insta factor: The pyramid still stands abandoned and unused, its four creepy eye-like structures standing watch for Soviet missiles.
<a href="http://www.flickr.com/photos/42928188@N02/9508048506" rel="nofollow" target="_blank">Jeremy Taylor/Flickr</a>
7. The Georgia Guidestones
Elbert County, GA
Sometimes called the American Stonehenge, this 19-foot-tall, 238,000-pound granite monument has some seriously sketchy origins (commissioned by an anonymous group, on land attributed to an unknown couple?) and houses ten guidelines for humanity written in eight modern languages, plus Babylonian, Classical Greek, Hindi, and Egyptian hieroglyphs.
Insta factor: Examples include "Maintain humanity under 500,000,000 in perpetual balance with nature," and "Avoid petty laws and useless officials." Pull off Georgia Highway 77 and brush up on that Babylonian.
Advertisement
There's only one way you're getting to any of these places -- driving. And if you're going to see the best of hidden America, you need one of the best and most iconic rides that has ever hit a highway: the Camaro.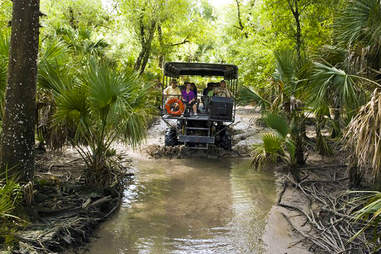 <a href="http://www.facebook.com/billieswamp/photos/a.414525452721.187765.67535867721/414526732721/?type=3&amp;theater" rel="nofollow" target="_blank">Kipp Photography/Billie Swamp Safari/Facebook</a>
8. Billie Swamp Safari and Ah-Tah-Thi-Ki Seminole Museum
Everglades, FL
Located deep in the Florida Everglades off Interstate 75, the Ah-Tah-Thi-Ki Seminole Museum houses full-scale dioramas, historical exhibits, and riveting photographs.
Insta factor: The Billie Swamp Safari will put you face to face with real Seminole life (and a few alligators) via an airboat and swamp buggy tour. You can even spend the night in a traditional chickee hut for the fully immersive experience.
<a href="http://www.flickr.com/photos/brettwhaley/9195232645" rel="nofollow" target="_blank">Brett Whaley/Flickr</a>
9. Enchanted Highway
Regent, ND
Sculptor and retired teacher Gary Greff started working on the Enchanted Highway, which features giant sculptures located every few clicks along a 30-mile stretch of Regency-Gladstone Road, in the 1980s. The slow trickle of tourism accelerated in 2001, when Greff created Geese in Flight, an artistic billboard towering over Interstate 94 to entice visitors south to Regent. That project claims to be the World's Largest Outdoor Sculpture. Greff continues to do nearly all the work and maintenance on Enchanted Highway himself, so take your litter with you --- that man is already overworked.
Insta factor: Teddy Roosevelt riding a bucking horse, a family of pheasants, a giant deer and grasshopper, and metal fish leaping 70 feet into the air.  So take your pick.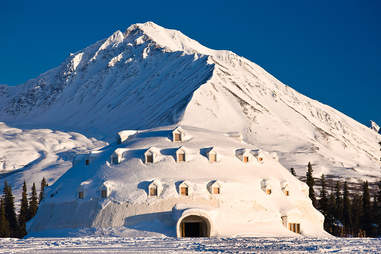 Alamy
10. Igloo City
Cantwell, AK
This four-story concrete hotel never actually opened for business  -- its undersized windows failed to meet building codes But since it's located right on the remote but well-traveled Alaska Highway, tourists sure do love to gawk at the forlorn structure, which Leon Smith began building in 1970. Today, Fisher's Fuel Inc. owns the property, which housed an operational gas station and outlying cabins until the economic recession in the late 2000s.
Insta factor: The Fisher family had drawn up plans to renovate and open Igloo City, but for now it still sits empty, so have at it. 
<a href="http://www.flickr.com/photos/napdsp/5530439940" rel="nofollow" target="_blank">nate2b/Flickr</a>
11. Salvation Mountain
Slab City, CA
Salvation Mountain was the work of outsider artist Leonard Knight, who began the project in 1980. Knight died in 2014, but not before the Folk Art Society of America designated the site as worthy of preservation and protection, and a public charity was created to carry it into perpetuity. Should you feel the need to repent for whatever you did at the last stop, this is your spot.
Insta factor: A massive sculpture made up of Navajo-inspired pueblitos and thousands of gallons of paint that spell out Christian sayings, Bible verses, and The Sinner's Prayer.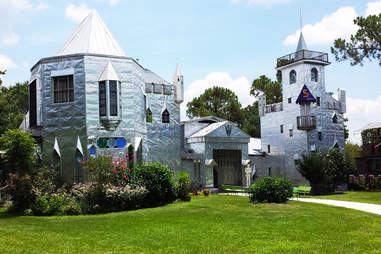 <a href="http://www.facebook.com/photo.php?fbid=10202642336840859&amp;set=o.331281489224&amp;type=3&amp;theater" rel="nofollow" target="_blank">Joseph Priser/Solomon's Castle/Facebook</a>
12. Solomon's Castle 
Ona, FL
Howard Solomon's 12,000-square-foot castle is covered with aluminum printing plates, which give it a pretty surreal quality in the sun –which is hardly in short supply here. Solomon started the castle in 1972, and today four generations of his family live there. Best of all, you can still take a hilariously cantankerous tour with Solomon himself.
Insta factor: High. Onsite are a gun that shoots toilet plungers, V-8 cans that power a car, and salvaged junk sculptures that hit on an infinite number of puns. Outside, a 60-foot replica of a Portuguese galleon houses a restaurant, which is actually pretty good.