The Best Overseas Military Base Towns, Ranked
If you ask any member of the military why he or she joined the service, apart from patriotism of course, the most popular answer is often "to see the world." It's a dream -- and, shockingly, the reality -- for some lucky service members. Now ask them exactly where in the world they wanted to get stationed, and you get far more answers.
And that's what we did. Just as we asked current and former military personnel from all branches of the service where they loved and hated being stationed in the United States, this time we wanted to know the best/most desired overseas assignments. And much like before, our criteria was based on factors ranging from activities, culture, and on-base amenities, to the food, friendliness of the locals, and travel opportunities, among other things.
What we heard across the board was that being away from family and in a foreign culture can be inherently challenging, but character building. It also provides an enviable Instagram feed for anyone spectating back home. So, where did the lucky ones get sent? Here are the top 10 US military base towns overseas.
10. Apra Harbor, Guam
Base(s): Naval Base Guam, Andersen Air Force Base
Best reason to be stationed there: The snorkeling and diving -- it's considered some of the best in the world. Traveling to Asia and Australia is also easy and affordable, and since Guam is a US territory, English is the primary language on the island.
Best base amenity: There are four (yep, FOUR) crystal-clear, warm-water beaches on base and they never get overcrowded.
Why you wouldn't want to live there: Guam is small island super far away from everything. It's literally in the middle of nowhere: 3,300 miles west of Hawaii and 1,500 miles east of the Philippines? So, yeah, island fever is a real thing.
Final word: Guam is a dream for outdoor enthusiasts. Not only are there plenty of water activities, there are also loads of hiking trails that vary in terrain and difficulty -- from climbing waterfalls to navigating thick jungle. One resident told us that base houses are older and smaller than something in the States, but it doesn't matter so much since all houses offer one thing: a front door that leads outside.
9. Crete, Greece
Base: Naval Support Activity Souda Bay
Best reason to be stationed there: The history. It's located on the Greek island of Crete and the site of Europe's earliest recorded civilization. History buffs will love exploring the frescoed chapels, ancient ruins, and the Heraklion Archaeological Museum. Also the food: Cretans eat fresh and local, and many of them make their own olive oil, cheese, and wine. Can you say dream neighbors?
Best base amenity: Because most sailors are stationed here solo (see below), the USO actively brings morale-boosting entertainment to the base. Brace yourself: Miss America 2016 just visited.
Why you wouldn't want to live there: Almost all assignments to Souda Bay are unaccompanied, which means family members aren't authorized to live there with the service member. Bummer deal for those that have accompanied to far worse base towns.
Final word: Some say that Crete is so culturally rich and distinctive it's almost a country all its own. Aside from the distinct spirit and customs of Cretan culture, one of its more exclusive sites is the beach of Elafonissi, which when viewed in the right light is covered in pink sand (said to be caused by crushed coral).
8. San Juan, Puerto Rico
Base: Fort Buchanan
Best reason to be stationed there: Exotic outdoor adventure. Hike through rainforest and under waterfalls in the El Yunque National Forest. Explore the third-largest cave system in the world in the Camuy caverns. Swim in clear aqua waters off some of the most beautiful beaches in the world. Or do it all in a single day.
As for food, PR will recalibrate your standard for "fresh seafood." Mofongo, the beloved fried plantain dish, is delicious and prevalent, and dare we even mention the island's two official beverages? Coffee and pina coladas.
Another hidden perk: Puerto Rico is on the same time zone as the East Coast and is a US territory -- which makes phone calls back home a lot easier to orchestrate. And if your family members are American citizens, they can visit you without a passport.
Best base amenity: The Outdoor Recreation office offers hiking and scuba-diving excursions as well as water-sport classes. For the family-friendly, the aquatic center with its water slides and "Octopus Ride" is a huge hit.
Why you wouldn't want to live there: The whole annual hurricane threat can be a little off-putting.
Final word: Need more thrill in your life? One of the longest zip lines in the world is located at Toro Verde Nature Adventure Park. Also, Old San Juan is pretty much the most beautiful historic neighborhood in the US.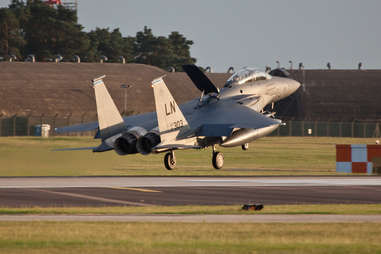 7. Suffolk, England, United Kingdom
Base(s): RAF Lakenheath, RAF Mildenhall (slated for closure)
Best reason to be stationed there: British nostalgia. Now that Downton Abbey is over, it may be time to jump across the pond and actualize your dream of living in the English countryside surrounded by castles, historic houses, and lilting accents.
Suffolk is charming in itself, but also serves as a great portal to the rest of the UK and Europe. London is only an hour away by train, and Scotland is an easy day trip for those that want to take a Scotch whisky tour and look for the Loch Ness Monster.
Best base amenity: There's really nice new housing on Lakenheath that gets rave reviews. But it does come with a big caveat: waterbeds are not allowed.
Why you wouldn't want to live there: Lakenheath is a small, quiet village. This means your best bet for restaurants, nightlife, and entertainment are in Cambridge -- about 45 minutes away -- and traffic is said to be "bloody awful." Also worth a mention: wintertime weather is pretty drab. Think rain and wind and only seven to eight hours of daylight.
Final word: Although the Brits may not be known for the indigenous diversity of their food, they're certainly known for frying it. You'll eat your fill of tasty fish & chips here and wash it down with many a pint of beer. Or cider. Or both. Cheers!
6. Seoul, South Korea
Base: US Army Garrison Yongsan
Best reason to be stationed there: Cosmopolitan living. No other US military base in the world provides a similar opportunity to live in the middle of a major international metropolis, likely in a towering high-rise. Seoul is something of a technological marvel, too. It offers fast, efficient, and inexpensive public transit and wireless access. And word is that many of the apartments have electronic locks, wired intercom systems, and heat that comes through the floor. LIKE IN THE FUTURE.
If it's nightlife that you seek, then you'll find plenty of it in the city of "Gangnam Style." Nightclubs are huge, multi-level behemoths heavy on light shows and electronic music. The popular Itaewon district is super close to base and offers loads of bars, restaurants, and shops. Or if quieter parks and museums are more your jam, Seoul is bursting with those, too.
Be forewarned, though, Yongsan is set for closure (date TBD). So the most compelling reason to get to Seoul now is the fact that you might not be able to get there later.
Best base amenity: We're told the commissary on base is crucial for stocking up on familiar American food from home, mostly frozen or non-perishable.
Why you wouldn't want to live there: If you're not a city person and consider the traffic, noise, and congestion of city living overwhelming, Seoul isn't for you. It can also be tricky to get accompanied orders (i.e., bring spouses/family along), so you might be here solo.
Final word: In Seoul, the local street food is where it's at. Spicy rice cakes, fish cakes, egg bread, goldfish bread, and fried rice skewers. Oh, and did we mention that you can get ice cream served in a hot waffle. Well, you can. And it's totally worth walking the streets for.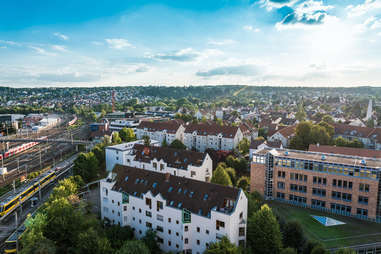 5. Stuttgart, Germany
Base: US Army Garrison Stuttgart
Best reason to be stationed there: It's hard to narrow Germany's many military bases down to just one, but Stuttgart has the benefit of being situated in a major city, and one where they manufacture Mercedes-Benz and Porsche to boot. So, that's kind of cool.
Stuttgart also offers big-city shopping, entertainment, and is home to the second-largest mineral source in Europe, which means swimming in hot springs. Even cooler. Also plentiful are weinstubes (wine taverns) where you can grab a beer or glass of wine with your pork schnitzel.
Best base amenity: The USO offers guided tours and trips to local attractions and neighboring countries, as well as on-base classes that range from wine education to cooking to pottery.
Why you wouldn't want to live there: The language barrier can be challenging and the German social culture can come off as cold and direct. However, the real hardship happens in the winter. From November to April there is very little sun and a lot of chill. Our insiders confessed that the winter months are the hardest. Unless your favorite color is gray or your favorite emoji is sadness.
Final word: Here's a surprise: Stuttgart is a city surrounded by vineyards, so in some ways it's known more for its wine than its beer. Still, there are dozens of beer gardens, brewpubs, and even a couple regional breweries to visit. Also a perk? Stuttgart's public transit system is reliable and will get you easily around town.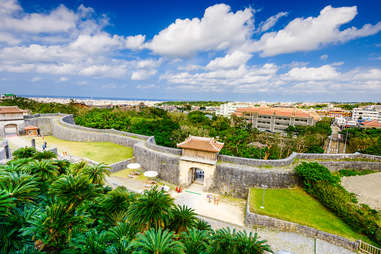 4. Okinawa, Japan
Base(s): Fort Buckner, Torii Station, Marine Corps Base Camp Smedley D. Butler, Marine Corps Air Station Futenma, Naval Forces Japan
Best reason to be stationed there: Technicolor everything. A small island off the southern coast of Japan, Okinawa is the place to see life in its most exotic color: fluorescent sea creatures are visible through transparent waters, trees are green and lush, and the spiders are brightly colored (and freaking huge).
The Okinawan culture is extremely polite, respectful, and considerate, which means public areas are extremely clean and well maintained. Okinawans also believe that touching blonde hair is a form of good luck, so blondies will benefit here as incidental celebrities.
Although culture shock is all but inevitable, the US military's heavy presence on the island means just about everything is translated into English. This makes ordering a bowl of delicious, not-from-a-pack ramen that much easier.
Best base amenity: With so many bases located on Okinawa, there is no shortage of amenities. The real highlight, though, is in beachfront property located on some of the island's primo real estate. Okuma Beach offers affordable cabins rentals, water sports, and snorkeling excursions.
Why you wouldn't want to live there: You will have to trade your large SUV for something much smaller. People in Okinawa drive teeny, overpacked cars, and you will too. Another downside? Produce on the island can be super limited and expensive, since a lot of it is shipped from the States. Think $12 cauliflower. So, if you have kids, they'll likely be overjoyed.
Final word: Residents told us the key to enjoying Okinawa is getting off "the rock" and making the best of travel and cultural opportunities both locally and abroad. In fact, that phrase -- "making the most of it" popped up over and over again in interviews with military personnel. In the words of one transplant, "After getting over myself... and the fact that I wouldn't be perusing the aisles of Target with a Starbucks in my hand, I looked up and realized I was in paradise." The key here? Make the most of where you are.
3. Sicily, Italy
Base: Naval Air Station Sigonella
Best reason to be stationed there: Variety. Sicily is bursting with strange and interesting things to see and do. It's home to one of the most active volcanoes in Europe that, oddly, you can hike into. Or if you're more a beach person, there are jet-black beaches on Aeolian Islands and pure white beaches on the southern rim of the mainland. History is a huge draw here as well, and ancient ruins (both Greek and Italian) can be found around the island. Oh, and let's not forget the food. Pancetta, pizza, pasta, and pistachio gelato -- the gang's all here.
Best base amenity: The base is co-located with an international airport, so flights in and out are easy to access. Also, the Department of Defense (DoD) schools are really good and their sports teams travel to compete against other DoD schools across Europe. So high schoolers can gain the passport of professional athletes, hopefully without the ego.
Why you wouldn't want to live there: Driving can be a little crazy. Unless you boast nerves of steel and the reflexes of a ninja, you might find the roundabouts and blind curves to be stressful -- especially when another car is hugging the curve and your rear bumper at the same time.
Final word: Don't even bring up the Mafia. Underground criminal organizations may still be quietly at play, but they're wrapped up in bigger schemes than petty street theft or hassling tourists. For the record, locals won't laugh at your mafia jokes. They became unfunny about 43 years ago -- a year or so after The Godfather came out.
2. Rota, Spain
Base: Naval Station Rota
Best reason to be stationed there: The beach. Rota is a coastal town on the southernmost tip of Spain, just below Portugal and above Gibraltar. The beaches are a huge draw for tourists and locals alike, known for calm and clean waters and the café-lined boardwalk. When you head to the beach, though, be prepared to see some extra skin. And not always the good kind. Think not-so-slim old men in very slim Speedos.
In terms of nightlife, Dardo mixes some of the best cocktails in town and O'Grady's Irish Bar is a popular bar that offers a taste of home in burgers and beer.
Depending on whom you ask, Rota is either a quiet, family-friendly beach town or a young sailor's nightlife dream during the touristy summer months. Our takeaway? Basically everyone likes it here.
Best base amenity: It's a toss-up between the drive-in movie theater and aquatic center.
Why you wouldn't want to live there: In the words of one sailor living in Rota, "the Spanish schedule takes some time to get used to." In the words of another sailor, "It will drive you nuts." Things move a little slower and start a little later in Spain, and business hours function more on vibes and feels rather than clockwork.
Final word: Within a few hours' drive are Gibraltar, Cadiz, Seville, Portugal, and Morocco, so accessibility to nearby sites is key. The coastal region of Andalucia, where the base is situated, is also known as "the Florida of Europe," but we're still unclear if that is intended as a compliment.
1. Aviano, Italy
Base: Aviano Air Base
Best reason to be stationed there: The wine. Just 40 minutes down the road is Prosecco Road, a 20-mile stretch of cliffside vineyards -- most of them still family-run and several of them considered to be the best in the country.
Aviano managed to edge out other Italian base towns for the #1 spot based on its prime location. Since it's so far north, residents can drive to several other countries (Austria, Croatia, Germany, France, and Slovenia) rather than relying on plane or train. The weather in Northern Italy is also much more temperate, especially in the summertime when Southern Italy gets ultra sweaty. And being situated at the foot of the Dolomite alps can't be so bad, right?
Best base amenity: For those intimidated to plan their own travel, the Information, Tickets and Tours (ITT) Group on base sets up excursions for people on base. For example, $150 will get you to Oktoberfest. Lederhosen not included.
Why you wouldn't want to live there: Aviano is an older base that does not offer on-base housing. Also, base amenities are pretty decentralized between different areas, so you could say the base lacks a measure of convenience.
Final word: In a place where wine is cheaper than water and food is grown fresh locally, the only danger to your self-esteem in living in Aviano is the threat of expanding that trim military waistline. Worth the risk, we'd say.
Sign up here for our daily Thrillist email, and get your fix of the best in food/drink/fun.
Bekah DiFelice is a writer, military spouse, and recovering addict to the word "literally." You can find her riding her Vespa around San Diego, on Facebook and Instagram at @bekahdifelice, or on her blog BekahDiFelice.com.