For many people, traveling in November means returning to the family nest for Thanksgiving. This sounds lovely in theory, but all too often involves sickeningly expensive plane tickets (unless you've read our guide on how to find cheap flights) and awkward political arguments with your semi-estranged uncle (we can't help with that one). But if you're not set on returning to your roots, or you've got vacation days left over, November can be a uniquely beautiful and peaceful time to travel -- you just have to know where to go. Whether it's the food, the leaves, the crisp air, the lack of tourists, or something else entirely, these travel destinations are at their very best.
Blue Ridge, Georgia
You might be under the impression that fall foliage in this country is somewhat done by the time November rolls around, but that's simply because New England has cornered the leaf market, PR-wise. Down south, foliage peaks later, more in the late-October-to-mid-November range. You can take it all in around the mountain town of Blue Ridge, either on scenic drives (do not miss the Russell-Brasstown Scenic Byway) or -- to enjoy the ride without worrying about staring out the window too long and crashing -- on the Blue Ridge Scenic Railway. If you head about an hour and a half east you'll hit Tallulah Gorge State Park, where you can see the thrilling biannual whitewater releases on the first three weekends of November. This is when the gorge is opened up to water flowing as fast as 700 cubic feet per second -- 15 or 20 times faster than normal -- and daring kayakers try to battle their way down the rapids as spectators (you) cheer from the rim.
Sydney, Australia
Each November, the streets of Sydney turn purple as the jacaranda trees hit full bloom. Take a walking tour of McDougall Street, where they're particularly magnificent, and set aside a morning for wandering around the jacaranda-laden University of Sydney campus. Peak season for both heat and tourists doesn't fully arrive until December, so you're in an optimal off-season window for travel. Plus if you're an art lover and can swing your trip for the first week of November, you'll be there to catch the largest free sculpture exhibition in the world.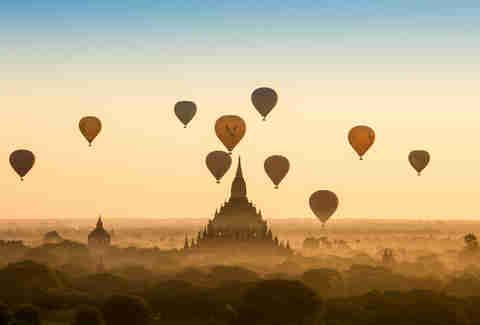 Myanmar
The week leading up to the November full moon means the return of Myanmar's famous Taunggyi Tazaungdaing hot air balloon festival in Bagan. The Buddhist festivities have grown to include fireworks, which last year led to one of the balloons crashing and the death of an unfortunate shop owner. But we're telling you this in the interest of disclosure, not to dissuade you from going -- the balloon festival continues to be one of the most memorable sights in Southeast Asia, and an isolated accident shouldn't scare you off. Bagan itself is home to the largest concentration of Buddhist temples and stupas on Earth.
Chiang Mai, Thailand
Meanwhile, in northern Thailand, there are two iconic festivals that fall on the actual full moon -- this year, November 23. Release lanterns into the sky for Yi Peng, and baskets bearing candles into the gentle river for Loy Krathong. If you've still not blown out all your sensory neurons, stay on after the festivals and explore what is, in my opinion, the very best part of Thailand. Hit the many, many street markets, eat at least as many bowls of khao soi, and rent a scooter for the mountain roads of neighboring Chiang Rai.
Great Smoky Mountains National Park, North Carolina and Tennessee
Fall foliage here is just transcendent, especially early in the month. On November 6, Smoky Mountain Winterfest officially kicks off across the region, and everything is draped in gazillions of lights. The following day, Gatlinburg, Tennessee, hosts its annual Winter Magic Kickoff (more light-lighting) as well as its Chili Cook-off. And from November 20 through the first couple of days in December, you can pick up unique, locally made handicrafts at the Great Smoky Mountains Thanksgiving Arts & Crafts Show.
Anguilla, Caribbean
November is primetime for lazing on this under-the-radar Caribbean island's 33 white-sand beaches, as the sticky summer makes way for dry days that hold steady around 80 degrees, and tropical flora comes into full bloom. Hurricane season is practically over (Anguilla hasn't been hit in November since 1999), but the tourist rush doesn't start for another month or so -- which means you can still get cheaper rates on hotels, and you won't face a fight over sun loungers. True, the island felt the full force of Hurricanes Irma and Maria last year, but most places are back open for business -- and you'll be doing them a solid by bringing your custom.
New York City, New York
New Yorkers heartily complain about the weather through three of the seasons, but that's because they are carefully hoarding complimentary sentiments to be released in a gush come fall. Folks, autumn here is good, and November has an absolute embarrassment of riches. There's the Macy's Thanksgiving Day Parade, sure, but don't limit yourself. New York Comedy Festival runs from the 5th through the 11th, the Dyker Heights Christmas Lights start right after Thanksgiving, and there are so many other art/music/craft/food/drink/holiday festivals that you couldn't possibly run out. When you're ready for a break, you can always escape the city and go apple picking.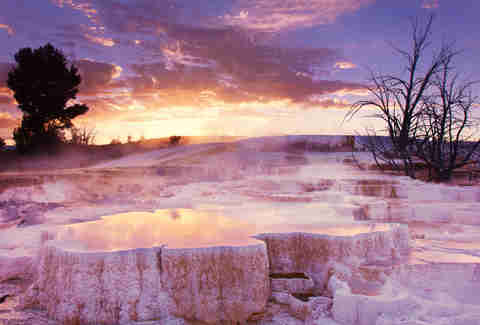 Yellowstone National Park, Wyoming (and Montana and Idaho)
Surprised? Understandable; this one isn't for everyone. But if you're of the outdoorsy persuasion -- the sort of person who enjoys long bike rides simply "for the peace and quiet" -- this is the November getaway for you. The park is largely empty of tourists, it's peak season for brown trout fishing, and for part of the month the roads are closed to cars but remain open to bikes and foot traffic (check for updates here). If you're not the hardcore backcountry camping type, you'll still find plenty of places to stay, eat, and drink -- and it's hard to do much better than watching the steam rise off the Mammoth Hot Springs in the crisp November air. You can check out Thrillist's complete guide to visiting Yellowstone here.