Can't-Lose Travel Ideas to Clear Your Head This November
Find your zen. You're gonna need it.
November 2020 is poised to be one of the most relaxing, stress-free months we've seen in a generation. But even in these decidedly easygoing days where civil conversation is the norm and imminent disaster isn't poised to strike like a cobra any second of the day, you might be looking to get out, explore, and take your mind off things. We're here to help.
With a mind on social distance and finding serenity, we've scoured the travelsphere to offer up ways to fully enjoy the waning days of fall. Whether you're looking to stretch out on the sand or hunker down in a log cabin, here you'll find a modicum of peace. Serenity now.
Move to the Caribbean for awhile
It's nice to be wanted, especially when the thing that wants you happens to be an Earthly paradise with white sand beaches. In an effort to goose tourism, countries like Aruba, Jamaica, Mexico, Bermuda, and the Dominican Republic are offering up extended tourist visas for remote workers and killer deals at hotels and resorts, pairing stiff rum drinks with WiFi hotspots. Will everybody else hate you when you take your morning Zoom call from Champagne Reef or Seven Mile Beach? Probably. Does it matter? Nah.  
Get cozy in Upstate New York
Even for folks who don't know Manhattan from Newark, there's a certain allure to Upstate New york. And right now—with leaf-peepers dwindling and a refreshing chill in the air—is the ideal time to hunker down for a weekend. Maybe that means a waterfront compound amid the stunning Finger Lakes, where wineries number in the hundreds, waterfalls are everywhere, and The Office jokes are never outdated. Or perhaps it's the Adirondacks, the rugged northern oasis of horse tracks, crystal lakes, and Olympic dreams. Upsate is overflowing with beautiful sights and welcoming small towns. Grab a cabin on Airbnb. And pack extra sweaters. 
Go cold weather camping under the stars
In the chillier late-autumn months, the clouds tend to thin out along with the crowds at some of our favorite outdoors spots. That combination makes November ripe for star-gazing road trips. The country's most vivid Dark Sky parks—many of which are in southwestern states like Utah and Arizona—are ideal places to pitch a tent in relative isolation and gaze upward. But fall is also a clutch time to visit many national parks—especially the more underrated ones, where crowds are extra minimal and the stars are at their very brightest. 
Slow your roll in an artsy small town
Now's the ideal time to explore some of the funkier, artier small towns out there. For a warm-weather blast of singularity, look no further than Marfa, the wholly unique cornerstone of a West Texas road trip. Over in southern California, Los Alamos is an old-west wine town with its own special brand of quirks, while Joshua Tree—the town andthe park—remains a magnet for eccentrics and enlightenment. Prefer your creative spark with snow and rusticity? Rowdy Livingston, Montana's snowfall gives it an extra ethereal quality in the winter. Looking for a public art crawl? Hamilton, New Jersey's basically one big art gallery. Get out and find your inspiration.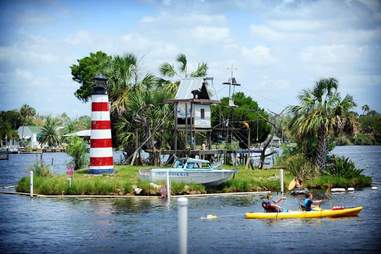 Monkey Island

| DISCOVER CRYSTAL RIVER FLORIDA
Get weird in Florida
Florida is a state whose motto might as well be YOLO, and as such, it's a place that fully embraces its weird side. And exploring the state from panhandle to Keys offers up ample surprises. This is a state where roadside attractions include everything from gator farms to cursed dolls, and where you'll find a national park that's almost completely underwater. You'll even find places of unexpected beauty, whether that's the (probably haunted) 500ish-year-old Spanish settlement of St. Augustine or the (definitely haunted) eccentricity of the Keys. Time for road trip season to extend beyond the summer. 
Hit a mountain town before the ski bums do
If the idea of kicking it in a snug, scenic mountain cabin powered by a wood-fired stove with a strong likelihood of bearskin rugs is appealing to you, well, look fast. Because before you can say "apres ski," sky-high mountain towns (and mountain lake towns) are going to be overflowing with ski bums. Now's the time to experience places like ultra-serene Tahoe, the myriad stratospheric destinations of Colorado, or Washington's surrealistically Bavarian Leavenworth before these quiet mountain retreats get rowdy.
Explore the quieter side of Hawaii
As of October 15, Hawaii re-opened to tourists without quarantine restrictions (provided you meet a ton of pre-testing criteria). But don't start planning a luau binge just yet: Respect the space of residents and consider exploring the archipelago's less-traveled locales. Maybe consider a Big Island road trip, where you can take in some of the greatest hits—including secluded beaches and Hawai'i Volcanoes National Park—at a relative distance. Plan your itinerary around the more underrated beaches, less-traveled hikes, and secret places. Or maybe just wait it out and kick it on a virtual beach until you can kick it without endangering anyone else. The beach will still be there when things level out, after all. 
 
Sign up here for our daily Thrillist email and subscribe here for our YouTube channel to get your fix of the best in food/drink/fun.