The 11 Best Pool Parties in the US
From boozy lazy rivers to star studded night-swimming to floating fiestas -- we've rounded up the aqua parties you'd be a clown(fish) to miss. So get down with this list, slap on a sexy Speedo, and get ready to turn up your summer for real.
Courtesy of MGM Hotels and Resorts
1. Wet Republic
Where: MGM Grand Las Vegas
When: Varies by event
Why you should go: The recipe for a good pool party is pretty simple. Throw a few bronzed youths into the water, add some beats, and cook over a heavy bass. But the recipe for an exceptional pool party has been perfected by Wet Republic at the MGM Grand, thanks to their special ingredient -- a killer lineup. With acts like Calvin Harris, Steve Aoki, and Krewella performing in front of a 1200 sqft LED wall manned by dedicated visual performers, you can't go wrong.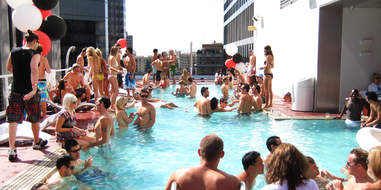 <a href="https://www.flickr.com/photos/thedelicious/3895173659/" rel="nofollow" target="_blank">TheDeliciousLife/Flickr</a>
2. Afternoon Delight
Where: The Rooftop at the Standard, Downtown LA
When: Once a month on summer Sundays
Why you should go: Free popsicles. Wait, there's more. In addition to the frozen treats that not only help cool off patrons but also provide the perfect prop for a #summertimeselfie, the Standard's Afternoon Delight churns out the trendy seen-and-be-seen party vibe on Sunday afternoons each month. Acts like Cassian and Bones will provide the entertainment for next month's rager, which will also be a celebration of the 10-year-anniversary of this quintessential LA pool party.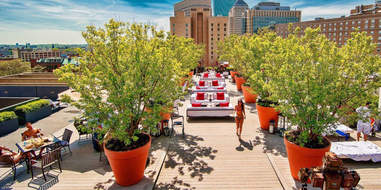 Revere Hotel Boston Common/Facebook
3. Sun & Set Party
Where: The Revere Hotel rooftop in Boston
When: Every Sunday from 11am to midnight
Why you should go: Let's get one thing straight. Sun & Set at the Revere is no knockoff Vegas pool party. Yeah, you can get bottle service and rent out a cabana with your friends and enjoy the music and make a time of it, but it's definitely more chill, and that just may be what some are looking for in a pool party. There's only so much ungst ungst ungst a man can take, after all. This thing starts at 11 and goes on until midnight, and ladies are free before 1pm. And yes, the pool is supposed to be warm. Don't worry about it.
Courtesy of Viceroy Miami
4. FIFTY
Where: The Viceroy Hotel in Miami
When: Varies, but usually every other weekend
Why you should go: Nestled on the, you guessed it, fiftieth floor of the Viceroy Hotel, FIFTY's pool party is all about the view. Yeah, the 360 degree vistas of the Miami skyline and Biscayne Bay from all the way up there are great, but the bikini contests don't hurt either. While FIFTY's got all the original components of a hot pool party -- good music, chill vibes -- it's got the added bonus of the club's manager, a paramedic firefighter by day, frequently hosting events that directly benefit local community charities. When the firefighters featured in the South Florida Firefighters Calendar show up and shame your ab game while they flex by the pool, just remember that it's for charity.
Brenton Ho/ Courtesy of Marquee DayClub
5. Marquee Day Club
Where: The Cosmopolitan Hotel
When: Friday to Sunday
Why you should go: Crowds don't matter as much when you're shoulder to shoulder with the beautiful people. Not impressed with Vegas' definition of beauty? Marquee's giant $150 fish-bowl drinks -- split amongst your friends of course -- should help change your perspective. While Marquee's Day Club is a powerhouse of a party, an unapologetic romp in a pool with a DJ holding the reins (and dropping the bass) while you dance away in the desert, the real draw of the place is the private cabanas. Splurge on one of these and you'll get placed in front of your own private infinity pool hot tub.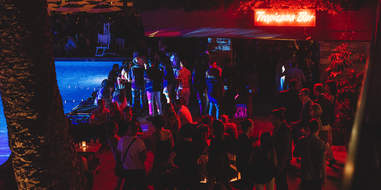 Adam Battaglia/Courtesy of The Roosevelt
6. Nightswim
Where: Tropicana Bar at the Roosevelt Hotel
When: Tuesday nights until mid-October
Why you should go: Sweaty dayclubs in the desert are great, but night swimming and night getting-slapped-with-pool-noodles is even better. The ultra-trendy hang out spot for LA creative types boasts plenty of celebrity entertainment like Questlove and Thom Yorke and people you didn't even know DJed (looking at you Elijah Wood). There are two bars, pool toys like giant pretzels or a 7ft dragon because yes, people actually swim between posturing for the camera in their cool-kid attire.
Rukes.com/<a href="https://www.facebook.com/encorebeachclub?fref=ts" rel="nofollow" target="_blank">Encore Beach Club/Facebook</a>
7. Encore Beach Club
Where: Encore at Wynn Las Vegas
When: Thursday through Sunday, March through October
Why you should go: This is the party that convinced every other high school Facebook friend to become a club promoter -- i.e., this party changes lives. Venture into the three-tiered pools connected by walkways to get to one of the bars on either side, or reserve one of the floating lily pads and watch the action from the center of the storm. (The action usually involves the raised center platform with three poles many mistake as an invitation to put that Groupon pole dancing class to use.) The Encore is a big enough deal to have DJs like the Grammy-nominated Kaskade in residence for an entire year. We don't know who Kaskade is, but we do know a year is a long time.
Courtesy of The Americano
8. The After School Special at La Piscine
Where: The Hotel Americano
When: Monthly
Why you should go: A hideaway from the bustle of the city, La Piscine is a bar and grill with adjacent pool nestled in a boutique hotel in the heart of Manhattan's West Side. La Piscine hosts a pool party every month during the summer known as the After School Special, fronted by William Yan, Kevin Ornelas, and Sarvie, with DJs like Blu Jemz, and light Mediterranean fare like grilled octopus. The impressive views of the city can't be beat, especially from one of its very few rooftop pools.
Courtesy of Harrah's Resort
9. Dive Day Club
Where: Harrah's, San Diego
When: Sundays during summer, 12pm to 7pm
Why you should go: Harrah's in San Diego is already winning with its lazy river and set of three pools -- but its Dive Day Club extravaganza sets it over the the edge. The main pool hosts EDM acts that have revelers fist pumping all the way up to the thatched-roof swim-up bar. Find someone you like at the party and share an inner tube down the lazy river, drink in hand and the bass line in your heart.
<a href="https://www.facebook.com/HydeBeachCondoHotel?fref=ts" rel="nofollow" target="_blank">Hyde Beach Miami/Facebook</a>
10. Swim Club at Hyde Beach
Where: SLS Miami Hotel
When: Saturday and Sundays
Why you should go: It's a Las Vegas-inspired Day Club, which includes all the good-natured fun that bikini-clad bottle-service women dispensing with the decorum of glasses while straddling the shoulders of burly employees can bring. Plus, the oceanfront location of the hotel means you can sink your toes in some sand the second you start to feel some existential angst. The electro-house sounds of DJs like YSL keep the party vibes going, while light fare and cocktails keep you going to dance the afternoon away; just wait 30 minutess before you swim (safety first, you guys).
<a href="https://www.facebook.com/hardrockhotellv?fref=ts" rel="nofollow" target="_blank">Rehab Las Vegas/Facebook</a>
11. Rehab
Where: Hard Rock Hotel & Casino in Las Vegas
When: Saturdays and Sundays from 10am to 7pm
Why you should go: Addicted to the boring monotony of everyday life? Better get to Rehab and put your life in perspective as you splash around to the beats of the resident DJs with 3,000 other people. Aside from the cred of being one of the original Vegas pool parties, Rehab includes swim-up blackjack, drink service, and the option of taking a break from the insanity in the Nirvana pool of the Hard Rock Hotel.