If you've ever visited an Asian city, then there's a good chance you drank at a rooftop bar. Not only are Asia's metropolises built overwhelmingly vertical (so there are a lot of buildings on which to put bars), but it doesn't take long to realize that getting high (not like that) is one of the easiest ways to escape the crowds, traffic, and oppressive heat. With that in mind, we rounded up some of the best rooftop bars the continent has to offer.
 
Baba Nest
Phuket, Thailand
Located at the exclusive, upscale Sri Panwa resort, Baba Nest is a slice of a tropical paradise. The rooftop bar is on a platform nestled inside of an infinity pool and offers a 360-degree panorama of the turquoise Andaman Sea. Order Champagne, a Thai massage, and never leave, OK?
OZONE
Hong Kong, China
If you were at OZONE and that dude from Creed happened to (weirdly) also be there and asked you, "Can you take me higher?" you'd have to tell him no, because this is literally the highest bar IN THE WORLD. Perched on the 118th floor of the Ritz-Carlton, OZONE feels intergalactic, with its neon motif and a vista of the city that's clear and smog-free.
CÉ LA VI
Singapore
Formerly known as Ku De Ta, this restaurant, club, and lounge atop Marina Bay Sands is not to be missed on a visit to Singapore. Not only will you get a sweeping 360-degree view, but it's also on the same floor as SkyPark, the world's largest rooftop infinity pool. And you're definitely gonna want to take a dip. 
New York Bar
Tokyo, Japan
If you've seen Lost in Translation, then prepare to be like, "Hey, I totally recognize this place from that Bill Murray movie." Because what you see in the film is exactly what you get in real life -- dramatic floor-to-ceiling windows, live jazz, and an amazing (but sadly, Murray-less) Tokyo nightscape.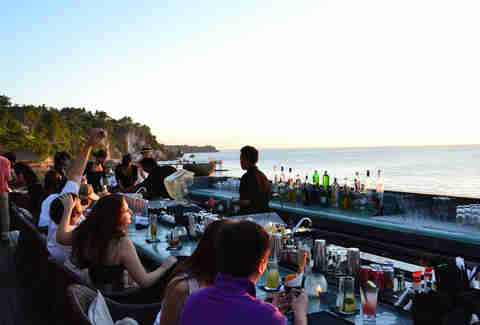 Rock Bar
Bali, Indonesia
Set atop a limestone cliff, Rock Bar is where you want to be at twilight. It's a relaxed but upscale atmosphere, with fancy cocktails, ambient lighting, and DJs playing house music against the sounds of the ocean waves.
Fatty Bao
Bangalore, India 
This trendy gastrobar and rooftop eatery is a standout in Bangalore's growing bar scene. It peddles a wide range of pan-Asian plates (from pork-stuffed bao to sushi to ramen) with a cocktail list that doesn't skimp on the hard stuff.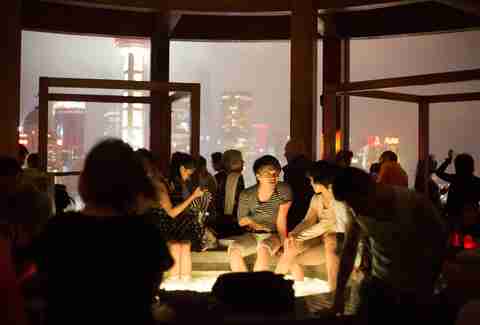 VUE
Shanghai, China 
VUE boasts contrasting views of The Bund's classic waterfront and Pudong, a surreal business district full of bright, shiny skyscrapers. Here you'll find Shanghai high society lounging about and hanging in the Jacuzzi from morning 'til night.
Above Eleven
Bangkok, Thailand
This Bangkok bar has a sleek, understated charm, thanks to art that abstractly mimics New York's Central Park. The eclectic menu is Peruvian-Japanese and the cocktails, from pisco sours to micheladas, are perfect for helping anyone with acrophobia loosen up and enjoy the sights.
Dramz Whiskey Bar
New Delhi, India
Built atop a heritage-style English cottage in Delhi, this charming watering hole is done up with wicker furniture and lots of comfy pillows. Also, a collection of over 200 premium-label single malts. And cigars.
Sky Bar
Bangkok, Thailand
Sky Bar's claim to fame is having been featured in The Hangover Part II. It's the al fresco terrace with a jaw-dropping view of Bangkok where the guys first meet Paul Giamatti's character. It's touristy and drinks are expensive, but that just comes with the territory -- after all, you can even order a Hangovertini.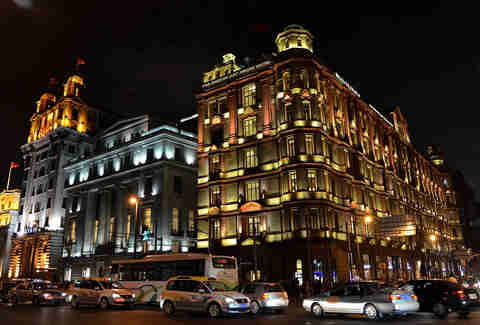 Swatch Art Peace Hotel Terrace
Shanghai, China 
This swanky (yet oddly laid-back) terrace was actually the city's first rooftop bar, having opened back in 1908. Despite renovations, it's still got a lot of Old World charm including Art Deco architecture and views of The Bund's historic waterfront. Plus, it still does all the classics like G&Ts and Manhattans.
Bridge Bar
Kuala Lumpur, Malaysia
As you may have guessed, this rooftop nightclub gets its name from being suspended between two soaring towers. It boasts an ultra-modern interior, funky cocktails, and a glass floor that's especially challenging when balancing on heels.
 
Sign up here for our daily Thrillist email, and get your fix of the best in food/drink/fun.
Barbara Woolsey is a Berlin-based writer who lived in Bangkok for a few years and is still detoxing. Follow her adventures around the world on Facebook and Twitter.