The West Coast of the United States has around 7,863 miles of coastline. Throw in Alaska and you're looking at... um, a lot more than that, presumably. And you know what that means? Besides the fact that we're bad at math. It means beaches, and more importantly, some incredible beach towns. But worry not: you don't have to drive that whole way looking for the best ones (although, admittedly, that might make for a fun summer), because we've found the 11 you absolutely need to hit.
Encinitas, CA
Why it's so great: One of the few old-school Southern California surf spots that hasn't been absorbed by the sprawl of Los Angeles to the north and San Diego to the south -- or worse, turned into one giant gated community like Orange County's coastline -- Encinitas is still a kind of Holy Grail for hardcore surfers thanks to its Swami's Beach break (made famous by the Beach Boys). But you don't have to hit the waves to enjoy this laid-back, and relatively affordable, enclave: its century-old Downtown boasts charmingly retro attractions like the La Paloma Theatre and a slew of solid bars/restaurants serving everything from tacos and pizza, to exactly the kind of seafood you expect to eat on the ocean. Oh, and there are even two historical boat houses -- as in, houses built in the shape of boats -- flying pirate flags that you can (and should) check out.
Must-have food/drink: The best date spot in Encinitas, Solterra Winery & Kitchen, is an urban vino-ry pouring Rhone- and Italian-style varietals made with local grapes from Southern California and Baja Mexico; or if wine isn't your thing, try Bier Garden, which unlike your usual German-style beer hall, serves a creative array of cocktails alongside a strong selection of mostly San Diego beer.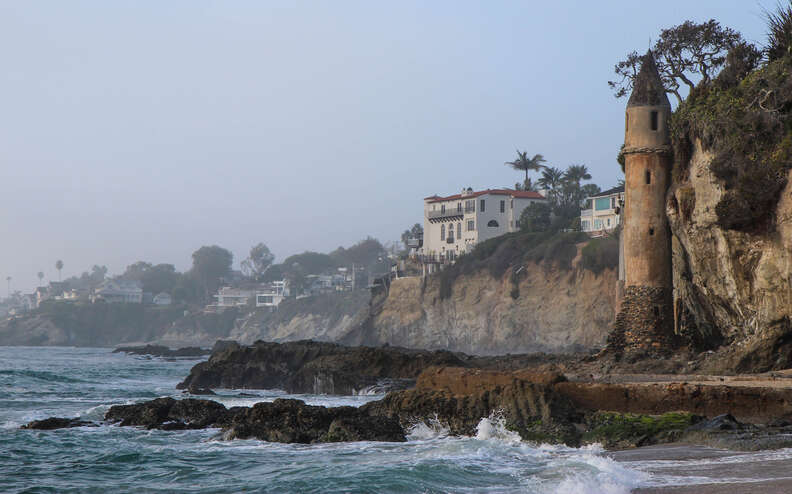 Laguna Beach, CA
Why it's so great: Sure, this one-time artists' colony has turned into an uber-rich enclave and is responsible for the whole Lauren Conrad-vs.-Kristin Cavallari debate (recently rekindled, apparently, thanks to their new books), but it's still Southern California's most picturesque beach town and home to some seriously good restaurants and bars and art galleries and lounges and high-end stores most people can't really buy stuff at anyway.
Must-have food/drink:Opened just last year, Driftwood Kitchen is a mostly roofless fine-dining spot at the Pacific Edge Hotel that combines stunning beach/ocean views (and some fairly stunning food) with a refreshingly casual vibe. If it's packed, opt for its sister establishment, The Deck, one floor below, where you get live music... and the same amazing view!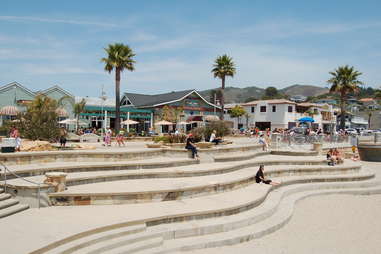 Avila Beach, CA
Why it's so great: Boasting an almost entirely new waterfront -- the old one, including the business district, was bulldozed in the '90s to scour away decades of gas/oil leaks from Union Oil's underground pipes -- full of new hotels and shopping/dining spots, Avila is a can't-miss beach town... and that's before you even consider the humpback whales known to feed alongside dolphins, sea otters, and other sea life in the curving, protected bay. Or the fact that the coast between here and Pismo Beach is home to some of the world's best sea caves.
Must-have food/drink: You can always hit boisterous beachside mainstay Mr. Rick's for a few margaritas (and stay for the bikini contest, live music, or whatever else is going on), but the smart move might be heading to the brand-new Mersea's, a casual seafood joint on the pier that'll make you feel like you're in an episode of The O.C.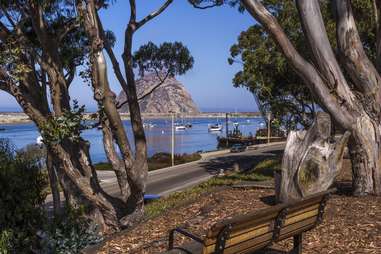 Morro Bay, CA
Why it's so great: Not far from Avila Beach and just north of San Luis Obispo, Morro Bay is best known for its namesake Morro Rock -- a 578ft volcanic peak rising from the water just offshore -- and possibly for its overly touristy waterfront embarcadero. It's also got a collection of interesting shops along Main St, five-star resorts overlooking the ocean, and a natural history museum. Oh, and if that's not enough, wine country and the Hearst Castle are less than an hour away.
Must-have food/drink: Yes, there are some decent waterfront restaurants here, but our pick is Brickhouse BBQ (a few blocks inland on Main). This family-run operation has been turning out badass ribs -- dry rubbed and slow cooked over hickory -- for almost 20 years.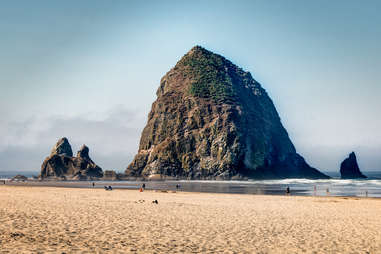 Cannon Beach, OR
Why it's so great: If you haven't been to Cannon Beach, you've seen it: in Goonies, and in the final scene of Point Break where Johnny Utah says, "Vaya con Dios" to Bodhi. And if you have been there, you've seen in become an increasingly popular alternative to more crowded destinations like Seaside, thanks to its small-town charm and assemblage of art galleries, seafood spots, and even a distillery. And, of course, to the town's most famous attraction, Haystack Rock, which thrusts up from the waves just offshore.
Must have food/drink: If you're feeling a little fancy, there's French/Italian fare inside the little yellow house that's home to Newmans at 988. But we prefer more casual options like Cannon Beach Hardware, where in addition to two floors of actual hardware, its got solid bar food and an excellent beer collection, or the venerable Castaway's Restaurant & Tiki Bar because... duh, you heard us say Tiki bar, right?!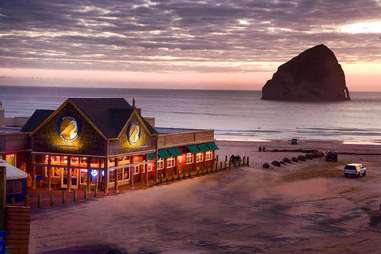 Pacific City, OR
Why it's so great: The building in the above photo? It's the second-best brewery in Oregon (according to science!), and it is literally on the beach -- helping make this tiny town of 1k people a must-visit pretty much all on its own.
Must-have food/drink: Obviously, you're going to hit Pelican Brewing, but don't worry: even without what are probably the best sunset views of any brewery in the world, it'd still be worth a visit for suds like the Kiwanda cream ale and Tsunami stout, and a menu of way-better-than-average pub fare including "famous" fish & chips, a 14-hour slow-smoked tri tip, and a variety of flatbreads. Oh, and if it's too crowded, there's always BJ's Burgers and Tacos next door.
Newport, OR
Why it's so great: Perhaps the most well-known Oregon seaside town after... um, Seaside, Newport can get crowded. But if you can handle the people, there's tons to do: relax in an oceanfront resort (or an author-themed hotel complete w/ a Harry Potter room), wander through the countless bookstores, tour one of two lighthouses, eat crabs fresh from the boat, or hit South Beach for the aquarium, "Buccaneer Bay" pirate village, the science center, and more.
Must-have food/drink: Yes, there are plenty of excellent seafood shacks, and some other charming restaurants in town, but you're going to the headquarters of one of Oregon's most popular suds-makers, Rogue Ales. There you can tour their harbor-side facility and post up at the brewery's bar for some beers, some of which can't be found anywhere else.
Florence, OR
Why it's so great: Two words: the dunes. OK, so technically this charmingly retro town isn't on the beach, it's nestled in a bend near the mouth of the river that marks the northern end of the Oregon Dunes National Recreation Area, 40 miles of windswept sand towering as high as 500ft and perfect for off-roading, camping, or just rolling down. And when you're done, the town itself boasts a busy riverfront row of shops, bars, and restaurants that shouldn't be missed either.
Must-have food/drink: The fish tacos at Homegrown Public House. Period.
Westport, WA
Why it's so great: Just across the bay (but thankfully over an hour's drive away) from Washington's most popular seaside destination, Ocean Shores, this surfing mecca (not joking!) attracts a more relaxed, slightly less family-friendly crowd than the town across the water; because who wants to take the kids surfing, or digging for razor clams, or to visit the maritime museum or the town's historic lighthouse? Sarcasm aside, Westport's got it all -- plus you can still head by Kurt Cobain's childhood home in nearby Aberdeen on your drive home.
Must-have food/drink: We like any place that calls itself a shack, especially if it's clad in rusted corrugated metal and sits by the water. Which is why we like Bennett's Fish Shack, where you're getting... um, fish, of course. And probably some chips to go with it.
Sequim, WA
Why it's so great: It's the sunniest town in Washington. Seriously! Thanks to its location in the rain shadow of the Olympic Mountains, Sequim (OK, let's get this out of the way: it's pronounced "Skwim") gets about as much precipitation as Los Angeles, making it about as good a spot for sand as you'll find this far north. That said, the best beaches are a little outside town, but since they include the longest sand spit in the United States (at the Dungeness National Wildlife Refuge) and public oyster and clam beds (at Sequim Bay State Park), they're totally worth the drive.
Must-have food/drink: Posted up on what remains of a pioneer farm from the 1880s, Nourish is literally a garden-to-table restaurant that turns stuff you can see growing while you walk to your table into badass burgers (w/ local artisan cheese, caramelized onions, mustard greens & house garlic sauce) and pork goulash w/ fermented kraut in a creamy paprika sauce & house spaetzle.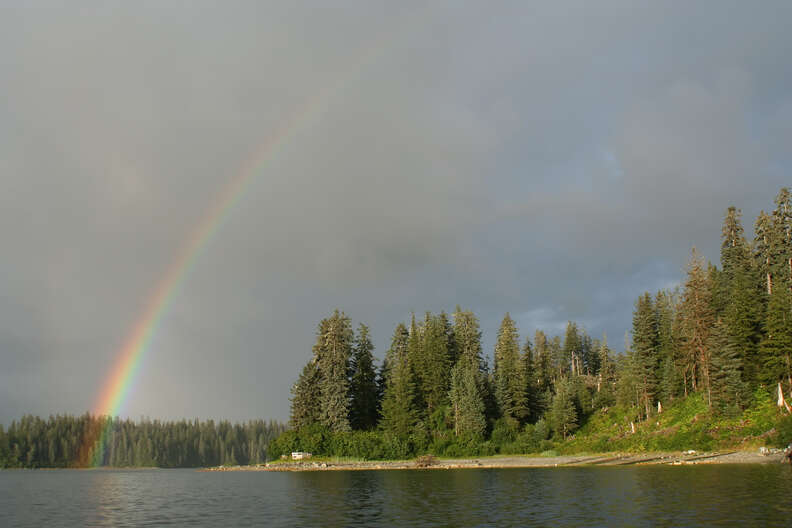 Yakutat, AK
Why it's so great: Alaska's got a ton of beaches (think about it, it's a HUGE state) but the ones in Yakutat offer the kind of thing you usually only find in Hawaii: big-wave surfing. Locals call this town of less than 1,000 the "Far North Shore" thanks to consistent swells that can balloon up to 20ft, and they welcome more people each year drawn by the thrill and the icily beautiful surroundings. Not into surfing? The township also boasts world-class fly fishing, the world's largest ice fields outside the polar caps, and a ton of other outdoor recreation activities.
Must-have food/drink: Um... maybe what you caught fly fishing? Seriously, there are only like, two restaurants, so unless you're prepared to rough it a little, the only thing you'll be eating is your board when you wipe out.
Sign up here for our daily Thrillist email, and get your fix of the best in food/drink/fun.
Bradley Foster is a former Thrillist editor who spent most of his trip to Cannon Beach back in middle school playing NBA Jam on an old Sega Genesis.