Does the impending release of Star Wars: The Force Awakens have your inner-Chewbacca tingling in anticipation? Are you eager to find some place, other than your parents' basement, to live out your Star Wars fantasies in real life?
Good, because Disney World in Florida and Disneyland in California are both set to break ground next year on Star Wars-themed lands. And even though that may seem far, far away, Disney's celebrating Episode VII now by giving guests a taste of their new intergalactic experiences. Here's how to get your Star Wars fix without ever leaving the galaxy. Or Florida.
 
Disneyland's Space Mountain becomes HYPERSpace Mountain
Because simply getting blasted into outer space wasn't thrilling enough, now riders are thrust into the center of a battle between Rebel X-wings and Imperial TIE fighters.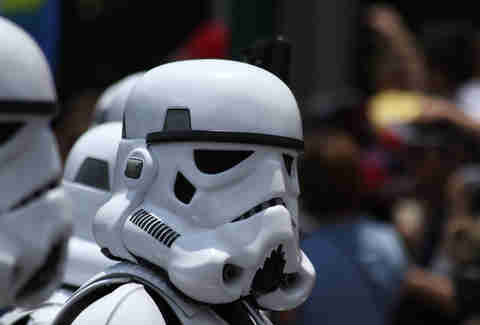 Watch out for Stormtroopers
Just when you thought it was safe to roam the Disney streets at night, now you have to worry about running into Storm Troopers patrolling the areas around Star Wars Launch Bay and Star Tours. They're out looking for members of the resistance, so if they try to shake you down, do NOT club them and steal their uniforms -- just stay cool.
 
Or at least in Disneyland's Galactic Grill -- which will take over the Tomorrowland Terrace and offer both a dark-side and a light-side menu -- and Pizza Port, where they'll be serving Star Wars-themed pizza. At Disney World, you can drink beer out of Chewbacca steins and enjoy Star Wars-inspired food throughout Hollywood Studios.
Let Darth Vader sign your autograph book
You don't have to pick a side at the Star Wars Launch Bay, where you can visit Vader on the Death Star AND chill with Chewy inside a rebel base. After your photo ops, hit the cantina (minus the scum and villainy), watch a behind-the-scenes video interview with the Star Wars creative team, and feast your eyes on replica props from the movies. Of course, there's a gift shop for all of your geeky souvenir needs.
 
Relive the saga from the beginning
In case you're in need of a refresher and/or just want to get pumped up, check out Star Wars: Path of the Jedi. It's essentially the Star Wars hype video, recapping the highs and lows of Skywalker's journey beginning with Episode I.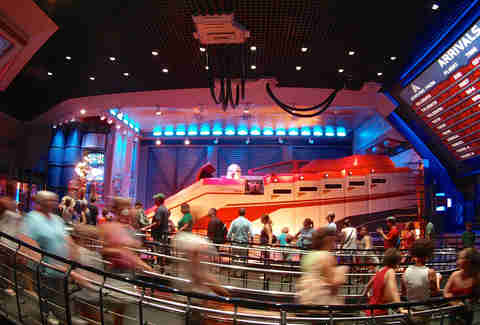 Star Tours gets a makeover
Though it was revamped not long ago, the Star Tours ride has been beefed up even further to include characters and experiences from Star Wars: The Force Awakens.
 
Fireworks feel the power of the force
Ok, you may be thinking that fireworks are kind of a snoozer, but these are set to music from the movies! Beginning December 18, Hollywood Studios guests can witness Star Wars in the skies over Florida with the nightly Symphony in the Stars: A Galactic Spectacular show.
 
Star Wars hits the high seas
Disney Cruise Line guests won't be left out of the action, either. As we told you here, eight special sailings of the Disney Fantasy will throw Star Wars Days at Sea. Meet your favorite characters, train like a Jedi, watch the first six movies, and dance the night away in a Star Wars night club -- just watch out for those bounty hunters -- all while floating in the middle of the Caribbean.
Sign up here for our daily Thrillist email, and get your fix of the best in food/drink/fun.
Rebecca Dolan is a DC-based writer and wannabe Parisian, though you'll probably find her at Disney World -- she's been too many times to count. For pretty places and delicious eats, follow her on Twitter and Instagram.